Asics is a well-known brand producing different athletic gear for various activities.
Its high-quality running shoes are some of the best in the industry, providing excellent support and a comfortable fit.
That said, are Asics running shoes good for walking?
Generally, yes. Running and walking footwear have similar (but not the same) qualities, making them ideal for both activities.
Running vs. Walking Shoes: What's the Difference?
When you look at them closely enough, you will realize the differences between these two activities.
For example, running is a vigorous activity where you will experience fast and hard breathing. On the other hand, walking is more moderate in intensity.
Both of your feet go up in the air briefly when running. In walking, your feet can be on the ground simultaneously.
Also, the tip of one foot may be touching the ground while the sole of the other lays flat on the ground as you walk.
Because they aren't the same activity, it's only natural that you will need different pairs of shoes for walking and running.
Walking Shoes
Walking involves 100% heel striking, so most walking shoes come with an angled heel for smoother landings.
A walking shoe's outsole must have as much ground contact as possible while having a flexible forefoot.
Ample cushioning is also an essential factor in walking shoes. This gives you a comfortable midsole suitable for long hours of being on your feet.
Lastly, the upper part must have a breathable material and fits your foot well for overall comfort.
Running Shoes
In general, running shoes have several components almost similar to walking shoes.
The upper is right above the midsole, enclosing the foot and protecting it against dirt, elements, and rocks.
It's made from various materials like knits for a chafe-free and smoother feel, mesh for breathability, and synthetic leather for durability.
The heel counter at the back of the shoe surrounds and wraps around the heel, providing excellent cushioning, rotational control, and a secure fit.
A good-fitting running shoe should not cram or constrain your toes in the toe box, which is the front part of the footwear protecting your delicate toes.
Sandwiched between the outsole and upper is the midsole made of rubber or technical foam, providing ample cushioning and flexibility.
The outsole is the rubber portion beneath your running shoes, making contact with the ground while providing durability and traction.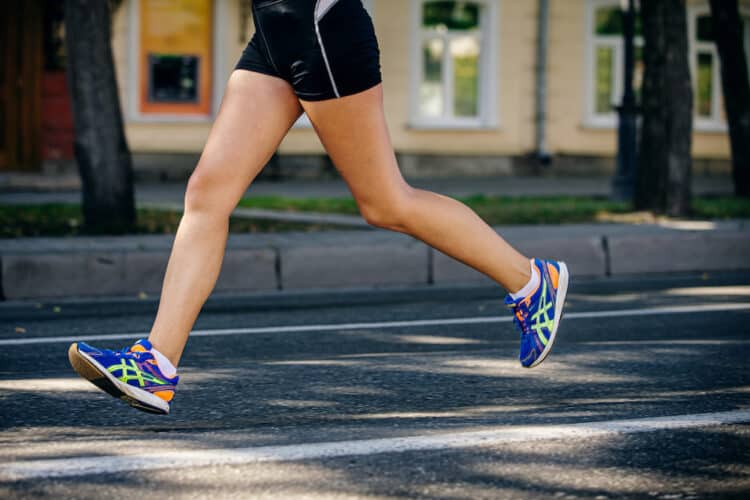 Men's vs. Women's Running Shoes
In the olden days, manufacturers would simply create a scaled-down version of a men's running shoe, using appealing colors, and market it for women.
However, consumers quickly proved the concept's inadequacy in many aspects, including heel slipping or tight forefoot.
For this reason, manufacturers began researching and designing appropriate running shoes for different genders.
Some shoes use additional heel support or varying midsole materials for each gender, affecting the footwear's comfort, fit, and weight.
Technically, women's running shoes have wider forefoot and narrower heels, while men's are designed to cater to their larger size and weight.
What To Consider When Choosing Running Shoes
Whether you are a serious runner or a casual walker, wearing the correct pair of running shoes helps boost your efficiency, maximize comfort, and improve support.
Because of many different needs, what works for you may not work for everyone else. Hence, here's a list of important factors to keep in mind when buying a trainer.
Cushioning
Some say good trainers must have sufficient cushioning to absorb shock. Conversely, others opt for minimal cushioning.
Whichever option you choose, ensure your foot has enough support to absorb shock.
Fit
One of the core factors in choosing the right running shoes is their fit, which should be relatively snug.
Too big, and your foot will slide inside the shoes, making you prone to blistering. Similarly, a small trainer will compress your foot, risking bone injury.
Heel Height
The heel height, also called "drop" or "pitch," ranges from zero to 14 millimeters on any running shoe. Generally, stiff ankle joints must have a higher heel drop.
Motion Control
Some manufacturers overly engineer their footwear, though some features contribute to minimizing mechanical forces on your foot and lower limb.
This just shows that foot position is vital in reducing risk injury factors for runners.
Outsole
When it comes to choosing an outsole, you must consider your preferred running surface to match it with the right material.
Some may not be aware, but trainers use different types of outsoles depending on your choice of terrain.
Wearing shoes with an incompatible outsole and surface may increase the soft tissue injury risk.
Asics' Key Innovations for Their Trainers
Asics continually conducts research and testing for materials and designs to fine-tune their shoes.
Here are some hallmark technologies from Asics used in most of their footwear.
1. AHAR Rubber 
AHAR and AHAR PLUS are outsole materials with high-abrasion resistance. They are also available in sponge type with excellent cushioning properties.
This material helps improve durability and maintain other functions like grip and traction.
2. FlyteFoam
FlyteFoam is Asics' proprietary foam. Its built-in reinforced fibers help maintain suitable cushioning for your shoes.
It is 55% lighter and more resilient than the regular EVA foam, providing about 76% better cushioning.
3. Gel Cushioning
The Gel Cushioning is Asics' staple cushioning setup where pockets of gel are placed in the forefoot and heel of the shoes. As a result, you get excellent softness and shock absorption.
4. Guidance Line
The Guidance Line is another one of Asics' trademarks. Here, a deep groove on the outsole, running from heel to toe, offers smooth and unobtrusive stability.
These vertical grooves go through the outer sole, making them the center of pressure as you land or kick off.
5. Trusstic System
Another Asics trademark is the Trusstic technology. It reinforces the sole's middle part to support stable movements and prevent shoe twisting.
Best Asics Running Shoes Good For Walking 
Let's look at some of the best Asics running shoes you can also use for walking.
The Nimbus 24 is one of the best versions of the Asics Nimbus series, perfect for leisurely daily runs and comfortable walking.
It comes with a layer of Flytefoam Blast+ above the outsole for a smooth heel-to-toe transition. Plus, there's also a firmer Flytefoam under the heel for added stability.
This upgraded midsole is soft and offers cushion responsiveness, making long walks easier on your feet.
Its rubber outsole guarantees dependable traction, while the outsole grooves give enough flexibility to allow gentle turnovers.
The smooth upper of the Nimbus 24 provides a smooth and true-to-size fit, making it a comfortable walking shoe.
Also, its inner gusset helps hold the tongue in position all the time.
The simple midsole design of the Nimbus Lite 3, without the dual-density construction, makes it more enjoyable for walking.
What's more, you will not find a rearfoot Gel window and a molded stabilizer. All you have left is a comfortable Flytefoam midsole with a full-contact outsole and a rounded heel.
The single-density midsole setup makes it supportive and perfect for the slow loading process involved in walking.
In addition, the excellent upper of the Nimbus Lite 3 provides more space inside because the tongue has no EVA foam padding.
Asics replaced it with a lighter and thinner tongue, giving additional room for more walking-friendly footwear.
From its first release, the Asics Cumulus series has evolved into a well-rounded running shoe, and you'll see that in this 23rd version.
With the upgraded upper and midsole design, the Cumulus 23 keeps the walking-friendly cushioning and makes minor adjustments and improvements.
Its comfortable upper comes with a new textured mesh similar to what's used in Nimbus, making its surface look more appealing.
Inside the Cumulus 23 is a soft and smooth interior reminiscent of Cumulus 22. It also uses the same midsole from the previous model but an inverted version.
The single-density midsole is placed above the outsole for a smoother heel-to-toe transition, while the firmer piece above the Gel pad provides better stability.
With the flex grooves separating the evenly distributed outsole rubber lugs, the traction and transition quality of the Cumulus 23 make it an excellent walking shoe.
The Glideride 2 has features that allow you to use it as a running and walking shoe.
For example, embedded inside the midsole is a Nylon plate, creating a forward-rolling motion as you walk. 
The high-toe spring is additional help for walkers, letting them roll their forefoot over without the need to go through layers of soft foam.
The raised sidewalls of the Glideride 2 offers better support as you run or walk. Also, exposed foam areas between the rubber lugs result in a smoother outsole.
As the midsole keeps its high-level cushioning, any distance walking becomes more comfortable.
Lastly, the breathable and smooth-fitting interiors of the Glideride 2 offers a roomy toe box and forefoot space.
If you are looking for solid and stable running shoes, check out the affordable GT-1000 10. Its asymmetrical design stands out while keeping an overall simple appearance.
The GT-1000 10 offers excellent bounce and responsiveness expected from an Asics trainer. It feels lightweight and hugs your foot's shape without being overbearing.
It comes with an AHAR outsole that can handle dry and wet conditions. Moreover, the Flytefoam midsole is firm and lightweight.
Asics' GEL technology is placed in the midfoot to improve energy return and shock absorption, while the DuoMax support system provides stability.
The seamless upper uses a quick-drying engineered mesh with no overlays, eliminating any point of irritation.
The Gel-Venture 7 is best used for regular training with its low-risk, simple design and moderate cushioning.
It has a new lacing system and a solid outsole with an aggressive tread pattern, maximizing motion grip.
There is a sturdy EVA midsole above the outsole with a reasonable weight, providing moderate support.
The Asics Gel technology in these shoes helps reduce shock, especially in the rearfoot area. At the same time, it also provides comfort.
Inside the shoes, you will find a standard ORTHOLITE sock liner with a layer of adhesive to ensure it stays in place as you become active.
The well-cushioned heel counter helps keep your foot in place, improving the overall fit of the shoes.
Protecting your toes are several thick overlays around the toe box and foam+fabric above the toe area.
Lastly, this reasonably-priced trainer provides impressive traction and shock absorption for your daily training.
The Gel-Excite 8 is a lightweight, flexible entry-level running shoe that feels comfortable for general use.
Its midsole uses the AmpliFoam cushioning with GEL technology, making it suitable for running and walking.
The engineered and silhouette mesh upper offers a faster and younger-looking appearance and add to its overall appeal.
Additionally, your foot is kept centered on the platform through the molded heel section paired with the shoes' last for stability.
For additional durability, the upper has plenty of no-sew overlays to increase support while minimizing the overall weight of the shoes.
Inside the shoes is an Ortholite sock liner, creating a comfortable and softer feeling on your underfoot.
Also, the outsole is equipped with Asics' Guidance Line technology for a more consistent and natural stride.
Lastly, the lightweight injection rubber outsole helps improve its durability, while flex grooves in key areas of the outsole ensure flexibility.
Another great and affordable running shoe from Asics is the Gel-Contend 7. Its durable construction and ample cushioning make it perfect for daily activities.
The Gel-Contend 7 is the perfect budget-friendly footwear for the casual runner. Its straightforward design makes it suitable for all-day wear and activities.
The size of the toe box and its cupped heel provide you with a true-to-size fit, preventing your foot from slipping.
It has a well-constructed upper using a combination of mesh and fabric, while the AmpliFoam midsole paired with Asics' GEL technology offers excellent cushioning.
Are Asics Running Shoes Good for Walking?
Are Asics running shoes good for walking? Surely, after several examples, you can conclude that wearing running shoes for your walking activities feels better.
Picking one of our top picks or any other Asics shoes of your choice ensures excellent cushion and support for your feet.
With Asics' wide range of shoe options, you will find the footwear you need for your preferred activity.