Your pair of shoes can either make or break your day. Depending on your planned activity, wearing the proper footwear will determine how it goes.
That's why you should carefully plan the day out and ensure that you have different types of shoes in your arsenal.
One type of shoe that every person must have are running shoes.
However, if you often have to stand all day because of your work or daily routine, you might have asked yourself a common and important question.
Are running shoes good for standing all day? Should you invest in something else that'll be more helpful for situations like this?
What Are Running Shoes Used For?
Did you know that more than 14.5 billion pairs of running shoes are sold worldwide each year?
Surely, not all of these are used solely for running.
So, what are the other uses of running shoes aside from, obviously, running? Let's find out.
Training
One of the most common uses for running shoes is for training.
With how durable, flexible, and comfortable they are, people find them the best footwear for exercise.
It isn't limited to running, jogging, or walking. People who work out at the gym and lift weights also often wear running shoes.
Walking
Whether you're walking your dog or running errands, a good pair of running shoes is your best companion.
Since running shoes have soft midsoles and flexible bodies, you can guarantee you'll get home without feeling any kind of discomfort in your feet.
Working
Running shoes, or at least those high-quality pairs, are extremely durable.
You can count on them to last for years, which remains true even if you wear them daily to work.
That's also why nurses and other professionals who regularly have to move fast and be agile choose this footwear.
Playing
Of course, certain sports would put you at a disadvantage if you wear running shoes: basketball, baseball, and football, for instance.
However, running shoes can hold their ground for many other physical activities.
Some pairs can even absorb impact and distribute the force of your step, reducing the pressure on your joints.
Driving
If you ever find yourself looking for a good pair of shoes for driving, just grab a pair of running shoes.
They're extremely comfortable, allowing you to drive for hours without straining your feet.
Additionally, they provide a more "natural" feel of the pedals.
Are Running Shoes Good for Standing All Day?
Now, let's go back to our initial question. We've already seen the different areas where a good pair of running shoes will come in handy.
Will the case still be the same if you have to stand all day?
The quick answer is yes. Running shoes are generally good for standing all day.
Their soft insoles and comfortable design ensure that you don't immediately feel the rigidity or hardness of the floor below you.
Moreover, most running shoes out there are built to enhance your stability.
That's something you'd most certainly need if you have to stand all day.
On the other hand, it's important to note that not all running shoes are built equally.
Some of them may not provide the comfort and stability you'd want from your footwear.
To understand that better, we must look into the different types of running shoes.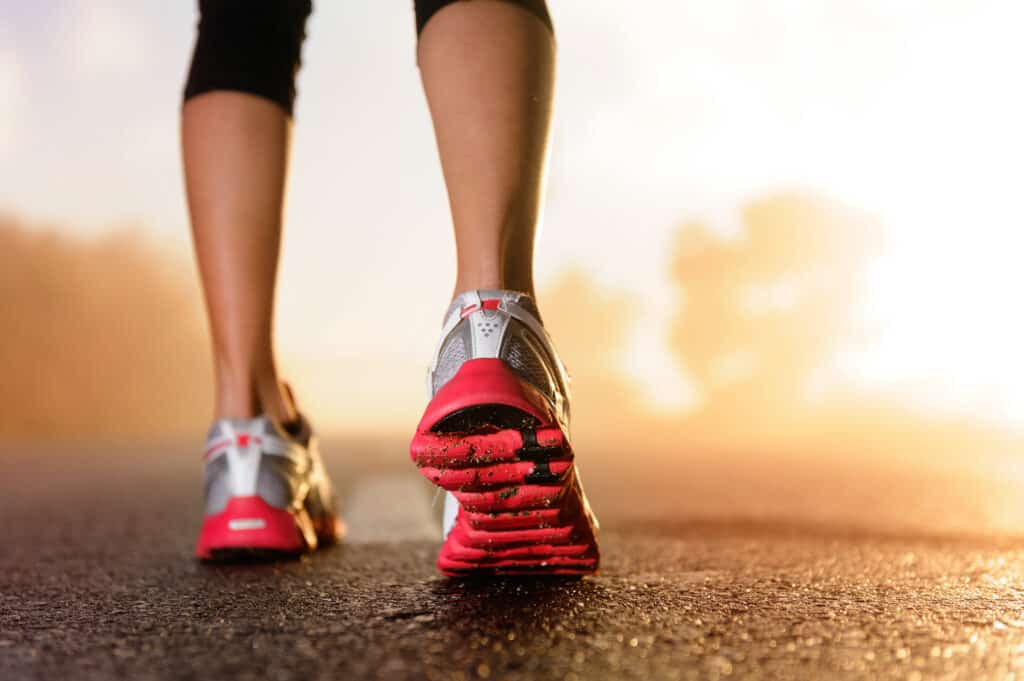 What Different Types of Running Shoes Are Available?
Understanding the different types of running shoes will help you determine whether or not a pair of shoes will be helpful to you if you have to stand all day.
Once you've positively identified what type of running shoe is in front of you, you can determine what it's good for.
Lightweight Shoes
Lightweight running shoes are often used for races, marathons, and other speed work, so they're also called racing flats.
To reduce their overall weight, lightweight shoes have less foam and cushioning.
This feature also improves the natural dynamics of your feet's movement.
However, since there is less cushioning, lightweight shoes do not have impressive shock absorption capabilities.
That said, they are not the ideal option for general or heavy training. Furthermore, these are not the best footwear for standing all day.
Trail Shoes
Trail shoes are used for running across rocks, dirt, unpaved roads, or even mud.
That's why they are one of the best shoes if you're looking for protection, stability, and support.
Trail shoes are what you want on your feet if you're running on an uneven surface. They're like the middle ground between hiking shoes and sneakers.
They're also popular for protecting your ankles. Moreover, they have a soft but durable tongue to protect your feet from rocks and other debris.
With the environment that they're often used in, trail shoes are often built with a superior grip underneath.
This feature ensures you have the best traction while running on slippery terrains.
Since trail shoes provide great stability, they are also excellent choices for standing all day.
The superior grip also ensures that you don't incur injuries in case your ankles or feet suffer from fatigue.
Stability Shoes
Stability shoes are well-known for their support and comfort, thanks to their rigid collar and soft midsole cushioning.
As such, stability shoes are also popular among runners with neutral feet or normal arch. Nonetheless, people who overpronate still find them helpful.
If you stand around all day, you'd want to be as stable as possible, even if you're feeling tired.
Well, nothing else will provide you with better stability than stability shoes.
Motion Control Shoes
Runners who have low arches on their feet are generally more likely to suffer from overpronation, which is the inward roll of the foot upon landing.
Motion control shoes prevent this, or at the very least, limit it. They are often more rigid than other running shoes, allowing your feet to keep their position.
With all these features, motion-control shoes are also great for people who have to stand all day.
They provide great stability and are extremely durable, making them an excellent choice for heavy people.
Cushioned Shoes
As the name suggests, cushioned shoes focus more on comfort than corrective elements and supportive features.
Aside from where you'd regularly have cushions in the footwear, this type of running shoe also has plush heels and forefoots.
Most cushioned shoes also have enhanced features when it comes to shock dispersion.
It keeps your feet comfortable despite considerably heavy impacts from your footstrike.
If you often have to stand all day, you want to avoid sensing the hard surface underneath your feet as much as possible.
Ergo, cushioned shoes are excellent choices as well. You can probably stand around for hours without straining your feet or suffering from fatigue.
How to Determine If a Running Shoe Is Good for Standing
When you head to your local shoe store, you probably can't identify immediately which ones are motion control, cushioned, stability, trail, or lightweight shoes.
If you can, or a shop assistant can guide you, then you're in luck!
On the other hand, if you're on your own, you might end up purchasing the wrong one.
That's why you also need to learn how to examine a running shoe and determine if it's good for standing.
Here are some factors you should be looking for:
Arch Support
If there is ever an area you should focus on when looking for a supportive pair of running shoes, it's arch support. That is especially true if you have to stand all day.
It's actually quite easy to spot. Try to look outside and inside the shoe and examine the arch.
The thicker it is, the better the shoe is at supporting your feet. This is very important, so we want to reiterate it as much as possible.
Wearing unsupportive sneakers may lead to various foot ailments, including heel spurs or plantar fasciitis.
If you're already suffering from these, the wrong pair of shoes will only worsen these conditions, and so will the pain intensify.
Over time, you might also develop arthritis or pain in the ankles, knees, pelvic region, and back.
If you notice that you often experience these when you wear a specific pair of shoes in your cabinet, it's time to replace them.
Look for something that has great arch support. Don't hesitate to try it on for several minutes before purchasing.
See if your foot nests nicely against the arch.
Shoe Design
When it comes to shoe design, you only have two boxes to tick. Make sure that it has a wide toe box and a chunky heel.
A narrow toe box and a thin heel will render the arch support pretty much useless.
There's no point in making sure you're standing on something stable if the rest of the foot is unstable.
If you want to improve your shoe's comfort, you can also invest in orthotics. These provide extra support and cushioning for your feet.
Material and Fit
Lastly, you must pay attention to the shoe's material and fit. You want it to cocoon your feet, especially the bony parts, and not fight against them.
That's why shoes that have outer mesh material are your best options. Aside from being breathable, these shoes do not cause pain to your feet.
Nonetheless, you still want it to have a certain level of rigidity to provide adequate support. Ergo, make sure that you also avoid super flexible shoes.
Here's a rule of thumb if you're unsure whether a shoe is too flexible. If you can bend it in half, it's not rigid enough for support and stability.
Additionally, if you want to get the perfect fit, make sure that you try it on towards the end of the day.
As you might already know, this is the time when your feet are "true to size."
What Are Other Types of Shoes That Are Good for Standing All Day?
Aside from running shoes, you might be interested to learn that other types of shoes can be good for standing all day.
Of course, this would still depend on a lot of factors. Nonetheless, here are some shoe types you may also want to look into:
Foam or Rubber Clogs
Foam or rubber clogs are steadily gaining popularity nowadays. If you don't know what these are, here's one simple word to get you in the loop: Crocs.
This type of footwear is not just for the young fashionistas out there. They are actually also great for standing all day.
That's because they provide just the right amount of heel support and are extremely spacious and comfortable.
However, you want to make sure that you get the right size for yourself.
Otherwise, the extra space might offer excess wiggle room for your feet and cause you to lose balance.
Dress Shoes
Not all professionals are fond of wearing running shoes to work.
Teachers, for instance, have to stand all day, and running shoes might not just be formal enough for this job.
That's where dress shoes come in handy. However, don't just go for any dress shoes.
Make sure that it has great arch and heel support and that the soles are comfortable.
You can also go for suede dress shoes if your feet are too bony for the rigid leather top of most dress shoes.
Loafers
Do you want something you can easily take on and off?
Try to look for high-quality loafers. Most of them are notably comfortable, and they also offer great foot support.
They're an excellent choice for those who have flat feet.
Nonetheless, you still want to pay attention to the arch and heel support as these are the most important aspects of standing all day.
Running Shoes and Standing All Day
Are running shoes good for standing all day? That depends on what type of running shoes you have in the first place.
Generally, they are your best choices for the job. However, you should still be mindful of the shoe's overall quality to ensure you have plenty of support for the entire day.