Knee sleeves are mostly used by runners and athletes, but those who suffer from knee pain will get temporary relief from using it, as well.
In fact, aside from reducing knee pain, knee sleeves also help in improving blood flow and taking care of leg ligaments with measured compressed wrap around.
People suffering from knee joint problems will benefit if they use knee sleeves at the time of walking.
For runners and athletes, wearing knee sleeves is one of the best ways to keep their knee muscles protected while performing or practicing at a sprint.
Overall, knee sleeves are designed to aid those who have knee-related injuries and problems.
If you are planning to buy the best knee sleeves for running, you should know the basic features you need to check for buying the best option for you.
Check for mobility

Check for breathability

Check for the construction if it is made for runners and athletes

Check for the quality support it provides
Now it's your turn to check the products available in the market and compare them with some of the popular knee sleeves for runners.
Here, five products are reviewed to help you find the right knee sleeve for your needs.
Disclaimer: We hope you love the products we recommend! We only recommend products that we have thoroughly checked and believe will be a real value to you. Sports Send may collect a small share of sales or other form of compensation from the links on this page at no extra cost to you.
Comparison Chart
Pure Support Knee Brace Sleeve
UFlex Athletics Knee Compression Sleeve
Mava Sports Knee Compression Sleeve
POWERLIX Knee Compression Sleeve
Mauwi Compression Knee Sleeve
​Best Knee Sleeves for Running: Brief Reviews
​1. PURE SUPPORT Knee Brace Sleeve
If you want to buy a versatile knee brace sleeve, PURE SUPPORT Knee Brace Sleeve is a great option.
It is suitable for joggers, runners, athletes, and, of course, for fitness freaks.
The designs are extremely versatile and suitable for both men and women.
Even the elderly suffering from knee pain and arthritis will feel comfort from using these knee brace sleeves.
Features
Before you place your order, let's take a quick look at its features:
The product offers optimum compression because of its planned texture.

It provides essential warmth and support that improves the support for the movement and prevents the risk of blood clotting.
The knee sleeve is a proven remedy for quick recovery from a knee injury, especially after surgery.

It assists in limiting patella movements, which helps in pain management of arthritis, tendonitis, osteoarthritis, and more.
This knee brace sleeve is built with elastic yarn supported by a proven technology called 3D CIRCULAR.

Users will feel the comfort from its skin-friendly texture. It is also designed to have a non-slip grip.
It is an extremely skin-friendly product, which means that, after use, you will not feel the problem of itching or any skin irritation.

There is also no risk of bacterial contamination for people who sweat heavily.
You will get a free e-book on arthritis and pain management on every purchase of this knee brace sleeve.

What's more, your purchase will be protected by a 100% money-back guarantee.
Pros:
Comfortable on the skin

Comes with a non-slip grip

Complimentary e-book on arthritis and pain management
Con:
Can be a bit too tight to put on
CHECK LATEST PRICE ON AMAZON.COM
3. Mava Sports Knee Compression Sleeve Support
The Mava Sports Knee Compression Sleeve Support provides support for sore knee as well as proactive knee and leg muscles.
It is widely recommended for pain management as well as for offering robust support for athletes and runners.
Features
Besides the good look and excellent durability, the product is also built with some interesting features.
It is supportive for pain management and promotes faster recovery from a knee sprain and strain.

The unique support and texture of the product help reduce inflammation of the injured spot.

It is anatomically shaped to offer excellent support that helps in enhanced mobility for athletes.

Built with anti-slip silicone and having elastic support, you will have no hassle in adjusting the item, so it is easy to wear, and you can wear it fast.

It is good for everyday wear as it does not induce itching or sweating.

It is unisex, so there is no need to buy separate wear for family members.

Besides runners, whoever needs support for their knee can use this Mava Sports Knee Compression Sleeve Support for pain management and improved mobility.
PROS:
Lightweight and comfortable

Provides good support

Highly durable
Enter your text here…
CHECK LATEST PRICE ON AMAZON.COM
4. POWERLIX Knee Compression Sleeve  
If you are looking for a knee sleeve that has an absolutely gorgeous design, then check out the POWERLIX Knee Compression Sleeve.
This knee sleeve comes with a high level of technology that makes for a highly functional and unique product.
Features
This knee sleeve comes with some impressive features, including:
It is made using a specialized fabric blend that comes with a four-way stretch capability.

This offers all-around protection and far better support than several of the other knee sleeves on the market.
This knee sleeve is ergonomically designed, which means that it works along with you rather than working against you.

It helps in reducing swelling and inflammation, improves the time of recovery, and also keeps you thoroughly supported even during strenuous physical activities.
It comes with a breathable fabric that helps in keeping you odor-free and dry.

It absorbs moisture quickly, too, making it ideal for extended use.
The fabric is also quite soft to the touch and ensures that you are comfortable while you use it.

It keeps the joints at an ideal temperature to avoid any potential injury.
Its knitted technical design is made in a way to match your joints so that they are well supported.

Its double silicone anti-slip interior offers ample grip, so you won't need to adjust them constantly.
Pros:
Great design

Needs minimal adjusting

Breathable fabric

Odor-resistant
CON:
CHECK LATEST PRICE ON AMAZON.COM
5. Mauwi Knee Sleeve  
Available in four different sizes, the Mauwi Knee Sleeve is an excellent knee compression sleeve that offers great support during physical activities.
This is also quite comfortable to use for longer periods.
Features
This knee sleeve has a ton of features, which include:  
The Mauwi Knee Sleeve is made using high-quality and breathable materials that ensure that the user remains dry and has an irritation-free environment when they use it.

The material used in this knee sleeve is nylon, spandex, and latex. These are all safe and allergy-free.
Thanks to its multiple sizes, it can be used by men, women, and children alike.
It also features an anti-slip system that offers superior grip and ensures that the knee sleeve does not excessively slide or roll.

The knee sleeve offers extra intramuscular knee support while giving good patella stabilization, comfort, and protection.

This knee sleeve can potentially help in improving blood circulation throughout the body.
This is ideal if you are looking for rapid muscle recovery and for avoiding any new injuries.
Pros:
Made using high-quality materials

Offers good support

Comes with an anti-slip system
CON:
Not an ideal product for extreme workouts
CHECK LATEST PRICE ON AMAZON.COM
Buyer's Guide 
Choosing any one of these five knee sleeves will offer your knee joints the support, stability, comfort, and compression they truly need.
However, if you are still not sure which one of them will be an ideal choice for you, then we recommend that you take a look at our detailed buyer's guide for knee sleeves.
Here, we list all the top and must-have features of a good knee sleeve.
Let's talk about each of them below.  
1. Adjustability   
Adjustability is an important factor that indicates how well the sleeve can enhance your performance.
For heavy lifting, you will need sleeves with a tight fit that has less adjustability and more support.
On the other hand, for cycling, running, and so on, you need a sleeve that offers moderate adjustability and support so that your movements are not restricted.
Lastly, if you are using a sleeve for recovery, it needs to have greater flexibility with minimum support.
2. Breathability   
Since the knee sleeve is meant to be snug on your knee, it can cause you to sweat in that area.
This could be more intense if you are using the knee sleeve for a workout.
Hence, you must make sure that the fabric used in the construction of the sleeve is breathable.
This will ensure that your knees will not only remain dry but will also be odor-free.
This should be an important aspect when you are looking for a knee sleeve.
3. Effectiveness  
An effective knee sleeve can honestly differ from person to another as this largely depends on the type of knee sleeve you are using and for what reason you are using it.
If you invest in the right kind of knee sleeve that is made for your size, in the exact thickness you are looking for, and for the right purpose, then it is quite likely that the knee sleeve will be effective for you.
Always keep in mind that a good knee sleeve will provide proper compression to the knee, which, in turn, will increase blood circulation to that area.
4. Comfort
Comfort is an important factor for any good-quality knee sleeve.
Since knee sleeves are made to be used either during strenuous activities or while you relax, these should, at no point, limit you from doing certain activities based on comfort.
Your knee sleeve should feel like an extension of you, providing you with ample support, stability, and comfort.  
If your knee sleeve is causing you even the slightest amount of discomfort, or if it does not fit you properly, then you should avoid that one and look for an ideal replacement.
An ill-fitting or uncomfortable knee sleeve can also cause chafing and make your skin irritable.
Furthermore, it will also reduce its effectiveness and make your overall physical activity painful.
5. Fit
The whole purpose of a knee sleeve is to make you feel more comfortable—whether you use it to relax or to facilitate a better performance.
It should protect you against any future injury.
All of this can get undermined if its fit is not right.
Your blood circulation can be improved, which, in turn, speeds up the process of healing and provides additional focus to the knee joint when there is the right amount of compression to it.
Now, with an incorrect fit, the wrong compression amount could potentially cut off the blood circulation and thus have an opposite effect.
Hence, before choosing a knee sleeve, try one of comparable size.
Ensure that the fit is snug and does not dig into the skin, which could cause you pain or make it difficult for you to move.  
What also helps is that if you measure the areas that surround your knee.
A small sleeve will typically be measured from 14 to 15 inches, the medium ones will be from 15 to 17 inches, and the large ones from 17 to 19 inches. 
6. Materials
The material used for a knee sleeve should be elastic as well as breathable.
It should also be strong enough that it does not stretch over time and use, as this would result in the loss of support and, ultimately, you would have to buy a new one.
It is essential that you invest in a good one, as you are basically making an investment in your health.
If the material is too thick, then it could lead to unnecessary slippage and sweating.   
Its thickness should be in three categories: 3mm, 5mm, and 7mm.
The first should ideally be worn by marathon runners, as they provide additional support and stability during those long runs.   
Sleeves with 7mm thickness are ideal for weightlifters since it gives them added support to their knees.
5mm thick sleeves are considered to be ideal for most sporting activities.
In fact, it is considered to be a universal knee sleeve for most athletes.
Let's break each of these down individually.
3mm thick knee sleeves are ideal for sports that need endurance, such as marathons.
Athletes that are involved in such activities use this knee sleeve because it is quite light. This makes running easier.
The sleeve also provides ample support to the athlete when they start to feel tired by offering them support to their knee.
5mm thick knee sleeves are typically recommended for mixed sporting activities.
This is great for athletes involved in a wide range of sporting activities that need a certain level of support and agility.
The beauty of this sleeve is that it can be used for a variety of activities, like track running, yoga, and so on.
This is one of the main reasons why this sleeve is referred to as a universal knee sleeve.
7mm thick knee sleeves are ideal for heavier sporting activities.
They offer maximum stability for people who are into weight lifting.
The extra support is provided during rehabilitation. However, it cannot be used for a long time.
It is designed in a manner that makes sure that the knee gets the most amount of support for intensive but short activities.
Hence, these activities can be done more precisely and securely.
7. Protection  
There is often some kind of confusion between knee sleeves and knee braces.
A knee sleeve offers support but does not function in the same manner that a knee brace would.
When it comes to protection, knee sleeves are made in a manner that they will protect your knee from any future injury or risk of damage.
If you are looking for something that will protect your knee from a previous injury, then it is ideal that you stick to using a knee brace.
8. Stability   
A good knee sleeve will not only protect the knee but will also offer ample support and stability to minimize the risk of an injury.
Having proper stability means that you will be able to perform your movements correctly, as they will be more controlled and comfortable.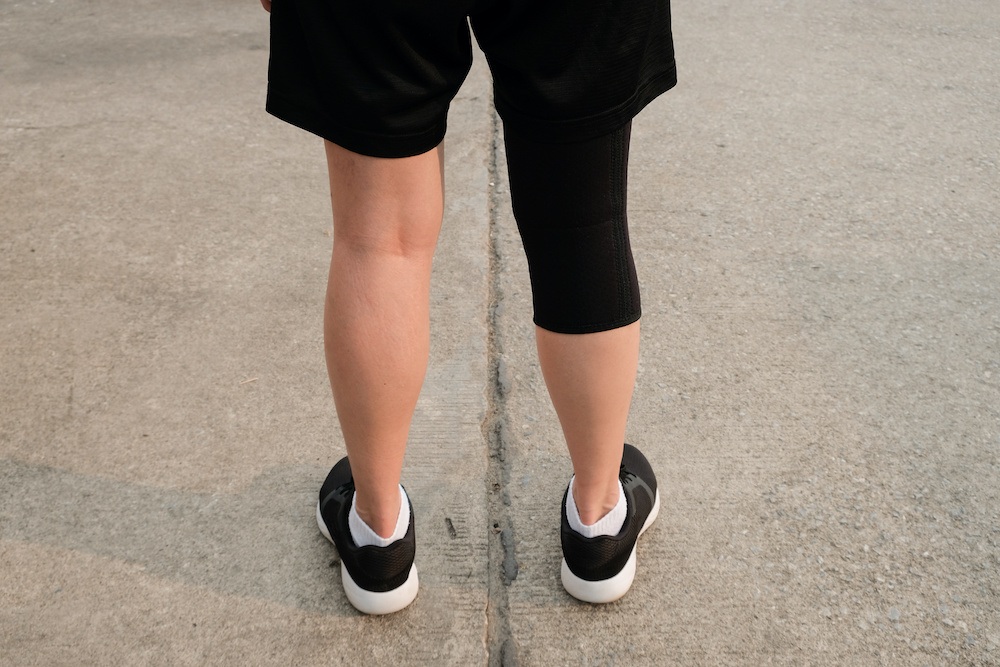 Best Knee Sleeves for Running FAQs
1. What are knee sleeves good for?  
The primary purpose of a knee sleeve is to protect the knees from any future injury or damage.
These are not meant to be used for fixing an already unstable or damaged knee.
Knee sleeves are good for providing you with the valuable compression needed to increase the flow of blood to the knees, which, in turn, will reduce pain and swelling during and after a workout.
This means that it will help you recover faster and perform better on a day-to-day basis.  
2. Are knee sleeves worth it?  
Knee sleeves are indeed worth it if you are using them for the right purpose.
For example, in the gym, when you are looking for support and warmth in the joint when you're heavy lifting.
Do keep in mind that with most supportive strength equipment, this should be worn only with intent towards a specific activity and shouldn't be used as a crutch or as a means to only create joint stability.
3. How thick should my knee sleeves be/ How tight should knee sleeves be?  
As mentioned earlier, there are three levels of knee sleeves thickness: 3mm, 5mm, and 7mm.
3mm is ideal for light activities, 5mm is ideal for mixed sporting activities, and 7mm is ideal for heavier sporting activities. 
4. How do I know what size knee sleeve I need?  
To measure, find the spot about 10 centimeters below the patella.
Use a soft measuring tape and wrap it around the calf.
After taking the appropriate measurement, you can refer to the sizing chart of the knee sleeve below:
XS – 30 to 32 cm knee circumference

S – 33 to 35 cm knee circumference

M – 35 to 37 cm knee circumference

L – 37 to 40 cm knee circumference

XL – 40 to 43 cm knee circumference

XXL – 43 to 46 cm knee circumference
Product Feature Summary
All five knee sleeves are supportive and durable in their longevity ratio.
Some have options available for men, women, and kids, while others are unisex, which is definitely an advantage.
You will find that most of these knee sleeves are designed with anti-slip silicone and are lightweight.
What's more, the PURE SUPPORT Knee Brace Sleeve offers a free book on arthritis pain management, which is an added advantage.
The PURE SUPPORT Knee Brace Sleeve is also covered by a money-back guarantee, which is a definite buyers' protection.
For the best benefits and the right support, you need to buy your knee sleeve according to the size chart.
Final Verdict
If we do a comparative study between these five products, we will find that the PURE SUPPORT Knee Brace Sleeve offers multiple advantages.
It is a unisex product, and it is skin-safe and hassle-free to wear.
Users will get a free book of tips on pain management, too, which is a great addition.
This product is sold with a 100% money-back guarantee, which is, again, extra protection for the buyers.
This is a supportive product, and in terms of safety, it is completely reliable, which should be counted first at the time of purchase.