Are you looking for a present that will make an impact in your child's life for years to come? Check out the Callaway Boys XJ Hot Junior Kids Golf Club Set. This golf club set equips your child with the right gear to grasp the basics of golf. And, with Callaway's excellent reputation in making sturdy adult golf clubs, you bet these junior golf club sets are worth every penny spent. In this review, we seek to find out what is so unique about these golf clubs. Later on, we shall make a comparison with a similar set and let you give the verdict. Let's get to it!
We hope you love the products we recommend! We only products that we thoroughly investigate and believe is a real value for you. Sports Send may collect a share of sales or other compensation from the links on this page. It is at no extra cost for you.
Callaway Boys XJ Hot Junior Kids Golf Club Set review -The Features
All-in-1 Package
How do you equip your child with all the golf equipment he needs without him falling under the weight of heavy sports gear? Simply invest in only the clubs necessary to sharpen his angle launch, spins and smashes. And the Callaway Boys XJ Hot Junior Kids Golf Club Set comprises of just that. Instead of a full set of 14 clubs, the package has seven golf clubs that are all your child needs to learn the game of golf while having fun.
The golf set includes a 360cc lightweight driver with a 16-degree loft. This driver delivers precision with its excellent hitting circumference. Consequently, your child covers a more distance off the tee.
Fairwood and Hybrid Style Clubs
Secondly, the clubs are of Fairwood and Hybrid style. These designs are especially essential for a young golfer who wants to use little effort to achieve high and long shots. With such a forgiving pair, your child will not get tired of trying until he/she masters the game.
Next, the golf set includes a 7-iron and a 9-iron. These two clubs are made with a perimeter weighting to stabilize the swings. Furthermore, it also has a 54-degree sand wedge to give the child better control. Finally, the Odyssey 2-ball design putter ensures your child executes the hits accurately.
2 Different Sets Depending On Age 
The Callaway junior golf club set retails in two distinct categories depending on the lengths of the clubs. First is the 5 to 8-year-olds set fitting kids who are between 40" and 52" tall. Then, there is the 9 to 12-year-olds set for kids with a height above 52". Parents can identify the correct set for their children by testing the clubs at a golf store near them.
This golf clubs set is suitable for both boys and girls with either right or left-hand orientation. Despite being lightweight, these clubs are of durable quality. Overall, the full set measures 42.1 inches by 7.9 inches by 9.4 inches and weighs 11.02 pounds.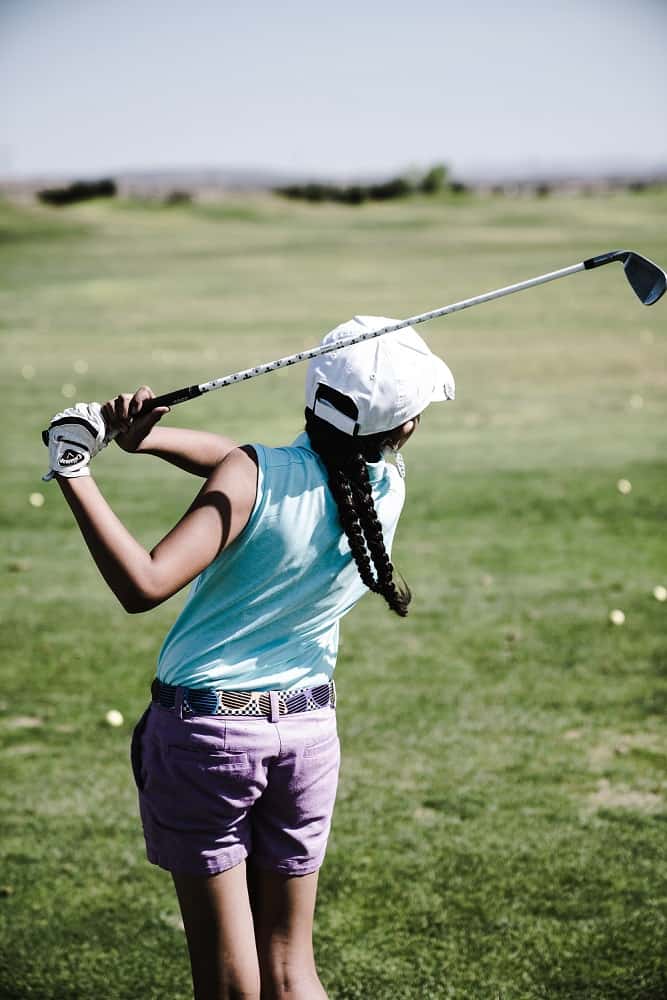 The Aesthetics & Extras
As a parent, you want to make sure the golf club set you buy for your child is functional. However, your child may not view them that way. Because, no matter how superior the quality is, if the child doesn't like the way it looks, he probably won't use it. And Callaway knows this all too well. The Callaway Boys XJ Hot Junior Kids Golf Club Set has an impressive design and colour schemes making your child stand out amongst his/her peers.
Both the wood driver and hybrid come with separate covers. Also, the golf set retails in a light, attractive and stylish stand bag that is hard to ignore. This bag has 5-way top and double straps to accommodate the clubs. It also features a water bottle holder, five zippered pockets and a rain hood.
All these features ensure your child learns how to organize his gear and quickly transition from one golf club to another. The double straps cover both shoulders, making it easy for the child to move around the green.
Summary of the Features 
Overall, the Callaway Boys XJ Hot Junior Kids Golf Club Set has unique features that target boys and girls, 12 years and below. All the seven clubs perform exceptionally well while remaining forgiving to the player. The varying lengths of the clubs match the extended height difference of the players.
In addition, the super design of the golf clubs and a double strap bag with a rain cover and a free water bottle holder is an irresistible offer to any child. Besides, the two-ball mallet putter is a rare item in most junior golf club sets. This package is more than what you would expect.
CHECK LATEST PRICE ON AMAZON.COM
Comparing With another Kids Golf Club Set
Wilson Profile Complete Junior Golf Set w/Golf Bag
​
Yet another high performing junior golf club set is the Wilson Profile Complete Junior Golf Set with Golf Bag. Just like the Callaway Boys XJ Hot Junior Kids Golf Club Set, these clubs work perfectly for both left and right-hand orientation. Equally, they remain forgiving to the amateur player. However, the Wilson set targets children between the ages of 11 and 14 years.
It comprises of a 41" driver that suits the teen's height and flex. It also has a 37" and a 36" iron with a large sweet spot construction. Finally, the package retails in a stylish backpack containing a 30-inch putter, a 34-inch wedge, a hybrid, and two head covers.
The Wilson Junior Golf Set offers a perfect transition from junior golf clubs with a recreational player in mind to adult golf clubs ideal for competitions. These clubs help the teen to master distance and loft. And they also teach them how to use and carry the clubs along the course.
They give the child an advantage in junior tournaments. However, unlike its counterpart, the Wilson Profile Complete Junior Golf Set irons have no numbering, which can be confusing to a young golfer.
CHECK LATEST PRICE ON AMAZON.COM
Conclusion
The Callaway Boys XJ Hot Junior Kids Golf Club Set is excellent for building your child's confidence in the game. Its design aims at helping the young golfer achieve control and accuracy while getting the ball effortlessly up in the air. Get this valuable set as early as possible. Then, use the same set for years to come until the child masters his game and transitions to the teens' golf clubs. Your child will love the club's attractive colour schemes.