When it comes to aggressive trail riding, your safety is a must. You want to tumble in the rough, challenging your limits, knowing you got all the safety gear you can get. That's not all. Aggressive bikers need lightweight, comfortable, and well-ventilated lids, more so, when they get to those head-down riding positions.
But what if you are on a tight budget? Must you compromise these attributes for the price? Well, we believe, with a little bit of research you can get hold of the best stylish mountain bike helmets for your money.
In this quick guide, we present you with two such MTB helmets. The Giro SOURCE MIPS Helmet and the Bell Super 3R MIPS. Both shells guarantee all-around impressive performance at a reasonable price.  These are all tried and tested for safety, endurance, and overall comfort.
The Products:
We hope you love the products we recommend! We only have products that we thoroughly investigate and believe is a real value to you. Sports Send may collect a share of sales or other compensation from the links on this page. It is at no extra cost to you.
Giro SOURCE MIPS Helmet
Giro SOURCE MIPS Helmet is a go-to MTB helmet for riders looking for safety and exceptional performance in a trail-ready helmet. This rugged shell opts for lightweight construction with lots of wind tunnels for a comfortable, fun adventure. More so, it incorporates premium attributes like an adjustable visor, typical with high-end helmets. Yet, Giro Source MIPS retails at an affordable price to be accessible by the majority of riders.
THE DETAILS
Brand: GIRO
Series: SOURCE MIPS
Category: Trail/XC
Size: Small (51-55 cm), Medium (55-59 cm), Large (59-63 cm)
Gender: Men's
Weight: 12oz
Vents: 16
Slip Plane: Yes (MIPS)
Visor: Adjustable
LIGHTWEIGHT CONSTRUCTION
Giro Source MIPS helmet uses a lightweight in-mold polycarbonate shell that fuses to an EPS foam liner for ample head coverage. It is a low-profile design ideal for trail riding.
MIPS
Inside the hardbody, the polycarbonate shell is an integrated MIPS slip plane. The plane protects the rider from brain injury due to the spinning of the brain matter inside the head on certain impacts. It does this by slowing down the rotational forces that occur on angled impact.
AMPLE PADDING 
Giro Source MIPS helmet relies on the detachable and washable CoolFit™ Anti-Microbial padding to guarantee all-day freshness for the rider. This padding is scattered all around the helmet to wick away moisture on a hot day.
DECENT VENTILATION
There are 16 wind tunnel vents all around the Giro Source MIPS helmet. These channels offer deep internal ventilation, keeping you cool and fresh on variable terrain.
SECURE ROC LOC® 5 FIT SYSTEM
The Roc Loc® 5 Fit System is easy to use and secure fit system. You can use it to custom-tune the helmet's tilt and overall fit to stabilize and adjust the shell as you please. More so, it is quite easy to operate its small diameter dial-up function, with or without your gloves on.
MOTO-STYLE ADJUSTABLE SCREW-IN VISOR
Are you trail riding in the hot sun or the thick woods? You can wear your goggles or glasses with the Giro Source MIPS helmet. This helmet has a large, moto-style adjustable screw-in visor that is compatible with lots of eyewear. It will shield your eyes from direct sun glare, tree branches, or oncoming objects.
Pros
An In-Mold construction that is light, durable, and better ventilated for trail riding

A comfortable, stable, easy to adjust, and lightweight Roc Loc® 5 Fit System for a skull-hugging fit

Has the E.U.: CE EN1078 and the U.S.: CPSC BICYCLE FOR AGES 5+ certifications for safety
Cons
Has lesser features than its predecessors model
Bell Super 3R MIPS
Bell Super 3R MIPS is a lightweight enduro-style helmet with a removable chin bar. It retails with the Go Pro Mount at the top, a MIPS slip plane, and of course, the removable chin bar. This convertible full-face helmet is the lightweight version of the Bell Super DH Spherical model. Hence, it is designed and certified for trail racing, and not downhill racing like it is heavier than the Super DH alternative.
THE DETAILS
Brand: Bell
Series: Super 3R
Category: Trail/XC
Size: Small (52-56 cm), Medium (55-59 cm), Large (58-62 cm)
Gender: Unisex
Weight: 783g (Medium Size)
Color: Downdraft Matte Gray/Gunmetal, Matte Black, Matte Blues, Matte Green, Downdraft Matte Crimson/Black, Matte Emerald/Retina Sear
Vents: 23 Helmet Vents, 6 Chin Bar Vents, 4 Brow Ports
Slip Plane: Yes (MIPS)
Visor: Adjustable
COMFORT
Now, most riders have a general concern about comfort, hotness, tightness, or getting claustrophobic when shopping for full-face helmets. Not so with the Bell Super 3R MIPS helmet. This helmet has got plenty of vents, doing a pretty good job at keeping the helmet cool. First-time users find it a bit tight on the sides. Well, that is only because of the removable cheek pad inserts added to attain a snug fit. You can always remove these to feel less constricted.
LIGHTWEIGHT CONSTRUCTION
Bell Super 3R MIPS uses a similar outer shell to the Giro Source MIPS helmet. Here, there is a sturdy and lightweight fusion in-mold polycarbonate outer shell fused to an EPS foam liner for durability and comfort.
INTEGRATED MIPS & WRAPAROUND PROTECTION
Inside the lightweight polycarbonate shell of the Bell Super 3R MIPS helmet is a MIPS slip plane. It guards against abrupt rotational forces that may cause brain damage in certain impacts. It is a reassuring addition for mountain bikers who are hitting jumps, drops, and other styles to progress their skills. The wraparound protection is the removable chin bar that connects to the helmet via a 3-step connection.
CONVENIENT REMOVABLE CHIN BAR
Bell Super 3R MIPS helmet converts from a full-face helmet to an open one in a snap. Here, you have the removable chin bar attached to the helmet via two clip points on the sides. Plus, there is an extra lock at the back for a stable fit.  Inside the chin bar is ample padding to achieve a proper fit while keeping you comfortable throughout. You can wear the Bell Super 3R MIPS helmet with your sunglasses on. Likewise, you can take it off without detaching the chin bar first. However, you will need to have a backpack in tow where you can secure the detached chin bar. Despite being a full-face helmet, Super 3R gives your unrestricted view from side to side.
GOOGLE GUIDE ADJUSTABLE VISOR SYSTEM & INTEGRATED BREAKAWAY CAMERA MOUNT
Here are two more accessories that make the Bell Super 3R MIPS an attractive option for fun-loving trail riders. At the top of the helmet is a seamless camera mount that is designed to break away, hence minimizing the risk of injury to the rider upon impact. Second, a GoggleGuide visor system that is compatible with glasses and goggles is attached to this shell.
OVERBROW VENTILATION
There are several ventilation ports on the brow of the Bell Super 3R MIPS helmet, channeling cool wind into and around the head.
SECURE FLOAT FIT SYSTEM & PADDING
Bell uses No-Twist Tri-Glides and X-Static Padding to stabilize the helmet on the head. Further, the padding has anti-microbial properties keeping you dry and fresh.
Pros
A lightweight, durable full-face construction with an unrestricted view

Has a convenient removable chin bar

Padding in the chin bar guarantees a snug fit

Adjustable visor accommodates glasses and goggles

US CPSC compliant for safety
Cons
The clip at the back is a bit noisy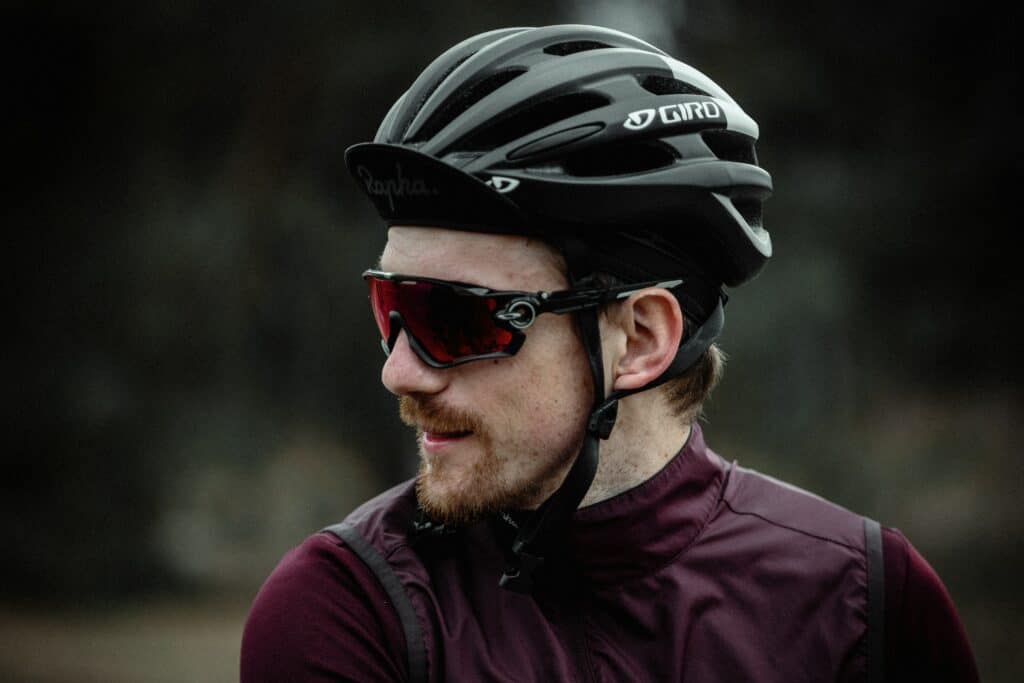 People Also Ask:
Do All Giro Helmets Have MIPS?
No. Giro cycling helmets target different riders with varying safety needs. They include the Scamp series for kids which retails with an optional MIPS version. In contrast, the Selector and Advantage II models have no MIPS options. Instead, they optimize aerodynamics for smoother and faster riding in competitions. 
Likewise, Air Attack Shield and Air Attack models are a sprinter's first choice for wraparound eye protection, aerodynamic efficiency, and the best cooling power an MTB helmet can offer. So, if you take part in extreme MTB rides or tackle unfamiliar trails, confirm that your choice Giro helmet that the MIPS slip-plane technology extra brain protection.
Is Bell A Good Helmet Brand?
Yes. Bell prides itself as a renowned brand for stylish cycling helmets. More so, it offers optimal protection for different riding styles at a reasonable price. The brand stocks a variety of designs targeting amateur, recreational, and experienced riders, both men and women. This philosophy gives Bell a competitive edge in a sporting niche where speed and looks matter.
Bikers opt for Bell helmets to be safe, look good, and guarantee efficient and reliable performance on varied terrains. Likewise, these helmets offer to use top-quality materials, offer unrivaled ventilation, and have aesthetic touches that make them stand out. Each Bell helmet is SNELL and DOT certified for safety. And, the company offers a good warranty ensuring you get value for your money.
Our Verdict
The Giro Source MIPS helmet is an improved version of the discontinued Chronicle series. It has a secure and comfortable feel, protective and durable construction, and is well-equipped for a fun adventure.  However, it features smaller vents and omits extras typical with high-end models. For example, if you are looking for a helmet with an integrated light mount or a magnetic buckle, you may have to opt for other brands offering these at a premium.
This review focuses on the Bell Super 3R MIPS helmet as an affordable alternative to the Giro Source MIPS helmet. Bell has lots of extras trail riders seek, that are omitted in the Giro model. It gives the riders the option of converting from an open-face to a full-face helmet as desired.