Sometimes when thinking of how to choose a backpacking chair, we tend to pick a backpacking chair based on the overall luggage weight. At times we even wonder whether we really need the items. But have you considered the comfort, price, or versatility of the chair?
Whereas some people see it as a luxury item, the backpacking chair becomes essential when you extend your trip or the rain clogs your camping site, for example. So what factors do you consider picking the best chair for your backpacking needs? Here is a guide on how to choose a backpacking chair that is right for you.
Weight, Packing Size and Capacity
For the die-hard backpackers, always go for the lightest backpacking chair. Weight is the most crucial aspect that determines how to choose a backpacking chair. A featherweight chair will save you the aches and pains you may endure as you cover the long miles with additional weight on your back.
On the other hand, casual backpackers and car campers can afford to trade convenience for comfort by choosing a much heavier chair with other desirable features. Your backpacking chair should fit well in your bag, trunk or tote.
Most manufacturers make chairs that can be easily assembled, disassembled, and mounted in a carry bag a size equivalent to a water bottle. Hence, when you choose such a chair, ensure you understand how to assemble and disassemble the chair independently.  A folded size of not more than 15 inches by 5 inches by 5 inches is ideal. This folded chair should fit in well with the rest of your luggage.
Finally, how much weight can your chair support?
Ensure you select a backpacking chair that can comfortably support your weight without giving in. Most backpacking chairs have a weight capacity of up to 300 lbs. Confirm the specs of the chair against your weight before purchasing it.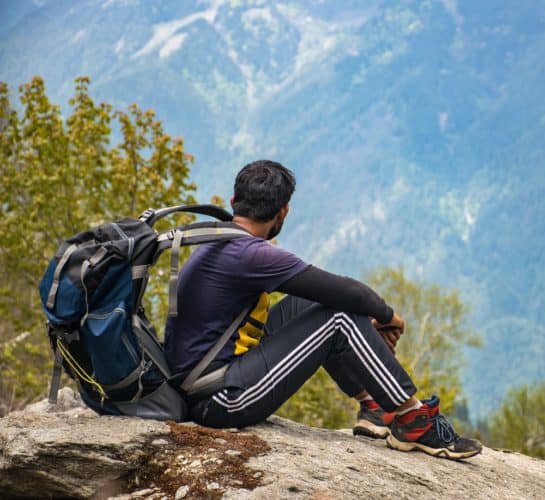 Comfort
A comfortable backpacking chair has reinforcements that make it balance well on uneven surfaces. Such a chair will enable you to sit in a relaxed posture that will not strain your back, knees or heels. Choose a chair that offers enough seating space for a pair of wide hips. 
Some chairs are made with a relatively smaller height to give them stability and mimic seating directly on the ground. Choose a chair that you can convert to fit different seating positions.
Fabric Material
Generally, the fabric used in making outdoor chairs must be weather resistant. Such chairs stay exposed in the sun or cold weather for hours. Therefore, ensure that the fabric material is waterproof, fade-proof, cold resistant, anti-static and anti-UV.  The chair's fabric should not shrink or lose shape when exposed to the weather elements for long.
When determining how to choose a backpacking chair with the best fabric material, check for a fabric that is easy to wash, dries quickly, flame retardant and naturally repels dust or oil accumulation. Such a material should not tear easily.
A chair with a breathable fabric keeps you comfortable throughout. Additionally, the material should be sewn firmly onto the metal frames and not gather at the middle when you sit on the chair.
Frame Design
Most backpacking chairs are of aluminum frames. Such frames are light, easy to maintain, long lasting, and will not rust. The poles coating is weather resistant, and shields you from the sun's harmful ultraviolet rays.
Anodized and 7000 series aluminum pole frames are some of the best structures for a backpacking chair. Other backpacking chairs use stainless steel and plastic poles. Stainless steel metal frames are the most expensive whereas plastic poles are the cheapest.
Durability
Imagine travelling for miles with a backpacking chair that becomes faulty just when you want to use it? A backpacking chair is a functional travelling item. It, therefore, must perform the purpose you intend it to do.
Ensure you choose a chair that is or a stable and compact design. Such a chair should be able to balance on different rough surfaces. A good backpacking chair should cater to many years of adventure.
User Preference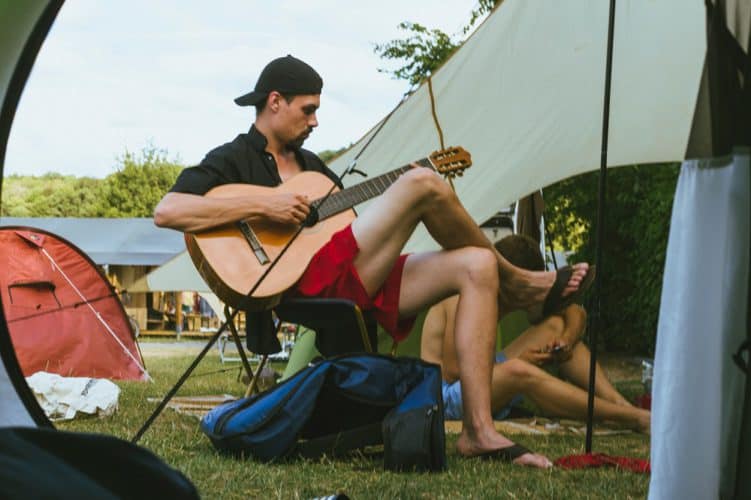 User Preference
What do you need a backpacking chair? Are you going to seat at a place where it is difficult or impractical to place the traditional chairs? If you are going on a hiking trip, then weight and packing size priority factors to consider.
If you are attending concerts, go for a low chair with reinforced heels that slide easily on the uneven ground. The bigger the backpacking chair is, the better the comfort for you. If you are going camping in the backcountry, support is the first item on your checklist.
Type of Backpacking Chairs
Choose a chair that fits your taste. There are two-legged, three-legged, glider chairs, rockers among others. Choose between taco and tent style chairs.
Taco Style Chairs
These chairs feature a simple design comprising of a foldable L-shaped fabric with robust internal support beams to keep it stable. The low lying chair sits directly on the ground. The light, easy to set up construction makes them ideal for a quick dinner set up in the wild.
They are also excellent for concerts where it is prohibited to get the seat off the ground. Such chairs, however, lose their stability when fitted with legs.
Tent Style Chairs
These chairs have a tent like a pole construction with ample seating space. The fabric is held firmly on the poles allowing a comfortable seating position. However, this comfortable construction is at the expense of the chair's weight. The chair is a bit heavier and priced higher than other chairs. This chair's versatility makes it ideal for outdoor activities at the beach, car camping or cookouts.
Conclusion
Unless you enjoy sitting on cold rocks and wet grass when hiking or on a backpacking adventure, a backpacking chair is a must-have on all trips. When deciding how to choose a backpacking chair that will be convenient for you, check for durability, versatility, weight, and the level of comfort you want. You may have to make a gamble to get the right mix of these metrics on your backpacking chair of choice.