A well-fitted helmet can protect you from catastrophic head and brain injuries when riding a mountain bike. Unfortunately, we cannot say the same for ill-fitted helmets. The most common way to figure out what size helmet you need is to measure the circumference of your head. 
Measuring Your Head's Circumference
Before the process, you need to determine the helmet form first. Manufacturers produce helmets in three major shape types:
The long oval

The intermediate oval

And the round oval.
Here is a guide to measuring your head circumference. 
Wrap The Measuring Tape Around Your Head.
Position the tape just above the eyebrows. Ensure that the measuring tape sits flat and without pinching your head. It must be uniform in all directions.
Sometimes attempting this alone might be challenging. To help you level the tape, use a mirror or ask your friend or family member for assistance. Cross the ends of the measuring tape in front of your skull if you are measuring your head circumference to make it easier to observe the measurement. And from the measurement achieved, use the highest number as your guide when choosing the helmet.
Use the Measurement to Get Your Helmet Size
It is now time to use the measurements to get the perfect fit. Also, if you're procuring a helmet for a friend as a gift and you're unaware of their head measurement, it's always wise to order something like a "FIT ALL KIT." Most of these kits on the market come with about seven different sizing liners of differing thicknesses. Therefore, they can help the helmet fit snuggly.
Most children aged six and below usually fit into a helmet measuring 18.25–20.25 inches, while 80% of people aged seven and above fit into a 20.5-23.5 inch helmet. However, a few people use helmets above 23 inches. 
So if you're purchasing a helmet for somebody and cannot measure their head, follow this principle.
For ages six and below, order an 18-21 inch helmet.

For ages seven and above, order a 20-23 inch helmet. 
Determine the Type of Helmet You Want
Your choice of the helmet will depend on your requirements. Each helmet model is designed to withstand its specific sport's unique impact types and forces. For example, a mountain bike helmet is explicitly built for riding off-road. On the contrary, a road helmet is compact and lightweight due to aerodynamic considerations. Mountain bike helmets are created to fulfill the specifications of off-road trailing. A helmet that lacks more complex functions is a leisure helmet.
Choose a Helmet Tailored to Your Head's Circumference
The majority of helmets are designed to fit a range of head circumferences. Most helmet manufacturers list the head circumference on the packaging. Moreover, on a helmet size chart, a size name like "small," "medium," or "large" may match up with a head circumference measurement.
Put on the Helmet
A good helmet must protect both the front and back of the head. In addition, the helmet should not move or wobble in any direction when you shake your head front to rear or side to side while wearing it. Similarly, if someone lays their palm on the helmet and rotates it, your head should move accordingly. If they can quickly turn the helmet on the head, it is too loosely fitted.
Another way to know if the helmet is too big is to try and insert a finger between your forehead and the helmet. If your pinky finger slides in, the helmet is too likely too big for you. 
Adjust the Helmet's Chinstrap before Use
Check the helmet's chin strap before use to see whether it is necessary. It should be snug without being constrictive. The chinstrap should not interfere with your ability to breathe, swallow, or speak. It should also not be so loose that a finger can be easily inserted between the strap and your chin.
Consider Adding Cushioning
Numerous helmets include washable, detachable padding for maintaining cleanliness. There is also the option to buy additional padding for the helmet. However, you should only acquire extra padding if you cannot find a helmet that fits properly. The extra padding can help bigger helmets fit you better. 
Important: Before each use, evaluate or inspect the helmet. The helmet must not be cracked, devoid of foam, or damaged in any other way. If the helmet is broken, it should not be worn. Please return it to the merchant or manufacturer instead. Do not ride a bicycle until a replacement is provided.
This is also why you should never purchase a second-hand helmet. You may not see the damage, but it is most likely there.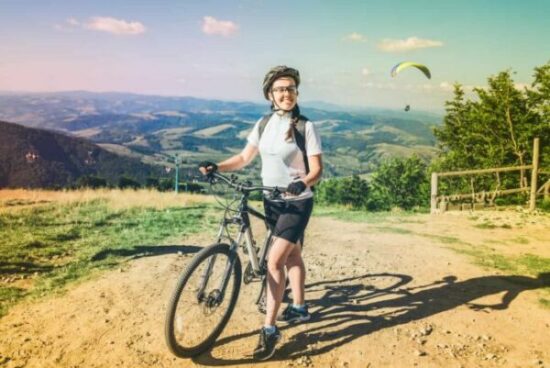 How to Properly Wear Your Helmet
You must wear and fit your helmet appropriately. Wear your helmet so that it sits level on your forehead's center and head. Clip the strap, and adjust the length properly so that at least two fingers can be inserted between the strap and the chin.
Finally, your head should not shift from side to side or front to back. 
Do MIPS Affect Helmet Size?
MIPS technology has been incorporated into several new helmet designs. However, most helmets on the market have just had the MIPS liners incorporated into current designs without making any structural modifications to the molds. While the MIPS liner is relatively thin, the contact hooks and pivot points add a little thickness. 
Many companies utilize felt patches between the foam and the liner so that it moves quickly. The end effect is that numerous helmets with MIPS are somewhat narrower than their non-MIPS equivalents in terms of fit.
Why Should You Wear a Helmet?
Sometimes a fall off a moving bicycle is inevitable. It could be due to an obstacle on the trail, a collision with other motorists, or you might hit a post in foggy weather. Such impacts can be fatal and can also cause severe brain damage. According to research, a properly fitted helmet decreases this danger significantly.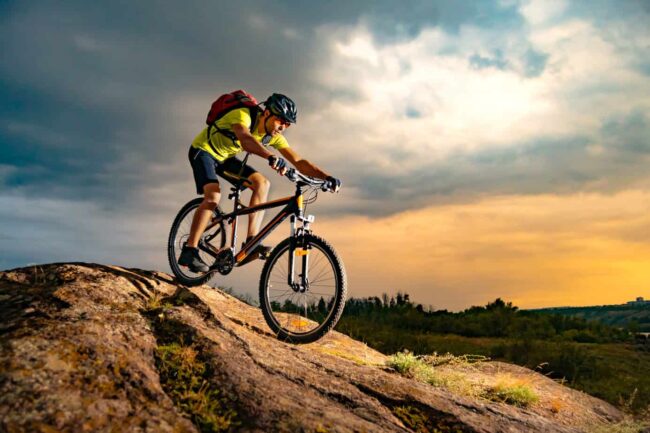 Should Kids Wear Helmets Too?
The NHTSA (National Highway Traffic Safety Administration) reports that more children aged 5 to 14 visit medical emergency rooms for bicycle-related accidents than other activities. For this reason, a child's helmet must fit immediately; do not purchase a "grow-into" helmet. Also, there should be constant helmet replacements as a child's head develops. Keep testing your kid's helmet to ensure it is not too small for them. 
Everyone must always wear a helmet when riding a bicycle, even adults. However, it is not sufficient to wear a helmet. For the best protection, a helmet must fit properly, with its chin straps tightened at all times.
Are helmets for men and women different?
Helmets have a unisex fit. This may be a worry because women often have smaller heads than their male mates. Luckily, some brands create different designs and shapes by differentiating men's and women's helmets. However, they use the same sizing chart for both. 
How Do You Make a Big Helmet Fit?
Thicker cheek pads may help minimize wind noise and fill the face's space. If the helmet seems a bit loose around the front and crown of your head, you can wear a small bandana underneath. A bandana can help you get a more snug fit, but be cautious when exploring this option because it could indicate that you are wearing the wrong helmet size.
Should I Size Up or Down For a Helmet?
If you are between sizes, take the smaller size. Change the dial-fit system, remove fit pads, and/or adjust the straps as required. A well-fitted helmet should be snug and not too tight. It should lie flat on your head and not lean backward. However, sometimes, people take a bigger size and add more cushioning. We still recommend that you ensure the helmet is snug in whatever case.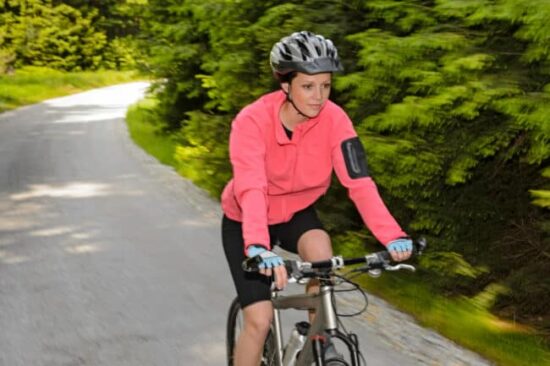 How Do I Know If a Helmet Is Too Small?
If you experience the following, the helmet you have is too small for you:
Pressure points, especially in the sides and back of your head

Too tight, you can barely move your head sideways or up and down, 

Red forehead. 
After receiving your new helmet, wear it for at least 30 minutes while indoors. This will help you figure out whether it fits you correctly. It will also allow you to send it back to the seller before using it for rides.
The Do's When Measuring a Helmet Size
Consider the helmet shape before measuring.

Position the measuring tape or string above the eyebrows

Ensure the tape lays flat but isn't pinching

Ask a friend to help measure your head's circumference.
The Don'ts 
Don't do this challenge by yourself. Request a family member or ally for help, or utilize a mirror to help you level the tape. 

Don't stick with an ill-fitting helmet.
People Also Ask
Should the Helmet be Tight or Lose
A helmet should fit snugly but not so tightly that they cause discomfort. That's why keeping the front border no more than an inch over your eyebrows is essential. Adjusting the fit is necessary if it slips more than an inch in either direction.
What Happens If Your Helmet is Too Big? 
A big helmet can cause excessive wind resistance. It may also mean too much weight on your neck.