Do you want to have the possibility to train or have fun with friends and family at home? Or at least in bad weather?You have a mimic real golfing experience using a golf simulator at home. And at the same time, it will let you know about your performance showing you the analysis of it. Fabulous, for sure!One of the best is the TruGolf Vista 12 Golf Simulator. Let's look at it, shall we?
We hope you love the products we recommend! We only products that we thoroughly investigate and believe is a real value for you.Sports Send may collect a share of sales or other compensation from the links on this page. It is at no extra cost for you.
TruGolf Vista 12 Golf Simulator w/ E6 Connect Review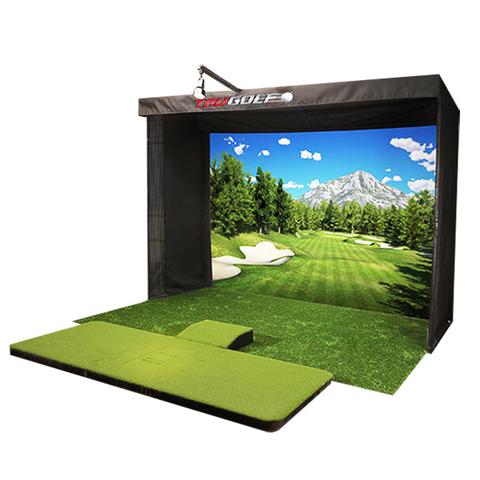 Are you a golfer who enjoys having a mobile simulator, but won't compromise on size? Then the TruGolf Vista 12 Golf Simulator w/ E6 Connect is your best pick. It is one of the three latest TruGolf Vista series models with an immersive widescreen. Indeed, it is 3.5 feet wider and 0.8 feet taller than any other model in its category. Yet, this large model has lots of portable features for residential use. 
The top of the list is its upgraded E6 Connect software. It updates your current simulator to access online tournaments and events. The Vista 12 model is the only unit with a two-year subscription to the E6 Connect software. Second, it uses the TruTrac 2 sensor technology to capture a golfer's final data for improvement. 
Unlike other sensors, TruTrac 2 can give you feedback on your club path's metrics. Also, the simulator uses flat screens that are quieter than its peer models when making an impact. It's an ultimate upgrade that every golfer should have. 
The Specifications
Sensor Technology: TruTrac2
Dimensions: 12 Feet Wide by 14.9 Feet Deep by 8.8 Feet High
Weight: 300 lbs.
Included in the Package w/o Pro Version: 116″ Impact Screen, HD Projector, 2 Year Basic Subscription to E6Golf Connect 
Included in the Package w/Pro Version: TruGolf Level 1 Computer, 21" Touch Screen Monitor, TruTrack2, Deluxe Fairway Turf, Protective Side Nets, Component Rack, Containment Brim, Frame Storage Duffel Carry Bag 
Compatible Device: iPad and PC Devices
Minimum Room Size: 10 Feet High by 15 Feet Wide by 20 Feet Deep    
Skill: All Players
Warranty:  1 Year Manufacturer Guarantee
Minimum System Requirements
For PC Users
Intel i5 Processor
8GB RAM
Nvidia 1070 Graphics Card or equivalent
25GB of Hard Drive Space
Windows 10 64-bit
Reliable Internet Connection 
For iPad Users 
iPad Pro 1 or later
iPad 5 or later
iPad Air 3 (Current Version)
iPad Mini 5 (Current Version)
iPhone 8 or later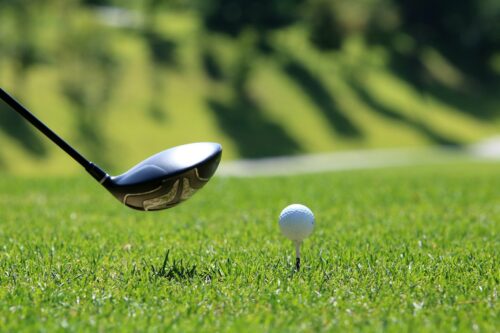 What Can the TruGolf Vista 12 Golf Simulator w/ E6 Connect Do for You?
A Holistic Experience
The Vista 12 model has traits that allow for 27 basic courses plus more than 30 other courses. It also gives you access to club fitting, pitching, putting, and chipping. Also, you have access to a driving range and a standard practice suit. All these extras ensure that you can practice the way you want, and track every shot you make. It's a holistic experience that is with a robust tracking system. Here is a list of some of the primary and extra courses you can expect with this unit: –
Sample Basic Courses:  –
Aviara
The Belfry
Whistler
Greywolf
Panther Lake Course
Thanksgiving Point
Loch Lomond
Pine Canyon
Sample Additional courses: –
Cog Hill
Paradise Palms
Pacific Dunes
Golf Club of Houston
Firestone Country Club
Sea Island
Bandon Dunes
Upgraded Portable Components
The Pro version of the TruGolf Vista 12 Golf Simulator w/ E6 Connect comes with a portable Bluetooth audio speaker, a duffel rack for the frame, side nets, and a component rack. All these units are easy to setup up. The aluminum frame and the convenient carry case make it easy to travel with the simulator. Other components are as follows: –
A high-performance screen. It uses commercial-grade materials that you can replace with the minimal cost.
A color technology projector.
A three-layered, hitting and putting surface. It is of lush green and durable make with trees and grass that mimic the real course. 
A state-of-the-art interactive computer workstation. This unit uses a high-speed processor, powerful graphics and the latest TruGolf software. 
A swing analyzer. It gives you feedback on your spin, speed, distance, angle and launch.
Versatile Simulator Add-Ons
Now, for a mid-range simulator, you should be able to do more than play golf. That's why the TruGolf Vista 12 Golf Simulator w/ E6 Connect retails with a Multisport Simulator Add On. Using this feature, you can enjoy virtual sports, including foot golf, rally baseball, slap shot hockey, and breakaway soccer. There are voice-activated features that create a real field experience. Hence, round up your friends and family, choose your mode of play, and have fun competing. 
Accurate Analysis
The TruGolf Vista 12 Golf Simulator w/ E6 Connect spoils you for choice on the number of aspects to probe. For example, its sonic ball tracking sensors will rank your club path and clubface angle upon impact. Then, the data relays instantly on the full screen in a simple, clear, and easy to interpret way. Such an analysis is a plus, for many models in its category capture ball data only.
 Use this simulator to measure your ball speed and distance, and ball carry and landing. Study how you interact with the many courses. Change the time and weather conditions to simulate different weather and course conditions. This way, you'll have a more vivid analysis of your practice.  
 Our Verdict    
The TruGolf Vista 12 Golf Simulator w/ E6 Connect is a significant buy worth every coin you spend. Whether you are a professional player or want to have fun with family and friends, it can serve you all. The software is very accurate, giving you a detailed analysis that is easy to understand. Plus the pro version gives you extras to make the unit a portable one. With this model, your game can only get better.