Much has been said about running shorts for women with big thighs. Have you tried the Under Armour Women's Fly-By Shorts? Indeed, as the name suggests, these shorts exude performance for the woman runner with wide thighs. They are of a reputable brand that is keen on the runner's comfort. 
So what makes these shorts popular? In this article, we shall take an in-depth review of the shorts' unique attributes, hoping that you will use this information to make an informed purchasing decision.  But first, a little history.
About The Brand
The Under Armour brand is a reputable brand in the sportswear industry. For decades, this staple brand has rolled out superior quality products that provide the needed support for optimal performance. Under Armour offers, performance solutions that most sportsmen and women never thought existed. 
For example, the Under Armour Women's Fly-By Shorts which targets women runners with big thighs. Still, the company is always open to innovative ideas as it aims at meeting the ever-changing needs of its current and future clients.
Length
The Under Armour Women's Fly-By Shorts measures 0.7 inches high and 14 inches wide. Likewise, it has an inseam measuring 3 inches long. This short length makes the shorts to stay high up the thighs. Therefore, you have no restrictions around the legs when running. 
They are excellent for both long races and sprints. Women runners wearing these shorts can confidently use them off-road without worrying about debris, rocks or branches poking at their bare skin. The generous width ensures that there is proper ventilation in and out of the shorts. Consequently, you will not be distracted by sweat dripping down the thighs. Instead, you stay focused on winning the race.  
Material
The type of fabric used to make a woman's running shorts is crucial in keeping her comfortable and free from sweat. And, Under Armour knows this too well. These Fly-By Shorts are made from 100% polyester material. This fabric is not static. Therefore, it doesn't stick to the runner's skin. In addition, it dries fast, keeping you sweat free throughout the race. 
Comfort
These shorts are super comfortable. Runners using the shorts describe them as having a second-skin sensation. The shorts' lightweight design is helpful when making powerful strides.
Apart from the soft polyester fabric, these shorts have strategic side panels that further improve free air flow. They help to channel hot air away from the body. The shorts' construction also uses an anti-odor technology that inhibits any buildup of harmful microbes. 
Therefore, you stay fresh throughout the race.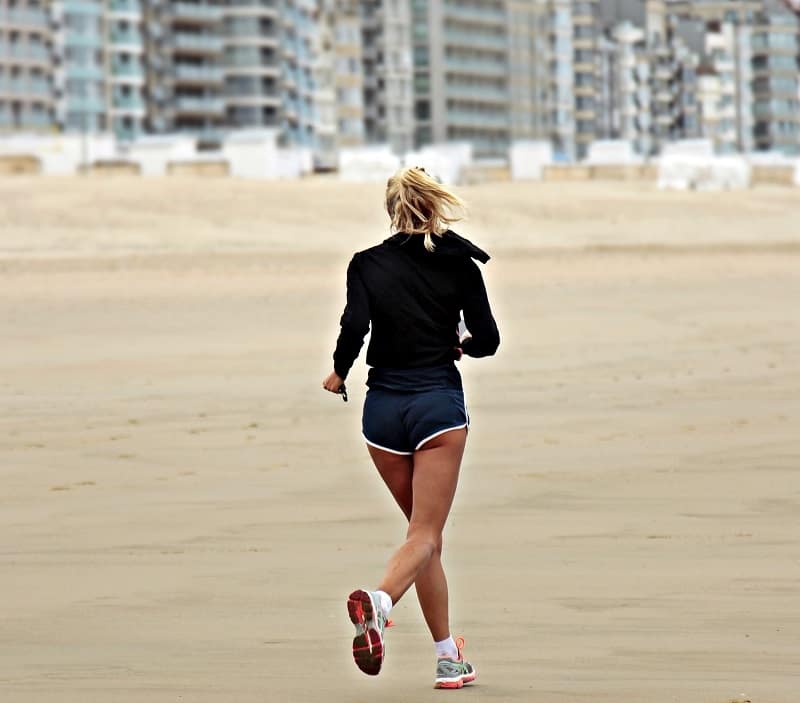 Built-in Briefs
Have you ever experienced those embarrassing moments where you have to pause and pull your underpants halfway through the race? Well, you can forget ever getting those awkward moments when you wear the Under Armour Women's Fly-By Shorts. In particular, these shorts have a built-in brief to address that.
First, the built-in brief never runs up when you run. 
Secondly, how often do you wear cotton underpants when running only to struggle with a build-up of sweat? The built-in briefs are mesh. Therefore, you do not need to wear additional underpants. Instead, the mesh briefs will wick away all the moisture build-up around your folds, keeping you cool and dry. 
Finally, the briefs prevent chafing.
Multiple Pockets
The Under Armour Women's Fly-By Shorts is generous with storage pockets. There are two pockets at the front and a tiny one hidden at the back. These pockets come in handy when you need to jog on your way to work or home, and you need a place to keep your keys, wallet, phone, or even snacks for the run (especially for diabetics). 
Equally, these pockets assist you to carry all your health monitors that are not wearable, leaving your hands free, and your mind focused on the race.
Style
If you are a woman athlete who is extra keen on how you look when wearing less, then these running shorts are for you. First, the waistband is wide and invisible, ensuring you achieve a custom fit without looking bulky. 
In addition, the shaped hem style aims at concealing your body, to give you that uniform look that we all desire. And the entire shorts are loose fitting all around. You won't have to worry about how you look or bounce off the ground when running.
Safety
When exercising very early in the morning or late in the evening, a woman runner needs to feel safe along the road. The Under Armour Women's Fly-By Shorts feature reflective details to improve your visibility to oncoming traffic. Hence, you can train all year round, any time of the day, knowing that drivers and cyclists will see and avoid you.
Proper Fit
These shorts are available in seven different sizes ranging from XX-Small to XX-Large. They also feature a wide elastic waistband with a draw cord underneath (inside them). These two aspects ensure you can pick your right size and achieve a custom fit. 
Besides, the shorts have a loose fit all around to keep you snug. And, in case you don't find your perfect fit, Under Armour accepts a return of the purchase if you do it within 60 days.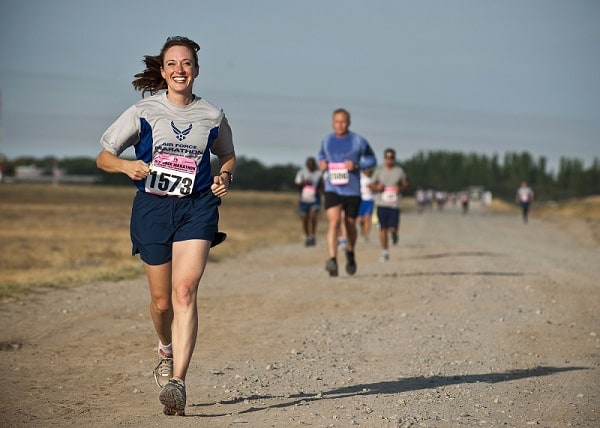 Multi-Functional
Do you take part in several sporting activities? Do you glare at the thought of having to change every now and then? Then these women's running shorts are perfect for you. 
Undoubtedly, the Under Armour Women's Fly-By Shorts are suitable for casual swimming, strength training, basketball, and lounging. These shorts' seamless front increases your comfort.
Stylish and Versatile
Equally, these shorts are excellent off the track. Use them as your casual summer wear. The stylish and versatile side panels coupled with at least forty different color variations ensures you maintain a unique look always. Therefore, match these shorts with your favorite top and shoes to maintain an original appearance.
Budget Price and Availability
Are you shopping for women's running shorts while on a tight budget? The Under Armour Women's Fly-By Shorts is right for you. Unlike other brands with a high price tag on specialty sportswear, Under Armour has leveraged on its strong brand to keep these shorts within the same range as its other running gears. Get these shorts for less than $100. 
The price reduces even further, depending on the size you choose. 
They are available on Amazon. You can purchase yours today via this link.  
Care and Maintenance Tips
The Under Armour Women's Fly-By Shorts are machine washable. You will quickly get rid of stubborn stains by washing the shorts in warm or lukewarm water (not hot) and using a mild detergent. You can also use a stain remover to get rid of any stubborn oily stains before you put the shorts in the dryer. Otherwise, the heat from the dryer will only reinforce the stain. 
The fabric dries very fast, ensuring you are ready for your next game in no time.
What we didn't like about the shorts
Since the shorts are of 100% polyester, you need to exercise caution when washing and drying it using a washing machine. Opt for a low heat setting as the fabric can melt in high heat. Also, some runners have raised a concern about the shorts' durability. 
However, the Under Armour Company offers excellent after sales service to ensure your satisfaction. They allow for free returns for up to three months after purchase.
Comparison with another Product
Are you looking for a pair of yoga shorts that are comfortable, versatile, and stylish to suit your level of activities? Do you struggle with tummy control during an intense workout session? Then, you ought to get your hands on the ODODOS High waist yoga shorts. 
These shorts focus on streamlining the body's contours while keeping you snug and sustained irrespective of the weather. 
Below are the key features of these shorts that we liked:
Material
First, the shorts are made from a blend of polyester, spandex, and nylon fabric. This blend has a final silky stretchy feel that keeps you comfy all day. They will promptly absorb and dry any sweat build up on a hot summer day. Similarly, it's an ideal layering during the winter. Moreover, these no-see-through shorts will conceal whatever underwear you have beneath them.
Functional
Secondly, the shorts aim for optimal performance. Specifically, they have a flat lock seam pattern that stays put when you squat or engage in rigorous activities. These compression shorts protect you from muscle strain or excess fatigue. 
They also support and mold your body in line with your natural contours. Hence, you'll recover fast from a strenuous workout and maintain a streamlined look in and out of the gym. 
In addition, the high waist design blends comfort, style, and function to hold your tummy in a ready position for your exercise. The crotch area has a diamond shape finish. This gusseted crotch prevents the bothersome camel toe that is common with tight-fitting pants. Besides, its 4-way stretch boosts your array of motions, ensuring that you can still hike, stroll, squat, and swim and do yoga in these shorts. 
The shorts have various versatile features. In particular, they have 4 inches wide outside pockets that can firmly hold your valuables as you cover a long stretch. These pockets' strategic position will not distract or cause any embarrassment to you as you move.
Custom Fit
The shorts are available in six different sizes and at least 40 color scheme variations. The XL and XXL size perfectly fit women with full body shape. The shorts retail in various inseams according to their size. These are: 
S: 8 1/2 inches 
M: 8 ¾ inches 
L: 9 inches 
XL: 9 3/8 inches 
XXL: 9 ¾ inches 
These inseams dimensions ensure the shorts are true to their size. You don't have to buy a size smaller or larger to get a custom fit. Besides, the shorts remain invisible under a mid-length skirt or dress. They will not slide up on your thighs nor cause any chafing. They are the best choice for smooth, non-binding shorts.
Multi-Purpose Use
The ODODOS High waist yoga shorts are excellent for both indoor and outdoor use. They remain invisible under a tight dress. And, you don't have to worry about your top clothes getting caught in between your legs as you move. The seams will remain hidden under leggings. Therefore, keep your muscles warm with a layer of these shorts under your travel leggings.
Money Back Guarantee
Finally, ODODOS shorts retail with 100% money back guarantee. Since you can get a full refund if you return these shorts within 30 days of your purchase, why not try them free today?
Our Verdict
The Under Armour Women's Fly-By Shorts are a popular choice amongst women who seek freedom and comfort when running. These shorts are light, stylish, well ventilated and have the woman with big thighs in mind. Therefore, if you always struggle to get an all-around fitting short for your level of activities and style of training, consider grabbing one of these shorts. They will not disappoint you.
On the other hand, ODODOS High waist yoga shorts are designed for the big women struggling with FUPA (baby pouch). In addition to being comfortable and gentle on the waist, they enhance that silhouette figure we all desire. And, the more you run or exercise, the more they flatten your new body. That's encouraging, right?