We have three types of riders, the sporty racers, the casual riders, and the fashion savvy. Your choice of mountain bike helmet narrows down to these three categories. Either your safety comes first, or your fashion style matters. And you can have both. This article will look at the different mountain bike helmets in the market to help you navigate which one's best for you. We will also discuss the key factors to consider when shopping for a mountain bike helmet. 
But first,
Which Type of Helmet is Suitable for You?
Mountain bike helmets have different variations, including fitting and construction. You, therefore, want to choose what is perfectly suitable for you. Let's see what options you have:
The Cross-country Lid
These are well ventilated and rarely come with visors. Generally, these helmets are a little thicker to help with those heavy impacts on rocks and other hard surfaces. Cross-country fit helmets are perfect for cross-country rallies. However, they don't quite offer the same protection as a trail lid.
Enduro Lid
Unlike its cross-country counterpart, an Enduro lid is still very well ventilated, but the vents are smaller to offer more protection. It's almost slightly thicker again as well to absorb more impact. Another big noticeable difference is the peak on the front to keep the weather in the elements of the sun and whatnot out of your eyes. This helmet also sits slightly lower at the back to protect and help the base of the skull. Some Enduro lid helmets even have a fantastic nifty little device for keeping your goggle strap in place.
With things like the Enduro World Series (EWS) taking off and significant days in the saddle becoming increasingly popular with people, protection for your head is required. However, when choosing an MTB helmet, most people don't prefer a trail or a big full-face helmet. This is why lightweight full-face helmets have started springing up.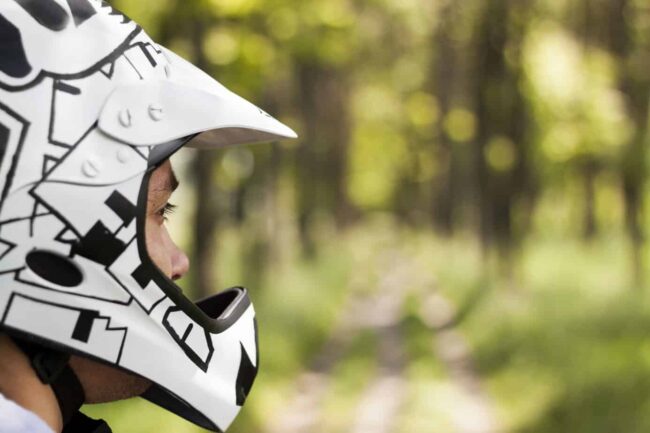 Lightweight Full-Face Helmets
They are still well ventilated and contain a chin guard to help with protection. They help keep your head cool for those long days in the saddle but give you the confidence to ride on the wilder terrain. 
The best part is that if you don't want to be stuck with a full-face lightweight helmet, you can get a full-face helmet with a detachable chin pad. This allows you to have two helmets in one if you like. So, you can wear your trail lid part of it on your liaison, then pop the chin piece back on when you lock it back down, and then you've got that full-face back.
Full Face Ultimate Protection
Now, these helmets will generally give you the ultimate and the most comprehensive protection of all types of lids. They cover you 360 wherever you take a hit. However, that protection does come at a price. They are less ventilated than an XC or a trail helmet, and there is a weight penalty to play for. Generally, they are only worn by free riders in downhill races and such types of series. 
Features To Look For In A Mountain Bike Helmet
If you would love ultimate protection and comfort while riding, look for the following things in a mountain bike helmet.
Perfect Fit

It seems silly, but having a properly fitting helmet is incredibly important. If your skid lid doesn't fit your head correctly, it could move around or even fall off when you crash. So, get the correct sizing and ensure the straps are tight.
A great way to find a properly fitting helmet is to head to your local bike shop. This is an excellent idea because they will usually have many different helmets for you to try.
Much like shoes, not all helmets fit precisely the same. You can even be between two sizes! So, being able to go somewhere, get professional advice, and try lots of different ones on and compare them is an excellent idea. Online reviews are another great way of seeing what other people think of helmets. 
Take these with a pinch of salt, though, because obviously, everyone's head and fit are different. So, it's not always something worth taking as 'gospel.' 
However, if you buy something online, make sure they have a good returns policy, just in case. You don't want to be stuck with a helmet that doesn't fit and have to wear it because there's no alternative. It's not worth doing.
Adjustability Options

This refers to what you can do to the helmet to make it fit your head correctly once you've chosen your desired one. Some helmets have a pinch-style system, squeezing two points together to tighten the strap around your head. Other helmets have a wheel ratchet system, whereby you twist the wheel and tighten that strap.
Both do the same thing and work well. They're just different methods of achieving the same thing. Each time you start your ride, start it with the helmet loosely done.
That way, you can pop it on nice and easy and tighten it to a nice snug fit every time. You can then undo it when you get to the end of your ride or when you're done with it for the day. It just means that each time, you'll be able to adjust it perfectly how you want it, rather than squeeze a helmet that's already done up tight on top of your head.
This can be pretty uncomfortable.
If possible, try to stay away from one-size-fits-all helmets. 
Comfortable Chin Strap

With these, you want them not done up too tight. You don't want the strap to bloom, cutting the hairs off your chin. At the same time, you don't want it so loose that it hangs down.
If you crash, the chin strap could hit you in the chin or the face, and your helmet could come off. So, you want it to sit nicely and snugly underneath your chin, but not too tight, so it digs in or makes breathing hard.
All chin straps should have a buckle that is easily doable, undoable, and adjustable.
On the whole, full-face helmets don't have quite the same adjustability as the trail or the XC lid. Most are pretty fixed, so there's no tightening that up. Some manufacturers will offer different pad thickness options so that you can tune it accordingly. The buckle that does the chin strap is the same as the others.
Getting the right size is essential if you go down the entire face route because there's no fine-tuning the fit on it as much.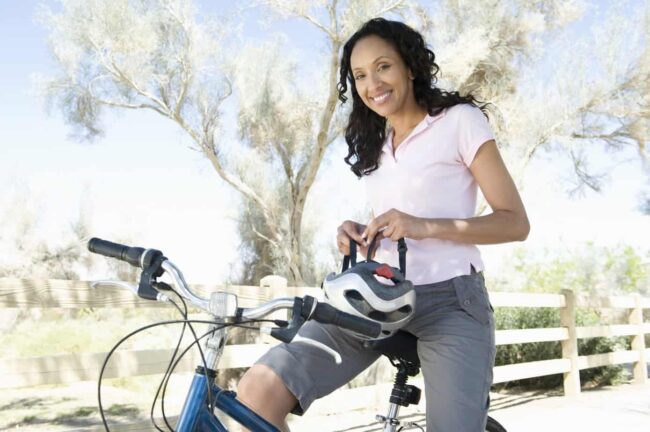 Tech features

Technology has recently come on a long way in helmets. The focus has been on ways to stop a side impact or a rotational impact. This ensures that the helmet moves around the head.
The most well-known out there is MIPS (multi-directional impact protection system). Many manufacturers employ and use this system inside their helmets. It's almost like a layer that goes inside and moves independently to the helmet. So, if you strike your head, the helmet will rotate around instead of twisting your whole head. 
Other companies (for instance, Pocket) use their patented systems. The company designed the pads in their helmets to move in any direction, dispersing forces from regular impacts by placing them in specific areas to spread the load. This allows the helmet to move independently on the head should it take a hit. 
In others, we've seen technology crossing over from other sports. Like from skiing, the Ricoh system has entered the bike world. A Ricoh system allows a skier to be found should they get caught in an avalanche. It's a transponder or a tracker that allows them to be located. 
Companies are now incorporating such technology into mountain bike helmets. It is an excellent idea because if you go out for big days in the middle of nowhere and sadly have an accident, it can improve your chances of being found quickly and effectively. 
Convenience Features

Safety is the major feature to look for in a mountain bike helmet. However, outside this, you need to like your riding tool too. We bet some of these convenient features will make you love your helmet more:
Removable chin pads, 
Lens compatibility, 
Clear visor, 
Light compatibility, 
POV camera mounts. 
Be sure to look out for these features in your new helmet.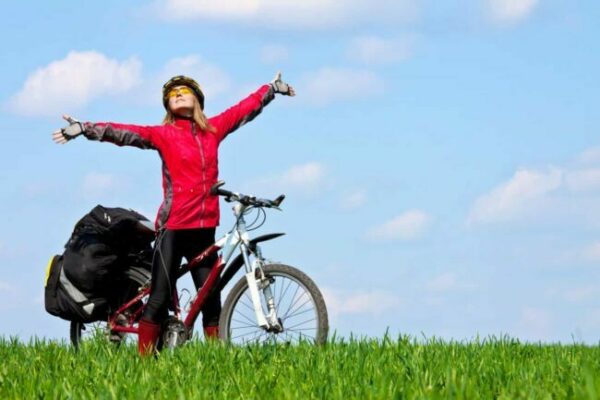 People Also Ask
Do I Need a Special Helmet for Mountain Biking?
The road and MTB helmets will have similar structures because they adhere to the exact safety requirements. Although road helmets are smaller and less bulky, they nonetheless provide the same level of protection from impact as MTB helmets. You, therefore, do not need a specific helmet for mountain biking, even though there are helmets designed specifically for that. 
How Do You Know if Your Bike Helmet is Too Big?
It is likely too large if you can fit your pinky finger between your forehead and the helmet. It should be tight (but not too tight) that there is no space for even the tiniest finger.