Whether you are in the men or women's lacrosse team, unless you organize yourself, carrying your lacrosse jerseys, mouth guard, stick and other gear can get clumsy. It is therefore natural that you choose the right lacrosse bag that separates and fits all your equipment and accessories.
Equally, lacrosse bags vary from small stick holders to big backpacks that can take up more. In this review, we take a look at the Athletico Lacrosse Bag,  a durable backpack ideal for a goalie, midfielder, attacker or defender looking for more space for his/her equipment. So what exactly can this backpack do for a beginner or an advanced lacrosse player?
We hope you love the products we recommend! We only products that we thoroughly investigate and believe is a real value for you. Sports Send may collect a share of sales or other compensation from the links on this page. It is at no extra cost for you.
Features
Design
The Athletico Lacrosse Bag measures 15 inches long, 11 inches wide and 24 inches high and weighs 2.4 pounds. It is an extra-large backpack essential for any teen, youth or adult lacrosse player rushing to a tournament or practice with heavy equipment in tow.
This bag is of high-density nylon and polyester blend. This mix is light yet durable and able to withstand the extra weight. Do you often find yourself mixing your wet and dirty jerseys and cleats with the rest of your dry sportswear? Not anymore. This bag's chambers repel moisture from your soiled clothes and keep the rest of your luggage dry. Also, there are vented cleat compartments for your extra sensitive gear. However, the backpack retails in one black colour scheme only.
Space
Are you a goalie looking for a backpack to fit your chest pads, padded pants or shin and throat guards? Or are you in the men's lacrosse team where the equipment is relatively voluminous than the women's lacrosse?
Since what stands out with Athletico Lacrosse Bag is its multi-functional design, the bag offers you all the space you'll ever need. Whereas other equipment-specific bags will not fit your shoes, electronics and the rest of your accessories, this duffel-like bag has equipment-specific chambers and pockets while giving you ample space to add anything else you want to carry along with you.
The Athletico Lacrosse Bag's design allows you to organize your gear and accessories for easy access. It also protects your equipment from annoying scratches.
First, the bag has two all-purpose lacrosse stick holders for all types of lacrosse sticks. These holders are compatible with lacrosse, football and hockey sticks. Although the helmet can fit in the main pocket, there is an external helmet or face mask holder with provision for double adjustment to firmly secure the helmet from the outside.
Next, are the two water bottle holders found on the sides of the bag. Use the extra pockets at the bottom compartment for your gloves, balls, shoulder pads, goggles, elbow and arm pads and cleats. The front pockets come in handy for your mobile phone, car keys, wallet and any other small gadgets. Make use of the locker loops when to hang the bag in your changing room.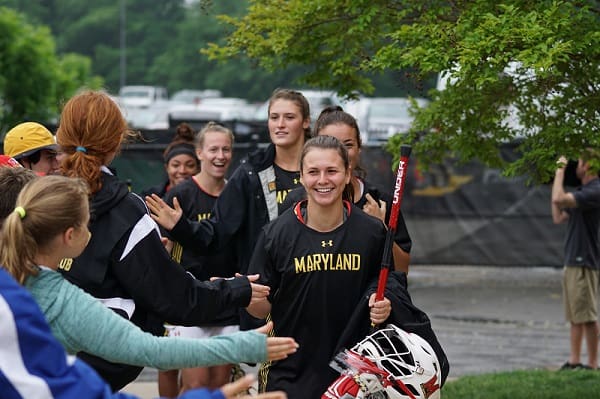 Convenience
Do you always carry more than one bag to your lacrosse game? The Athletico Lacrosse Bag is quite spacious. It will accommodate all your luggage. It can even hold a set of change of clothes alongside your full lacrosse set.
The Athletico Lacrosse Bag retails with a 100% money-back guarantee. Therefore, return the bag if it does not fit your gear or if it is too big for you.
Do you take part in other sports such as hockey or football? You don't need to have more than one bag. The Athletico Lacrosse Bag is compatible with other sports equipment apart from the Lacrosse gear.
Do you go for practice before dawn or finish your game late at night? The bag's reflective safety accent will keep you safe from traffic as your walk home with your backpack behind you.
Are you carrying heavy gear? Make use of the backpack's safety padding, hip belt and sternum strap to balance your load.
Summary of Features
The Athletico Lacrosse Bag is an extra-large bag with a durable exterior cover that remains intact under heavy load. It has ample compartments for your entire luggage. Its strategic vents and mesh construction keeps your equipment damp free. This bag targets lacrosse players who want to concentrate on their game and not worry about how and where to locate and carry their gear.
CHECK LATEST PRICE ON AMAZON.COM
Comparing With a Similar Lacrosse Backpack Bag
​Under Armour Men's LAX Lacrosse Backpack Bag
Another equally good backpack for a lacrosse player in search of a spacious bag for his/her equipment is the Under Armour Men's LAX Lacrosse Backpack Bag. This extra-large backpack measures 23 inches high, 14 inches long and 8 inchaes with a volume of at least 2,600 cubic centimetres.  Additionally, it has removable inner panels to create more space as per your needs.
The bag also has numerous pockets and compartments for your valuables including your arm guards, cleats, and helmet and shoulder pads. It also comprises of an easy to access mesh water bottle holder, conveniently adjustable shoulder straps and generous padding with vents on the back. This design keeps you comfortable and your luggage free from dampness. Use the bag's extra pockets for your phone, keys, wallet or charger.
Just like the Athletico Lacrosse Bag, this bag is of a water repellent 600D polyester fabric blend that withstands the heavy load from season to season. It also has two external lacrosse stick holders. Another unique feature of the Under Armour Men's LAX Lacrosse Backpack Bag is its unique bag ID window where the player can put a name tag to his luggage for quick identification. This feature comes in handy when participating in tournaments where space is limited. Unlike the Athletico Lacrosse bag, this backpack is available in several colour schemes.
Conclusion
If you are a lacrosse player with loads of equipment to carry, this weight can easily distract and interfere with the way you perform in the field.  And with so many designs in the market, buying the best lacrosse bag that suits you can be quite challenging. The Athletico Lacrosse Bag is a convenient bag that will make your trip to and from practice and tournaments a pleasant one. This bag is roomy with extra outer pockets. Use this bag to organize your gear for a satisfying experience.