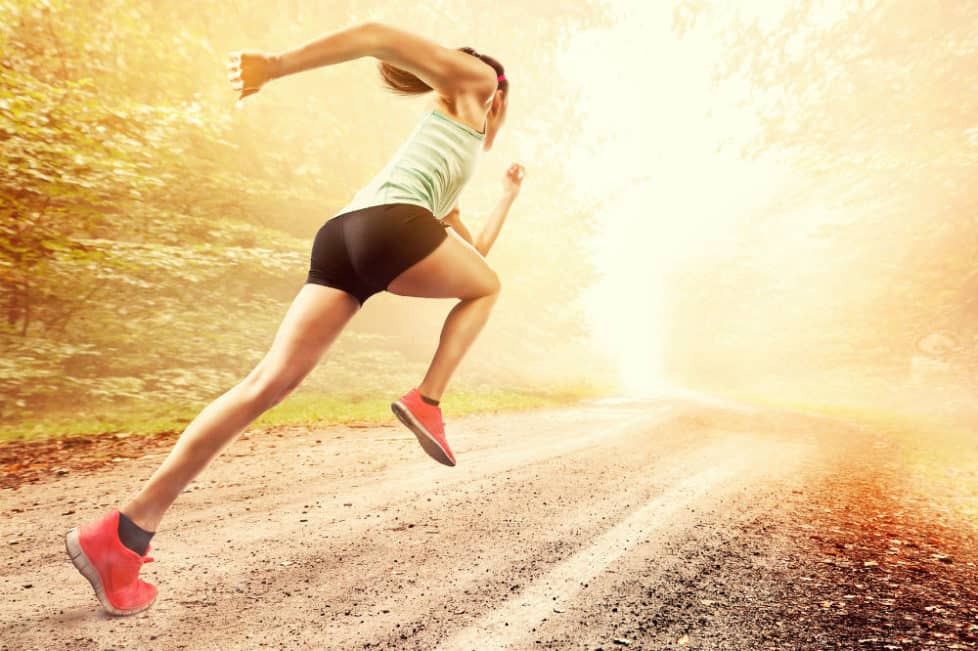 If running shoes are for running, then running socks are for running shoes. Wearing rubbers shoes and cotton socks are simply not enough for running – especially for the athletes or professional runners. When it comes to running, this phrase should be the motto, "run away with running shoes and socks."
Running socks, as the name itself indicates, are specialized kind of socks that are tailored fit particularly for running and similar activities that would require one to be moving around on his feet for a long period.
The running socks are made for comfort and prevention of blisters on the feet. They are designed with several qualities that give the feet protection as well as support for standing long, running around or jumping.
The feet is being subjected to unrelenting and forceful pounding and impact when running a distance and the feet may suffer problems and injuries if not appropriately clothed by running socks.
It is unfortunate and detrimental when some runners simply wear socks without putting much thought to what type of sock should be worn – some would find it sufficient enough to just wear any sock together with the running shoes. However, a good runner would tell one that wearing a good pair of running socks is as important as having the right type of running shoes.
Cotton Socks vs. Running Socks
It is common for one to choose cotton socks over the other types of socks as it is the usual choice and it comes cheaper than the other socks.
And to be honest, there is nothing wrong with the cotton socks. In fact, they can be comfortable with its soft fabric and gentle material, but such features are not the only things important when it comes to running or performing physical activities that would require one to be on his feet. For that, running socks is the better choice.
Running is a sure guarantee of having sweaty feet. The soft fabric of cotton socks can be comfortable, but the same is not much of a help in the aspect of moisture or sweat control. On the contrary, the cotton socks tend to absorb moisture or sweat that it comes in contact with and work to keep it against the feet.
Hence, wearing cotton socks during runs would most likely result in having soggy feet. If moisture is combined with heat and friction, the mix will complete the recipe for making blisters and calluses. Such feet conditions can be easily avoided by using a pair of running socks. Almost all of the running socks have wicking moisture technology which keeps sweat and moisture away from the socks and the feet.
Another consequence of running is warm feet – too much of it may easily lead to blisters. Most of the cotton socks do not allow air to flow between its fabric materials. Fortunately, with the running socks, there is breathability.
The running socks allow airflow to and from the material so that dry and cool feet can be maintained despite being encased within the close material for along period of walk or run.
Furthermore, sweaty feet can lead to smelly feet. Most running socks likewise offer ananti-bacterial feature which the common cotton socks do not have. The anti-bacterial feature prevents the proliferation of bacteria and fungi that cause the bad smell in the socks and the feet. Hence, the feet can be dry, clean and odorless by using running socks.
Other Benefits of Running Socks
A running sock is made to protect, to comfort and to support. As between the cotton socks and running socks, using the latter could spell a difference in the condition of the feet. The running socks also offer some health benefits for the feet.
First is that the running socks can provide the additional protection and support for the leg muscle to withstand the impact of pounding against the ground. As a result, common foot problems and injuries such as blisters and Achilles issues can be done away with.
In addition, despite walking and running all day long, foot fatigue can be reduced with the help of the running socks. Second is that the running socks are also helpful in taking care of muscle injury on the legs.
A running sock has the ability to provide the much needed targeted and graduated compression for the improvement of leg blood circulation. With the faster circulation of blood in the leg area, recovery from any leg injury will also be faster. Hence, the running socks are just as important as running shoes, especially for athletes and serious runners.
What to Look for in Running Socks
From hereafter, it is important to know that there isn't a running sock that fits all. Otherwise stated, this means that what others think as the best running socks may not be the same for all.
There is no fast rule as to what constitutes the best running socks but there are important qualities or features to look for in a running sock in order for it to be classified as one of the best. The following are the points to consider in looking for the best running socks:
1. Cushions
The level of cushioning would mainly depend on the personal preference of the user. However, as a general rule, too thick running socks tend to be difficult to wear on, while too thin running socks can be a bit uncomfortable and provide less protection to the feet.
So with that out, what is more important is to look for pressure points or impact zones and make sure that those are padded well enough.
Pressure points are the most battered areas of the feet because these are the points where the weight of the body is concentrated and these are the parts of the feet that come in contact with the ground. The back of the running socks, where the blisters are most often formed, should be cushioned properly.
2.  Stretch
The running socks – or a good pair of it – have spandex on certain areas to prevent it from slipping or being misplaced. If the running socks will not slide down, the back of the feet will not be exposed to the shoes or any surface that could cause friction and blisters.
3.  Material
Cotton socks are infamous for causing blisters because they harbor moisture from sweat. Moisture may lead to slippery socks – which in turn leads to rubbing that could result in blisters. A material made of wool, synthetic, or both can be more comfortable because the feet can be drier.
4.  Fit
The goal is to achieve a snug fit – not too tight and not too loose. Big running socks would expose the feet and lead to sores due to rubbing and friction. Tight running socks would cut the circulation of blood in the legs and feet. Having a balance between the two will give comfort and protection to the feet.
5.  Warmth
Warmth depends on the thickness of the padding and the length of the running socks. Cold weather would need thick and high length running socks, while a warm temperature will need thin and low-cut running socks. Also, running socks that have airflow for the skin of the feet to breathe are important in preventing heat from accumulating within the sock when running.
6.  Odor
Sweaty feet would lead to smelly feet. In order to prevent this from happening, the shoes should be kept dry with the running socks' wicking feature. A running sock that also offers odor control like antibacterial technology that inhibits proliferation of bacteria and fungi in the feet and socks will be a nice feature to have.
One need not browse the internet to know that there are many running socks being sold in the market these days. The number can be overwhelming, especially for the first timers.
So to jumpstart and help in the search, here are short product reviews of five (5) running socks, popular and best-sellers in their own right, available in the market these days in order to give on an idea on what to look for.
Vitalsox Italy Patented Running Socks
When going through physical activities that would put a lot of stress on the feet, one should wear the proper footwear, including the right type of socks.
If one wishes to go on a running habit or hit the gym for a strenuous session, having a good pair of shoes is not the only thing that should be considered. Having good running socks like the Vitalsox Italy -Patented Running Socks is also equally important.
This running sock is 70% silver drystat, 10% spandex, 10% lycra & 10% nylon. The running socks offer features such as Vitalsox exclusive Silver DryStat, patented graduated compression, four (4) way stretch and Wicks moisture. To add, the running socks only weigh 4.8 ounces and are 100% made in Italy.
Pros:
Made 100% in Italy
High quality and good performance
Every pair is hand tested
With Silver DryStat feature
Prevents the growth of fungus
Reduces foot odor
Prewashed with a chemical free softener
Ready to use
Wicks moisture for fewer blisters
Versatile
Helps thefaster recovery of injured feet
Offers compression starting midfoot
Has four (4) way stretch
Fairly affordable price
Cons:
Not enough compression
Not snug around the ankle and the calf
Little support around the arch of the feet
Not long enough – tends to ride down the leg
Tight around the knees
Thirty48 Running Socks
During running, exercising and any other activities that entail the use of feet, the legs as well as the feet should be given proper support and compression that can only be provided by a good pair of running socks like the Thirty48 Running Socks.
This running sock is for men and women. Its key features are a cushioned low cut style, multiple cushions, Coolmax fabric, moisture wicking technology and a heel tab.
The running socks are being offered in a wide variety of colors and were designed to be form fitting with its tear protected toe & heel areas. To add, this resilient and versatile running sock is a good mix of 33% CoolMax, 27% cotton, 30% nylon, 8% polyester & 2% lycra materials.
Pros:
Unisex running socks
Versatile
CoolMax fabric material
Keeps away moisture from feet
Helps in keeping the feet cool
Allows airflow for skin to breathe
Maximum feet protection and comfort
Extra pads found in theheel, Achilles and metatarsal areas
Heel tab feature
Can be used with night splints, ice packs & compression sleeves or socks
Form-fitting feature
Elastic arch support
Comes in avariety of colors
Cons:
Not very stretchy fabric material
Tight around the ankle area
Sometimes stitching comes apart after several uses
A little too thick with the extra padding
A little more expensive than others
MudGear Trail Running Socks
Joining an outdoor activity like a mud race, running or mountain hiking can be a comfortable experience when one has the right foot apparel like a good pair of running socks that will provide comfort and protection to the over-used and often neglected feet.
When it comes to choosing outdoor running socks, nothing can be better than having one of the best like the MudGear Trail Running Socks.
The running sock is a combination of 5% Spandex and 95% polyester. The sizes being offered by the running sock are small, medium and large with the particulars: small (M: 5-7, W: 6-8), medium (M: 7-9, W: 8-10) & large (M: 10-13/ W: 11-13).
For this USA-made product, satisfaction is guaranteed when using the running socks because they offer key features such as a strong construction, medium ankle compression, and a vented mesh top.
Pros:
Good outdoor foot apparel
Super comfortable to use
Prevents feet from having blisters
Can withstand long and bumpy surfaces
Durable
Medium ankle compression
Keep outs the trail debris and mud
Has vented mesh top
Breathable material
Has agood fit
With nice cushioning
Made in the USA
Decent and affordable price
Cons:
Material makes drying the product slow
Absence of form fitting feature
Loose on the toes area
Lacks padding on the ball and heel area
Sizes are smaller than the given sizes
Thorlos Experia Men & Women's Running Socks
Is the current pair of socks not holding up well? Sometimes a pair of cotton socks will simply not make the cut.
Go for the better version – go for running socks that give more protection and support for the weary and often neglected feet. Try a good pair of running socks like the Thorlos Experia Men & Women's Running Socks.
This running sock is a combination of 62% THOR-WICK COOL polyester, 21% polyester, 16% nylon & 1% elastic materials. The running socks have an XCCU or padding style, sculpted thin cushion, ultra-lightweight sock frame and lite cushioning features to offer its wearers. To add, the socks come in a variety of colors, have a contoured aerodynamic glove-like fit with maximum breathability capacity.
This made in USA running socks only weigh 1.6 ounces and have the dimensions of 1 in x 1 in x 1 in. For full customer satisfaction, the sock has a satisfaction guaranteed thirty (30) days no risk trial period.
Pros:
Lite cushioning
Ultra-lightweight sock frame
Comfortable to use
Has contoured aerodynamic glove-like fit
Has mesh made of Lycra
Offers maximum breathability for the feet
Protects feet from friction & blisters
Has heel lock feature
Offers a money back guarantee for thirty (30) days
Made in the USA
Cons:
Unpadded areas in between the padded ones can be felt and may bring a little discomfort
Has thinner cushions
Takes a long time to dry
No capacity to wick away sweat or water
FITSHITCompression Socks
Take a breath from the usual cotton socks and go for the types that offer more comfort and support to the feet, especially during intense or long physical activities.
Go for good running socks like the FITSHIT Compression Socks. The running sock offers avarious key feature that makes it standout such as a premium graduated & targeted compression and quality fabric, moisture wicking technology and a SnugLeg technology.
Furthermore, the quality of the running socks is guaranteed because each pair has been hand tested for comfortable use and durability. This product is available in five (5) different colors and has the following running socks sizes to choose from: Small (M: 4-7, F: 5-9), Medium (M: 8-11, F: 9-12), and Large (M: 11.5-14, F: 12+).
Pros:
Premium graduated or targeted compression
Reduces leg muscle fatigue and injuries
Facilitates faster blood circulation & recovery time
Uses a moisture wicking technology
With an anti-bacterial technology
Prevents thegrowth of fungus and bacteria
Provides odor-free feet
Has SnugLeg technology
With extra padding in the foot area
Tested for maximum performance and long service life
Durable
Affordable price
Variety of colors to choose from
Cons:
Name of the brand is printed at the back of the socks in big and bold letters
First few tries of putting on is hard because it is too tight