Intech Lancer Junior Golf clubs Set review is important if you have a group of children who love golf. One way you can encourage them to be disciplined, consistent, and focused in achieving their goals is by using the appropriate golf set clubs. No other company knows this better than Intech.
Intech is an industry leader in making beginner friendly golf clubs that are much more forgiving to the amateur golfer. They manufacture a wide variety of golf clubs and training equipment for players all around the world.
One of their products, the Intech Lancer Golf Clubs Set for juniors is a favorite with upcoming young golfers. In this Intech Lancer Junior Golf clubs Set review, we shall analyze the features of this golf club set and give a verdict on its appropriateness for use in offering golf training to golfers at an early age.
We hope you love the products we recommend! We only products that we thoroughly investigate and believe is a real value for you. Sports Send may collect a share of sales or other compensation from the links on this page. It is at no extra cost for you.
Intech Lancer Junior Golf clubs Set Review – The Features
Overall Construction
Intech Lancer Junior Golf Set is a ten-piece combo for juniors. It comprises of a 4/5 hybrid iron and a 17.5-degree Fairway driver. The iron measures 34 inches while the driver measures 37 inches. In addition, the set has 7 wide soles and 9 irons. Each measures 33 inches. Finally, you have a 29.5 inches junior putter and two head covers.
Unlike having the full set of 14 golf clubs set, this composition provides all the essential gear without straining the amateur golfer.
These golf junior golf club sets from Intech are of a lightweight construction making them easy to handle and control. The golf club set is available in cute colors that are attractive to kids. Additionally, this junior combo allows for both left-hand orientation and right-hand orientation. This design is an all-rounded golf club set you may want to get for your children.
The Length
With junior golfing, the length of the golf club is vital. It is because children find it hard to control long clubs. This difficulty can easily lead to frustration and eventually the child opting out of the game. This Junior Golf Set features small clubs that match the height and strength of the user. The golf club set requires the user to choke down an inch or less when making the swing. This convenience translates to a healthy swing at a faster speed.
The Golf Clubs Set comes with a sizing guide that matches the height of the golfer to the length of the clubs. Based on the manufacturer's sizing chart, the club's range has a slight provision for children to grow with the clubs.  These golf clubs are suitable for all children between the age of 8 years and 12 years.
The Weight
The whole Golf Club Set measures 39 inches by 10 inches by 7 inches and weighs 1.6 ounces when packed. The individual club's lightweight design ensures that the junior golfer manages to independently take and move the club to the top of the backswing without struggling.
Additionally, the golf clubs feature lightweight heads and shafts that offer consistently repeated swings without exhausting the golfer.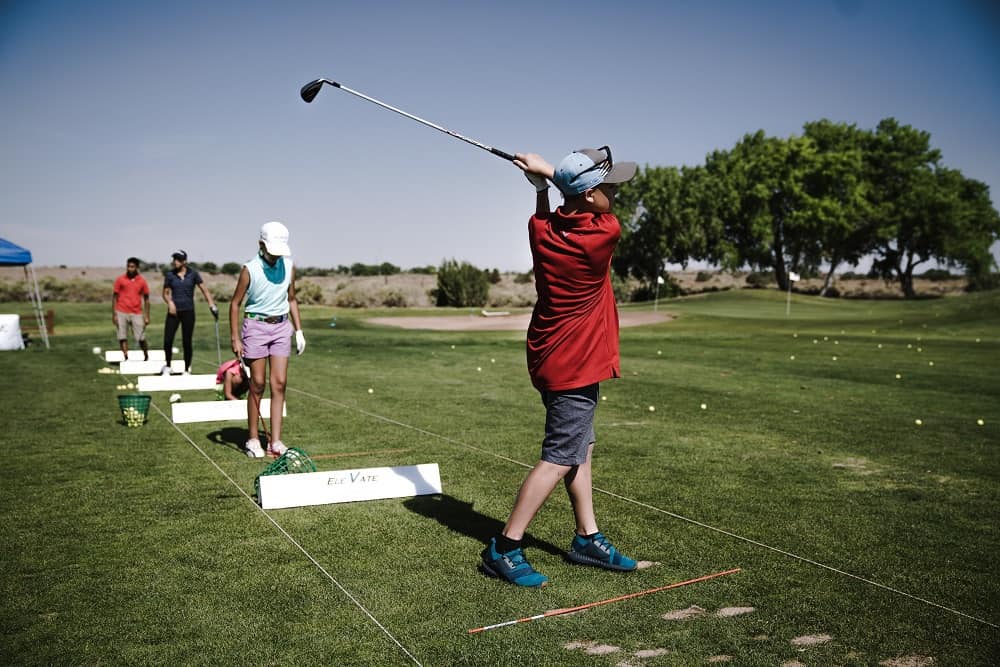 The Shaft Flex
The Intech Lancer Golf Clubs Set features softer graphite shafts in all woods and irons coupled with a steel shaft for the putter. Such shafts are light and swift, offering the right flexibility that matches the children's swing speeds. They provide consistent swings and are easy to play with without causing strain to the child.
The Golfer's Wedge and Grip Size
This Golf Club Set features a dedicated pitching wedge. This wedge is vital in getting the ball up in the air using consistent shots. This pitching wedge also comes in handy when performing chipping drills.
Just like in adult golfing, junior golfers' grip size has a significant effect on the swing mechanics. The Intech Lancer Junior Golf Clubs Set matches a grip size for a child aged between 8 years and 12 years.
Convenience
As these golf clubs are set to go through the natural aging process, the manufacturer has added some features that make it easy for a junior golfer to care and maintain his golf club set for long.
The Golf Club Set retails with a convenient, high-quality carry bag that keeps the unutilized clubs safely, protecting the clubs from knocking each other and getting scratches. This carry bag features a 4-way top that creates compartments for the individual golf clubs keeping them organized all the time.
This golf club set's head covers offer padding for the irons, woods, and putters. This cushion, in addition to the use of the carry case, protects the clubs from clashing or sudden rain downpours that can cause permanent damage to the clubs.
The golf club set is easy to clean with warm soapy water. The junior golfers can easily carry a light towel to wipe off dirt from the clubs as they move around the green.
Pros
Adequate length for a regular swing
Great look at an affordable price
Easy to use, care and maintain
Retails with a 60 days money back guarantee
Package includes a convenient deluxe stand bag
here…
Cons
Lacks a wedge for pitching or chipping
Best suited for boys only
The Verdict
To sum up this Intech Lancer Junior Golf clubs Set review, the Intech Lancer Golf Clubs Set for juniors is an all rounded complete starter club set for kids. Its affordable price makes it a convenient kit for training that can be substituted with other adult kits as the child outgrows them. This golf club set's lightweight construction guarantees faster swing speeds that translate to longer drives for the junior golfer. They are an excellent choice for instilling the resilience necessary to become a successful adult golfer.
​Buy yours right here on Amazon.