Merrell Men's Vapor Glove 2 Trail Shoe: QUICK OVERVIEW
FEATURES
DURABILITY
AFFORDABILITY
MATERIALS
What We Like
Offers a comfortable fit

Durable yet lightweight

Breathable material in the upper

Promotes low-impact running

Helps improve posture

Sticky outsole improves grip and traction

The lace-up system allows easy adjustment

Hard-wearing outsole

Available in six colors
What We DOn't Like
The toe box is not wide enough

Has a narrow fit
Our feet tend to grow weak because of wearing shoes with cramped toe box and excessive cushioning. Barefoot or minimalist shoes are designed to provide more freedom as you move and make the feet stronger.
The main purpose of barefoot shoes is functionality. That's not to say that style is irrelevant, but first and foremost, they're designed to let your feet move as naturally as possible. This means their build usually varies from conventional shoes in several key ways.
Moreover, comfort is an important thing to consider as well. One of the most popular barefoot shoes available is the Merrell Men's Vapor Glove 2 Trail Shoes. It is specially made to provide a sock-like fit without giving your feet too much cushioning.
CHECK LATEST PRICE ON AMAZON.COM
Merrell Men's Vapor Glove 2 Trail Shoe Review
Let us see why minimalist runners are raving about the Merrell Men's Vapor Glove 2 Trail Shoes. Take a look at its features as well as the advantages and disadvantages of using it below.
Features
Barefoot shoes offer less support, allowing your feet to work as they do. Do you think the Merrell Men's Vapor Glove 2 Trail Shoes deliver on this promise? Let's find out!
The Merrell Men's Vapor Glove 2 has a zero drop heel-to-toe construction. This works in a way that the forefoot and heel hit the ground at the same time, making sure your form is correct, and your run is low-impact.
The overall structure of this shoe is really glove-like, allowing you to move without interference. It is nicely shaped and perfectly designed with the minimalist approach in mind; wearing it feels like you are close to being barefoot.
Breathable Upper Material
The upper is made of a combination of thermoplastic polyurethane and breathable mesh, giving you a light, airy structure that keeps the feet fresh and dry. This also allows quick drying in case you go through wet trails.
This shoe is made with a thin mesh, which makes it breathable and lightweight. The thin but durable material follows the foot's movement, thus making this shoe very flexible.
Furthermore, the stretchable materials ensure a snug fit, while the rubber outsole provides protection and slight cushioning without adding substantial weight to the shoe.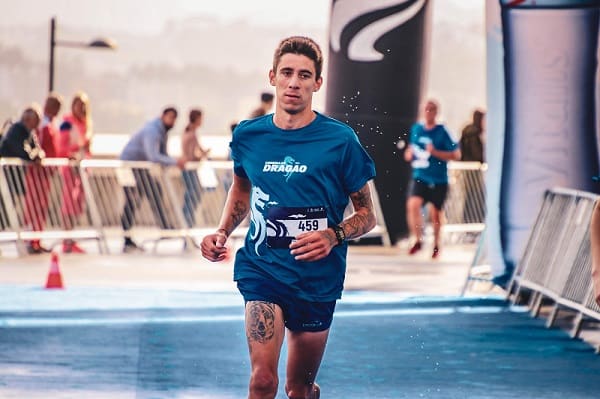 The lacing system is traditional and uses flat laces that stay put without any problem. This lets you adjust the fit and keeps the shoe secure, so you can freely tug and pull accordingly until the shoe fits like a glove.
For ultimate grip and traction, the Merrell Vapor Glove 2 uses the Vibram outsole technology. It is a blown rubber that is covered with thin fabric for added comfort.
The outsole is very durable and will surely withstand mileage, while its slight stickiness provides an additional grip that offers steadiness even on varying surfaces.
The shoe's pull tab at the counter makes it easier to wear and adjust. This is a nice feature that adds flexibility and comfort, and at the same time makes the shoes more efficient.
Despite the very thin cushioning, which is relatively close to nothing, the shoe's thin fabric lining is effective in making the inner part of the shoe soft and comfy. You will feel no chafing and discomfort even for protracted periods.
While its low-profile design makes it an ideal shoe for any activity, the Merrell Men's Vapor Glove 2 uses hard-wearing materials that do not compromise softness and comfort.
It might be a minimalist shoe, but it offers a style that makes it nice for everyday wear. It even comes in six colors, giving you more choices for your everyday run.
Summary of Features
The Merrell Men's Vapor Glove 2 Trail Shoes features a zero-drop heel-to-toe construction. The fit is similar to a glove, which is really snug, and it can be easily adjusted using the traditional lace-up system.
The materials used for the upper are mesh and TPU, which, when combined, provide a breathable and lightweight finish. The combined materials make it quick-drying too.
Comparison With Another Minimalist Shoe
There are hundreds of barefoot shoes available in the market and choosing one that works for you can be tricky. To give you an option, we also reviewed another popular minimalist shoe. Let us compare the Merrell Vapor Glove 2 with the Saguaro Unisex Barefoot Gym Shoes.
The Merrell and the Saguaro both have anti-slip outsoles that offer grip and stability regardless of the surface. Both have breathable insole and upper material, but the Saguaro claims to use a water-resistant material for the upper. Saguaro offers a wider toe box compared to Vapor Glove 2's narrower room.
Design-wise, they are almost the same. The form of each brand is very similar, but the Saguaro noticeably has a wider toe box. Their adjustment system differs, with the Merrell consisting of traditional lace and the Saguaro having a speed lace system.
Overall durability is almost equal in these two shoes. They have a hard-wearing rubber outsole and strong material for the upper. The stitching and gluing are on-point, and they are generally comfortable to wear.
Conclusion
With the growing popularity of barefoot shoes, it is not rare to see a number of products that are made just for the sake of selling barefoot shoes. Some can't even offer durability while the others have compromised comfort.
Good thing, there are barefoot shoes that can meet what we are actually looking for in minimalist footwear. The Merrell Men's Vapor Glove 2 Trail Running Shoes, for instance, surprisingly have most features that high-quality shoes have. It has minimal support, helping your feet to gain stronger muscles. Plus, it is very comfortable and durable at the same time.
Overall, if what you have in mind is a pair of flexible, durable, and comfortable shoes that are lightweight and make you feel like you are barely wearing anything, the Merrell Men's Vapor Glove 2 Trail Running Shoes is one of your best bets.
CHECK LATEST PRICE ON AMAZON.COM