Garmin Forerunner 235 is a digital watch suitable for clients keen on fitness and health. As we all know, one of the most important features that determine a gadget's reliability is its battery life. Garmin Forerunner 235 battery life is superior, and you can have 5-7 days between charges. Some people report as many as nine days!  
The Forerunner 235 has a reliable activity tracker, which comes in handy when tracking your heart rate, calories burnt, distance covered, etc. It has a high-quality tracking system that enables its users to keep track of their performance. That way, you can analyze and customize the data collected.
We hope you love the products we recommend! We only products that we thoroughly investigate and believe is a real value for you.
Sports Send may collect a share of sales or other compensation from the links on this page. It is at no extra cost for you.
Garmin Forerunner 235 in a Nutshell
The Features:
Dimensions: 7"x4"x3"
Display: digital
Weight: 40.82g
Screen: LCD with 1.23" display
Type of battery: built-in lithium ion
Straps fabric: silicone
Other extras: GPS with GLONASS and VO2 Max estimation
The Pros:
Great performance

Water resistance of up to 50 meters

Convenient charging: Can be charged in the car or on a wall charger.

Has a heart rate monitor that comes in handy especially when exercising or running.

It is lightweight hence ideal when running.

The interface is easy to understand and navigate

Excellent battery life: It runs between 5-7 days

Accurate GPS
Cons:
The screen is not touch-sensitive.

Heart rate monitoring is not always accurate.

Pairing the Garmin Forerunner 235 to a mobile device fails at times; it might require you to restart the gadget.

It does not offer Wi-Fi connectivity.
Design and Overall Appearance
The Garmin Forerunner 235 watch comes in a single size with silicone straps. The strap has several holes to fit different wrist sizes. It is also light in weight, which makes it ideal especially when running or exercising.
The watch looks relatively sleek and, therefore, you can use it as a regular digital wristwatch to match with your daily outfits. It is compatible with both Android and iPhone, and you can pair them easily.
Memory
Garmin Forerunner 235 can store up to 200 hours of activity history. This enables the user to keep track of their activities, and it also makes it easy to analyze their progress.
Functions
This watch is best known for its activity tracking abilities. These activities include calories burned, distance covered, sleep pattern, heart rate, etc. Other functional features include; find my phone, alarm clock, stopwatch, calendar sync, and weather updates.
It has a unique feature called the VO2 max. The VO2 max shows the oxygen volume (usually calculated in millilitres) that you can consume for optimum performance. VO2 max increases as your level of fitness improve. It is usually indicated by color codes namely red, orange, green, blue, purple, where red is poor VO2 while purple is superior VO2.
It is also water resistant for up to 50M.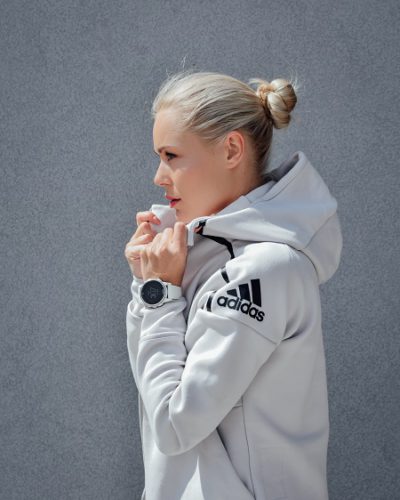 Ease of Use
Garmin Forerunner 235 watch is easy to use. It has a straightforward customer user interface. It easily synchronizes with Android and iPhones, which ensures a broader consumer base. Customizing the device is relatively easy.
The Screen
The watch has a display resolution of 215 x 180 pixels with a display size of 1.23". The screen is colored; mostly has a red or white display on a black background. The color changes to a white background with a black display to enhance readability during workouts.
Garmin Forerunner 235 watch screen is not touched sensitive. However, it has buttons on the sides to operate the watch.  
The screen has a sunlight-visible property, which gives it an excellent display for outdoor use. In addition to its outdoor visibility, Garmin Forerunner 235 watch also has a loud vibration motor that keeps you alert in case you receive any notifications. You can opt to mute the vibrations if you prefer silent to hush tones.
Garmin Forerunner 235 Battery Life
The Battery can last up to nine days. This is fantastic especially when you do not have time to keep recharging your watch daily. Not to worry though, the charging process is also friendly. The Garmin Forerunner 235 Battery takes 4-6 hours to charge fully.
On GPS mode, the Garmin Forerunner 235 Battery life lasts up to 11 hours of constant use. During inactivity, Garmin Forerunner 235 Battery life can last up to two weeks when not in use.
How to Pair Garmin Forerunner 235 to a Mobile Device
Download the Garmin Connect app to your smartphone. There is a version for both Android and iPhone. Ensure that the watch and mobile device are within proximity of 10m. On your Garmin Forerunner 235 watch the home screen, select the menu, then settings, then Bluetooth and pair the mobile device. To complete the rest of the pairing, follow the instructions on the Garmin Mobile App. That's pretty straightforward, right?
Tips to Lengthen Your Garmin Forerunner 235 Battery Life
For those days when you are away, and you need your Forerunner 235 to serve you longer, follow the following tips:  
Switch off the heart rate monitor when not in use.

Reduce the screen illumination time.

Reduce the Time-out screen to revert to clock mode faster.

Disconnect GLONASS; which is a GPS position-determining feature, which uses a lot of battery power.

Switch off Bluetooth and switch on only on demand.

When not using the activity indicator, switch it off.
In Conclusion
Whether you are an elite runner or a casual runner, Garmin Forerunner 235 watch is a great watch. You can use it as a regular digital watch or a fitness-tracking device. It comes in one size and has multiple color choices depending on your preference. Garmin Forerunner 235 Battery life is the best-selling feature for this watch.
Purchase the Garmin Forerunner 235 watch on Amazon today!