Are you yearning to improving your golfing skills at the comfort of your home? Is your house space limited? Or, are you on a tight budget? Then, consider getting the OptiShot 2 Golf Simulator for Home. It uses the latest technology for the best home golf simulator. This way, you can get the best-golfing experience, no matter the weather, right in your living room. But, what makes this home golf simulator stand out? Here is a quick guide: –
We hope you love the products we recommend! We only products that we thoroughly investigate and believe is a real value for you.Sports Send may collect a share of sales or other compensation from the links on this page. It is at no extra cost for you.
The OptiShot Brand and Philosophy
OptiShot claims to be the leading the best home golf simulators makers. Why is that? The brand believes in play, practice, and compete' as its principal philosophy. This belief filters through the features of the Optishot 2 Simulator for Home.
To begin with, these kits are fit for both pro golfers and amateur players. Thus, they have a far and wide market appeal.
Also, you don't need tee times. You can work on your hitting style, using your own clubs all day, every day. And, to make it a fun and realistic experience you can play with a group of friends and family.
More so, choose when to have an online tournament with avid players situated across the world. It is a philosophy that aims at helping golfers to master their skills faster.
The brand uses a competitive pricing strategy. In turn, it is a budget choice for anyone who wants to either upgrade or begin using a home golf simulator.
The Specifications
Model: OptiShot 2, Golf-in-a-box Series
Included in the Box: Driving range, Adjustable Rubber Tees, Portable OptiShot Hitting Net, OptiShot Golf Mat, OptiShot Hitting Mat, 10-foot USB Cable, 15 Renown Courses, Two Foam Practice Balls, Easy to Use Instructions, OptiShot2 Software for Download, Software Updates
Platform:     Mac or PC
Technology:    16 high speed infrared sensors
Max. Players:  4
Skill: All types of golfers
Warranty: 1 Year
>
The Minimum System Requirements
Upon unmasking your OptiShot 2 box, you'll need to download OptiShot 2 software. There is a Platinum course to get you started. You'll also enjoy an online play session that relies on a stable internet connection. After that, you will receive its regular updates from the manufacturer.
OptiShot 2 works only on a pc or a mac. Thus, only use hardware and software that is compatible with the simulator. Here is a list of the minimal system requirements: –
For Windows users, you'll need at least: –
Windows 7, 8, or 10
4GB RAM
3GB Hard Disk
The latest 256MB Graphics Card
A 2.0 USB Port
Reliable internet connection for the software installation
For Mac users, here are the minimum system essentials: –
Mac® OS X 10.8
Intel® Core 2 Duo
NVIDIA® GeForce® 8600M GT/ Intel Iris Pro/ OpenGL 2.0 Support/ ATI Radeon™ HD 2600
4GB RAM
3GB Hard Disk
A 2.0 USB Port
Reliable internet connection for the software installation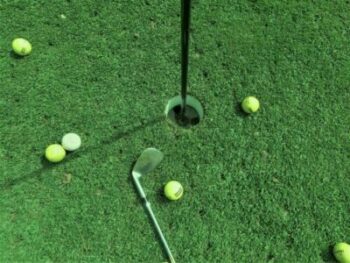 The OptiShot 2, Golf-in-a-Box Series Capabilities
The OptiShot 2 is part of the Golf-in-a-Box series. It is a plug-and-play option to the real golf experience. Besides, the series uses an intuitive 3D setup for up to 4 players.
First, it uses 16 tuned high-speed sensors to keep track of your club swing and face performance. It will measure your club head speed, face contact, plus your exact face angle when making the shot. Also, get to know your ball's trajectory and how much distance you cover. As a bonus, you'll get real-time visual feedback for every hit.
Second, its high-density mat creates a realistic feel of the green or driving range. You can use your real golf balls, drivers, clubs, or putters without worrying about any damage. OptiShot 2 can track your performance on both your practice and real golf gear.
Third, there is a single USB port connecting to your compatible laptop or computer. Plus, the entire simulator stands on a robust plastic housing case. It is quite stable for practice shots.
The Accessories
A golf mat is a crucial part of your home golf simulator. Yet, it is expensive when retailing as a separate accessory. Indeed, this high rate is due to the notable direct costs. In this regard, OptiShot 2 includes a golf mat, a hitting mat, and a net.
First, the high-density 4' x 5', turf and foam golf mat allows for flush mounting. This way, it makes it easy to install the simulator kit. Hence, you get the precise fit that mimics a real golfing session in your living room.
Second, the box includes a robust hitting net that will fit into any home environment. Hence, you can choose to use real golf balls for the session, and still not hit and damage any valuables nearby. Later, you can store this net in a convenient carry case that comes with the kit. For sure, it is a portable style fit for travelling.
What We Like:
High-quality home golf simulator retailing at a reasonable price
Crystal clear graphics
Excellent for practicing your swing at home
Includes a mat and net
Adequate accessories to achieve a quick set up
Fits in almost any space in the home
Ideal for use with real golf balls and practice golf balls
Has travel case for a player who travels
Meets golf balls speed of up to 175 mph
Has a 1-year manufacturer warranty
Shortcomings
Despite being a leading home golf simulator, OptiShot 2 could be better. In particular, it analyses only the club head's performance, that is, its path, face, and speed. Yet, it has no way of assessing your spin rates.
Second, are you using the macOS Catalina? You may have difficulties connecting to the OptiShort 2 Golf Simulator for Home, for now. The manufacturer plans to make the simulator compatible with Catalina by early 2020. Also, it does not connect through the Xbox. Instead, you have to use your regular mac or PC.
Final Note
Golfers need constant practice to improve their skills. Yet, it is impractical to be at the course or driving range each day. Do you want to practice your swing each morning and evening, before and after going to work? Then, go for the OptiShot2 Golf Simulator for Home. It is an inexpensive indoor golf simulator by a reputable brand.
Use OptiShot 2 to work on your ball flight to your intended landing. Or, upgrade your current simulator with this budget option. Still, you can use it during its one-year warranty period to learn how a golf simulator works. Besides, it comes with versatile accessories to suit most homes. Happy practice!