Are you a beginner golfer who wants to upgrade your current home golf simulator? Then, think of the SkyTrak SwingBay Golf Simulator Package. It is a mid-range launch monitor. Moreover, it is the 2017, 2018, and 2019 Golf Digest Best Value Golf Simulator winner that is handy in your practice.
For starters, it probes your moves with top-notch accuracy. Then, it relies on convenient connectivity to make it a portable option. Are you a first-time SkyTrak user? Well, with this simulator, you'll catch up quite fast. Do these ingenious traits resonate with you? Read on. 
We hope you love the products we recommend! We only products that we thoroughly investigate and believe is a real value for you.Sports Send may collect a share of sales or other compensation from the links on this page. It is at no extra cost for you.
The SkyTrak Brand and Philosophy
As per SkyTrak's philosophy, all golfers should have the chance to raise their game. Thus, the brand makes a high-definition indoor golf simulator for the present player. For sure, it removes time, space, and location barriers. This way, it allows golfers to take their game to the next level. 
Second, the brand ensures real-time, instant 3D analysis of your ball's flight path. Plus, its distinct game improvement skills make your practice session a success. And, you can now have a feel at championship-level courses at the comfort of your home. 
The Specifications
Model: SkyTrak Launch Monitor
Included in the Box: The SkyTrak Launch Monitor, 25′ 1080p HDMI Cable, Optoma 1080p Projector, Ceiling Projector Mount, SwingBay Simulator Screen, Screen Enclosure, Protective Case, Game Improvement Software, Hitting Mat, Landing Pad Turf
Platform: iPad, PC, Android Devices
Technology:    Photometric technology, Accelerometer-based internal leveling system
Min. Room Size: 9 feet by 12 by 16 feet 
Min. Obstructed Area: 10 feet by 10 feet
Skill: All players
Warranty:  3 Years
The Minimum System Requirements
The SkyTrack launch monitor relies on 3D graphics support to run well. And, it needs no calibration after the initial setup. Use it on your PC, iPad, or Android. Still, you'll need a one-year subscription to the Game Improvement software plan. Here are the three compatible options: –
For iPad users:
The launch monitor connects to any Wi-Fi iPad without the need for internet access. Still, you can use your router or home network where there is a stable internet connection. The simulator is compatible with: –
iPhone 6 or newer

iPad air or newer, Pro, or Mini 2 with a Retina Display
For Android users:
Does your latest android device use Octa-core or dual quad-core processors? Then, it will work well with the SkyTrak launch monitor. Still, here is a list of other android devices accepting the simulator: –
Samsung Galaxy S8, Tab S2, Tab S3, S6

Google Pixel C
For PC users:
PCs with the following specs are compatible with the SkyTrak launch monitor: –
 At least Intel Core 2 Duo @ 2.0GHz 

Windows 7, 8, and 10

At least 2GB RAM 
Note that, if you are upgrading a third-party golf simulations software onto the SkyTrak simulator, confirm from your user guide or the manufacturer's website about its compatibility.
>
The SkyTrak SwingBay Golf Simulator Package Capabilities
Do you want to improve your real game, but at an affordable yet pro-level way? Check out the SkyTrak SwingBay Golf Simulator Package selling points. First, you can analyze up to 11 different parameters of your practice as follows: –
Distance –Carry, roll, totals

Spin Rates – Backspin 0 – 12,000rpm +/- 250rpm, Sidespin 0 – 4,000rpm +/- 250rpm

Speed – Ball speed 0 – 200mph +/- 1mph, Club Head speed

Angles – Launch, Descent 0 – 20° +/- 2°

Ball trajectory

Offline Yardage
Get this data in a fun, game-like setup. That way, you'll have accurate feedback on your play while enjoying the session.
Second, the Game Improvement Plan is your ticket to world-class courses and longest drive competitions. Use it to assess your skills, then set and meet realistic targets for your practice. You can download the SkyGolf Mobile App to get graphics and chart analysis of your progress so far. 
Third, the simulator package removes all barriers to an efficient training session. That is, it is a portable launch monitor. Carry it wherever you go and set up your practice any time of day, all year round. More so, you can customize the weather variables to whatever you want. Then, simulate your play in the best or worst weather possible.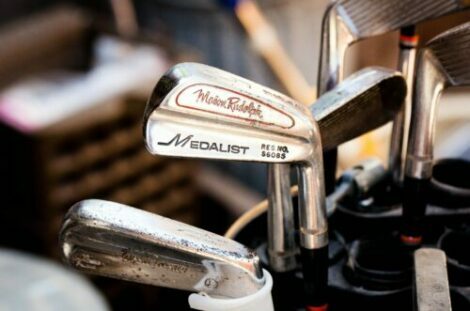 The Accessories
Simulator Screen and Enclosure
The simulator uses a robust projector screen with a crystal-clear display. It is quite easy to set up. 
Optoma 1080p HD Short Throw Projector
The mid-range projector is a high definition unit that emits crisp images. It delivers a precise throw ratio ideal for the simulator.
Hitting Mat
The simulator retails with either 5 feet by 5 feet or a 9 feet x 4 feet that gives you a realistic feel of a driving range. This mat is quite forgiving, allowing you to use real golf balls and clubs. Besides, it helps in getting accurate data for analysis. 
5 feet by 12 feet SwingBay Landing Pad Turf
The generous landing pad protects your flooring from the ball's impact. Hence, you can put your skills to test with no worries about damaging your precious floors.
Ceiling Projector Mount
The projector mount helps to de-clutter your hitting area. With up to 30 degrees' tilt in either direction, it adjusts to the perfect position for the images you want. 
What We Like:
Intuitive traits to improve your game

Delivers accurate analysis on most aspects of your practice

Gets rid all blocks to a fit practice session

A great avenue for family and friends to play and have fun

Retails under $10,000

Quick setup, easy to use, after-sales support

Allows for wireless connectivity, hence quite portable

The battery runs for up to 5 hours when fully charged
Shortcomings
Now, some past users of the SkyTrak launch monitor note a slight delay getting ball feedback data. Moreso, from the time the ball makes contact to when the data reflects on the screen. Yet this delay may depend on your internet connection. 
Next, the simulator tracks many parameters that are important to an upcoming pro-golfer. Yet, it has no feedback on the club path. It's a missing feature that SkyTrak may want to include in its future upgrades. 
Final Note
Do you understand how a golf simulator works? If yes, you can operate the SkyTrak SwingBay Golf Simulator Package right from the box. This simulator ensures you practice the professional way. It will give you real exposure on what to expect in the real golf course. Yet, its price will not break your bank account. If you're still new to golf simulators, browse through the blog. We have a lot of information to guide you too.