For people who are on a tight budget, having two or more shoes is a luxury.
Most people only have a single pair of shoes that they wear every day.
If you want to try hiking, but you don't have the money to buy an extra pair of shoes, you might think of using your hiking shoes for your daily activities.
But, are hiking shoes good for walking?
If you're not yet certain if you can use your hiking shoes for regular day-to-day tasks, let's find out the difference between a regular walking shoe and a hiking shoe.
Are Hiking Shoes Good for Walking?
Some can wear hiking shoes for their day-to-day activities, while others would find them too uncomfortable.
They're a bit heavier than regular walking shoes, but they're still bearable for some.
They also provide more protection to your feet.
That's why before you buy hiking shoes and use them for walking, you need to answer a few important questions.
Are You Planning to Use Them for Hiking?
The primary purpose of buying a pair of hiking shoes is to use it for trails and hikes.
If you're not going on a hike, there's no reason to buy this type of heavy shoe.
Walking shoes are still the best if you only need footwear for your daily tasks.
If you plan to join hikes with your friends or family, you definitely need a hiking shoe.
However, it won't be good to use it regularly as the shoes will deteriorate faster.
It would also be more expensive to replace a hiking shoe than a regular walking shoe, so you need to think about your priorities.
Do You Plan To Do Some Exercises While Wearing Hiking Shoes?
The shoes' weight alone will already be too much for most of you to handle.
You may not notice it initially, but as your exercises become intense or your body starts to feel fatigued, you will realize that your shoes are too heavy.
Doing exercises while wearing hiking shoes may cause injuries and other problems.
Walking shoes are still a better alternative as they are lightweight and more breathable.
Do You Plan To Wear Them When Going To Work?
You can wear hiking shoes when you go to work.
No matter what type of job you're doing, this type of shoe can help protect your feet.
If you're doing labor or any kind of physical work, hiking shoes may hinder your movement.
These shoes are heavy, and even if they offer adequate protection to your feet, you will get tired quickly because of the extra weight on your feet.
Reasons Why Hiking Shoes Are Not Good for Walking
A hiking shoe is in the middle of a hiking boot and a walking shoe.
It's not as heavy as a hiking boot, and it offers some versatility that you can find from walking shoes.
However, it does not mean that you can already wear hiking shoes for regular walking.
Before you bring out your hiking shoes and use them for walking, below are a few reasons why walking shoes are still the best option.
Extra Weight Will Make You Tired Easily
Any extra weight on your body will make you expend more energy.
That's why most people don't bring a lot of things with them when running or walking.
They can walk long distances without getting tired easily if they don't carry anything heavy.
The extra weight on your feet actually takes four to six times more energy compared to the weight you carry on your back.
It means that wearing shoes that are two to three pounds heavier than a regular walking shoe will zap your energy faster.
Prone To Blisters
Most hiking shoes claim that they have certain features that prevent blisters.
They might be effective, but there is a big chance of getting blisters if you wear your hiking shoes throughout the day.
Remember that hiking shoes are not as breathable as regular walking shoes, so wearing them the whole day will soak your feet from sweat.
You should also know those sweaty feet are more susceptible to blisters.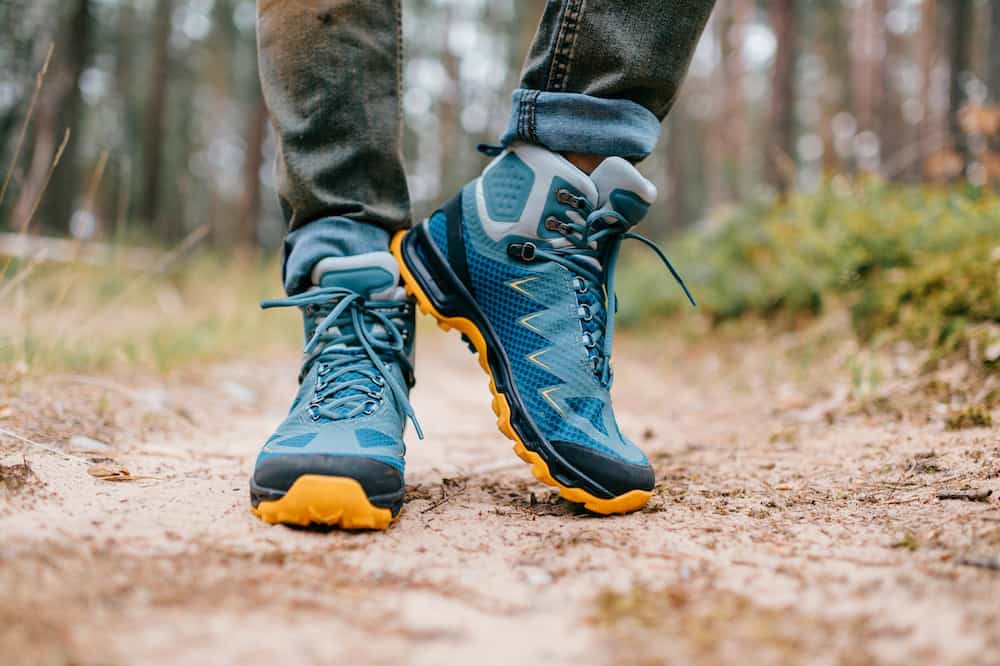 You Don't Need Waterproofing
Most hiking shoes come with waterproofing features because you can expect rivers, puddles, and more on the trail.
It might also be sunny and hot when you get to the trail and suddenly become cold and rainy midway.
It's why most hikers will always opt for shoes with waterproofing features.
That said, adding waterproofing to your shoes will compromise breathability.
Since the shoes prevent water from entering the shoes, the same goes for air.
So, don't expect your hiking shoes to keep your feet from getting sweaty.
When you're walking, you don't need waterproofing features.
If your walking shoes suddenly get wet, you can just go back to your house and let them dry.
You need breathable walking shoes so you can go around the neighborhood without your feet getting drenched by sweat.
You Don't Need Too Much Ankle Support
Walking is not too strenuous as you are only walking on concrete or flat land.
There are no rocky or sandy areas in the city, so you don't need ankle support.
This feature will only add to the weight of the shoe.
Walking doesn't require a lot of support. As long as the shoes are breathable and well-cushioned, you can use them for walking or running.
Hiking Shoes Are Demanding
This type of shoe is made solely for hiking, so you can expect that all its features are made to withstand harsh environments.
If you only need a shoe for daily usage, walking shoes would be a better fit.
Hiking shoes take a long time to break-in, and wearing them after buying might cause injuries to your feet.
Always remember that it's best to wear your hiking shoes only on the trail.
It won't be a bad idea to wear them at casual gatherings but never use them regularly.
Too Expensive
All the extra support and traction that hiking shoes have actually made them extremely expensive.
You can buy walking shoes for a few hundred dollars, but you have to spend more to get your hands on a decent hiking shoe.
Also, the soles of your hiking shoes will wear out faster when you're using them on concrete.
Do you have the money to buy a new one once the soles start deteriorating?
If you don't want to waste your money, buy walking shoes and only use your hiking shoes on the trail.
Focus on Comfort
Hiking shoes are very comfortable to wear, only if you're going to use them on a hike.
Using your hiking shoes on the concrete ground won't feel too comfy as the shoes are too stiff because of all the added protection.
Walking shoes are focused on comfort, and they don't provide a lot of protection to your feet.
Regular Daily Walks and Hiking Shoes
Are hiking shoes good for walking?
If you don't mind the weight or you plan to train your feet, using a hiking shoe won't be a bad idea.
But, for regular, day-to-day people, walking shoes are still the best alternative as they offer the comfort and breathability that you need to keep your feet from sweating.
Make sure that you think about your circumstances before you buy hiking or walking shoes.
You should figure out the type of activities you want to do as they will help you decide if it's better to get a hiking shoe or a walking shoe.