Quick Overview
DESIGN
QUALITY
PRICE
When Mizuno released the Prospect youth baseball glove series in 2018, it had one goal in mind. To provide young recreational and upcoming players with an affordable and functional baseball glove with all the bells and whistles you can get in a pro-level glove. And, it did just that. The Mizuno Prospect Select Youth Baseball Glove Series is a comfortable, well-fitting, and well-cushioned youth baseball glove. More so, it has lots of high-end features that help transition an upcoming young infielder, outfielder, or pitcher to the pro-level category. Below is a summary of its overall specifications: –
Overall Details
Brand: Mizuno
Series: Prospect
Model Year: 2018
Type: Baseball Youth Glove
Position: Infield, Outfield, Pitcher
Hand Orientation: Right Hand Throw
Size: 11.00", 11.50", 12.00"
Material/Lining: Full Grain Leather Shell, PU Palm Lining
Technology: PowerClose™ Technology (Heel Flex Technology, V-Flex Notch, PowerLock)
Webbing: H-Web
​​​​​Lacing: HiLo Lacing
Feel: Game Ready
Color: Black, Brown/Black H Web
Recommended Age Range: Youth
Price Range: Under $100
The Mizuno Brand
The Mizuno brand believes in providing high-quality sporting goods that will help advance sports for softball, baseball, golf, volleyball, running, track and field players. In turn, it invests in the latest research and technology when making and distributing sports gear. Each pair of Mizuno gloves complements the player's position and skills, helping them perform at their best in any condition. For this reason, many pro-level players trust the Mizuno gloves to deliver an exceptional performance as they compete against other seasoned players in major leagues and championships.
The Mizuno Prospect Series
The Mizuno Prospect Select consists of high-performance gloves whose quality is second to none. In particular, it offers the youth player a full-grain leather gear with the same high-end looks and feels as the pro-level mitts, only at a much affordable price range. It is the perfect dynamic to help upcoming youth players to take their game to the next level.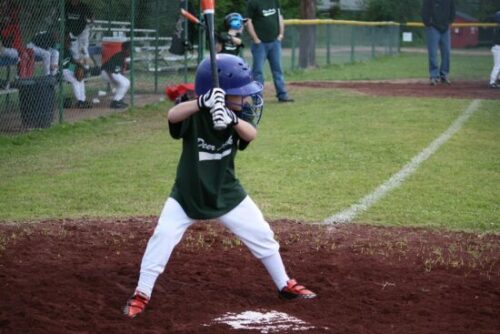 The Features
Ergonomic Construction
Mizuno Prospect Select Youth Baseball Glove Series comprises three durable baseball gloves for the infielder, outfielder, and pitcher positions. Each glove uses a durable full-grain leather shell with a quick break-in time.  Inside the glove is a ButterSoft Palm liner that keeps the hand comfortable, especially during extended games. And, the PU palm lining wicks away sweat while further improving the durable design of the leather shell. Finally, a Parashock Palm Pad absorbs maximum shock from hard hits. This way, it protects the young player's hands from injuries. 
Size/Fitting
There are three main sizes available in the Mizuno Prospect Select Youth Baseball Glove Series; the 11-inch, 11.5-inch, and 12-inch gloves. More so, each glove has an adjustable wrist opening to cater to players with smaller hands.



Mizuno Prospect Select 11″ Youth Baseball Glove
Mizuno Prospect Select 11″ Youth Baseball Glove features an 11-inch opening, an open back, and a flex bridge technology ideal for infielders. Hence, it fits players aged between 7 years and 12 years. Its soft feel and modified T webbing will capture all line drives off the bat.



Mizuno Prospect Select 11.50″ Youth Baseball Glove
The 11.5-inch glove features a partially open back, fully closed web, with a flex bridge. This design has a consistent fit, assisting infielders when batting. Inside the open back is an air mesh that keeps the hands cool, dry, and comfortable on hot summer days. And, its large opening facilitates catching of line drives shot off the bat. The glove suits beginner players (4 years) to pre-teen ballplayers (12 years).



Mizuno Prospect Select 12″ Youth Baseball Glove
Finally, the Mizuno Prospect Select 12-inch Youth Baseball Glove is a pitchers and outfielders glove targeting kids aged 8 to 13 years. This glove has a conventional open back and a Tartan web pattern that facilitates catching. More so, the Flex Bridge guarantees unrestricted hand movement at the back. In turn, it makes it easy for players to close the glove.
The Technologies 
The Mizuno Prospect Select Youth Baseball Glove series uses innovative technologies that complement an upcoming player's efforts. These are as follows: –
Parashock Palm Pad and Butter Soft Liner
The Parashock palm pad complements the butter-soft liner in absorbing maximum shock from hard hits. In turn, it protects the player from getting stings out of fast-flying balls. Second, these two prevent the glove's rebound effect that is typical with used mitts.
Patented PowerClose Technology 
The PowerClose Technology is a patented system the helps players secure their catches inside the pocket. That is, specially designed V-flex notches form hinges inside the palm area. In turn, the player can catch and squeeze the ball for special closing. 
Flexible HiLo Lacing
Each of the gloves in the Mizuno Prospect Select Youth Baseball Glove Series uses the HiLo lacing. It improves the player's flexibility when catching, shifting, and throwing the ball off the pocket.
Aesthetics
When it comes to aesthetics, Mizuno opts for trendy yet professional graphics that appeal to youth players. For example, there is a Mizuno logo stamped on the side. The outlined embroidered finish is popular with pro-level gloves. In turn, it gives the young player a pro-level look and feel. Second, the glove has attractive-looking laces to match the premium full-grain leather construction. 
Pros
Soft, cozy, and lightweight full-grain leather construction

PowerClose Technology, PowerLock & FlexBridge Hinge for better catching and closing

Flexible HiLo Lacing for a responsive tackle

Parashock Palm Padding, Paraflex Palm, ButterSoft Palm Lining, & MZO Lining for a comfortable, secure fit

User professional patterns ideal for smaller hands and a pro-level look and feel

Arrives in a break-in condition

Retails with a year manufacturer warranty
Cons
Retails in two colors only
Conclusion
Are you an upcoming youth player who wants a feel of the pro-level mitts but at an affordable price? Get a glove for your position from the Mizuno Prospect Select Youth Baseball Glove Series. Infielders, outfielders, and pitchers now have a durable transitional glove with all the bells and whistles of Major league competitions. Besides, it is a game-ready pick, ensuring you concentrate on improving your skills right out of the box.