Most MTB helmet manufacturers make shells that target one or two riding styles. However, some riders may engage in up to three competitive disciplines. For example, if you love  marathon, trail, and Enduro racing, you'll struggle to get one functional MTB helmet for all these riding styles.
Well, not anymore!
Giro introduces the Fixture MIPS Adult Dirt Cycling helmet, catering to your unique riding without breaking the bank. It is a rugged yet protective helmet that will keep you safe, comfortable, and looking sleek amongst your peers.
So why do we love this helmet so much?
We hope you love the products we recommend! We only have products we thoroughly investigate and believe are a real value for you. Sports Send may collect a share of sales or other compensation from the links on this page. It doesn't cost anything extra for you.
The Features
Brand: GIRO
Series: Fixture MIPS
Category: Marathon/Trail/Enduro
Size: Universal XL (58-65 cm), Universal Adult (54-61 cm)
Gender: Unisex
Color: Black, Grey, Portaro Grey, Green, Lime, Blue, Red, and Dark Red
Vents: 18
Slip Plane: Yes (MIPS)
Inner Material: EPS Liner
Visor: Removable
Lightweight, Extensive Construction
Giro Fixture MIPS uses a lightweight in-mold polycarbonate construction with an EPS liner. It is a robust and comfortable shell that remains cool for extended periods.  Secondly, the full hardbody shell uses a deep coverage design for optimal protection. Here, it covers your forehead, temple, and the back of your head.
You now have a helmet that secures around your head instead of feeling perched on top of the head.
Constant Weight for All Sizes
Did you know that both the universal XL and universal adult Giro Fixture MIPS weigh 1.7 Pounds (343 grams)? For a company committed to serving the rider through advanced performance, this constant load across all helmet sizes for this model is intentional.  Here, riders can wear the helmet for extended periods, switch from one riding style to another, and still enjoy optimal coverage and protection.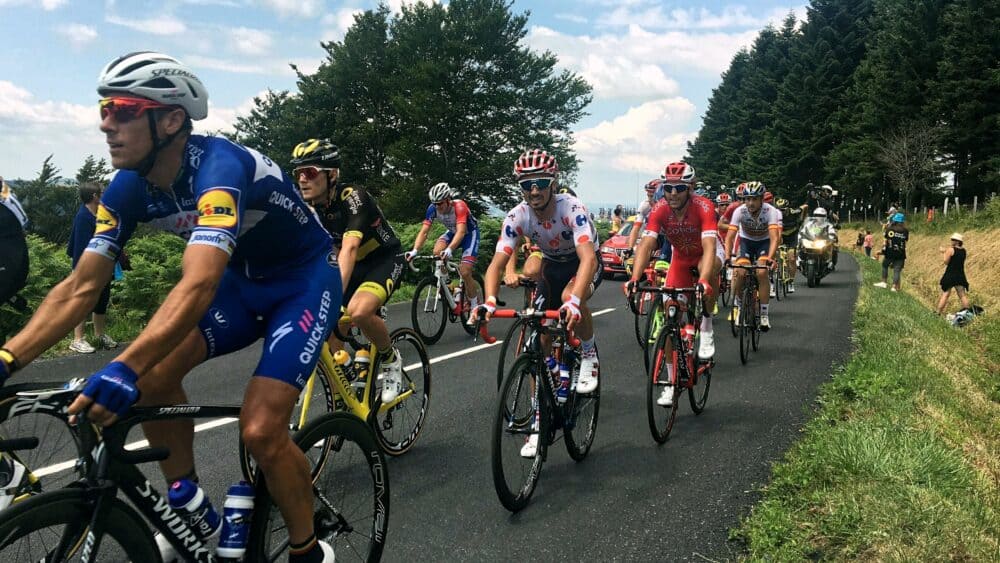 Universal Fit Sizing with Roc Loc Sport Fit System
Giro Fixture MIPS opts for universal fit sizing. It is a one-size-fits-all approach that looks and feels great for almost anyone on their first try. Hence, it is an easily adjustable Roc Loc Sport Fit System.
It comprises a ratcheting wheel with three height-adjustment settings. All you have to do is turn the dial-up retention system at the back of the helmet to your desired fit, and you are good to go. Hence, it is a convenient fit system that achieves a perfect fit in seconds.
Integrated MIPS
The integrated MIPS slip plane absorbs rotational forces that can cause brain damaged during an angled impact. So, in the event of a crash, the slip plane will rotate around the helmet, hence, minimizing the movement of your brain matter. It is an innovative attribute that is now almost indispensable with most MTB helmets.
Ample Channeled Ventilation
There are 18 internal channeling holes on the Giro Fixture MIPS. The vents are scattered all around the shell to guarantee airflow when climbing or descending. These vents, coupled with the lightweight design, create a comfortable helmet for riding. More so, you can wear your favorite goggles without restricting the ventilation. And, quick-dry padding inside the helmet keeps you dry and fresh regardless of the weather elements.
We know there are other Giro helmets with superior ventilation systems, but the Giro Fixture MIPS offers you the necessary breathability for the targeted riding styles.
Accessories
Giro Fixture MIPS features reflective accents that work together with your bike, and headlights keep you more visible in foggy or nighttime riding conditions. Here, the retro-reflective surface aids motorists to spot you on a busy road or intersection.
Next, the helmet has a removable visor shielding your eyes from direct sun glare, flying objects, or tree branches. As a flexible visor, you can use or remove it depending on your current riding style.
In addition, the helmet is user-friendly across a variety of cycling-related eyewear. Here, it has ample room above your ear arch to secure the arms of your choice goggles without squeezing your ears from inside. When not using your goggles, you can flip them to the plenty of space at the back of the helmet and below the visor.
Finally, Giro Fixture MIPS uses a slim line webbing inside the shell for a skull-hugging fit. This webbing does away with bulky straps, hence, guaranteeing your comfort as you test your endurance.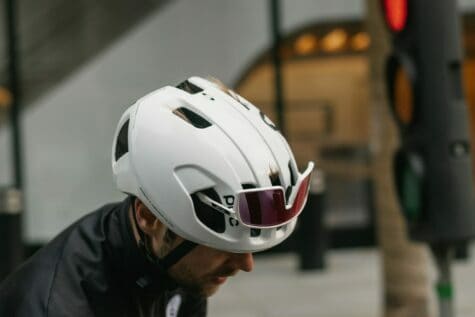 Pros
Stylish design with sleek color options
Deep coverage in vital areas
Constant, lightweight ideal for multiple riding styles
Use MIPS, reflective accents & detachable visor for safety
A universal fit system fits straight out of the box
EPS liner, plush moisture-wicking padding, 18 vents for a dry, cozy fit
E.U.: CE EN1078 and the U.S.: CPSC BICYCLE FOR AGES 5+ certified
Budget-friendly price range
Cons
Is Giro Fixture MIPS Adult Dirt Cycling Helmet worth the price?      
Giro Fixture MIPS Adult Dirt Cycling presents a modern MTB helmet with the latest safety and ergonomic features. Unlike most MTB helmets in its category, it offers a deeper coverage, accommodates more women sizes, and retails in versatile color options to suit more users. In turn, it is a budget-friendly helmet that gives you the best value for your money.
Alternatives:       

POC, Axion Spin Mountain Bike Helmet for Trail and Enduro

   

                              
POC, Axion Spin is POC's budget MTB helmet. It uses Spin Technology for safety, has a unique design, and performs exceptionally for Enduro and trail racing. Retailing in at least 13 sleek color options, this helmet is your perfect pick for trail or Enduro racing. Consequently, it is an excellent alternative to the Giro Fixture MIPS.
The Details
Brand: POC
Series: Axion Spin
Category: Downhill/Trail/Enduro
Size: X-Small/Small (51 cm – 54 cm), Medium/Large (55 cm – 58 cm), X-Large/XX-Large (59 cm – 62 cm)
Gender: Men's
Color: Actinium Pink Matt, Basalt Blue Matte, Fluorescent Yellow/Green Matt, Fluorite Green Matte, Hydrogen White/Apophyllite Green Matt, Kalkopyrit Blue Matt, Lead Blue Matt, Matt Black, Matt White, Uranium Black Matte, Uranium Black/Basalt Blue Matte, Uranium Black/Fluorite Green Matte
Vents: 13
Slip Plane: SPIN Technology
Inner Material: EPS Liner
Visor: Adjustable
Lightweight Ergonomic Construction
When you unbox your POC, Axion Spin Mountain Bike Helmet, expect a unibody in-mold polycarbonate shell with a plush EPS liner. It is a lightweight and breathable ergonomic design that aims to improve the helmet's structural integrity. More so, the helmet uses a strategic internal channeling system that guarantees decent ventilation. It will keep you aerated on hot summer rides. And, like the Giro Fixture MIPS, it offers extended coverage at the temple and neck areas, hence, excellent for the trail, enduro, and downhill riding. Then, expect a smaller gap in between the edge of the helmet and your head.
SPIN Protection System
The SPIN (Shearing Pad Inside) protection system is a patent-pending silicone slip plane that protects your head against brain damage due to rotational forces. The technology is from the same Swedish lab where the integrated MIPS slip plane passed through. Hence, it aims at offering a simplistic, less rickety, and comfortable alternative to MIPS.
A Flexible Patented Breakaway Peak
Another enhanced safety feature is the patented breakaway peak that guards against serious neck injuries. Here, the helmet has a flexible visor that mounts in three different positions. The visor detaches from the helmet in the event of a crash. That way, there is no extra pressure on the rider's neck when pinned in between a constricted space.
Adjustable 360-Degree Fit System
POC, Axion Spin uses the 360° fit system for a snug fit. Here, there is a turn-wheel that goes around your head, allowing for all-around secure fit adjustment. The wheel is easy to use and comfortable against the head.
Accessories
Like the Giro Fixture MIPS, POC Axion Spin has an ergonomic design that includes a removable visor. Here you protect your eye from direct sunlight, obstacles, or flying objects along the way. However, unlike Giro Fixture MIPS, POC Axion Spin has a minimalist style that is not goggle compatible. Hence, if you are a fan of MTB eyewear, opt for Giro instead.
Pros
A lightweight optimized PC shell and EPS liner
Has an aggressive look in versatile color options
Has extended coverage at the temple and back
Uses SPIN technology and patented breakaway peak for safety
Easy to use 360° fit system
Plush padding & 13 vents for optimal ventilation and comfort
Compatible with most MTB eyewear
E.U.: CE EN1078 and the U.S.: CPSC BICYCLE FOR AGES 5+ certified
Reasonably priced
Cons
Does not accommodate goggles
Our Verdict
If you love what the Giro Fixture MIPS Adult Cycling Helmet has to offer but are on a strict budget, the POC Axion Spin Mountain Bike Helmet is an excellent alternative for your riding style. It retails at a reasonable price without compromising on its performance. Plus, it has a minimalistic ergonomic design that is easy to wear, adjust, and carry.
Conclusion
The Giro Fixture MIPS and the POC Axion Spin are budget-friendly MTB helmets for anyone who enjoys more riding styles. Giro aims at supporting MTB riders as they push their skills to the limits. Still, if you prefer having safety gear that takes backstage when racing, the minimalist POC, Axion Spin, is your best pick.