Quick Overview
DESIGN
QUALITY
PRICE
Bell Sanction Adult Full Face Helmet is a low-profile headgear for your dirt jumps. It has safety features to keep BMX riders and dirt shredders protected without breaking the bank. The helmet opts for durable materials and an ergonomic design for optimal breathability and comfort. And, if you prefer helmets with a smaller size or fit, this model is your best pick. It has a narrow fit and retails in a broader size range starting from the extra small size. 
We hope you love the products we recommend! We only products that we thoroughly investigate and believe is a real value for you.Sports Send may collect a share of sales or other compensation from the links on this page. It is at no extra cost for you.
The Details 
Brand: Bell
Series: Sanction
Category: Trail, Free rides, Downhill, BMX
Size: X-Small (49 – 50 cm), Small (52-54 cm), Medium (55-57 cm), and Large (58-60 cm)
Gender: Unisex – Adult
Color: Black, Blue/Hi-Viz, Crimson/Slate/Gray, Nitro Circus Gloss Silver/Blue/Red
Vents: 15
Slip Plane: No
Visor: Adjustable
Lightweight Sturdy Construction
Bell Sanction Adult Full Face Bike Helmet uses the sturdy and lightweight ABS Hard Plastic shell design. It is a modern, durable material that is not bulky on your head. Instead, its low-profile style looks like the standard cycling helmet. And, its high luster paint finish keeps the color themes shining for long, regardless of the exposure to harsh sunshine.
Narrow Fit, Wider Size Options
Do you have petite or oval facial features? If so, finding a helmet with a snug fit can be challenging. Well, the Bell Sanction Adult Full Face Bike Helmet seeks to address this.
First, it retails in a narrow construction that feels firm on the sides. Plus, it has convenient cheek pads that guarantee a comfortable, sweat-free fit. Here, if you have regular facial features, we recommend picking at least one size bigger. 
Second, there is an X-small helmet size catering for riders with a 49 cm head circumference. And its broadest size suits a head circumference of up to 60 cm. This way, the helmet is appropriate for kids and adults of both sexes.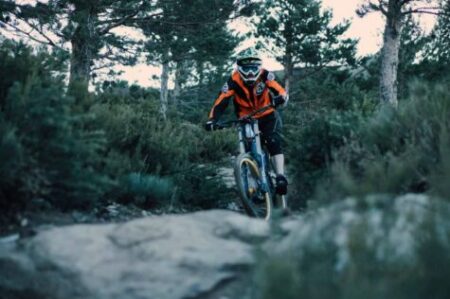 Optimal Ventilation
There are 15 strategic ports all around the Bell Sanction Adult Full Face Bike Helmet. These vents allow for air channeling into and out of the helmet for a dry, refreshing ride. Their localized heat transfer mechanism prevents the MTB riders from overheating. And, as a budget helmet, the design of the vents further improves the structural integrity of the ABS hard shell.
Detachable Visor 
Now, a visor is essential when it comes to dirt jumps or riders on single narrow tracks. You know extreme stunts can result in loss of teeth or nasty cuts to the face and eyes.  And, low hanging tree branches on single narrow tracks can hurt your face or make you lose your balance.
Bell Sanction Adult Full Face helmet opts for a detachable visor with an anti-fog, scratch-resistant finish. This removable shield on the ABS shell guards your face and eyes against dirt and sand. The design can withstand harsh handling by extreme riders. 
Likewise, the visor protects the riders' eyes from direct sun glare, flying objects, or strong winds. Hence, no more stretching out one hand to clear low-hanging branches while moving at top speeds. Instead, enjoy unrestricted visibility on a hot or foggy trail. 
As a removable unit, you can detach it from the helmet when you don't need it. And, in the event of a collision or a fall, this visor snaps off the helmet, minimizing further injuries. 
Permanent Chin Bar
Bell Sanction Adult Full Face Bike Helmet uses a permanent chin bar for the ultimate jaw protection. It is a plus for MTB riders prone to hitting their jaws during major impacts. 
Quick-Release Buckle Chin Strap
Bell Sanction Adult Full Face helmet uses an adjustable buckle chin strap that stays put as you tackle your extreme stunts. It is a simplistic quick release mechanism for a secure fit. Besides, you can easily adjust the straps with or without wearing your gloves. 
Pros 
Durable, lightweight shell for a narrow fit
Retails is a broader size range
Uses cozy cheek pads for comfort
Convenient quick-release buckle chin straps
15 vents for optimum ventilation
US CPSC Safety Standard for Bicycle Helmet for Persons Age 5 and Older compliant
Cons
Has no MIPS brain protection system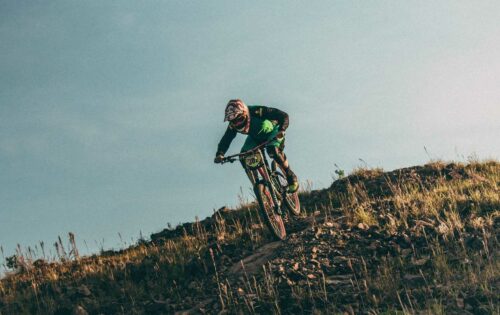 Is Bell Sanction Adult Full Face Bike Helmet Worth the Price?
Bell Sanction Adult Full Face Bike Helmet retails as a budget helmet for dirt shredders. It has limited features without compromising your safety, convenience, and fun experience. Besides, it is one of the few models in its category targeting riders with petite facial features. 
Moreover, if you prefer shells that feel featherweight on your head, have optimal head coverage, and keep you dry and cool in any weather, this model is your best pick. Still, if you are an urban rider performing your stunts in busy trails, you may want to reinforce your safety by getting a shell with a MIPS slip plane. 
Do you like the attributes of the Bell Sanction Adult Full Face helmet but find the fitting claustrophobic? Check out the O'Neal Sons Deft Mountain Bike Helmet, a full-face helmet with a bit of a loose fit. Yet, the shell has an easy-to-adjust retention system for a custom fit. And, you can tighten or remove the helmet with one hand.  
The Details
Brand: O'Neal
Series: Sonus Deft
Category: Downhill, Enduro 
Size: Small (47- 48 cm), Medium (49-50 cm), Large (51-52 cm) and X-Large (53-54 cm)
Gender: Unisex-Adult
Color: Multi Color Themes
Vents: Multiple Air Vents
Slip Plane: No
Visor: Adjustable
Lightweight ABS Shell Construction
Like the Bell Sanction Adult Full Face Helmet, O'Neal Sonus Deft Mountain Bike Helmet opts for a full-face design comprising the ABS hard shell. It is the appropriate structural material for downhill and Enduro riders. O'Neal passed this shell through vigorous tests and trials, including allowing Greg Minnaar, a renowned MTB downhill racer, to sample it. 
Permanent Chin Guard
If you are prone to falling and hitting your jaw as you race, O'Neal presents you with this model with a permanent chin bar. It features a mesh construction at the mouth and nose sections. That way, you can talk and breathe with ease. More so, this chin guard and ample padding keep you comfortable for hours. 
Large Multiple Vents
O'Neal Sonus Deft Mountain Bike Helmet features large multiple air vents all around the shell. These ports allow for unrestricted airflow into and out of the helmet. In turn, they help to keep the riders cool and dry when tackling challenging trails. Like the Bell Sanction Adult Full Face Helmet, O'Neal uses a unique pattern for its ventilation system. It further strengthens the structural integrity of the helmet. 
Quick Drying Liners
There is an ultra-plush moisture-wicking padded liner underneath the O'Neal Sonus Deft shell. It is a detachable liner that keeps the riders cool and sweat-free. These liners complement the ventilation system to keep the rider comfortable despite wearing a full-face helmet. Besides, it uses a machine-washable fabric. Hence, riders can detach it and clean it when needed.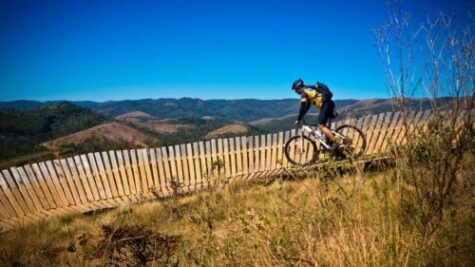 Multi-Colored Graphics
Now, we all know the power of multi-color prints has in appealing to young riders. Youth prefer using gear that makes them stand out amongst their peers. The O'Neal Sonus Deft Mountain Bike helmet presents you with this model in attractive multi-colored graphics.  These shells have primary colors like red, black, gray, white, blue, and neon red. Now, you can stay safe, enjoy the comfort and convenience, and rock your fashion statement. 
Fidlock® Magnetic Buckle
Did you know that O'Neal is the pioneer brand to use the innovative Fidlock® Magnetic Buckle system on MTB helmets? The retention system comprises a one-click magnetic chin strap that secures and releases in seconds. It is an added advantage for racers who multitask, using one hand to adjust their headgears while riding at extreme speeds. 
Pros
Durable ABS hardshell construction
Has multiple air vents for optimal ventilation
Includes an ultra-plush inner liner for comfort
Surpasses the EN1078 safety standards for bicycle helmets
Uses the Fidlock® magnetic buckle adjustable using one hand
Cons
Our Verdict
Bell Sanction Adult Full Face helmet is a durable, safe, and affordable shell for mountain bike riders. It offers the conveniences of premium helmets and guarantees the necessary safety for your riding style. Only, this shell is best for persons with petite facial features. Our choice alternative, the O'Neal Sonus Deft Mountain Bike helmet, lives up to its founder's philosophy.
Jim O'Neal uses innovative technologies in making helmets protect mountain bike riders as they push their boundaries on two wheels. It is a competitive alternative that retails in sleek multi-colored graphics, appealing to the youth. Either way, both shells offer ample protection, comfort, and convenience for extreme riders.
Conclusion
Both the Bell Sanction Adult Full Face Helmet and the O'Neal Sonus Full Face Bike Helmet offer competitive features at a reasonable price range. Then, if you are an Enduro, downhill racer, or dirt shredder on a tight budget, any of these two shells will do. Likewise, if you are out to test several helmets before settling on your ultimate headgear, opt for these affordable helmets with the necessary safety features. They will give you the feel of what to expect in the premium helmets.