A lot of people have been asking lately, are Fila shoes good for walking?
The brand has been in existence for almost a century, and although they are not as popular as Nike or Adidas, their shoes have features that make them stand out.
Before you start browsing Fila shoes, it's best to learn a bit about the brand, how it started, and its collection of amazing walking shoes.
Let's also talk about some of its comfort features to see if they're perfect for walking.
The Brief History of Fila
If you're planning to buy Fila shoes or you are still in the process of picking a good brand, looking at their history should be at the top of your list.
Fila originated in Italy, a piece of information that may come as a surprise for most people.
That's because this brand has been recognized in the past as one of the most popular American shoes.
Yes, Fila became a brand second only to Nike when it comes to basketball shoes.
But, what really happened to the brand when it suddenly disappeared in the year 2000s?
Here's a brief overview of Fila's rich history in the industry.
The Fila Brand in Europe: The Beginning
Fila was founded by the Fila brothers in 1911, and the first products were items you could wear under your clothes.
It's good, but not enough to sweep the market and be recognized.
In 1974, Fila decided to focus on athletic clothing to become one of the most popular sportswear brands focusing on tennis, golf, and skiing.
In 1975, they made a deal and signed the famous tennis player Björn Borg, which made Fila one of the high-priced brands for tennis players.
The Turning Point: Entering the U.S. Market
Everything was doing well for Fila being a high-priced brand for rich tennis players.
However, a major hiccup happened after a company known as Gemina acquired a patent.
A major inventory glitch happened in 1988, which led to all its products being sold in the U.S. market for a lower price.
Although their brand took a severe hit because of this issue, Fila decided just to go with the flow instead of bringing the original price back.
They embraced the low-priced shoes and became popular in the urban communities in the United States.
Casual basketball players started buying their shoes as they are high-quality and more affordable.
Fila didn't know anything about this demographic, but they took the risk and followed through to understand their audience.
This gamble is the turning point as the brand turned into a casual streetwear brand.
Focusing on Basketball Shoes: The Highest Point
Casual basketball players loved the Fila brand, which is also why most people think it was originally an American company.
Fila started focusing on footwear, and their revenue went up by up to 15x in the second half of the 90s.
This was the time when Fila was recognized as the second-largest manufacturer of basketball shoes behind Nike.
Then, Fila signed Grant Hill in 1994. Their brand and sales improved even more after Hill won the Rookie of the Year award in 1995.
Following this success, they released the Grant Hill 2 shoe, which became a huge commercial success, earning the company more fame and sales.
Diversifying the Brand: Fila's Fall From Grace
The continued success of Fila led to bad decisions.
Instead of focusing on the strategy that works, they diversified their brand and signed multiple international stars in other sports.
It's a good idea to expand, but they did it too fast that they ended up losing more money in the long run.
They entered more and more markets, which led to their sales dropping by almost 50% in 1998.
Since they failed to focus on many different markets simultaneously, they closed stores, fired their employees, and returned to their roots: tennis, European market, and extremely high prices.
Fila disappeared from the radar in the year 2000.
The competitor brands like Nike and Adidas enjoyed their huge sales figures during that year, which solidified their standing in the market.
Brand Acquisition: The Return
Fila Kore acquired Fila for $400 million in 2007.
It may seem like a lot of money, but it is actually a bargain because Fila is still a well-known brand.
Fila then focused on the 90s vibe.
They still offered the same style of shoes and incorporated modern designs and features to ensure they would offer the same comfort and style as the other brands.
The brand made a comeback as an athletic and streetwear brand, but it also entered the fashion industry.
Popular personalities were seen wearing Fila like Kendall Jenner, Emily Ratajkowski, and Rihanna.
Are Fila Shoes Good for Walking?
Modern Fila shoes are made to complement "everyday people".
With comfort as their main selling point, the brand focused on features that give your feet more cushion and protection.
Yes, Fila shoes are definitely a great choice if your goal is to walk or stroll around for long hours a day.
Let's find out some of the advanced features most Fila shoes have to provide support and comfort to your day-to-day activities.
1. EVA Cushioning
There are different types of EVA cushioning, but Fila is using the original product.
This material provides a highly cushioned feeling when you are walking or running without the pillow-like feel.
Cushioning that is too soft can bring more harm than good to your feet.
EVA cushioning gives you that comfortable feeling while providing ample support to prevent your feet from getting injured.
2. Memory Foam Insole
This is one of the features that you should always look for when buying walking shoes as it conforms to the shape of your underfoot.
As the name implies, the memory foam insole memorizes the shape of your feet and stays that way, giving you more comfort when walking.
Fila shoes have this type of insole installed inside, making them very comfortable when walking or running.
3. Coolmax
Most Fila shoes have a Coolmax feature that provides additional cushion and moisture-wicking properties.
This material will redirect the moisture and keep your feet dry the whole day.
Since you're going to use the shoe for walking, moisture-wicking features should always be at the top of your list.
4. Dynamic Landing System (DLS) Outsole
This feature uses both rubber and foam to provide protection and comfort to your feet.
Rubber is placed in the areas that are always in contact with the ground when you're walking.
On the other hand, foam is used in the other areas to ensure that your feet feel light and secure.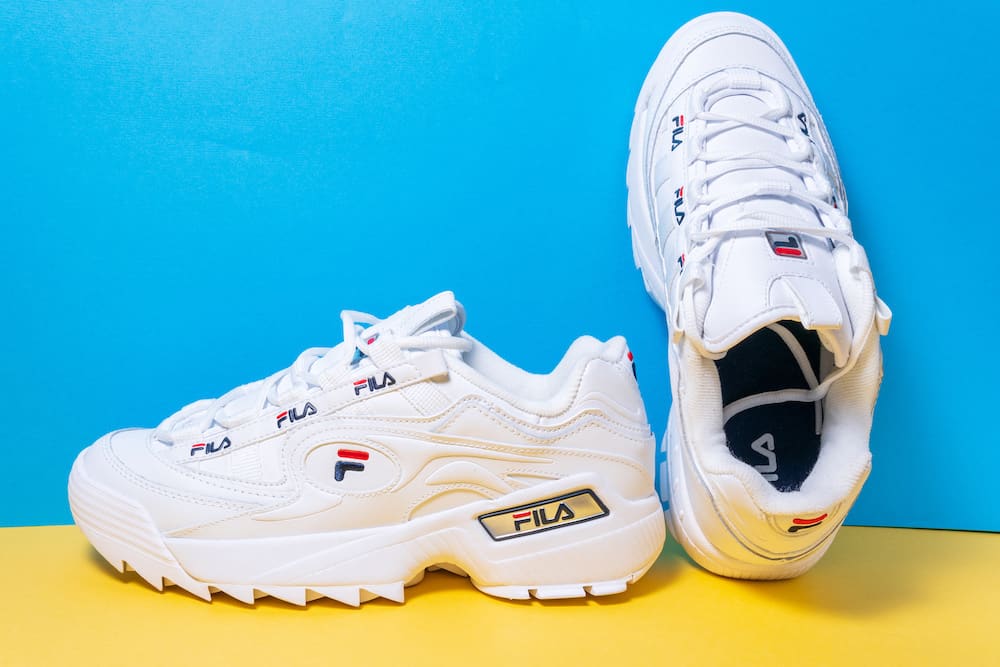 How To Choose Comfortable Fila Walking Shoes
When choosing a Fila shoe, you should always focus on comfort, especially if you're going to use it for walking.
Below are some of the things that you should keep in mind if you want to choose the best walking shoes.
1. Pick the Right Size
Most people buy shoes by looking at the size of their feet.
If you're wearing Nike before and want to switch to Fila, the sizes are slightly different.
Thus, first-time buyers should wear the Fila shoes before buying to make sure that they fit perfectly.
Remember that your comfort is at stake if you fail to choose the right size.
If it's too tight or loose, you will end up suffering from injuries.
2. Use the Wiggle Test
Wear the shoes and move your toes.
The toe box should have enough room for your toes to wiggle, but not too much that your feet will slide forward when walking or running.
Try to feel if your toes hurt when you wiggle them inside or if they touch the toe box.
3. Bring Your Socks
Always bring your walking socks with you when buying Fila shoes.
It is essential to wear them when trying out new shoes to help you pick the right size.
You won't be wearing shoes without socks, so you need to bring the socks you usually wear.
4. Buy Your Shoes at the End of the Day
Your feet will swell when you walk around the whole day.
If you're going to buy a shoe, make sure that your feet are swollen so you can get the right size.
If you buy shoes early in the morning, there is a chance that your feet will hurt when your feet grow in size at the end of the day.
5. Don't Expect Your Shoes to Stretch Out
If you think that your shoes will stretch out and your feet will eventually get used to the tightness, then you're making a mistake.
Some shoes will not stretch out no matter how many times you wear them, so you need to find the perfect fit.
Walking With Comfort and Style
So, are Fila shoes good for walking?
Yes, they are the best when it comes to comfort, and the models are very stylish.
With Fila shoes, you can fully enjoy the classic 90s vibe that the brand offers.
You also won't miss out on the important features that you need to walk, short or long distances, without hurting your feet.