Are you looking for a golf simulator that will be worth your money? We live in an advanced technology era, the age of golf simulators, where you can practice golf without going to the golf club. Whether it is snowing or we are stuck in the middle of a pandemic, you can always practice your golf with a simulator.
The thing, however, is the flexibility that comes with golf simulators. You can buy some golf simulators for under $1000. And some go for over hundreds of thousands of dollars. With this, it is clear that golf simulators cost some good money. You, therefore, want to get one whose experience will be worth every single one of your penny. So how do you find a golf simulator that is worth your money?
6 Factors to Consider when buying a Golf Simulator
A golf simulator allows you to turn your space into a significant area of practice and entertainment. A garage. Office. Basement. Parking. You name it. If you get an excellent bargain for your budget, you will have a terrific experience.
The good thing is that there is something for everyone regarding golf simulators; they are highly customizable. Be on the lookout for these factors to ensure you get an excellent bargain for your golf simulator.
Ease of Use
The first thing you want to look for is the ease of setup. As you read reviews online, look at whether the people who own the simulator you are eyeing had an easy time setting it up. You do not want to get stuck even before ever using your simulator. 
Secondly, please think of how easy it is to download and access software on the simulator. Some simulators can download software in minutes, while others would take ages. If you are looking to invest some good money, you want it to be user-friendly.
Also, consider the learning curve. If you are looking for an attractive deal within a friendly budget, you want to ensure that:
You can use a foam ball or a real ball,

You can practice even without a ball,

Some have sensors to pick up the club head while swinging.



 Focus on the Area You Need to Practice on
While buying a golf simulator, a good bargain would let you focus and improve on your areas of weakness. By the time you are getting a golf simulator, you probably already know your areas of weakness and strength. Look at online reviews and find a simulator that will help you strengthen your strengths and improve on your weaknesses.
 For instance, some gold simulators focus heavily on swing path and clubface, a critical area most golfers can improve. While still looking for something to practice, you may want to get a simulator with an online tournament feature. This would be a great bargain to make your practices even more realistic.
Remember, with a golf simulator, you can improve many skills. Many times, people think that a simulator will only help improve your mechanics in golf. However, it can make you mentally stronger in the game.
 One thing you need to understand is golf simulators will help:
Perfect your swing,

Teach you how to select the correct club,

Shape your shots.
However, it is most unlikely that a single simulator will be excellent in all this. You, therefore, want to go for one that best matches your priorities.
Keep your Golf Handicap in Mind
 Before buying a golf simulator, you need to understand your gold handicap. Most simulators are designed to suit specific levels. You cannot go for a low handicap simulator if you already have a high handicap. It will be challenging for you. And this can be a total waste of money.
On the other hand, going for a simulator designed for a higher handicap if you are a lower handicap is also not advisable. You will end up with a gold simulator that is not stimulating enough for you.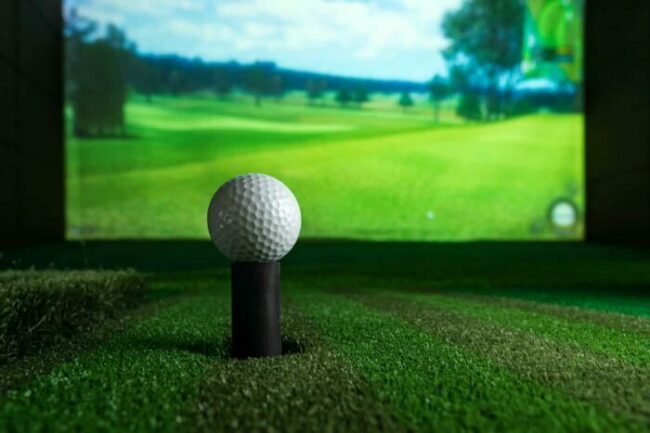 Accuracy
If you have a bigger budget and believe in "you get what you pay for," you can go for the most accurate golf simulators on the market. Some simulators cost a little higher, but their accuracy is impressive.
Many golfers do not mind stretching a little higher to get a highly accurate simulator. Here is why accuracy is something you should highly consider:
They give you precise data on every measure and stat. You will receive accurate statistics from speed, backspin, sidespin, and launch angle.

An opportunity to accurately track the club, not the ball, is vital for every golfer.

You get the opportunity to analyze and figure out your progress.



Would you Rather Invest in an Indoor or Outdoor Simulator?  
Are you going for an outdoor golf simulator or an indoor one? If you fancy an outdoor, do you have enough space outside to install one? The same applies to indoors; do you have enough room to take a swing?
 If you are on an outdoor golf simulator, you must consider an increased budget for a shed. The good thing is that golf simulators can fit almost anywhere. However, some outdoor simulators are not adjustable on grass. Keep this vital aspect of simulators in mind as you shop for a golf simulator.
Free Access to Software
Different simulators come with different ways to access software. Some have an annual subscription, while some come with a lifetime subscription, the latter being pricier.
Luckily, some simulators let you access free Software, Golf courses on E6 and Driving range functions. If you are looking to save on the cost of software and courses, you may want to consider such golf simulators.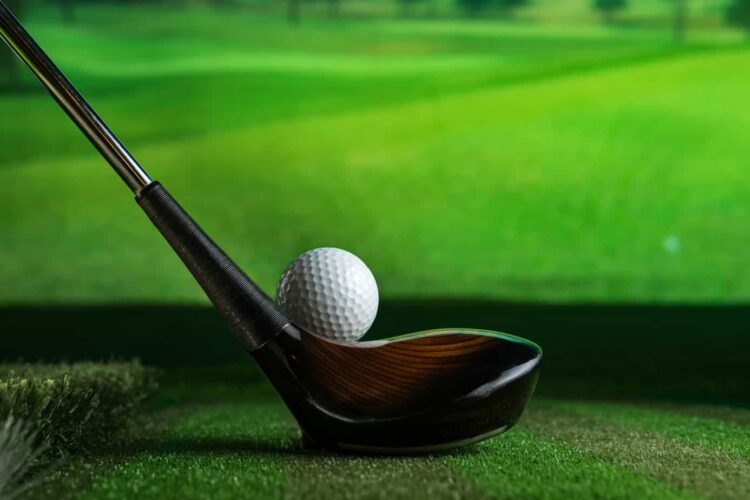 What is the best golf simulator for your money?
Golfers may be tempted to go for the cheapest available simulator. This is reasonable because even the most affordable golf simulator can still dig deep into your pocket.
If you get a good bargain, well and good for you. Just ensure you:
Read reviews online and see what previous users have to say

It is straightforward to set up and use,

It lets you join some tournaments and enjoy the great practice.
Is a Golf Simulator Worth It?
If you want to improve at golf, a golf simulator is 100% worth it. Initially, golf simulators were created for entertainment. However, over the decades, they have evolved into sophisticated technology that lets you practice and perfects your golf skills.
Sometimes the value of a golf simulator is attached to its cost. The features you get might be proportional to how much you pay. For example, you can get a complete simulator with a projector screen, mat, and trackers if you have ample space and money. This setup would go a long way in lowering your handicap.
Be sure to check our review of some of the best simulators here. 
If there are specific areas you would like to work on, such as launch angle and swing speed, you can get it done through a monitor. Simulator monitors cost as low as $250 and go way up to over $100,000.
If you are already playing golf for several days a week, for a couple of hours, you are already spending considerable time at it. Investing more money will make more sense as it will simplify your practice life.
What Type of Simulator Suits you?
 There are three major types of simulators you can look at:
Photometric golf simulators: These are camera-based simulators that offer a lot of flexibility and can be used indoors and outdoors. They capture high-speed images just after the impact. These images then derive data that can be used in rendering distance and shot distance. These simulators also capture launch angle, side spin, backspin, and distance away from the center.

Infrared golf simulators: These simulators release light signals to capture the specific position of the clubhead. The ball in this simulator is not measured. You, therefore, can easily use foam or plastic balls. However, this is why infrared golf simulators are not as effective and accurate as other simulators.

Radar-based simulators: These simulators track the ball with the assistance of Doppler Radar Technology. Radar technology emits microwave signals from the unit, which bounce back from the ball after the impact. This makes it an attractive selection for the outdoors. You can also use it indoors; you, however, need adequate free ball flight.
People Also Ask   
What kind of golf simulator does Tiger Woods use? 
Tiger Woods uses full-swing golf simulators. It has been the only golf simulator he has been using since 2015. Woods notes that he trusts full-swing golf simulators as it simulates precisely what he does on a golf course in the confines of his house. 
Did Obama put a golf simulator in the white house?
Yes, President Obama installed a golf simulator in the white house. His golf simulator was, however, replaced in 2019 by Trump. There are reports that President Trump installed a $50K golf simulator in his personal quarters in the white house.