Do you cherish your game of golf, but don't have access or the time to be at a driving range or course regularly? Then, opt for the best golf simulator under $10,000 for your practice.
Yes, indoor golf simulators will mimic the real golfing experience. Plus, they analyze your performance in an instant. That way, you'll know which areas to focus on and what moves to avoid. In turn, you can achieve the trajectory, speed, and swing that you want.
Unlike the real course, you can always enjoy your favorite game in the company of friends and family. Or, opt to compete with other golfers worldwide in the comfort of your home. No more tee time for you. Go straight to pick up your practice or real golf gear and start your play. How cool is that?
Do these attributes resonate with you? Then here is a quick guide on how to pick the best golf simulator under $10,000. It is a price range for beginners or anyone upgrading their simulator. Included is a review of three of the top indoor golf simulators in this price range. Are you ready for a head start? Let's get to it!
The Products
We hope you love the products we recommend! We only products that we thoroughly investigate and believe is a real value for you. Sports Send may collect a share of sales or other compensation from the links on this page. It is at no extra cost for you.
SkyTrak SwingBay Golf Simulator Package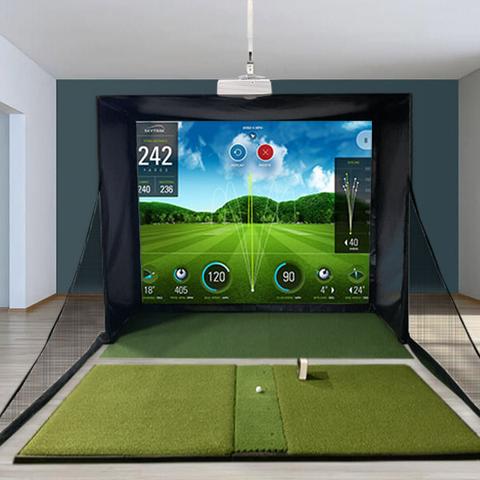 The SkyTrak SwingBay Golf Simulator Package is a mid-range launch monitor. It is ideal for beginners and anyone out to scale up their current indoor simulators. It delivers accurate analysis of your moves and will go with you wherever and whenever you go. For, the first time SkyTrak user will marvel at the fast learning curve. The list of traits is more than you can expect. Its latest three consecutive Golf Digest Best Value Golf Simulator awards prove it.
The Brand Philosophy: Fair Chance for All
Golfers of all skillsets should have a fair chance at competing in tournaments. And, SkyTrak knows this best. But, it all must start with adequate training. Forward, a player ought not to lag in his practice due to reasons beyond their control. More so, they never have to pay the ultimate price for unpreparedness. Players should elevate their game with no restrictions. For sure, this is the drive behind the making of the SkyTrak SwingBay Golf Simulator Package.
This launch monitor gets rid of space, location, and time constraints. That is, you can play wherever and whenever you want, in your private area. Its intuitive points provide feedback about practically every move the player makes. They include a 3D analysis of your golfing parameters.
A game improvement plan relies on your previous records to motivate you to achieve more. And, your entire setup mimics that renown courses, giving you a feel of what to expect during a real game. In turn, you have the chance to push up your stakes in your next tournament right from your living room or basement.
The Specifications
Type: SkyTrak Launch Monitor
Included in the Package: The SkyTrak Launch Monitor and Golf Simulator, HDMI Cable, 1080p Short Throw Projector, Ceiling Projector Mount, SwingBay Screen, and Enclosure, Protective Case, Game Improvement Software, Your Choice Hitting Mat, Side Netting, Landing Pad Turf Surface.
Compatible Device: iPad, Android, and PC Devices
Technique:  Accelerometer-Based Internal Leveling System, Photometric Technology,
Minimum Room Size: 9 Feet High by 12 Feet Wide by 16 Feet Deep
Minimum Obstructed Area: 10 Feet by 10 Feet
Skill: Recreational Golfers and Pro-Level Players
Warranty:  3 Years Manufacturer Guarantee
>
The Essential System Requirements
The SkyTrak SwingBay Golf Simulator Package runs on 3D graphics imaging. Its leading software, the Game Improvement Software Plan, retails with an annual paid support. This software will work well on either an android, PC, or iPad device. And, once set up, you won't need to do any calibrations. Users of the three devices should have the following least system terms: –
For iPad users:
SkyTrak needs no internet connection to link to a Wi-Fi iPad. But what if you already have a home network or a router? Then, you can connect the launch monitor via a reliable internet connection. iPad users should have at least: –
iPhone version 6 or higher
iPad air or a higher version, Mini 2 with a Retina Display, or Pro
For Android users:
The SkyTrak Launch monitor works with the quad-core or Octa-core processors. These processors are typical of android devices. Still, to be compatible with the simulator, your android unit should have: –
Google Pixel C
Samsung Galaxy S3, S6, S8; Tab S2, S3
For PC users:
Ensure your PC has the following specs to be compatible with the SkyTrak SwingBay Golf Simulator Package: –
Windows 7, 8, and 10
Intel Core 2 Duo @ 2.0GHz or higher
2GB RAM or higher
For Those Upgrading Third Party Golf Simulators: –
The SkyTrack website lists the third party indoor golf simulators that are compatible with its launch monitor. Ensure you confirm these details for your current simulator. This compatibility information is also in the package's user guide.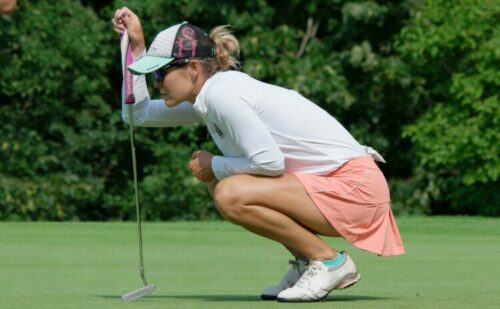 What Can the Skytrak Swingbay Golf Simulator Package Do for You?
Now, a professional golfer should horn his skills with every chance he gets. And the SkyTrak SwingBay Golf Simulator gives you a platform for that. Use it for practice, fun challenges, and ultimately improve your delivery. This indoor golf simulator offers you: –
You can use the SkyTrak launch monitor to practice off the course or driving range. For, it is a portable indoor simulator that you can move and play with anywhere, anytime. The simulator allows for customization to simulate various weather conditions. In turn, you'll master your game by working on your weak points.
The launch monitor provides priceless feedback on your practice. For, it captures and analyzes the following traits via its photometric technique: –
Ball trajectory
Offline Yardage
Distance –Carry, roll, totals
Angles – Launch, Descent 0 – 20° +/- 2°
Speed  – Ball speed 0 – 200mph +/- 1mph, Club Head speed
Spin Rates – Backspin 0 – 12,000rpm +/- 250rpm, Sidespin 0 – 4,000rpm +/- 250rpm
It is a superior technology to the radar one. Radar is typical of high-end indoor golf simulators.  Hence, know your performance as you enjoy your favorite game.
Entertainment With Family and Friends
Round out your friends and family for an exciting game. Or, go online and compete with other golfers across the world.
Challenge Your Capabilities in A Fun Way
Push your skills to their limits with ambitious goals about your distance, speed, and spin. Get into competitions that challenge your longest drive using world-class courses. The launch monitor uses the Game Improvement Plan to set these targets. Do you prefer a graphical and chart analysis of your progress? Then, download the SkyGolf Mobile App.
Give You an Affordable Alternative to Indoor Golf Simulation
SkyTrack SwingBay Golf Simulator Package has traits like Foresight and Trackman high-end models. In particular, you get the precision of premium units. Plus, it has affordable software choices for anyone on a tight means. Yet, it sells at a fraction of the cost. For this reason, a recreational golfer will save lots of cash doing an upgrade. He'll replace his launch monitor with these best indoor golf simulators for the home in 2020.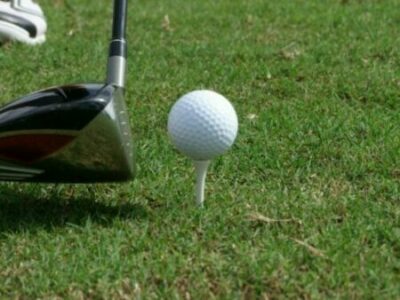 Our Verdict
The SkyTrak SwingBay Golf Simulator Package is an excellent value for your money option. It is easy to set up and use, portable, intuitive and delivers accurate analysis of your game. However, it lacks a way to give feedback on the club path. This exception is an area that the manufacturer will want to work on and include in future upgrades.
TruGolf Vista 8 Golf Simulator w/ E6 Connect Preview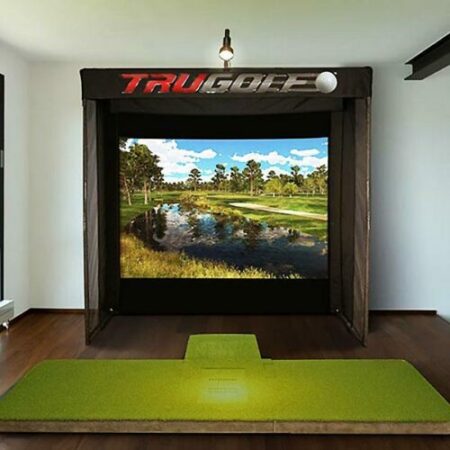 Are you in need of a golf simulator that is pocket-friendly with cutting-edge technology? Then TruGolf Vista 8 Golf Simulator w/ E6 Connect is your go-to option. It's relatively affordable yet offering cutting-edge technology features.
These features are evident from the incorporation of HD image quality and a revolutionary tension system. Furthermore, it comes with swing analysis software to help you analyze your swing.
But why do we love TrueGolf Vista?
The TruGolf Vista Brand and Philosophy
TruGolf has taken pride in being short game experts. Their point-of-impact technology lets them measure putts inside ten feet. A thing unique only in their simulators.
Among the best series of simulators in their turf is the Vista series. And the most compact simulator in this series is the Vista 8. This compactness makes it portable and affordable, a philosophy centered towards an all-inclusive market.
TruGolf manufactures its products and manages them in-house. This business model translates to perfect responsive service to its customers.
The Specifications
Model: TruGolf Vista 8, Vista Series
Included in the Box: 1 Year Subscription E6Golf Connect – Basic, HD Projector, TruGolf Level 1 Computer (Only Available w/ Pro Version), 21" Touch Screen Monitor (Only Available w/ Pro Version), TruTrack2, Deluxe Fairway Turf (Only Available w/ Pro Version), Protective Side Nets (Only Available w/ Pro Version), Component Rack (Only Available w/ Pro Version), Containment Brim (Only Available w/ Pro Version), and Duffel Carry Bag with Frame Storage (Only Available w/ Pro Version)
Platform:     IOS or PC
Technology:    Point-of-impact technology, infrared sensors and proprietary sound measuring technology
Max. Players:  8
Skill: All types of golfers
Warranty: 1 Year
The Minimum System Requirements
Upon unmasking your TruGolf Vista 8, read the manual for a step-by-step installation guide. Once done with the installation, begin your indoor golfing experience. And don't worry about portability as the simulator's frames are made of aluminum, making it mobile convenient.
The TruGolf Vista 8 is compatible with both Windows and IOS devices. For windows users you'll need a TruGolf level 1 computer or a computer with the following features:
Intel Core i3 3.9Ghz
8GB RAM
500 GB Solid State Drive
NVIDIA GTX 1050
E6 CONNECT Pre-Installed
For iPad users, you need to have the latest iPads to enjoy the simulation with no glitches or poor graphics. the ideal IOS devices include
Ipad Pro
IPad Air
IOS 12 and higher
For android users, compatibility is not available yet. The set up needs two adults and an average of 3 hours to assemble. Read the guide and the videos for help on installing the simulator.
The TruGolf Vista 8 Capabilities
The TruGolf Vista 8 is part of the Vista series. It is the most affordable and portable simulator in the Vista series due to its compactness.
One of its high-end features is the use of point-of-impact technology. This technology further enhances a tee-to-green simulation, a thing rare in other simulators.
Another important capability is the use of the TruckTrack system. This system provides an accurate and reliable shot tracking capability. The integrated swing analysis further provides you with instant ball and club data to help improve your training — zero delays as compared to most simulators.
Third, it uses E6 Connect a golf simulation software that connects you with golfers across the world. It also lets you play in world-class courses and compete with up to 8 players online. This software further allows the user to alter the weather, time, and golf course conditions.
Its matte box design further blocks ambient light. This design ensures the simulator gets the same image quality as other high-end simulation units. And its tension system provides an impact screen held firmly to offer crystal clear images.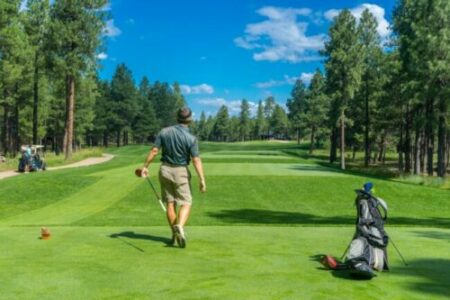 The Accessories 
Vista Framing
This framing is of aluminum, making it lightweight and portable.
720 HD Projector
The simulator uses a high-definition projector that provides clear images and graphics.
Deluxe Fairway Turf (Only Available w/ Pro Version)
This deluxe turf provides you with a real golf course feeling.
21″ touchscreen, and fully functional Windows PC (Only Available w/ Pro Version)
This PC comes with all the require gaming specifications and E6 connect already preinstalled. The PC is also a touchscreen and only available in the Pro version.
Side Net (Only Available w/ Pro Version)
It includes a side netting to catch stray balls.
Frame Storage Duffel Carry Bag (Only Available w/ Pro Version)
This duffel bag is essential for storing and carrying the simulator's frames.
What We Like
Affordable, high-quality golf simulator
Includes a mat and net
Delivers instant accurate and reliable shot analysis
Uses aluminum frames further making it portable
Comes with crystal clear graphics
Perfect for practicing your swing at home
Incorporates a customizable software to simulate real-world scenarios
It has a 1-year warranty
Shortcomings
TruGolf Vista 8 is affordable and offers high-end simulation. However, a couple of things stain its reputation. For instance, the course graphics are not up to date, a necessary feature to consider.
Also, if you're an IOS user, chances of enjoying the game with excellent graphics are low. The only way to get the best experience is by using the latest IOS devices. It's also unfortunate that it's not compatible with Android devices.
Verdict
Do you want to enjoy high-end golf simulation? Then get a TruGolf Vista 8 simulator. It provides instant, accurate, and reliable results of your training. It also tracks your shot and gives the right simulation that complements real-life scenarios.
SkyTrak Retractable Golf Simulator Package
Do you have a confined space, yet you want to get the best out of a golf simulator? Consider the SkyTrack Retractable Gold Simulator Package. It is a robust set that includes a portable and retractable screen for your comfort. Indeed, this simulator uses shielding enclosures that protect your valuables from quick hits. Hence, use practice or real golf balls without worrying about damaging your stuff. Here are the specs: –
The Specifications
Type: SkyTrak Launch Monitor
Included in the Package: The SkyTrak Launch Monitor and Golf Simulator, Home Course Retractable Screen and Enclosure, HDMI Cable, Optoma 1080p Short Throw Projector, Home Course Ceiling and Wall Mount, Ceiling Projector Mount, Protective Case, Game Improvement Software, Your Choice Hitting Mat, Landing Pad Turf Surface.
Compatible Device: iPad, Android, and PC Devices
Technique:  Accelerometer-Based Internal Leveling System, Photometric Technology,
Minimum Room Size: 8'6″ High by 10'6″ Wide by 10' Deep
Skill Level: Recreational Golfers
Warranty:  3 Years
The Essential System Requirements
Like all the other SkyTrak models, this unit relies on 3D graphics for support. Also, there is no need for calibrations after the initial setup. Always confirm from the manufacturer's website about pairing this model with a third party indoor golf simulator. Here is a list of the compatible devices: –
For iOS users: –
iPad Air, iPad Air 2
 iPad Mini 2 with  a retina display, iPad Mini 3
For PC users: –
Windows 7, 8 and 10
 Intel Core 2 Duo @ 2.0GHz or higher
2GB RAM or higher
For Android users: –
Android 4.1 and up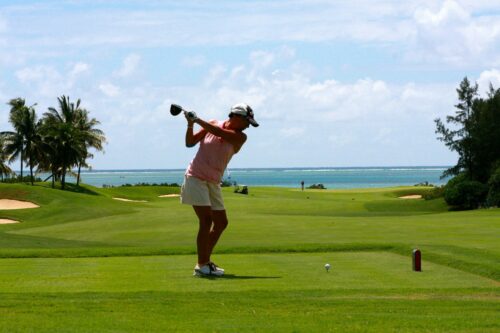 SkyTrak Retractable Golf Simulator Package Capabilities
Affordable Limitless Practice
Use the launch monitor to practice on many courses anytime, anywhere. Customize the unit to mimic various weather conditions. Hence, improve your game, away from the real golf course.
Open Up Your Limited Space
This SkyTrak Retractable Golf Simulator package will fit into your living room, basement, or garage in seconds. And when done, you can always return your play area to its original condition. For, it is a wireless, battery-powered model that moves from one area to the other hassle-free.
When using a simulator in a limited space, your safety and those near you is paramount. Hence, you can use the real golf balls and clubs for your game and not worry about damaging your valuables. There is a Home Course Sky Netting and a Pro-Arms feature that guards against errant shots. The two innovative features create an enclosure that traps your mishits.
The retractable unit has analysis abilities similar to the rest of the SkyTrak units as follows: –
1.    Ball trajectory
2.    Offline Yardage
3.    Distance –Carry, roll, totals
4.    Angles – Launch, Descent 0 – 20° +/- 2°
5.    Speed – Ball speed 0 – 200mph +/- 1mph, Club Head speed
6.    Spin Rates – Backspin 0 – 12,000rpm +/- 250rpm, Sidespin 0 – 4,000rpm +/- 250rpm
Our Verdict
SkyTrak Retractable Golf Simulator Package is a custom SkyTrak indoor golf simulator for golfers of all skill levels. It offers you the perfect game of golf anywhere, anytime, with no space restrictions. You can rely on its durable, ballistic-grade screen to absorb hard hits and still have your valuables at a safe range.
Buying Guide about Indoor Golf Simulator for Home
Factors to Consider
The Tracking System
What separate a golf simulator with a real golf course is its tracking systems. Hence, pick an indoor golf simulator that will track the way you move and hit the ball as you practice. It does this using sensor technology that measures your ball's moves. For, these sensors rely on high-tech infrared light. Standard sensor systems include Doppler and photometric techniques. Yet, sophisticated sensors will push up the price of the indoor golf simulator.
Golf Course Plays
The best indoor golf simulator for home offers you course practices. Thus, the golf course play ought to be as accurate as possible in mimicking the real golf experience. An essential golf simulator will have at least 15 golf courses included in its package.
Multiplayer Options
An ideal indoor golf simulator supports more than one player at ago. This way, you can plan fun plays with your friends and family. It also means that you want a simulator that is for recreational purposes only.
The Software and Compatibility
Each indoor golf simulator relies on robust software to improve your game. In turn, you must have a compatible smartphone, PC, or tablet. The software will provide you feedback about your shots. It will even set ambitious goals for you and set milestones on how to achieve them.
>
The Materials
Indoor golf simulator packages retail with many parts as follows: –
The Software
Price Range
What's your budget for the best indoor golf simulator? A full indoor golf simulation experience starts at a $5,000 price range, going up to tens of thousands of dollars. They vary in materials used and the benefits expected from each simulator.
A $5,000 unit will have the entry-level features of a simulator. Also, you'll save cash as you opt for practice golf balls instead of the real ones. Yet, its accuracy is somewhat limited. Still, you'll have lots of fun experimenting with your shots and swing.
Second, a mid-range simulator retails under $10,000. Here, expect better accuracy than the entry-level unit. For, the materials included are of superior quality. Further, some mid-range simulators retail as a package that lets you assemble into high-end unit. Hence, you'll save lots of cash with your DIY mid-range unit.
Third, a high-end simulator can retail for as high as $70,000. Here, you'll have limitless options on the accuracy, software, and setup. With these premium packages, it is best to work one on one with the manufacturer. That way, they will set up the unit to perfection.
Compatibility
Space Needed
How much space can you set aside for your indoor golf simulator? And how much space will remain after setting up your choice simulator? Does this remaining space allow you to swing your club comfortably? If not, you should look for a bigger space.
Space requirements for an indoor golf simulator also touch on the ceiling height. For, an ideal ceiling height accommodates the player's height and swing. In turn, ten feet high is an acceptable height for most golfers.
Next, the room width is critical if you are either a left-handed or a right-handed player. It also helps you determine how many other players can take part in your practice session with you. Hence, opt for a more extensive space if you are a left-handed player. Also, if you want to play with more members of your family or friends.
Finally, the room's depth should factor in what technology your golf simulator uses. That is, a photometric technique is less restrictive on the room's bottom. But, if your simulator uses the Radar-based method, you need a place that is at least 23 feet deep. Hence, always refer to the simulator's requirements before bringing it home with you.
System Requirements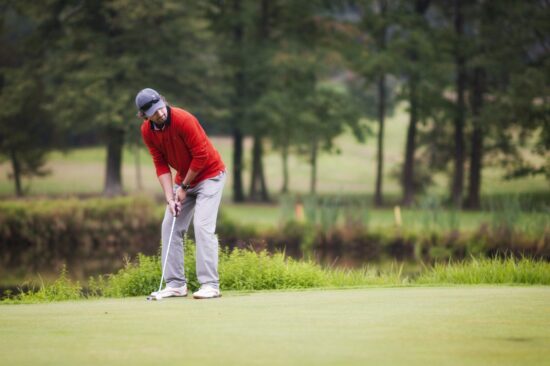 FAQ About Indoor Golf Simulator for Home
Q. How accurate is a golf simulator?
A.A simulator's precision depends on sensor technology and software used. For, these units use materials, software, and fittings to mimic the real golf practice. Hence, you can expect an accurate report of your moves.
Still, these simulators lag in providing data to mimic weather patterns. For rain, humidity, sun, and wind not only affect the ball. But, they change the golfer too. Hence, simulators can still get better to show how weather alters the results.
Q. How do indoor golf simulators work? 
A. A golf simulator is a computerized version of your real game. By picking on your moves, they mimic the authentic golf experience. Then, you get to see what outcomes you'll have with such shots. In turn, you can improve your play at home or in the office.  
A typical indoor golf simulator uses high-tech machines to analyze your swing. Plus, it gives you a set-up of many golf courses, most of which are of world renown standards.
Once you set up the simulator, you will have a practice session like in a real driving range or course. Only, you'll maintain one standing position, at the swing pad, or move a few steps around to get a good posture. This swing pad has trees and grass to mimic a real course.
When you hit the ball at the screen, the screen sends signals to light sensors on its sides. Then, these signals translate to your score for the shot. Hence, you'll know your face angle and contact, swing speed, ball path, and distance. The parameters are limitless.
Q. How do you build a golf simulator enclosure?
A.A golf simulator enclosure gives a safe hitting space for your shots. It is a vital part of a simulator, now that you will be playing in your house or office where your valuables are. Building your enclosure is one of the easy ways to cut on the costs of expensive simulators. You'll still enjoy a top-notch golfing experience. And, the DIY project can save you up to $1,500.
To build your golf simulator enclosure, start by getting your measurements right. These metrics include the length, width, and height of the ring. Next, assemble all the materials you intend to use. These include the EMT conduit, a pipe cutter, connector fittings, and a foam pipe insulator.
Cut the pipes using the cutter. Then, fit them to the shape of the ring, before using the fittings to fasten them. Attach your impact screen materials to your frame using a set of tube clips, tarp clips, and ball bungees. Cover the sides and top of the enclosure using a side netting or a light-proof cloth. It will allow or block light to the ring as per your preference.
You now have your enclosure up. Check that the impact screen and cloth are firm. Then, go for your foam pipe insulator to cover all the sections of your piping. This insulation absorbs hard shots, preventing the enclosure from bouncing around when hit.
Q. Can a golf simulator improve your game?
A. Yes, definitely. An indoor golf simulator is a recreational platform to enjoy a fun game with friends and family. But, it also gives you access to limitless practice to perfect your swing. Its accurate analysis and possible targets help you know if you are on the right path. Plus, you get to sample many famous golf courses and online competitions, in the comfort of your home.
Q. How do you putt on a golf simulator? 
A. When using a golf simulator, you have to put off the tee mat where you do all your hits. Never move the sensors to the right putt position. Instead, go to where the sensors expect you to putt.
For example, do you want to make a 20 feet putt, but the ball is fewer feet away? You have to imagine that the sensors are 20 feet away. You don't have to move the sensors to make this kind of putt. By the sensors indicating a 20 feet putt, it has already calculated the distance based on where the ball is. That is, at the tee mat.
Hence, by having the ball at the tee mat, you allow the sensors to calculate for you're the exact putt to make.
Conclusion
Did you know that the best golf simulator under $10,000 can have traits equal to luxury models? Yes, we now have mid-range models with fittings and software that compete with high tech units. They will analyze most of your moves to improve your game.
This guide focuses on three of the best mid-range golf simulators for the home in 2020. They use the latest software and durable materials for a fun and fulfilling session. Plus, the after-sales support ensures you get value for your money.