Buying shoes will open your eyes to the different brands available in the market.
You probably know about Nike, Adidas, and Under Armor, but they are not the only brands that offer high-quality footwear.
Like these names, Skechers is one of the oldest shoe manufacturers worldwide.
Known for their style and comfort, are Skechers good walking shoes too?
Let's find out if this brand still offers high-quality shoes that can rival the models released by top brands.
Image Source: Wikipedia
About Skechers
Skechers is a popular footwear brand that originated from Manhattan Beach, California.
You might have known about the company for its utility boots and skate shoes.
These days, though, Skechers now manufactures casual and athletic footwear that is both stylish and comfortable to wear.
How Did Skechers Come About?
Skechers was founded by Robert Greenberg in 1992.
During that time, L.A. gear was the top brand for women's athletic footwear. Nike pretty much dominated men's athletic wear.
No top brands were controlling the scene when it came to street shoes for men and women.
Therefore, Robert Greenberg decided to take advantage of the situation and expanded his niche market in the United States.
He was one of the founders of L.A. gear.
Unfortunately, the huge loss in market share forced him and his son Michael out of the company.
With his experience in the field, he teamed up with his son to establish Skechers.
Back then, the original intention was to become a distributor for Dr. Martens.
Aside from this, they also distributed other brands like Karl Kani and Cross Colours.
After a while, both Robert and his son realized that being a distributor is not their only way to success.
Greenburg realized that their forte and passion are designing and marketing their own footwear.
In 1993, Skecher's biggest hit, the Chrome Dome, was released in the market.
It is a unisex street boot that looks worn and scuffed, which appealed to the trendsetters at that time.
With the success of Chrome Dome, Greenburg decided to focus on his own brand.
Hence, he stopped distributing Karl Kani and Cross Colours.
Skechers and Dr. Martens also fought a legal battle, which left Greenburg with only the shoes made by his own brand.
Are Skechers Good Walking Shoes?
Skechers made a name in the industry with its casual and athletic shoes.
These shoes are also the reasons why this particular brand is very popular when it comes to walking footwear.
More than anything, comfort should be your primary concern when it comes to walking shoes.
After all, you need your feet to be comfortable so that you can walk however many miles you set for that day.
The brand is popular for making comfy shoes for people who spend a lot of time walking or running.
If you're a liaison officer or working in the field, wearing a pair of Skechers would be a good way to keep your feet comfortable and protected.
Soft insoles, affordable price tags, and cushioned midsoles make this brand a top pick when it comes to walking shoes.
Another reason Skechers has good shoes is the brand's variety of fitting options.
The classic fit is available for men (D) and women (B) and offers a medium width.
This type of fit gets wider as the shoe gets longer, making it perfect for those with average foot width.
In comparison, the relaxed fit offers more room around the toes. These shoes are tagged as "C" for women and "E" for men.
Skechers also offers shoes for those with wide feet, allowing for more comfort.
As you can see, this brand has no shortage of choices to accommodate everyone, regardless of not only foot size but also width.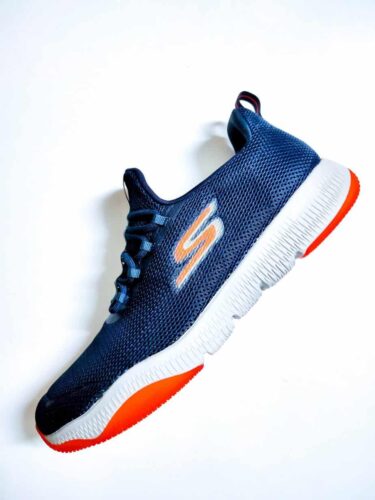 Why Invest in a Good Pair of Walking Shoes?
Many people don't understand how walking shoes and running shoes are different from each other.
Some believe that it's okay to wear running shoes for walking, so there's no need to buy another pair.
They would much rather get a good-quality pair you can use for different purposes than two pairs.
There are a few reasons why investing in a good pair of walking shoes can benefit you in the long run.
Try to check how your foot lands when you are walking and running.
When walking, you will notice that your foot strikes the ground at your heel.
In comparison, your foot strikes the ground around your midfoot when you're running.
The protection and cushioning offered by walking and running shoes are different, too, which is a major factor when choosing an athletic shoe.
Walking shoes do not have to be super lightweight, as you don't need to break any records.
You won't be using it for running long distances, so focusing on support and comfort will be your main priorities.
What's more, you can wear your walking shoes every day.
It has decent protection and extra comfort, allowing you to move and walk freely without worrying about your feet getting injured.
How to Pick a Good Pair of Walking Shoes
Skechers has always been serious about designing comfortable walking shoes.
However, it is not the only reason why their shoes are extremely popular.
If you're planning to buy a Skechers walking shoe, here are a few simple guidelines that you can follow to find the best pair.
1. Stability
Your walking shoe must offer some level of stability so that you can walk around without hurting your feet.
To know if the shoe has good stability, here is a short guide to help you:
Step 1: Hold the shoe by the heel and start bending the toe area upward.
Make sure that the shoe will bend at the ball of the foot and not on a random point along the arch.
Step 2: Hold the shoe by the heel and toe area and twist it.
There should be a moderate resistance when you're twisting it.
Stability is more beneficial for runners, but it doesn't mean that you won't look at this factor when choosing a walking shoe.
It should give you a secure feeling when doing different kinds of motions.
2. Cushioning
Walking shoes don't require a lot of cushioning since the activity causes less impact compared to running.
You can already expect to feel comfortable even with less cushioning.
Also, most people who want to use walking shoes for their day-to-day tasks prefer an evenly-cushioned model instead of those with a large heel stack.
For the heel-to-toe drop, you need to be very specific with the numbers.
Most walkers need a low drop number like the "zero drop," which would indicate that the shoe offers even cushioning.
If the drop numbers are higher, it means that the heel is slightly higher than the toe.
If you only plan to use it for walking, zero-drop cushioning would be a good choice.
You can opt for a higher heel drop if you plan to use it for running as well.
If you have problems with your feet, it is best to consult your doctor. He would help you pick the heel-to-toe drop depending on your condition.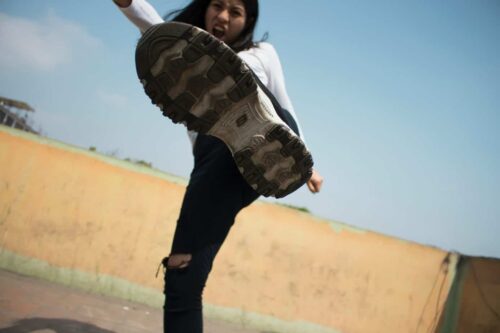 3. Foot Type
It is very important to know your foot type before you choose a walking shoe.
After all, it won't really matter if you're going to buy Skechers walking shoes or a pair from another brand.
If it doesn't fit the type of foot you have, you will still feel uncomfortable when walking.
Here are some of the things that you should keep in mind:
Pronators
These are people with flat feet with little to almost no arch. For this reason, they need to look for walking shoes with motion control.
Pronators need a shoe that provides support on the inside so that they do not overuse the inside edge of the foot.
It's better if you will also look for a reinforced heel counter for better control and stability.
Supinators
People with high arches should look for shoes with better stability.
You will also want shoes with the insole, midsole, and outsole designed for better shock absorption.
Curved shoes are the best choice for this foot type.
Also, make sure that you look for a pair with reinforced material on the ankles.
For more comfort, you should get a shoe with extra cushioning on the ball of the foot.
Neutral Feet
People with neutral feet can wear any type of shoe they want as long as there are proper support and comfort features.
However, you will realize that shoes with a curve shape will fit you best because they offer more comfort and protection.
Finding a Skechers Walking Shoe That Fits
Skechers walking shoes are amazing and offer a wide range of features that will bring comfort and protection to your feet.
Then again, all of these will amount to nothing if the shoe doesn't fit perfectly.
You need to know how to correctly choose a pair to make sure it fits your feet properly.
Here are a few simple tips to help you.
1. Don't rely on your shoe size.
Most people will just buy a shoe based on the size they are currently wearing.
More often than not, this won't be a problem if you are buying from the same brand.
However, if you plan to buy from a different shoe manufacturer, it is better to wear the shoe first.
Decide based on how the shoes feel on your feet instead of looking at the size marked inside.
The size can vary depending on the style of the shoe, the brand, and the country where the shoes were made.
2. Do the wiggle test.
The wiggle test will allow you to check if the shoes are too tight or too loose for you.
Your shoes' toebox should have enough room for you to wiggle your toes.
If you noticed that your toes are already touching the toe box, do the wiggle test.
If the shoes start wiggling around along with toes, it might be a bit loose, so you should get a smaller size.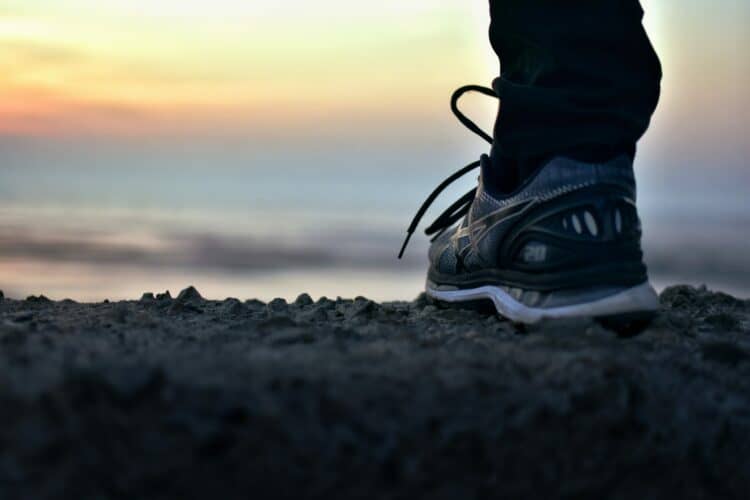 3. Buy shoes at the end of the day.
Your feet swell the longer you're using it. As such, we recommend buying shoes after working the whole day.
Therefore, if the shoes you buy fit your feet perfectly, with no room for expansion, it would hurt terribly when your feet start to swell at the end of the day.
The best thing to do is to buy shoes when your feet are already swollen. You won't have to make any adjustments and just fit the shoes as it is.
4. Bring innerwear.
When trying out walking shoes, always wear your socks.
It's even better if you wear the socks you always wear when walking.
Bring special inserts if you use them, as well, as they would help you determine the right fit.
5. Don't expect the shoes to stretch out.
Most people will buy shoes that are too tight, expecting them to stretch out after a couple of uses.
It might work on cheap walking shoes, but high-quality pairs won't stretch out after using them a few times.
If the shoe feels too tight on your feet, pick a different size because it means that it won't fit you perfectly.
Remember that buying shoes that are too tight can cause foot pain.
6. Take them for a walk.
As you try on new shoes, take them for a walk around the store before checking them out.
You can also jump or run around if you want, as doing so would help you determine if the shoe fits you perfectly.
7. Focus on comfort.
You should always choose a shoe that is comfortable for your feet.
Even if it fits you perfectly, you should decide based on the comfort that the shoe provides.
If you think that the shoe lacks cushioning, choose a different model or brand.
Final Thoughts
Are Skechers good walking shoes? Definitely! The brand spends a lot of time and effort manufacturing shoes that offer the best comfort.
Skechers is not only about style and design. Instead, the brand's primary concern is the level of comfort that its users will get from its shoes.
As long as you know how to choose a good pair of walking shoes, you won't have a hard time browsing through the different models that Skechers offers.