Getting a youth baseball glove with a snug fit for a child can be challenging. More so when you rely on your intuition to determine that the glove is comfortable, feels cozy, and offers ample protection without overwhelming the amateur player. Yet, did you know a secure fit is all about picking the proper sizing, buckle system, lacing, strapping, and fasteners?
You also need to ensure that the glove is in a break-in condition that is ideal for the young player. So, we have compiled this detailed guide on how to fit a baseball glove for a child: –
Fitting a baseball glove for a child is about attaining a comfortable and safe fit for the small hands. Get the exact measurements of the child's hand. Compare these with the recommendations on the manufacturer's sizing chart. Try the closest fitting glove on the child's hand. Then, compare this pick with similar brands to get the best value for your money. For more information, check out our discussion on.
The Steps
Step 1: Measure Your Child's Hand
Now, are you shopping for a baseball glove for a child joining the Little League? If so, we recommend getting the precise measurements of your child's hand. The aim is to get a youth baseball glove with a snug fit at the opening, finger trails, and wrist areas. You want a glove with the right pocket size to match your child's palm area. Hence, do the following: –
Ask the child to place their hands on a tabletop. Observe the unique contours at the back and in the palm section.
With the palm facing down and fingers spread out, use a tape measure to get the exact length of all the fingers. Here, you measure the length between the base of the fingers and the tips.
Now for each measurement, you have to add at least two more inches to make a provision for a custom fit. Use this final length against the manufacturer's sizing chart to get the most appropriate youth baseball glove size for your child.
Step 2: Refer to the Manufacturer's Sizing Chart
Kids as young as five years can join Tee Ball.  Yet, even a three-year-old kid can get a proper fitting baseball glove for recreational playing. Then, if you need to fit a baseball glove for a child in this age bracket, start by following the recommendations on the sizing chart by your favorite brand. Here is an example of such a sizing chart: –
.
Age
Catcher's Mitt
Pitcher's Mitt
Outfielder's Mitt
First Baseman Mitt
Second Baseman Mitt
Third Baseman Mittur
Under 7 Years

29.5" to 30"

8" to 10.5"

9" to 11"

11.5"

.

8" to 10.5"

8" to 10.5"

8 to 10 Years

30" to 32"

 

10.5" to 11.5"

10" to 12"

11.5" to 12"

​

10.5" to 11.25"

10.5" to 11.5"

11 to 13 Years
31" to 32.5"

11.5" to 12.5"

11.75" to 12.5"

12" to 13"

11.25" to 12"

11.75" to 12.5"

Above 14 Years

33" to 35"

11.5" to 12.5"

12" to 13"

12" to 13"

11.5" to 12.5"

11.75" to 12.5"
From the sizing chart above, the standard size of a youth baseball glove is 9 inches. More so, the baseball gloves vary in size depending on the age and playing position of the child. If the child is five years old or below, we recommend picking a 9-inch to a 9.5-inch glove. With this glove, the child can comfortably experiment with varying positions while staying safe.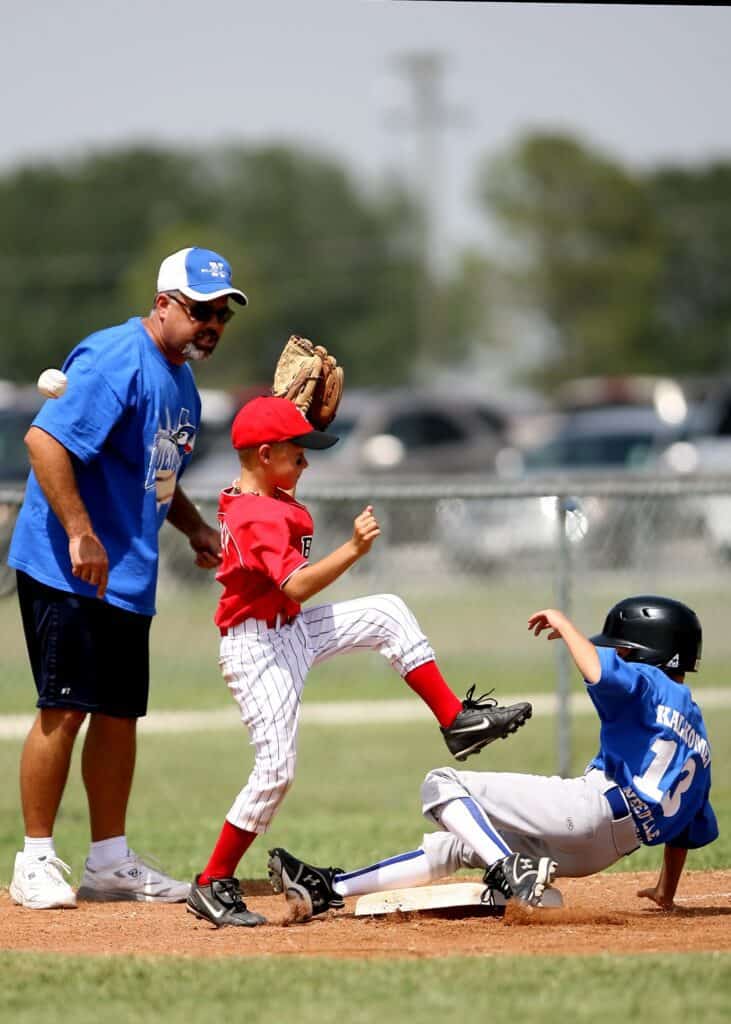 Step 3:  Test it on the Child
Note that this sizing chart will vary slightly from one brand to the next. It reflects the aesthetics, padding, lacing, and overall structure of the baseball glove. Hence, once you decide on the ideal size for your child, let the child try it on to determine the overall feel.  The glove should be neither too tight nor too loose on the child's hand. One easy way to confirm this is by gently pulling it off the child's hand after fastening it. Does it come off with ease? If so, then it is too loose, and vice versa.  Next, tighten the wrist straps to have a custom opening for the child. All in all, aim for a stable-fitting glove for your child.
Word of Caution
Often parents buy loose gloves and hope that the child will grow into them. This approach is dangerous for the child. Indeed, the glove may come off as the child tries to shield hard hits. In turn, the child can sustain serious hand injuries. If you must, buy a tight-fitting glove, then use conditioner and oil to break it in.
Step 4: Do a Brand Comparison
Did you get a baseball glove with the right size and feel for your child? Now, compare similar glove sizes from other leading brands. Remember, introducing a child to the game is about making the first sessions as exciting as possible. Hence, you want to compare the aesthetics, durability, convenience of use, and ease of maintenance. For example, kids aged below seven years prefer flashy colors, patterns, and lacing on their favorite gloves to make them stand out amongst their peers. Still, such gloves should be easy to wear, clean, and maintain for the child. Likewise, some mitts look feminine, targeting girls, while others look masculine, targeting boys.  Other aspects include the hand throw orientation, webbing, weight, and padding.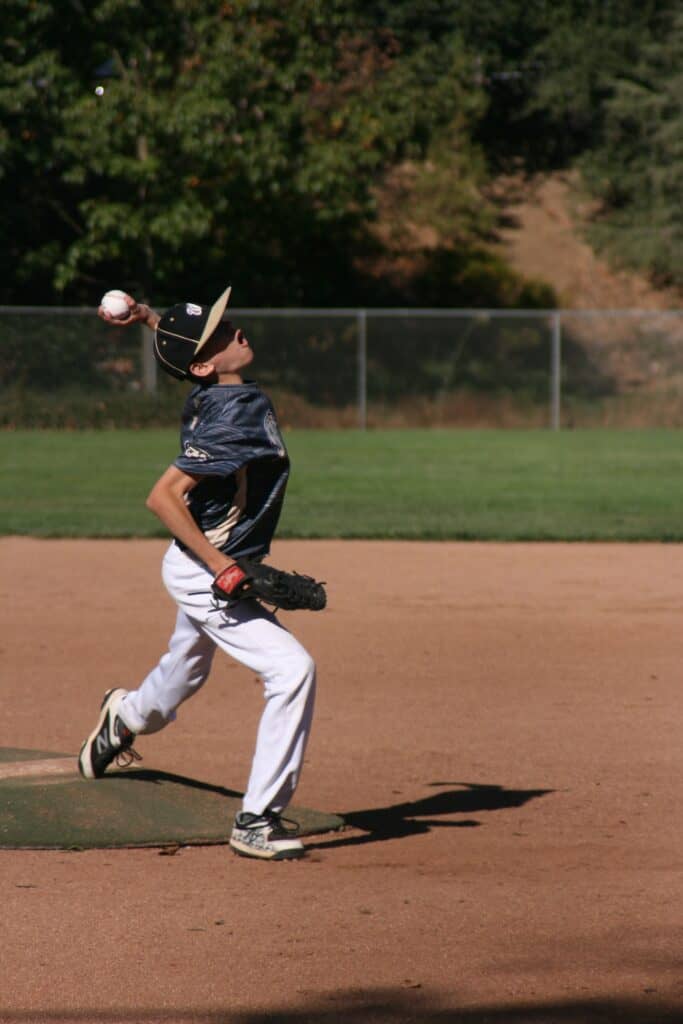 What if You Do Not Get a Fitting Baseball Glove for Your Child?
Yes, your child's hand may be much smaller than the standard baseball size. If so, opt for brands like Rawlings that have youth baseball gloves with a manageable fit for children as young as three years. Such gloves are of size 8.5 inches and are ideal for all positions in Tee Ball.
Second, you can opt for used baseball gloves instead. Indeed, as a child experiments with different gloves for the various positions, you may have to buy more pairs in one season. Used baseball gloves are affordable and retail in game-ready condition. They can last you for more than one season, sufficient time for the kids to familiarize themselves with the rules of the game.
Conclusion
Fitting a baseball glove for a child is about attaining a comfortable and safe fit for the small hands. Get the exact measurements of the child's hand. Compare these with the recommendations on the manufacturer's sizing chart. Try the closest fitting glove on the child's hand. Then, compare this pick with similar brands to get the best value for your money. For more information, check out our discussion on what to have in mind when shopping for youth baseball gloves​