A baseball glove, mitt, and a softball glove look the same; except, they are utterly distinct. See, each of these protective outfits has sole traits for a baseball or softball player. More so, the baseball glove will have a separate build for each position. Admittedly, the devil is in the details.
In this guide, we sum the key aspects that make a baseball glove different. By doing so, you can pick the right gear to suit your age and skill level.
Let's get to it!
Baseball Gloves vs. Baseball Mitts
We often use the terms baseball gloves and baseball mitts interchangeably. Yet, the two are unmistakable different. Like, did know that a baseball glove has fingers but mitts don't? Similarly, you have a higher likelihood of balls popping out of your baseball glove than from your mitt. Second
In addition, unlike the baseball gloves, a baseball mitt performs exceptionally in scooping your short hops and ground balls. These chunky gears control balls with ease. For this, only the catcher and the first baseman can use a baseball mitt.
Baseball Gloves vs. Fastpitch Softball Gloves
Now, there are three chief contrasts in a baseball glove and a softball glove as follows: –
Size/Fit
The size of a baseball glove refers to the length between A baseball glove generally smaller than a softball glove.  The size varies depending on age and position as per the sizing chart summary below: –
Baseball Glove Sizing Chart by Age and Position
| Age | Position | Glove Size |
| --- | --- | --- |
| Below 7 years | Catcher | 29 ½ to 30 inches |
| Below 8 years | Infielder | 9 inches |
| Below 8 years | Outfielder | 11 inches |
| 8 to 10 years | Catcher | 30 to 31 inches |
| 9 to 13 years | Infielder | 9 to 10 inches |
| 9 to 13 years | Outfielder | 11 to 12 inches |
| 11 to 13 years | Catcher | 30 to 32 ½ inches |
| 13 and Older | Infielder | 10 ½ to 11 ½ inches |
| 13 and Older | Outfielder | 12 to 12 ¾ inches |
| Over 14 years | Catcher | 32 to 34 ½ inches |
The smallest baseball glove for Tee Ball measures 9 inches. An infielder (first baseman, second baseman, third baseman, and shortstop) and a pitcher's baseball glove vary between 9 inches and 11 ½ inches. This size aids the players when fielding or shifting the ball to the glove hand.  Likewise, the outfielders' baseball glove is between 11 inches and 12 ¾ inches.  And, the catcher's mitt baseball glove is between 29 ½ inches and 34.5 inches.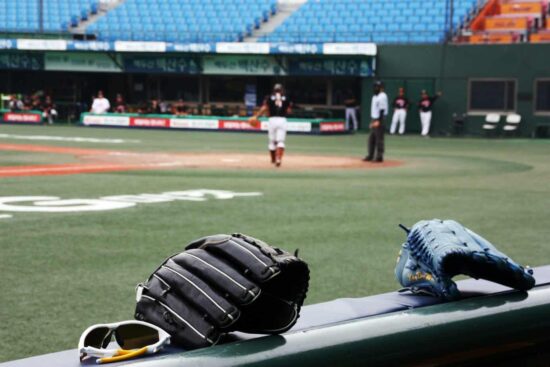 Fastpitch Softball Glove Sizing Chart by Age and Position
| | | |
| --- | --- | --- |
| Age | Position | Glove Size |
| 6 years and Below | All | 9 to 10 inches |
| Below 7 years | Catcher | 29 ½  to 30 inches |
| 8 to 10 years | Catcher | 30 to 32 inches |
| 7 to 9 years | All | 10 to 11 ½  inches |
| 10 to 14 years | Infielder | 11 ½ to 12 ½ inches |
| 10 to 14 years | Outfielder | 12 to 13 inches |
| 11 to 13 years | Catcher | 31 to 32 ½ inches |
| 14 years and older | Catcher | 33 to 35 inches |
| 15 years and Older | Infielder | 12 to 13 inches |
| 15 years and Older | Outfielder | 12 ½ to 14 inches |
Softball gloves are generally sizeable than baseball gloves. The smallest softball glove for Tee Ball can be either 9 or 10 inches. Second, infielders use gloves ranging between 11 ½ inches and 13 inches. Outfielders rely on gloves measuring between 12 inches and 14 inches. And, the catcher's mitt for softball starts from 33 inches to 35 inches.
Note that the sizing charts for both gloves vary slightly from one brand to another.



 Design/Function

 
Since baseball gloves are more compact than softball gloves, they also have smaller but longer pockets. These shallow and running pockets are great for retrieving small balls. And, they opt for prominent wrist openings to suit male players. In contrast, softball gloves feature deeper but shorter pockets. Since fast pitch softball gloves target female players, they have smaller wrist openings.
Second, the baseball catchers' mitt has more filling to protect the player from injury due to catching high-speed balls. But, softball gloves have less padding and no fingers, hence ideal for handling low-speed balls.
Overall Feel
Baseball gloves have a cozy fur-like lining protecting the player's hand from tough throws. And, the baseball players prefer loose-fitting gear with the traditional back, free of any Velcro straps. In contrast, softball gloves feel like an extension of the player's hand. They have less padding and use Velcro straps to achieve a snug fit.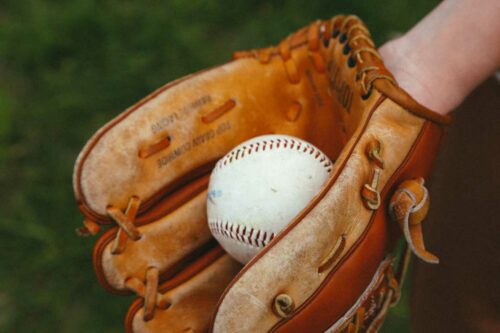 People Also Ask:
What Makes a Baseball Glove Good?
A good baseball glove must have the fit, function, and feel appropriate for the player's age, position, and skill level. Here, you must confirm the following key traits: –
Functional Parts of the Baseball Glove
Every part of a good baseball glove has a pivotal role in complementing the player's efforts as follows: –
The pockets are indentations in the palm area. They are crucial in catching or shifting balls to the throwing hand. Plus, they facilitate fast plays. In turn, pockets can be deep to restrain fly and hard impact balls. Or, they can be shallow to complement the infielders' quick transfers or releases.
Each baseball glove features five-finger areas, stitched or strapped together for versatile use. More so, the catcher's mitt and the first baseman glove have no visible finger divisions at the inner section. This separation of each finger area is noticeable from the back of the glove.  Here, a player slides all or some of the fingers into the sections as needed.
A baseball glove may have the conventional closed back to seize more fly balls. Here, the wrist adjustment section is continuous. In turn, outfielders resort to the hole for the index finger when they need to linger outside the glove. In contrast, open-back baseball glove designs have a wrist opening that helps infielders turn or make fast moves. This opening is above the wrist fitting area.
The laces shape baseball gloves to a custom fit. Plus, they have attractive color patterns and finish to appeal to the target age group. Most gloves opt for leather lacing due to their durability and ease of breaking in.
The heel and heel pad is at the lower section of the baseball gloves. They vary in thickness depending on the player's position to provide extra protection.
Baseball gloves opt for versatile web patterns like trapeze web, modified trapeze web, I-web, basket or closed web, two-piece closed web, single post web, and dual post web or H-web. These webbing styles facilitate the scooping up of balls without dirt. They improve visibility and prevent obstructive sun glare.
The area between the pinky finger and the heel is the hinge. It makes it easy for a player to close or open the glove.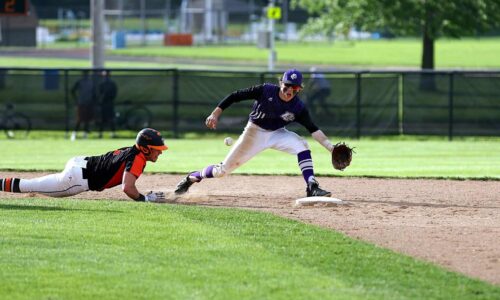 Materials
Here are the most common materials for baseball gloves: –
Premium Steerhide – Popular with pro-level players due to its dense and firm structure
Leather or Cowhide – Popular with youth players due to its minimal break-in period, affordability, and retailing in a pre-oiled state
Full Grain Leather – A heavy and superior option, takes longer to break in and lasts a lifetime
Kip Skin Leather – A delicate alternative for full-grain leather, breaks in faster and is lightweight, ideal snagging and ball transfers by infielders
Wrist Adjustment
Baseball gloves rely on wrist adjusting systems like buckles, D-ring fasteners, and Velcro straps to achieve a snug fit.
Padding
Every baseball glove has ample padding to cushion the player from hard impact. Also, the padding keeps the hand cool all day and stabilizes the handgrip.
Comfort, Fit and Brand
Lightweight baseball gloves with a mesh back, pre-oiled leather, and durable and easy-to-use wrist adjusters are comfortable and achieve the right fit. And, brands like Nokona, Rawlings, Wilson, and Mizuno have a versatile selection of baseball gloves with varying price points, durability, and functionality. These renowned brands offer excellent after-sales services and a manufacturer warranty, ensuring you get great value for your money.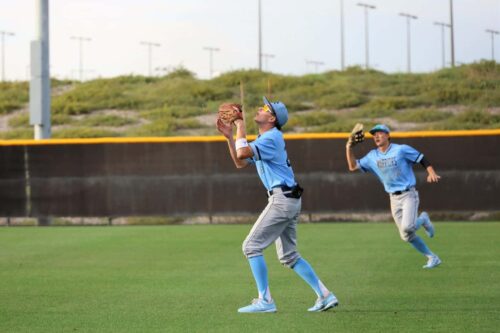 How Many Different Baseball Gloves Are There?
Here are the five main baseball gloves as per the playing position: –
The Pitcher's Glove – Use a closed web to conceal the balls
Catcher's Mitt – Has heavy palm padding and no finger channels, ideal for catching high-speed balls.
First Baseman's Glove – Has no finger channels but less padding and extended length. Picks and scoops balls from uneven grounds with ease.
Infielder's Glove- A five-fingered glove with shallow pockets. Excellent for making swift reflexes.
Outfielder's Glove – The longest glove with deep pockets has an extended reach.
Final Aspect: Hand Orientation
Finally, did you know that each baseball glove will only fit the right or left hand, not both? Here, baseball gloves retail with a specified hand orientation, describing the hand you use for throwing the ball.
If you throw the ball using your right hand, purchase your baseball glove with a right-hand orientation and vice versa.  Yet, you will wear the glove in the opposite hand.
For example, a right-hand thrower will get a baseball glove with a right-hand orientation and wear it on his left hand. The player leaves their throwing hand free while cushioning the non-throwing hand for fast transfers.
Conclusion
A baseball glove is necessary protective gear for baseball players in the defending team. They look and feel different from others due to their unique build and size. Further, a pitcher's glove is different from a catcher's mitt, first baseman's glove, infielder's glove, or the outfielder's glove. Finally, the aesthetics vary from one brand to another, as the manufacturers target players of varying ages and skill levels. Always, ensure you pick the right baseball glove for catching or fielding.