When looking for exceptionally performing MTB helmets that optimize safety and comfort, the Giro full-face helmets top the list. These trail-ready shells retail in rugged color themes, have a lightweight construction, and have the MIPS slip plane, giving you the best protection against rotational forces. As full-face helmets, they incorporate more protective features ideal for Enduro or Downhill racing.
In this quick guide, we take the Giro Disciple MIPS head-on against the Giro Switchblade MIPS, highlighting their benefits in various circumstances. Later on, we give you an alternative to the Giro full-face helmets, the Smith Mainline MIPS, for a brand-to-brand comparison. Let's get to it!
We hope you love the products we recommend! We only products that we thoroughly investigate and believe is a real value for you.Sports Send may collect a share of sales or other compensation from the links on this page. It is at no extra cost for you.
Giro Disciple MIPS Adult Mountain Cycling Helmet
Giro Disciple MIPS is a full-faced helmet built for free rides, downhill racing and a bit of Enduro. In turn, it has enhanced features like the removable cheek pads and Vinyl nitrile-lined chin bar to protect your head from the impact of a downhill collision. More so, its premium attributes promise a cozy and fun adventure with friends. Unlike other MTB helmets, it retails in more sizes, guaranteeing you get a fitting helmet for your head circumference.
The Details
Brand: GIRO
Series: Disciple MIPS
Category: Downhill Racing/Enduro
Size: Extra Small (51-53 cm), Small (51-55 cm), Medium (55-59 cm), Large (59-63 cm)
Gender: Men's
Color: Matte Black/Gloss Black, Matte Warm Black, Matte True Spruce/Citron, Matte Citron/Olive, Matte Lime Dazzle, Matte Portaro Grey/Red, Matte Vermillion/Flame/Purple 
Vents: 14
Slip Plane: Yes (MIPS)
Inner Material: EPS & Vinyl Nitrile Liners
Visor: Adjustable
Lightweight Construction
Giro Disciple MIPS uses a lightweight in-mold construction comprising a fiberglass shell with a custom injected gasket trim. Plus, its chin bar uses a vinyl nitrile lining that rebounds on impact, absorbing maximum energy to minimize head injuries.  
Plush Interior Padding 
Full-face helmets are often restrictive, prompting most riders to worry about their comfort. Well, the Giro Disciple MIPS uses a plush EPS liner all around the fiberglass shell to wick away moisture and keep you odor-free while tackling challenging trails. This ionic and anti-microbial padding is removable and washable, hence convenient to use and maintain.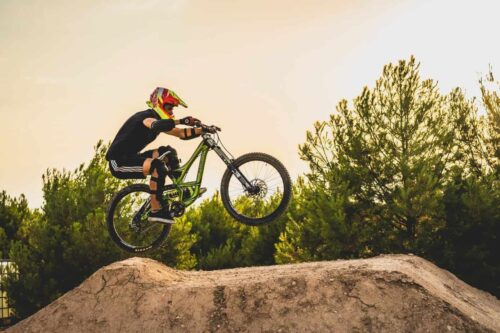 Enhanced Safety Attributes
Underneath the fiberglass shell, an EPS liner is a MIPS slip-plane that enhances safety against brain injuries from sudden rotational forces. Here, in the event of a collision that prompts the head to spin, the MIPS layer slows down the brain matter from moving. That way, there is minimal brain damage minimizing fatalities. 
Next, there are emergency release cheek pads that come in handy in the event of a crash. Here, instead of yanking the helmet off the injured rider, exposing him to additional spinal injury, you gently remove the cheek pads to loosen the helmet's grip around the head. 
Ample Channeled Ventilation
There are 14 vents at various strategic points, including the brow line of the Giro Disciple MIPS. These holes provide internal channeling of fresh air into and out of the helmet, keeping the rider refreshed regardless of the weather elements.
Secure D-Ring Buckle System
This helmet uses the comfortable D-Ring Buckle system that is not too tight. Instead, these tried-and-true fasteners won't break, allow for infinite adjustments, and resist pulling once you lock them in place. 
Accessories
Apart from safety and comfort, the Giro Disciple MIPS incorporates features that improve your riding experience. First, there is a free-tool, adjustable bolt-on visor compatible with most eyewear that will shield your eyes from flying objects, tree obstructions, or direct sun glare. Next, there is an integrated P.O.V. camera mount to fit your GoPro camera. This helmet uses an O-snap audio cabling system to make it compatible with aftermarket Giro audio speakers.
Pros
Lightweight, safe, durable fiberglass shell ideal for downhill, free ride and endure racing

Relies on MIPS & emergency removable cheek pads for enhanced safety

A fit kit padding, x-static padding, and EPS liner that guarantees a comfortable, snug fit

Use a D-ring buckle system for a stable and easy helmet adjustment

Available in more sizes, and has an easy to use sizing chart for a perfect fit

E.U.: CE EN1078 and the U.S.: CPSC BICYCLE FOR AGES 5+ certified

Reasonably priced
Cons
Giro Switchblade MIPS Adult Mountain Cycling Helmet
Now, if you love the enhanced safety features of the Giro Disciple MIPS but prefer having a helmet with a removable chin bar, consider getting the convertible Giro Switchblade MIPS. For starters, it has more vents, certified for safety with or without the chin bar, and includes the bells and whistles for a fun adventure. 
The Details
Brand: GIRO
Series: Switchblade MIPS
Category: Trail Riding & Enduro Racing
Size: Small (51-55 cm), Medium (55-59 cm), Large (59-63 cm)
Gender: Unisex
Color: Matte Black/Gloss Black, Matte Portaro Grey/Red, Matte Vermillion/Purple, Matte Warm Black
Vents: 20
Slip Plane: Yes (MIPS)
Visor: Adjustable
Lightweight In-mold Polycarbonate Shell
The Giro Switchblade MIPS relies on a low-profile in-mold polycarbonate shell fused into an EPS foam liner to protect the rider's head from harsh impact during collisions. This robust shell performs exceptionally well as you tackle those steep descents and Enduro races.
Integrated MIPS System & Removable Chin Bar
To meet the high safety demands for a downhill race, Giro Switchblade MIPS relies on the MIPS slip plane. The plane slows down the rotational forces that cause the brain matter to spin during an angled impact. That way, it minimizes the chances of fatalities or permanent brain damage. 
Second, as the name suggests, Giro Switchblade MIPS uses a removable chin guard to convert from a full face to an open-face helmet in an instant. Here, you enjoy the safety features of a full-face helmet during your descents and still can remove the chin guard to reduce the weight on your head when tackling long, strenuous climbs.
Enter your text here..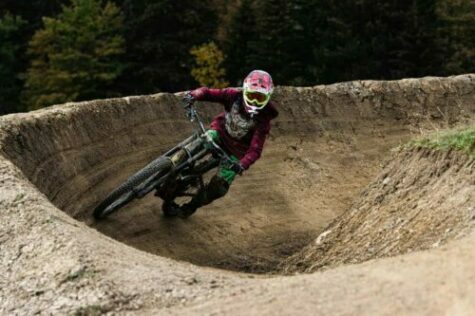 Secure Roc Loc® 5 Fit System
The Giro Switchblade MIPS opt for the secure and easy-to-use Roc Loc Air DH fit system to stabilize and adjust the shell to a snug fit. It is a dial-up operation that tunes in seconds using bare hands or when wearing gloves. Besides, this fit system fixes the helmet slightly above the head, allowing for more fresh air to circulate.
Decent Internal Ventilation
Unlike the Giro Disciple MIPS, Giro Switchblade uses up to 20 strategic vents for optimal internal air channeling. These vents are on all parts of the shell, including the cheek pads, to keep the rider cool regardless of the weather outside. 
Removable Anti-Microbial Padding 
Quick-drying anti-microbial padding inside the Giro Switchblade MIPS keeps you sweat-free and fresh all day long. This X-static lining absorbs moisture of up to 10 times its weight. No more sweat dripping from around your eyes or withstanding odor on a hot summer ride. Besides, the padding detaches easily and is machine washable for your convenience.
Accessories
Like the Giro Disciple MIPS, Giro Switchblade MIPS has extra attributes for a fun experience. They include a P.O.V. PLUS™ visor and another spare visor with a camera mount. It uses a convenient adjustment mechanism, allowing you to fix and alter your camera. More so, it is compatible with most eyewear, protecting you from flying debris, sun glare, or obstructions along the trail. You can adjust your goggles or camera mount using one hand as you move.
Pros
A fully adaptable MIPS helmet ideal for aggressive trail riding and Enduro racing

Uses  lightweight in-mold construction with plush inner padding

Functional Roc Loc Air DH fit system for a snug fit that doesn't compromise ventilation

E.U.: CE EN1078, U.S.: CPSC BICYCLE FOR AGES 5+, &  ASTM-1952-DH certified for safety, with or without the chin guard
Cons   
You can get lighter convertible helmets with similar features

Priced slightly higher
Is Giro Switchblade MIPS Adult Worth the Price?
Yes. When upgrading from a non-MIPS open-face helmet, the Giro Switchblade MIPS is an economical way to do so. This sturdy helmet gives you the flexibility to switch from an open face to a full-face helmet instantly. More so, its MIPS slip-plane gives you extra safety against rotational forces that cause permanent brain damage in the event of an angled impact. Third, the helmet retails in three convenient adult unisex sizes. And it has a secure strap system for a skull-hugging fit. 
Alternatives:
Smith Mainline MIPS Bike Helmet
Enter your text here…
Smith Optics is a recent brand in the MIPS MTB helmets market niche. Yet, it makes durable, DH-certified full-face helmets targeting Enduro racers. Its Smith Mainline MIPS is a super comfortable bike helmet with lightweight, sturdy construction. Like the Giro Disciple MIPS, it features a permanent chin bar and D-ring buckle system. Yet, it has unique features that guard against fogginess. This helmet targets the Squad XL MTB or the Squad MTB goggles for a crystal-clear, unobstructed vision when tackling challenging downhills. 
The Details
Brand: Smith Optics
Series: The Mainline
Category: Downhill, Trail/XC, Enduro 
Size: Small (51-55 cm), Medium (55-59 cm), Large (59-63 cm)
Gender: Men's
Color: AC / Rocky Mountain Enduro, Matte Black, Matte Cinder Haze, Matte Sage/Red Rock, White/Black
Vents: 21
Slip Plane: Yes (MIPS)
Visor: Adjustable
Robust Aerocore Construction 
Smith Mainline MIPS comprises an in-mold polycarbonate shell with plush EPS liner. More so, it uses the Aerocore technology to keep it lightweight and well ventilated. It is an advanced polarized lens technology with complete Koroyd® coverage. This latest technology adds more panels to the already well-ventilated shell ensuring maximum protection and breathability.
EPS & MIPS Brain Protection System
Like the Giro full-face helmets above, Smith Mainline MIPS has a MIPS slip-plane that guards against rotational forces during an angled impact. Second, the EPS foam liner that keeps the biker comfortable and dry during hot climbs.  
Custom Fitting Straps & Padding
Smith Mainline MIPS uses a simplistic D-ring chin strap for a snug fit. Here, anyone with a head circumference of between 51 cm and 63 cm can adjust it to a custom setting.  These straps are tear-resistant, accumulate less grime, and are easy to clean and maintain. Apart from the straps, there are three cheek pad sets, dual crown liner paddings, and two custom neck rolls for a skull-hugging fit. All these paddings are removable and machine washable.
Accessories  
Top fun accessories in the Smith Mainline MIPS include an adjustable visor, a cloth drawstring sack, and the assorted padding for a custom fit. 
Pros
Durable aerodynamic in-mold construction
Custom fitting straps and padding
ASTM F1952 DH, E.U.: CE EN1078 and the U.S.: CPSC BICYCLE FOR AGES 5+ certified
Cons
Permanent chin bar
The MIPS liner is a bit noisy
People also ask:
Should I Wear a Full Face Helmet for Mountain Biking?
The choice between a full face and an open face helmet depends on your riding style. A full-face helmet gives you all-around protection when flying downhill at extreme speeds or tackling demanding trails. It is the kind of head safety gear you want when you intend to push your capabilities to the limits, what mountain biking is all about. Other benefits of the full-face helmets for mountain biking includes: –
It covers the skull, mouth, chin, and teeth areas while blocking insects or flying objects from entering your mouth.

If you tend to hit your face, a full-face helmet will prevent you from getting critical injuries and complications
Is a full face MTB helmet safer?
Yes. A full-face MTB helmet has reinforced attributes that guarantee extra protection as you push yourself to the limits.
​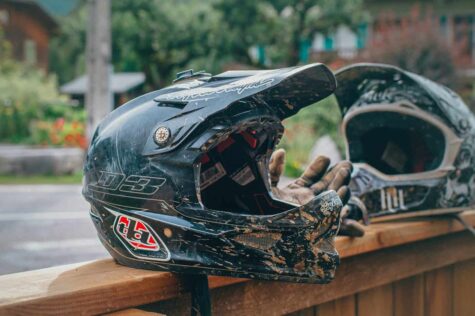 Our Verdict
If you prefer a full-face helmet with enhanced safety features and accessories for a fun ride, the Giro Disciple MIPS is your best pick. Only, if you are yet to get accustomed to a full-face helmet, using the Giro Switchblade MIPS gives you the flexibility to turn it into an open-face helmet as you wish. Still, the Smith Mainline MIPS bike helmet is another superior alternative to what the Giro full-face helmets offer, retailing at a much higher price. It is a DH-certified full-face helmet that guarantees ample ventilation during hot climbs. 
Conclusion
Giro full-face helmets are safe, reliable helmets retailing at a reasonable price range. They have attributes that optimize the rider's comfort and safety and guarantee a fun ride with friends. Note that wearing a full-face helmet may offer you added protection, but it does not make you invincible. Hence, riders can never get overconfident about their safety. Instead, they should be on the lookout for other bikers and beware of risks all around them.