What's the first thing you look for when buying a helmet? It's not enough to strap on a helmet. You need to get the right one. Helmets increase your survival chances in a crash by protecting you from head injuries. So what type of bike helmet should I get?  
Consider the Fit
Helmets come in different sizes. The wrong size not only causes discomfort but also exposes you to injury in case of an accident.
The following tips will help you get the perfect fit.
Measure your head size beforehand. This is particularly useful when shopping online. You can measure the circumference by tying a tape measure around your head ensuring it passes slightly above the ears and eyebrows. You can also use a ribbon or string and confirm the measurements using a ruler.  

The helmet should sit tight on your head without feeling uncomfortable. Ensure there's no gap between your head and the padding.

It should not lean backwards or tilt too low over the forehead.

Try the helmet with the same hairdo you wear when riding. Ponytails and deadlocks may alter the fit. Alternatively, buy a design with a hair port.
Safety Features
In addition to minimizing impact, a good helmet must remain steady on the rider's head in the event of a crash. Similarly, it shouldn't obscure vision or have inner projections capable of causing injury.
MIPS technology is also an added advantage. A MIPS helmet has a low-friction liner that reduces the shell's movement on impact. As a result, the helmet twists independently to cushion the brain from injuries resulting from the rotational force.
Also, ensure the helmet meets the applicable local or international safety standards. For proof of certification, check the stickers inside the helmet.
Some helmet certifying agencies around the world include:
Consumer Products Safety Commission

Canadian Standards Association

European Committee for Standardization

British Standards Institution  

Japan Standards Association

Snell Memorial Foundation

ASTM International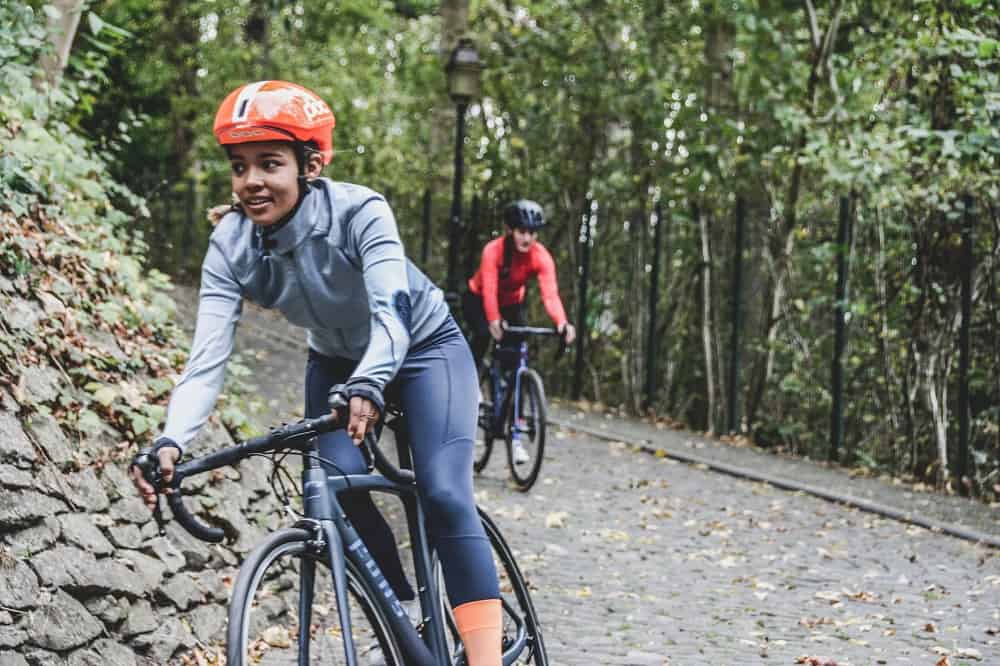 Ventilation
Ventilation not only prevents your head from overheating but also expels moisture during cold weather. In addition to external holes, newer designs have channels cutting through the helmet's polystyrene.
Helmets vary in size, structure, position, and number of ventilation slits. Models with more vents are cooler, lighter, and more comfortable.
However, increasing ventilation compromises the helmet's rigidity. Manufacturers, therefore, incorporate features such as thick foam, internal bracing, and tough shell materials to meet the required safety standards. This increases production costs and makes high-end helmets more expensive than basic brands.
Note that hair increases insulation. Reducing your hair size or tying it into a ponytail creates a cooling effect by allowing entry of air through the channels, vents, and sides. You can also splash water on your head through the vents to reduce temperatures.  
Padding
Apart from enhancing comfort, helmet paddings also absorb sweat. Generally, absorption capacity increases with the thickness of the liner. Most liners contain narrow cutaways extending into the surface. These channels not only facilitate sweat evaporation but also allow fresh air to reach your scalp.
Likewise, some helmets contain metallic material along the lining to eliminate odor. Not to say you shouldn't clean such helmets.
Cleaning techniques depend on whether the padding is removable or non-removable. For non-removable pads, wash the entire helmet in a mixture of water and mild detergent. Removable liners, on the other hand, can be hand-washed or thrown into the washing machine with the rest of your laundry. One-piece pads are easier clean and less likely to get lost in the washing machine.



Retention System 
Most helmets use straps as adjustment systems. Ensure that the parts being exposed to your skin aren't sharp. When fastened, the side straps should merge into a "V" below your ears. Also, the space between your chin and the strap shouldn't fit more than two fingers.
Another securing feature is a sizing wheel behind the helmet. Thanks to its flexibility, you can change the fit with one hand even when you're on the move. What's more, a thumb wheel at the top creates room for a cycling cap by allowing alteration of the distance between your head and the helmet. The retention system is in place if your head reaches the top of the helmet when you open your mouth.
Visors
Your type of riding will determine whether you want a visor on your helmet or not. Most road bikers rely on sunglasses to shield them from sunrays. This is because visors are likely to block vision when cycling on the drops.
Conversely, off-road bikers maintain a more upright posture than their road counterparts. As such, visors are useful not only in providing shade but also in keeping dust, pebbles, and mud away from the eyes.
Daylight visors enhance visibility in bright conditions such as snow and mist. Tinted visors, on the other hand, are perfect for reducing eye fatigue under the bright sun. Even so, avoid dark visors at night and during smoky conditions. They obscure peripheral vision and make it challenging to spot road hazards.
Note that visors increase the helmet's weight and wind resistance. However, some visors are detachable and connect to the helmet magnetically.
Visibility
Numerous accidents occur because of drivers not seeing cyclists on the road. That's why you should ensure your helmet attracts the attention of motorists from all directions. You can start by getting a helmet with bright colors like white, lime green, orange, and yellow. Fussy designs are more likely to blend into the urban background and make you less noticeable.
Similarly, models with reflective tapes also increase visibility during darkness. Some even have LED lights. Using a button on the helmet, you can turn the lights on, off, or make them blink.
What's more, manufacturers are incorporating K-Star technology into their designs. This involves putting mirrored glass beads on the micro shell so that the helmet shines whenever it encounters a light source.    
Final Thoughts 
Always wear a helmet when cycling. However, remember that a helmet alone won't guarantee you protection during an accident. Ensure you observe other safety measures like obeying traffic lights, maintaining safe speeds, and being alert to pedestrians, cars, and other obstacles on the road. Likewise, replace your helmet once you notice visible cracks or dents. What type of bike helmet should I get? Get yourself any of these bicycle helmets today!