Quick Overview
Design
quality
price
Bell is a reputable safety helmets brand that focuses on the safety of riders at a friendly price range. Its Bell Super Air R MIPS is a sleek-looking convertible MTB headgear for Enduro and trail riders who want to feel safe as they push their skills to the limits. It uses the latest safety technologies, premium materials, and a well-ventilated shell for breathability, comfort, and endurance. Indeed, with Bell, you know you are getting great value for your money. 
We hope you love the products we recommend! We only products that we thoroughly investigate and believe is a real value for you.Sports Send may collect a share of sales or other compensation from the links on this page. It is at no extra cost for you.
The Details
Brand: Bell
Series: Super Air MIPS
Category: Trail/XC, Enduro 
Size: Small (52-56 cm), Medium (55-59 cm), and Large (58-62 cm)
Gender: Men's
Color: Different shades of Black/White, Red/Black, Camo, Blue/Hi-Viz, Grays, Green/Infrared, Red/Gray
Vents: 30
Slip Plane: Yes (MIPS)
Visor: Adjustable
Lightweight In-Mold Construction
BELL Super Air R MIPS Helmet uses an in-mold polycarbonate shell with layers of EPS foam liner to create a sturdy design. More so, the EPS liner layers are of varying densities that absorb maximum impact during a collision. The shell is durable, lightweight, and feels comfortable over extended use. 
Flex Spherical & MIPS Technologies for Safety
Now, most MTB helmets enhance the safety of the riders by incorporating the MIPS slip plane. The innovative padding guards the riders against brain damage due to rotational forces during an angled impact. Well, Bell Super Air R MIPS also has the MIPS slip plane. Only, it goes one step further in reinforcing the riders' safety by using the Spherical Technology™ powered by MIPS. This improvement of the original MIPS technology is a ball-and-socket design that guarantees protection against brain injury without compromising the riders' comfort, riding style, or the helmet's weight and ventilation.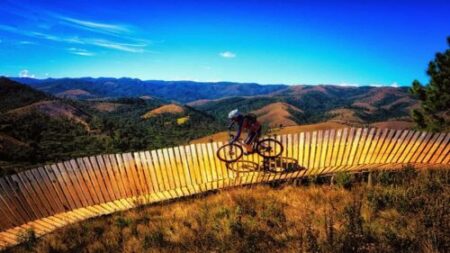 Wraparound Chin Bar & Sweat Guide Pads for Comfort
When it comes to comfort, Bell Super Air R MIPS has all the bells and whistles for it. First, the helmet has a removable wraparound chin bar allowing you to switch from a full face to an open face style in seconds. Here, a 2-click connection attaches this chin bar to the rest of the helmet.  This convertible design is a plus for riders who worry about full face helmets that get hot or feel too tight over time. 
Underneath the chin bar is sweat guide pads that go around the face. These pads wick away sweat and moisture, keeping your eyewear fog-free and your straps clean at all times. More so, the pads achieve a skull-hugging fit. You may remove them if they make you feel claustrophobic. 
Overbrow Ventilation, Plush X-Static Padding
Bell Super Air R MIPS uses 30 strategic air channels that keep the riders well ventilated. These ports are at the head (18 vents), chin (8 vents) and over brow (4 vents) sections of the helmet. They push in and circulate cool air around the head before directing it out via the rear vents.  
Second, there is a plush X-static padding underneath the in-mold shell to stabilize your head. This padding uses anti-microbial materials that prevent nasty odors or harmful bacteria from accumulating due to sweating. Hence, you get a perfect fitting shell that feels comfortable, dry, and stable around your head.
 Accessories
Are you an influencer who likes live streaming your MTB escapades? The BELL Super Air R MIPS gives you an integrated breakaway camera mount for a fun and safe experience. Here, a seamless camera mount captures your moves in a 360° recording. And, unlike other standard camera mounts, this one snaps off the helmet upon impact. That way, it relieves pressure off your head, minimizing head injuries and damage to your expensive photography gear. 
Second, there is a GoggleGuide Adjustable Visor system that fits glasses and goggles for maximum eye protection. Here, you have protection around your eyes, preventing flying objects, harsh winds, dust, and dirt from getting into your eyes. The visor system complements the shell's breathability. Consequently, you can wear your favorite eyewear and remain sweat-free on a hot sunny climb. Besides, you can detach this visor to keep your helmet lightweight during your ascents. 
>
Secure Float Fit™ Retention System
Now, when you have more than one safety feature in a full-face helmet, using a lightweight fit system that complements the ergonomic design is a must. BELL Super Air R MIPS uses the state-of-the-art Float Fit™ Retention System for all-round adjustments in seconds. This fit system uses an easy-to-turn dial knob suspended at the back with up to four vertical settings.
Pros
A lightweight, ergonomic design for safety and comfort
Uses Float Fit™ Retention System for micro and broad adjustments ( up to 22 mm)
Opts for a removable chin bar ideal for challenging climbs
Plush X-static and sweat guide padding for a sweat-free ride
Use an adjustable visor system compatible with most goggles and glasses
US CPSC certified for safety
Cons
Is BELL Super Air R MIPS Helmet Worth the Price?          
Yes. BELL Super Air R MIPS is a convertible Enduro and trail helmet with a lightweight, comfortable and convenient design. Then, if you are searching for headgear that optimizes your safety without compromising on comfort, this shell is your best pick. It retails as an improvement of the Super 3 and Super DH MIPS versions and is available in a sleek color option. Only, it lacks the DH certification. Most MTB brands with removable chin guards fasten using three rear buckles. Yet, this model has two, easy to operate fasteners. It is a quick shift from a full face to open face wear.  Plus, its twist-to-tighten fit style is easy to use and feels snug at the back of your head. 
Do you like the traits in the BELL Super Air R MIPS Helmet? If so, you may want to compare them with other leading brands before settling for the best shell. Let's, check out the Smith Mainline MIPS Bike Helmet, a sturdy full-face helmet for Enduro riders. It uses a featherweight shell with a permanent chin bar and D-ring buckle retention system. That way, it keeps extreme MTB racers safe as they push their capabilities to the limits. More so, its ergonomic design is compatible with Squad MTB and Squad XL MTB goggles, guaranteeing a fog-free 360-degrees view along demanding trails.
Apart from safety, Smith Mainline MIPS uses the latest technology to guarantee optimal ventilation, comfort, and versatility as follows: –
The Details
Brand: Smith Optics
Series: The Mainline
Category: Downhill, Trail/XC, Enduro 
Size: Small (51-55 cm), Medium (55-59 cm), Large (59-63 cm)
Gender: Men's
Color: Red Rock / Sage, Rocky Mountain Enduro, Black, Cinder Haze, White or Black
Vents: 21
Slip Plane: Yes (MIPS)
Visor: AdjustableFmatte
Sturdy Aerocore Construction
Smith Mainline MIPS opts for the durable in-mold polycarbonate shell with an EPS lining. It is a featherweight section courtesy of its Aerocore design. Here, the helmet uses a Koroyd® coverage on an advanced polarized lens. It guarantees unrestricted airflow in and out of the helmet without compromising on its structural integrity. In turn, riders remain safe while feeling cozy underneath the helmet. 
Unlike the BELL Super Air R MIPS, Smith Mainline MIPS opts for a permanent chin bar. It is a downhill certified helmet that guarantees you protection during fast descents. This design works well with the Koroyd® coverage. It is almost impossible to get a concussion in a collision while wearing this helmet. 
Integrated MIPS System
There is an integrated MIPS brain protection slip-plane inside the Smith Mainline MIPS helmet. It guards against brain damage that occurs when brain matter moves during an angled impact. Here, the MIPS slip-plane absorbs most of the rotational forces to the head. Hence, it will be the one moving side to side instead of the rider's head. Besides, the EPS liner complements the MIPS slip plane, keeping it intact and quiet inside the shell. 
Custom D-Ring Chin Straps & Padding
There is an easy-to-use D-ring strap system on the Smith Mainline MIPS. This system achieves a custom fit for anyone with a head size of between 51 cm and 63 cm. More so, if you have a slim or broad face, you can adjust the hand cheek pads, crown liners, and neck rolls to your perfect fit. 
Accessories  
Like the BELL Super Air R MIPS, Smith Mainline MIPS opts for an adjustable visor system that fits most goggles and glasses. And, it retails with a convenient cloth drawstring sack to protect the delicate outer finish when washing the helmet in a washing machine.
Pros
Sturdy  aerodynamic in-mold design
Has MIPS brain protection system
Skull hugging  fitting straps and quick-drying padding
ASTM F1952 DH, E.U.: CE EN1078 and the U.S.: CPSC BICYCLE FOR AGES 5+ certified
Cons   
Conclusion  
Bell Super Air R MIPS helmet gives you the most lightweight convertible shell you can get with lots of safety features. It has an ergonomic construction that guarantees a snug fit. Plus, you will have a fun experience attaching your GoPro camera or wearing your stylish goggles or glasses.  Moreover, this helmet gives you the best transition from a full-face helmet to an open-face one or vice versa. In contrast, if you enjoy extreme stunts, having a DH-certified helmet is reassuring. The Smith Mainline MIPS bike helmet is your best pick. It is lightweight, well ventilated, and has bells and whistles for a fun experience.