Wearing perfect-fit running shoes is essential for successful and efficient running or training. This will guarantee not only comfort but also the optimum performance in every step of the way. But how will you know that it's the perfect pair and how should running shoes fit? Read on to find out.
How to Measure Foot Size Properly?
Before getting the right fit of running shoes, it is important to start with your foot measurement. This can be achieved by following these six easy steps:
Place a piece of paper on a hard and flat surfaced floor
Stand with one foot on the paper. Be sure to wear socks similar to what you wear when running.
Trace a thin line around the outside of your foot while keeping your body weight over your foot
Determine your foot length by vertically measuring the length of your foot tracing
Determine your foot width by measuring the widest part of your foot tracing horizontally
Repeat steps on the other foot
How to Find the Right Size?
During running, your feet tend to lengthen and widen as they make contact to the ground. They then return to their normal size once they reach mid-air. Due to these adjustments, it is recommended to choose a pair that is half size longer than your measured size or your standard casual shoes.
How Should Running Shoes Fit?
These basic principles should always be your top considerations to know whether the running shoe perfectly fits your feet.
This should allow half to full thumb width space between your toe and the end of the shoe. You can check for the proper length and width by pressing your thumb down next to the ball of your foot and around the toes while standing.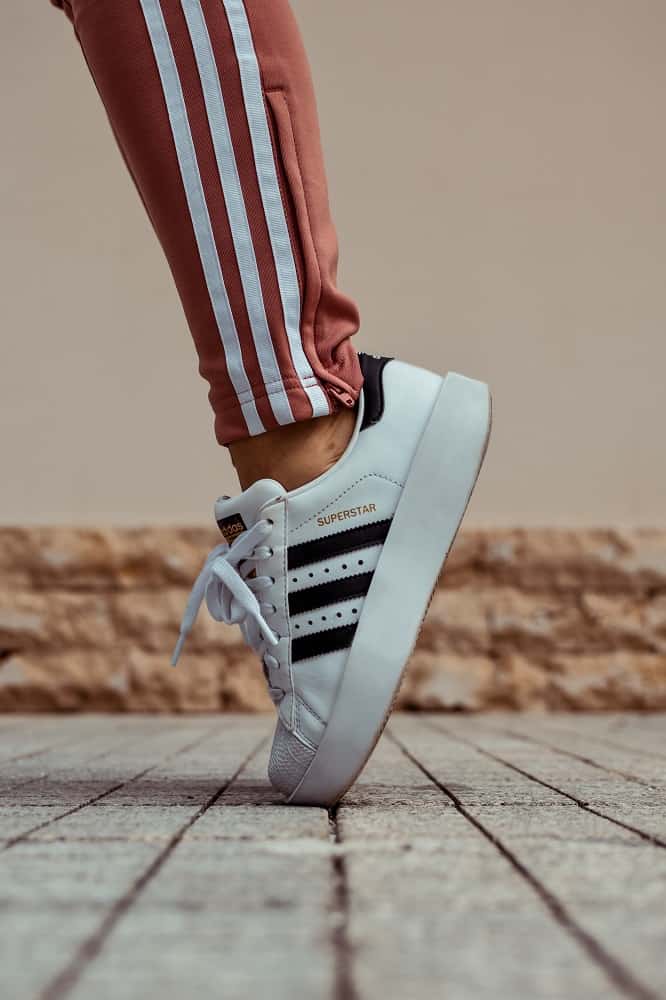 A properly fitted running shoe should feel snug, but not too tight, in the mid-foot and the heel. This should provide a wiggle room around your toes.
Try to raise your heel while holding the back of the shoe to determine correct fitting. This should allow little to no movement.
Lastly, check the eyelet rows present on either side of the tongue. The rows should be closely parallel with each other.
Tips for Getting Properly Fitting Running Shoes
Before shopping for a new pair of running shoes, you should research and plan. Here are some of the useful tips that you can use for a successful fit session:
Go to a store that offers a wide variety of healthy selection of running shoes. Try to go there on less busy time to roam around easily and see the possible choices. If possible, call the store ahead to know the schedule of the most experienced footwear staff. The presence of a knowledgeable specialist or a savvy footwear staff will greatly help as they understand the basics of feet sizing such as arch length and foot volume.
Always fit with your largest foot
Every human has a slight difference in feet size from one another. Your left and right foot may differ in as much as a full size. Use your larger foot as the base fit since it's the only one that will suffer the most if the shoes you pick are too short.
Fit the running shoes at the end of the day. The human feet swell throughout the day and tend to be in its largest in the afternoon. For extra precision, you can fit your feet after standing or running for as long as your workout routine typically last.
Sock fitness can affect the shoe fit
Always try the shoes on using the socks you plan to wear during running. Remember that you are really fitting your feet plus your socks. However, you can also change the thickness of your sock to achieve a fine-tune fitting. If you are wearing orthotics, then you should bring them in too as they will also affect the fit of the shoe.
Try different lacing techniques
Different lacing techniques can affect the shoe fit. It is important to choose the right style that perfectly suits you and your needs.
Be wary of the different brand fits
Each shoe brand has its proprietary foot model giving a better and successful fit if your foot is closet to this model. This is something that most shoe buyers don't know, so an in-store fit session is really important.
Re-measure your shoe size each year
The feet change their size as you age, so it is important to update it regularly.  This change in sizes can also be affected by weight changes, activity level, pregnancy, or even a surgical operation.
Smaller shoes are mostly to cause an issue than the larger or bigger ones. Tighter fitted shoes can lead to a better connection during the pace due to the wiggle room and secure fit.
What Are the Signs of Improper Fitting?
After you use your running shoes on several trial runs, look for any of these signs that show that your shoes don't fit you properly.
The tingling sensation in your toes can indicate the insufficient volume in the shoes, especially if you have a high-volume foot. It can also mean that your shoes are too narrow or too short. Narrow shoes can lead to serious foot problems. It is important to address this problem immediately when experienced.
Blisters on Toes and Ball of the Foot
The blisters that are commonly observed in between or on top of your toes are possible indications that your shoe is too small for your size. On the other hand, the blisters observed on the ball of your foot are signs that the shoe is too wide for you.
The bruised toes simply indicate that your shoes are not long enough for your size.
The blisters on the heel can be brought about by improper lacing of the shoes. Try lacing your shoes using a runner's loop. However, if this doesn't work and fix your heel problem, then you can use a shoe with a narrower heel cup.
Always keep a record of your foot issues. Consult a specialist and mention every single detail such as bunions, hammertoes, and temporary conditions including plantar fasciitis.
Final Thoughts
Knowing how should running shoes fit should start by determining your correct feet measurements. This will give an idea of what kind of shoes to look for in a store. Try to do your research on what suits you best and consider important factors in choosing the best-fit shoes. This should give you comfort and boost your performance during running. Remember to never settle for something good, instead always go for the best pair of running shoes.