With the best running socks for men and women in 2020, you can run comfortably, safely, and still exceed your fitness goals. But, how well do you know your running socks? You should combine a pair of running shoes that fit perfectly with thick, knee-high compression socks to limit any swinging tendons while boosting the gushing of blood to your feet. We will discuss more of this shortly as we review the best running socks for men and women in 2020.
But first things first, how do you select a good pair of running socks? A trivial mistake like picking the wrong size of running socks may contribute to blisters, foot and ankle discomfort, plantar fasciitis, and you can even develop toenail fungi.
We hope you love the products we recommend! We only products that we thoroughly investigate and believe is a real value for you.
Sports Send may collect a share of sales or other compensation from the links on this page. It is at no extra cost for you.
Physix Gear Compression Socks for Men & Women 20-30 mmhg, Best, Black, Size 5.5
CloudLine Merino Wool 1/4 Crew Running & Athletic Socks - Medium Cushion - X-Large Glacial Blue - For Men & Women
NIKE Unisex Performance Lightweight No-Show Running Socks (1 Pair), White/Pure Platinum/Black, Medium (W: 6-10, M: 6-8)
Darn Tough Men's No-Show Light Cushion Athletic Socks, ( Style 1722 ) - 6 Pack White/Gray, Large
Thorlos XJ Max Cushion Running Crew Socks, White/Navy, Large
CloudLine Merino Wool 1/4 Crew Running & Athletic Socks - Medium Cushion - X-Large Glacial Blue - For Men & Women
NIKE Unisex Performance Lightweight No-Show Running Socks (1 Pair), White/Pure Platinum/Black, Medium (W: 6-10, M: 6-8)
Laite Hebe compression socks,Black+White+Grey,S/M (3 pairs)
Balega Hidden Comfort No-Show Running Socks for Men and Women (1 Pair)
Rockay Accelerate Anti-Blister Running Socks for Men and Women (1 Pair)
Vitalsox Italy-Patented Compression VT1211,Large,Black
Thirty48 Ultralight Athletic Running Socks for Men and Women with Seamless Toe, Moisture Wicking, Cushion Padding (Medium - Women 7-8.5 // Men 8-9.5, [3 Pairs] Black/Gray)
Balega Hidden Comfort No-Show Running Socks for Men and Women (1 Pair)
The Buying Guide – Three Things To Consider When Choosing Running Socks
Below are some important questions to answer before buying a pair of the best running socks for men and women in 2020.
Do you sweat a lot while running?

Do your legs swell due to poor blood circulation when you run?

What time of the day do you hit the trail?

Are you prone to getting blisters or fungal infection on your feet?
The three key important features in running socks are functionality, performance boosting abilities, and comfort.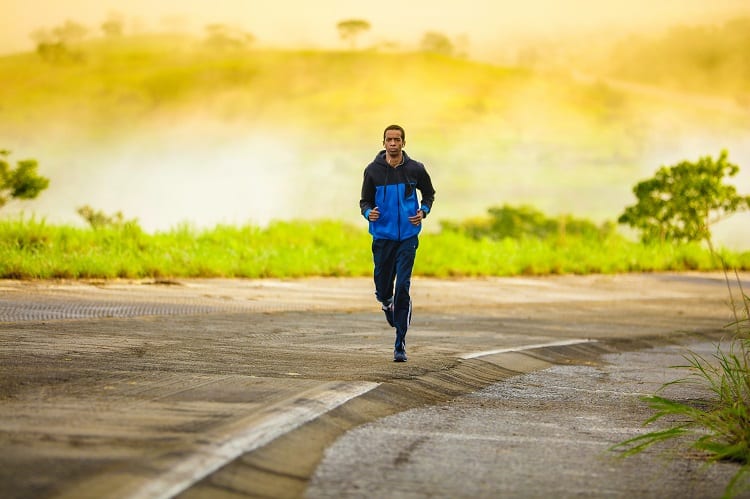 Functionality
Support
Good quality running socks will give your feet the additional grip needed to keep you stable on the track. Stability in feet while running prevents pronation related problems such as plantar fasciitis, bunions, and calluses. Moreover, poor quality socks that feel slippery in the shoes can easily cause you accidents when running.
Protection
The best running socks will not slide or cause friction to your feet as you run. These socks also come with a double-layered fabric that has moisture wicking capabilities to protect your feet further from getting blisters. In the process, these socks suppress the growth of harmful fungi and bacteria.
Compression Capabilities
The best running socks are durable and elastic, resting just above the knee. This design allows the socks to compress your veins and improve venous blood circulation as you run. Consequently, they prevent blood clots, a hidden danger associated with runners who often mistake clots for a muscle strain.
These pressure stockings are also attributed to the speedy recovery of runners because they reduce the soreness, leg swelling, and muscle fatigue experienced after running. If you have a history of any vein diseases such as varicose veins, deep vein thrombosis, and spider veins, running socks can help to alleviate the effects when worn constantly over time.
Recovery from a run
Another critical aspect of running socks is their ability to maintain elasticity, padding, and firmness even after several washes. This is important to avoid replacing your running socks often.
Comfort and Style
Cushioning
Thick socks provide warmth to your feet in the morning cold, while cushioning them from underneath against hard impact for a comfortable running experience. Running socks padded at the heel and rear areas will cushion you from excessive swellings.
Breathability
In the heat of summer, your feet tend to sweat a lot. Your running socks should be made from a breathable material to wick away the sweat and keep you cool.
Fabric
Most running socks made from the hydrophobic synthetic fiber are ideal for running because they prevent chaffing and regulate body temperature. On the other hand, Nylon is a breathable fabric, super stretchy, and wicks away sweat.
Polyester is lightweight, breathable, and repels ultra-violet rays while Lycra or Spandex is very elastic.
Merino Wool regulates temperature, wicks away sweat, is breathable and has anti-bacterial properties.
Olefin is durable, abrasion resistant, lightweight and easy to clean.
CoolMax wicks away moisture is breathable, thin dry fast and soft on the skin.
Other fabrics include non-synthetic fabrics such as Bamboo which is eco-friendly, non-synthetic, soft, wicks away sweat and has anti-bacterial properties.
Avoid socks made from cotton fabric. Cotton tends to absorb and retain moisture, making you feel uncomfortable throughout the race.
Design
A seamless design around the toe and heel areas minimizes friction-triggered blisters on your pressure points. As you choose what socks are appropriate for you, take into consideration the shape and size of your feet. Some running socks are designed to have a bigger fit whereas others suit pointed feet. The best design for your feet should fit firmly like a glove when you wear them.
Compatibility with Your RunningShoes
Running socks should be consistent with the interior materials of your shoes. This is important to minimize unnecessary friction to your feet.
Optimum Performance
In general, your choice of running socks should be able to complement your running shoes to boost your performance. For long distance runners, the ability to endure prolonged training workouts should improve.  
Your recovery time should also reduce as you utilize the right combination of running shoes and socks. With adequate cushioning on your feet, you should have fewer instances of impact-related injuries.
Our Top Ten Running Socks Reviews
We hope you love the products we recommend! We only products that we thoroughly investigate and believe is a real value for you.
Sports Send may collect a share of sales or other compensation from the links on this page. It is at no extra cost for you.
1. Physix Gear Compression Socks
These 20-30mmhg compression socks by Physix Gear Sport are designed to boost your stamina, circulation, and recovery. They come with a robust double-stitched Lycra anti-bacterial material that can withstand the strong foot impact associated with prolonged running.
The double stitching offers your feet padded support making your track experience as comfortable as possible.
The anti-bacterial properties coupled with its moisture-wicking properties keep your feet dry and fresh ensuring there is no build-up of harmful bacteria or fungi in your feet.
These socks 'compression properties make them top recommended footwear for persons dealing with leg swelling or vein related disease. An additional benefit of these socks' design is uniform toning of legs as you exercise.
Its durability relieves you the worry of your socks losing their elasticity.
Unlike most compression socks, the Physix Gear Compression socks are comfortable to wear. They have stay-put cuffs that ensure the socks are not slippery inside your running shoes.
They are available in various stylish color including beige, black/green, black/orange, black/blue, and black/white. The sizes range from small to extra-large for both men and women.
Finally, the retail price for these socks is comparatively lower than other compression socks with similar qualities.
Pros
Breathable wicks away dampness while protecting from a harmful bacterial build-up

They provide firm support to your leg's pressure points

Fairly priced

Double stitched to last long without losing their elasticity and compression properties

Stylish and comfortable
Cons
The compression around the calves may be too taut for some users.
Try these  Physix Gear Compression Socks    today!
2. CloudLine 1/4 Crew Merino Wool Running Socks
These socks are made using organically sourced ultra-fine 22.5-micron merino wool, a soft yet firm medium weight fabric that keeps the feet fresh, dry, comfortable, and free from the build-up of harmful odor and disease-causing bacteria.
The merino wool is blended with nylon and spandex (two other Ideal materials for repelling moisture build up).  This blend of fabrics guarantees you long-lasting softness throughout.
The socks have an additional cushioning on your toes and heels pressure points to shield your feet from friction that often results in blisters.
These running socks are ankle high, making them invisible when you are on the track.
The socks have style variations for both men and women with sizes ranging from small to extra-large.
Pros
Durable and comfortable – Made from non-itchy eco-friendly merino wool that lasts long

Breathable – The merino/nylon/spandex fabric naturally wicks moisture away keeping your feet dry. The thickness of the material varies from one pressure point to the next, allowing for temperature control and ventilation

Machine washable

Cushioning properties – protects your toes and heels from impact-induced injury through its additional padding

Stylish – The socks are a no-show size, available in several vibrant color patterns including glacial blue, granite, backcountry blue, and redwood

Value for your money -It is reasonably priced for its high quality
Cons
The toe area is a bit too narrow

May not stretch as much as you would want
Purchase CloudLine 1/4 Crew Merino Wool Running Socks today and let us know what you think.
3.  
NIKE Performance No-Show Running Socks
The NIKE Performance Running Socks are high compression socks that gently snuggle your feet during a workout. They protect your feet from soreness or extreme muscle fatigue, reducing your recovery time.
They are made of polyester, nylon, and elastane blend fabric that is lightweight and highly breathable. This design keeps your feet dry, fresh, and comfortable throughout a long workout session. This fabric does not cause chaffing. Instead, it regulates body heat when doing workouts in extreme weather conditions. It also wicks away sweat on a hot day while redistributing your body heat towards your feet on a cold day.
The NIKE running socks have additional reinforcements for an enhanced grip at the toe and heel areas. This protects your pressure points during high impact activities. In addition, both the toe and heel areas feature a seamless design that keeps your toes and heels free from blisters or plantar fasciitis.  
Use these socks when jogging, walking, running, and hiking or having an indoors work out. They are compatible with the internal design of most running shoes. Consequently, they limit friction on your feet's pressure points.
Whereas these socks stay firmly hidden under your shoes, they will neither slide down nor buckle up inside your shoes. These socks complement the features of your running shoes to enable you to achieve your optimal performance. The fabric retains its shape, elasticity, and form even after undergoing several washes.
Nike Performance socks retail in small, medium, large, and extra-large sizes. They also come in seven different colors with the right fitting for both men and women.
Read more about The NIKE Performance Running Socks on Amazon
Pros
Excellent arch compression capabilities

Optimal performance with limited distractions

Durable design

Machine washable

Has a 30 days money back guarantee
Cons
Premium priced

Sizing too small with no stretch

Limited cushioning capabilities
4. Darn Tough Merino Wool Athletic Socks for Men
These socks are made using a blend of merino wool, nylon, and lycra spandex. These three materials keep your feet warm and dry, especially during winter. The antimicrobial and antibacterial properties of the merino wool keep your feet free from odor or harmful disease-causing bacteria.  
The socks have light cushioning underneath the foot giving you balance and stability as you exercise. They also have a seamless construction at the toe area to reduce friction-related blisters or annoying slipping and bunching up.
The Darn Tough range has similar functionalities for both men and women styles. Both of these styles are available in small, medium, and large sizes.
Pros
Are durable and come with a lifetime warranty

Are stylish with a no-show feature yet functionally useful in enduring tough sports

Provide cushioning to your feet at the ankle area, which prevents chaffing

They have a seamless construction at the toes

Its blend of wool, nylon, and lycra fabric wicks away moisture to keep your feet dry and odorless despite the weather
Cons
They have a limited color range (just 2 colors)
Get these Darn Tough Merino Wool Athletic Socks  today!
5. Thorlos Unisex XJ Running Socks
If you are looking for functional running socks that will protect your feet from impact-related injury, cushion them from friction and avoiding getting the famous 'runner's toe,' with these running socks from Thorlos. These padded high performance extra soft socks come from a blend of acrylic, nylon, and elastic to give you maximum comfort and ventilation while running.
The design includes a flat knit instep at the toes and a low profile toe seam to lessen pressure and irritation in those areas. They can endure long periods of training without losing their shape.
With the additional padding and arch cushioning, these socks will insulate your pressure points from the vigorous impact. The socks are also machine washable and available in seven different sizes including small, medium, and 2 pack large sizes.
They are in a white color base alternated with navy and platinum colors.
Pros
Very soft with additional padding for extra comfort

They keep your feet cushioned dry and free from bad odor
Cons
Tends to lose its stretchiness after several washes
Read more about the Thorlos Unisex XJ Running Socks here.
6.
Laite Hebe Compression Socks,(3 Pairs)
Do you struggle with swollen legs after a long flight or restricted movement at the office? Consider wearing the Laite Hebe Compression socks on your next trip. These socks are medically proven to help improve blood circulation. In turn, they allow for free oxygen flow to your legs. In turn, they help you cut swelling, cramping, and varicose veins in your legs. How do they do this?
Construction   
The Laite Hebe Compression Socks comprise of 3 pairs of lightweight, over-the-calf socks. These socks are of 40% to 85% nylon, a high-quality breathable fabric that has a 360-degree stretch. Both the heel and toe areas are smooth of optimal comfort. Hence, they are the best pick for all day and night legwear.
Functionality
The socks have a compression rating of 15-20hmmg. This mild rating is enough in preventing Deep Vein Thrombosis for travelers. It checks on swelling during pregnancy. Plus, it minimizes excessive fluid retention in bed-ridden patients. Also, they aid runners, hikers, and gym members to use these in recovering from an intense session.  
Next, the socks feature a seamless design for the best ankle support. This style prevents blisters or soreness at the foot area due to irritation or rubbing. Furthermore, they are compatible with most running shoes. Hence, they will complement your shoes' ergonomics for optimal performance on the track. 
The socks' knee-high length is excellent on more extended cuffs. As the blood circulation improves, warm blood gets to most parts of the legs. Hence, it helps to heal from an inflammation or tissue injury.
Comfort and Style
Breathable socks circulate fresh air in the shoes and around the legs. Plus, the fabric has excellent moisture-wicking abilities. Hence, they keep the legs feeling fresh, dry, and discourage any bacterial buildup. All these traits result in comfortable travel, seating, or workout.  
The Laite Hebe Compression socks are ideal for both men and women. They are in at least ten color variations. Each pack of three pairs is at an affordable price. Hence, it makes the perfect gift for a loved one.
Pros
Promotes blood circulation

Prevents injuries, swellings, and pain due to prolonged inactivity

Well-ventilated

Unisex

Versatile color options

Great value for money
Cons   
The size chart is limited
Get your Laite Hebe compression socks,Black+White+Grey,S/M (3 pairs) from Amazon today!
7. Balega Hidden Comfort Running Socks
These socks are made using a blend of synthetic fibers including improved elastane, which makes them very soft. They fit perfectly on your feet, thanks to the seamless design at the toes area. With this design, there less friction on your feet thereby preventing you from developing blisters when you race.
The heel and toe areas have reinforcement for durability, stability, and balance. The top of the socks has a mesh construction that allows free flow of air into your feet. This ventilation keeps your feet free from odor or build-up of harmful bacteria.
There is a plush layer of cushioning at the sole area to protect your feet further from impact-related injury. The heel tab found at the opening of these no-show socks makes it easy for you to wear them and remove them.
They are super comfortable. You'll want to wear them both on and off the track.
Pros
Seamless toe design eliminates slipping and blistering

They are very durable

Keeps your feet free from moisture build up

They have a secure fit

Can be worn both on the track and off the road
Cons
Its ventilation is comparatively weak
Read more on Balega Hidden Comfort Running Socks here.
8. Rockay Accelerate Anti-Blister Running Socks
This quality anti-blister running socks are made using merino wool (from S. America), and they are free from mulesing. Wool is known to have a natural anti-odor characteristic making it ideal for runners especially those suffering from foot odor, rubbing, and blister issues.
They also have ventilation zones to enhance breathability of the socks whether you are walking, running, or hiking. The filling is moderate to prevent your feet from losing their sense of feel.
With Rockay running socks, forget about chaffing or blisters. The socks prevent them by padding around the heel and toes areas. This sock is excellent for all kinds of walking, running and hiking activities.
Rockay accelerates running socks are not that type of sock that wears out in 10 washes.
Rockay Socks have tight elastic and great compression around the arch to avoid sliding down and keep off dirt reducing chances of being irritated by grit and grime. Just put on the Rockay socks and don't worry about them!
Additionally, Rockay acceleratese running socks keep you fresh in warm weather and warm in cold weather. The back has a reflective logo, which enhances safety when taking night runs.
Pros
They are long lasting

Great breathability

You have a lesser chance of developing blisters

They are very comfortable

Suitable for any weather

They have cushioned heels that prevent injury
Cons
Some users find the socks thin

They are a bit too expensive
Read more about Rockay Accelerate Anti-Blister Running Socks on Amazon
9. Vitalsox Italy
This is an Italian-made high-quality sock. Vitalsox socks have a technical performance material designed with silver infused Quick Drying Polypropylene which stops or prevents the growth of fungus and bacteria and at the same time keep away odor from the socks. This sock does not hold scent even though your feet might still smell.
Its patented compression system is graduated right from the mid-foot arch and plantar ligament support. During manufacturing, this compression is individually tested best range for proper and maximum air circulation. Because your feet are far from your heart, they help increase oxygen levels in your blood by up to 40% through your damaged tissues, therefore, enhancing quick recovery and athletic performance.
Its compression range is efficient for comfortable walking, running, marathons, yoga, gym, pregnancy, and standing among other activities. It has a 4-way stretch mechanism that enables it to stretch to the user's compression preference. If it's short, pull to any direction and if too long, grab both of your calve sides and slide them below your knee.
Vitalsox socks are hand tested in the manufacturing factory to ensure expected performance. They are then washed with an excellent scented fabric softener (chemical free) so that when you buy these socks, they are ready to wear.
Pros
They enhance best blood flow to the feet

Promote breathability

They have a wide range of users, not just limited to running

The socks are very comfortable

They do not harbor odor-causing bacteria

Their ventilation ensures your feet are always dry
Cons
Read more on  Vitalsox Italy here!
10. Thirty 48 Ultra-light Running Socks
Thirty 48 running socks are made with a great design from high-quality fabrics for excellent everyday wear, sportswear, or for medical purposes. They provide extra support and comfort to your feet and at the same time maintaining them clean and dry. Their superior fabric helps to prevent fungal infections and odor in your feet, mostly to those who run or stand all day.
These socks are super lightweight and are efficient for varieties of activities as well as everyday wear. The low cut design is ideal for any running, soccer shoes, and cross-training.
It also has a useful pull-tab, which allows stress-free wear (on/off) and makes sure that during the extreme energetic exercises, the sock stays put thereby reducing abrasion and blister-causing friction.
These socks have high tech fabrics for moisture wicking as well as dissipating. The cotton keeps sweat and moisture away from your skin surface, therefore, maintaining cool and dry feet. High moisture amounts facilitate the growth of fungus and bacteria which could cause health and odor complications.
Thirty 48 socks also have an anatomically targeted cushioning designed with foot biology and anatomy in mind. Its dense cushions offer extra relief to the heel and pads and also assist in providing support to the metatarsals and Achilles tendon. All these help minimize pain and bruises in high impact foot areas. The extra cushioning in the socks absorbs the shock, which can cause acute distress to your feet, heels, ankles, calves directly.
Pros
They act as compression socks

Extra cushioning for prolonged running

They keep feet dry through moisture-wicking fabrics

Odor free and blister resistant

They minimize friction thanks to the elastic arch support
Cons
Take a closer look at Thirty 48 Ultra-light Running Socks on Amazon!
Frequently Asked Questions about Running Socks
 Are running socks made from cotton bad?

Socks made using 100% cotton are not suitable for running.

A blend of cotton and other fabrics may be appropriate if you are covering short runs. Cotton tends to retain moisture instead of wicking it away. During winter, these socks will make your feet feel cold. Substitute pure cotton running socks with those made from either merino wool or synthetic fabrics.

Do I have to wear socks when running?

Yes. Socks will protect your feet from chafing and nasty blisters. They also protect your running shoes from wearing out due to sweat accumulating inside.

How do I take care of my running socks?

Running socks need to be cleaned and appropriately used to last long. Most running socks have product washing instructions indicated on the packaging. Follow these instructions. Normal running socks require to be washed separately in cold to lukewarm water using the gentle cycle wash. Compression running socks, on the other hand, is best suited for hand washing in lukewarm water. Avoid fabric softeners. Always air dry your socks. However, nothing lasts forever. Know when to replace your threadbare socks with new ones.

Compression socks are like a sheet of muscles embracing your feet. They gradually press down your foot to redistribute pressure from your various pressure points. In turn, you enjoy quick muscle recovery from a strenuous workout, fewer chances of muscle injury, and better blood circulation.

How do I determine my size of compression running socks?

Most manufacturers include a size chart in the packaging. This should guide you. In case your ideal size falls between two sizes, always go for the larger size.
In Conclusion
If you plan to invest in high-quality running shoes, then complement them with equally high quality running socks. The best running socks must be comfortable throughout the day, should fit firmly on your feet, wick away sweat and any other moisture builds up, have additional padding and compression for stability and balance, and they should never slip. Go for reliable brands such as CloudLine, Balega, ROCKAY, and Thorlos.  With such brands, you are sure the socks' design has your expectations in mind and that the manufacturer has gone the extra mile in giving considerable attention to their functional features. A reputable brand will also offer you a professional after-sales service.