Here is the thing; investing in an ill-fitting but sophisticated full-face MTB helmet is a waste of money. See, the helmet may have all the bells and whistles for a safe, comfortable, and high-performance ride. However, it loses its purpose as safety gear if it is wobbly or too tight around your head.
See, full-face mountain bike helmets should have a snug fit around the skull, neck, and face. That's how they guarantee the best protection in the event of a crash while complementing your efforts by keeping you comfortable, dry, and well-ventilated. So, how do you determine the right size for your full-face MTB helmet?
We start by understanding the full-face MTB helmet sizing chart.
Does the Size of a Helmet Matter?
Every MTB rider must know their right size helmet for a comfortable ride. An ill-fitting helmet can distract the rider and trigger accidents along the trail. In contrast, a helmet with a snug and secure fit performs optimally in the event of a crash. Likewise, most helmets are a significant investment and should fit right out of the box.
Understanding the Helmet Sizing Chart
A typical full-face MTB helmet sizing chart depicts the recommended helmet sizes for riders of varying head circumferences as follows: –
YOUTH HELMET SIZE CHART
Head Circumference
Hat Size (inches)
Helmet Size
48 cm – 49 cm
19 – 19 ¼
Youth S
50 cm – 51 cm
19 ¾ – 20 1/8
Youth M
52 cm – 53 cm
12 ½ – 20 7/8
Youth L
ADULT HELMET SIZE CHART
Head Circumference
Hat Size (inches)
Helmet Size
53 cm – 54 cm
20 7/8 -21 ¼
X-Small
55 cm – 56 cm
21 5/8 – 22
Small
57 cm – 58 cm
22 ½ – 22 7/8
Medium
59 cm – 60 cm
23 ¼ – 23 5/8
Large
61 cm – 62 cm
24 – 24 3/8
X-Large
63 cm – 64 cm
24 ¾ – 25 ¼
2X-Large
65 cm – 66 cm
25 3/5 -26
3X-Large
67 cm – 68 cm
26 2/5 -26 4/5
4X-Large
69 cm – 70 cm
27 – 27 ½
5X-Large
The above helmet sizing chart varies from one helmet brand to another, depending on the gender and facial features of the target riders. Some manufacturers make helmets with a snug fit for narrow or broad faces and men or women riders only. In addition, note that the helmet design and aesthetics will determine its final size.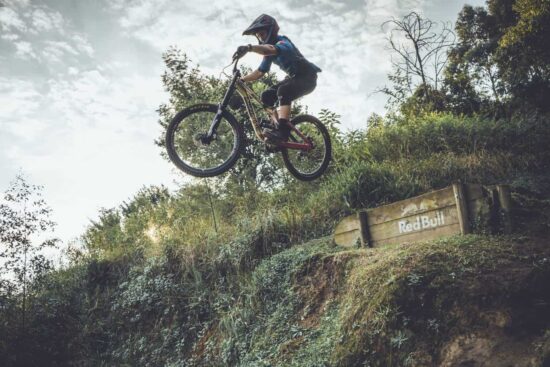 US and European Regulation on Helmet Sizing Charts
The Department of Transportation (DOT) and the European Committee for Standardization (ECE) are the regulatory bodies that set the standards for helmet manufacturing in the US and Europe, respectively. Hence, these two bodies ensure helmet brands sold in the European Union or in the US make helmets that meet the set width, height, thickness, weight, and circumference to qualify as safe for riders.
How to Use the Full-Face MTB Helmet Sizing Chart
Measure Your Head Circumference
The helmet sizing chart recommends varying helmet sizes for different head circumferences. Hence, start by determining the circumference of your head as follows: –
You Will Need:
Tailor's tape measure, cloth tape, or string
The Steps: –
Determine the right point to measure your head circumference. Here, place the measuring string or tape approximately one inch above your eyebrows. Go round the head, above your ears, to a point at the back of the head that gives you the highest measurement possible (the widest point). This point varies from person to person, depending on the shape of their heads.
Read at the initial measurement.
Repeat measuring the head circumference at least three more times.
If you intend to wear a head sock or a balaclava with your MTB helmet, put it on and repeat the steps above.
Record the measurements in inches or centimeters for easy comparison against the MTB helmet sizing chart.
Choose the highest measurement out of all the ones you have recorded so far and use it to try on the first helmet.
Try the Helmet On
Using the highest head circumference so far, pick a corresponding helmet size by your favorite brand and try it on. How does it feel? Ideally, the right size helmet should sit firmly but comfortably on your head directly above your eyebrows. Besides, most helmets tend to "bed in" after purchase. That is, the paddings compress and take on the shape of your head over time. Ensure you give a provision for this settling to maintain a steady fit.
Confirm the Fit
Adjust the chin straps to hold the helmet firmly on your head. Still, these straps should feel loose enough to allow you to buckle the helmet. Slip one finger between your chin and the straps to confirm. If you can fit more than one finger, you may need to tighten the helmet further and vice versa. Next, adjust the chin strap length, repeating the one-finger test.
Tighten the Dial-Adjust Knob at the Back
Now, tighten the dial-adjust knob at the back to achieve a snug fit for the internal cage. Add or remove some padding if necessary. Now, shake your head back and forth to test if the helmet fits correctly (without it buckled).



    Adjusts the Sliders on the Side Straps

 
If your helmet has sliders, adjust them to form a V-shape at the base of the ears. This way, the helmet sits at a centered position and will neither slip forward nor back when you wear it.
Confirm the Fit with All Helmet Accessories in Place
Different helmets use varying adjustment systems, including the traditional dial-adjust knob at the back, padded inserts, and Lazer self-adjust mechanism. Some helmets require no adjustment, hence contouring to the shape of your head from the first day. Also, helmets retail with standard or magnetic buckle systems, built-in or detachable visors, and a MIPS slip-plane that guards the riders against brain injury due to rotational forces from an angled impact.
Take note of how all these accessories affect the size and fit of your choice helmet.
Also, try your goggles and any other external accessory compatible with your helmet. It will give you an idea of how the helmet will feel when you eventually fit the accessories on the shell. For example, there should be no space between the helmet and the upper edge of your goggles.
Additional Tips
If you have long hair, untie and remove thick ponytails or hair clips before trying your helmet.
Check and adjust and gaps between the cheek pads and your cheeks. Use the one-finger test to confirm.
Confirm that your eyes are at a central position to the visor.
A two-finger gap should exist between your eyebrows and the helmet at the front.
Twist, rotate, and move the helmet back and forth to confirm its fit. Ideally, the helmet should have minimal movement when you twist it.
People Also Ask:                                   
What Age Is 52 56cm Helmet?   
Manufacturers classify 52 56 cm helmets as "Small" and recommend them for children aged 6 to 11. Here is a youth full-face MTB helmet sizing chart indicating the various ages for each helmet size:  –
| | | | | |
| --- | --- | --- | --- | --- |
| Age | Head Circumference – Girls  | Head Circumference – Boys | Hat Size (inches) | Helmet Size |
| 12 months – 18 months | 45 cm  – 46 cm | 46 cm – 47 cm | 19 – 19 ¼ | Youth S |
| 2 years | 47 cm – 48 cm | 48 cm – 49 cm | 19 – 19 ¼ | Youth S |
| 3 – 5 years | 49 cm – 50 cm | 49 cm – 51 cm | 19 ¾ – 20 1/8 | Youth M |
| 6 – 10 years | 52 cm – 53 cm | 52 cm – 53 cm | 12 ½ – 20 7/8 | Youth L |
| 11+ years | 53 cm – 54 cm | 53 cm – 54 cm | 20 7/8 -21 ¼ | X-Small |
| 11+ years | 55 cm – 56 cm | 55 cm – 56 cm | 21 5/8 – 22 | Small |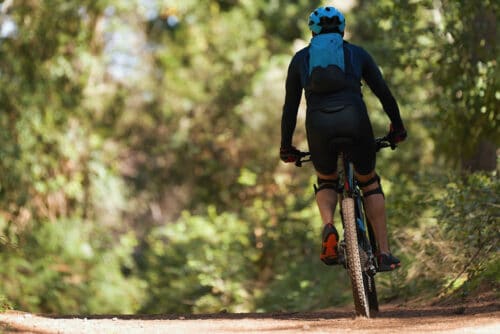 How Often Should a Bicycle Helmet Be Replaced?
Now, bike helmets have special slip planes and liners that absorb and redistribute impact force to a larger surface area during a crash. This way, they shift the vibrations from the skull, protecting the rider from head injuries.
If you are neither in a crash nor have a significant impact on the helmet, the safety layers remain intact for up to 5 years. This duration is the standard recommendation for replacing your bike helmet by most manufacturers. Still, riders should be on the lookout for visible signs of wear and tear that are likely to compromise the safety capabilities of the helmets.
So, replace your bike helmet.
After every collision or significant impact
Most helmets use slip planes that become useless after the first impact. These liners may not show visible signs of damage. Still, they will not caution your head from injury in subsequent collisions.
After every five years, if there is no collision or significant impact to the helmet
When exposed to extreme temperatures or UV light that cause the safety liners to crack or melt
When the buckles and straps show signs of wear and tear
If the shell has cracks or the foam liners have scratches or dents
Conclusion
Bike helmet manufacturers have helmet sizing charts that guide riders in picking an ideal snug fit. Get measurements for your head circumference and compare them against the recommended helmet sizes on the sizing chart. Also, take into account when you want to wear the helmet, the accessories on the helmet, and what you intend to add later on. Finally, check the retention system and paddings to ensure you have a secure and firm fit.