Most overweight women suffer from unbearable pain and discomfort when wearing regular walking shoes.
These cause strain on their feet, lower back, knees, hips, and ankles.
In some cases, it may even lead to serious foot conditions a few years down the line.
To help with that, we looked for the best walking shoes for overweight women and narrowed down the options to five pairs.
These shoes are sure to bring comfort by providing ample support wherever needed.
Comparison Chart
Gravity Defyer Walking Shoes
New Balance Women's 877 V1 Walking Shoes
Ryka womens Devotion Plus 2 Walking Shoes
Skechers Performance Women's Go Walk Walking Shoes
UMYOGO Women's Walking Shoes
Best Walking Shoes for Overweight Women: Brief Reviews
1. Gravity Defyer Women's G-Defy Ion Athletic Shoes
When it comes to comfortable shoes, Gravity Defyer is among the best in the market.
Its product line showcases footwear selections that help relieve pain and provide the ultimate comfort you're looking for.
The G-Defy Ion Athletic Shoes is currently one of the best pairs it offers.
Review
Do you think this might be the pair that matches your needs?
Here are its most impressive features you'd want to keep in mind:
The G-Defy Ion shoes feature VersoShock, which is clinically proven to help relieve pain in the knees, feet, back, and ankles by up to 92 percent.
With the weight of your body being focused on your feet, this feature helps reduce the pain you feel and allows you to walk freely.
The front-rolling construction of these shoes can reduce the stress on your feet by isolating the 30 joints, 28 bones, and more than 10 muscles from injury.
To provide better blood circulation and more comfort, the toe box wide enough so that your toes have plenty of wiggle room.
No matter how big your foot is, there is always a specific size that would offer a roomy toe box.
With removable insoles, the shoe can accommodate custom orthotic support.
You can get your own customized insoles depending on the type of problem you have on your feet.
Free Corrective Fit Orthotics Insoles
Use the free podiatrist-grade corrective fit insoles to help with plantar fasciitis and offer full body alignment for pain relief.
With comfort in mind, Gravity Defyer made these shoes with a mesh upper, increasing ventilation and keeping the feet fresh at all times.
PROS
check

Available in different colors and designs

check

Comes with a free pair of insoles

check

Easy to match with everyday wear

Offers all-day comfort and support
CONS
CHECK LATEST PRICE ON AMAZON.COM
2. New Balance Women's 877 V1 Walking Shoes
New Balance is not only focused on designer and sports shoes. It also makes sure every wearer would find comfort in all its creations.
The New Balance Women's 877 V1 provides just the right amount of support for overweight people, ensuring comfort.
Review
With all the comfort features included, you will surely enjoy wearing a pair of these New Balance walking shoes.
The NB 877 V1 comes with an insole with perforations, which is very important for the shoe's breathability.
Since it is removable, you can just as easily replace it with custom orthotics if you need to.
Aside from comfort, the ABZORB midsole also offers strength and durability in every step.
This durable midsole ensures better impact reduction than other midsoles, so you have the comfort you deserve.
Feel more secure and stable when walking or running on wood, concrete, tile, and other urban surfaces with the full rubber outsole.
The grip is so strong that you won't slip even when the floor is wet.
To make sure your every stride is perfect, the Walking Strike Path innovation stabilizes and guides your foot as you walk.
PROS
check

Removable and replaceable insole

check

Durable construction

check

Comfortable for all-day wear

Offers a secure grip
CONS
Poor quality fabric on the toe box
CHECK LATEST PRICE ON AMAZON.COM
3. Ryka Women's Devotion Plus 2 Walking Shoes
Ryka Women's Devotion Plus 2 is one of the most popular walking shoes from the brand.
Due to its popularity, it has been re-released repeatedly, even without any changes in its overall construction or features.
Review
With their versatility, these Devotion 2 shoes are more than just a walking shoe.
Rather, you can wear them for almost all types of occasions, such as when running errands or visiting the shopping center.
The full-length layer of RE-ZORB foam in these shoes is made with molded EVA, making it lightweight yet supportive at the same time.
This particular technology is very popular because of its springy characteristic.
Thanks to this, you can walk on concrete with ease without hurting your ankles and knees.
Smooth and Supportive Insole
Grip and stability are the strongest selling points of Ryka Women's Devotion Plus 2, but that's not all you will get from it.
It's made to provide comfort, but the Anatomical Precise-Return insole will offer amazing arch support, too.
As such, it effectively reduces the pressure on your heel and forefoot area.
The shoes' eight-piece radiused skeletal rubber outsole helps with the forward and side-to-side movement of the wearer.
It improves mobility greatly, especially when running on concrete roads.
Part of these shoes' comfort features is their breathable fabric mesh upper.
It allows air to go through the shoe and ensures your feet stay fresh and dry all day.
PROS
check

Easy to wear

check

Comfortable and supportive

check

Comes in different designs and colors

Breathable
CONS
CHECK LATEST PRICE ON AMAZON.COM
4. Skechers Women's Go Walk 3 Performance
The Skechers Women's Go Walk 3 Performance is a sports shoe made specifically for very active people.
If you regularly walk or jog in the morning, this is the best footwear for you.
Overweight or obese women can also take advantage of this, as it offers both comfort and support.
Review
Aside from the multitude of colors and designs, you will find many things to love about the Go Walk 3 Performance shoes.
For these shoes' insole, Skechers used its very popular GOGA mat technology.
If you are unfamiliar with this, this type of insole uses the same material as the one used for yoga mats.
It is very soft and comfortable, especially if you are on the heavier side.
This shoe comes in many different sizes, so you will have the best chance of finding the right fit whatever foot size you have.
Some are even available in extra-wide sizes for people with larger feet.
What's more, the upper is very stretchable and will conform to the shape of your foot.
Skechers is known for its comfortable, everyday shoes, and you can see why that is when you look at the fine stitching of this pair.
Not only does it add elegance and style to the overall design, but it also reinforces the shoes so that they can last for many uses.
PROS
check

Lightweight

check

Comfortable to wear

check

Stretchable upper

Simple yet functional design
CONS
The toe box is a bit flat
CHECK LATEST PRICE ON AMAZON.COM
5. UMYOGO Women's Blade Type Sneakers
UMYOGO is a fashion brand known for its elegant and state-of-the-art designs.
Among its best creations yet is the UMYOGO Women's Blade Type Sneakers.
This pair is very fashionable and probably the best one on the list when it comes to design.
Review
In just one glance, you will find many things to love about these UMYOGO shoes.
Rubber soles are known for their impressive durability and secure grip.
With rubber soles on these shoes, you can trust that they are extremely sturdy and will last for a long time.
In fact, they won't wear out easily even if you wear them daily.
When it comes to breathability, the UMYOGO Women's Blade Type Sneakers are second to none.
The material expands with your foot as you walk or run and will closely mold to the shape of your feet to reduce irritation.
The breathable upper also ensures that moisture is wicked away from your feet.
Aside from increased breathability on your feet as you walk or run, there are more to these shoes.
The insole is very soft and ensures your every step is comfortable, regardless if you're carrying a few extra pounds or not.
If you spend a lot of time walking or standing, you won't have to worry about plantar fasciitis and other pains on your feet.
You can even do your workout without experiencing any discomfort on your feet.
PROS
check

Comfortable to wear

check

Very stylish

check

Breathable

Great traction

Prevents foot problems
CONS
Not much arch support

No shock absorption
CHECK LATEST PRICE ON AMAZON.COM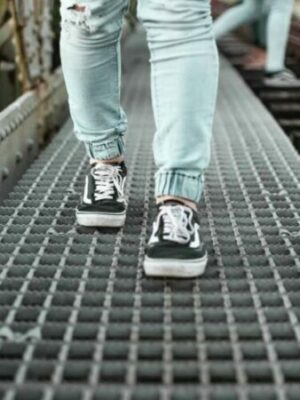 How To Choose Walking Shoes for Overweight Women
Overweight women would require more support from walking shoes.
They are prone to injury because all the weight transfers to their feet when walking or running.
If you're carrying a few extra pounds and can't find a shoe that would fit you, here are some shopping tips to keep in mind:
1. Check the uppers and toe box.
More often than not, heavier women have wider feet, too.
Hence, it is better to choose walking shoes with a more spacious toe box.
For the uppers, go for mesh and synthetic leather, as they are both flexible and provide better ventilation.
2. Pick the right cushioning.
Overweight or not, you would want your every step to be cushioned for better impact absorption.
You can opt for air foam, gel, or even memory foam if it's available.
3. Don't forget stability.
It's easy for overweight women to lose their balance while walking or running, which is why you would want more stability from your shoes.
Remember that the best walking shoes for overweight women should always have features that would keep the wearers on their feet.
4. Get enough arch support.
Most people who are overweight have flat feet.
The lack of arch support can cause many injuries, even if you don't run or participate in sports.
Even as simple as walking would cause pain in your feet.
Look for walking shoes that provide arch support, as they can protect your feet from injuries.
5. Outsole
Rubber is definitely the best choice if you need walking shoes. It offers great traction, shock absorbency, and better slip resistance.
It's better to look for a thicker design with an EVA midsole if possible.
Are Memory Foam Shoes Good for Walking?
Do you suffer from Plantar Fasciitis, arthritis or any serious foot gait problems? Well, you need to know that most Skechers shoes won't provide arch supports but instead offer memory foam insoles which are more suitable for people with neutral feet. That said, memory foam shoes have several benefits including;
Easing pressure on the ball of your foot

They offer arch support

Absorb heel shock

Stop foot roll

And stabilize your feet.
So, what is a Memory Foam?
Commonly used in mattresses, helmets, as well as shoe insoles, memory foam was first designed in 1960, for use by NASA to cushion their seats and belts. It is a polymer identified as viscoelastic polyurethane foam which simply means a low resistance polyurethane foam. The key features are its viscosity and elasticity. You know it's a memory foam when it stretches effortlessly conforming to the shape of your foot and immediately you remove the shoe, the foam springs back to its original shape. 
On that note, let me mention there is a difference between a running shoe and a walking shoe.
The heels – The best running shoe is one with a thick heel wedge for additional cushioning. However, when walking, thick heels can trigger shin splints or tendinitis and even cause you to trip. Therefore, the best walking shoes are more beveled.
Weight – Running shoes should always be light in weight to accelerate your motion. When walking however, you don't necessarily need a heavy shoe but they are slightly heavier when compared with the running shoes to help you anchor better on the ground.
The Sole – Walking shoes should have more flex and bend while running shoes have a stiffer sole.
Motion Control – Running shoes must offer motion control to keep the feet more neutral since rotation of the foot is more exaggerated when running. However, a walking shoe offers less stability because we don't need that when walking.
Which Pair Is Best?
Being very meticulous with your walking shoes is a must if you're on the heavier side.
Don't settle for just regular shoes, as they won't provide any protection nor support.
Among the pairs we looked at, the best one is the Gravity Defyer Women's G-Defy Ion Athletic Shoes.
With all the safety features it offers, this pair lowers the risks of foot pain and other injuries.
The shoes are a bit heavy, though. Even so, the difference with other lightweight footwear is not too obvious.