As a defensive player, the young catcher has a great responsibility of protecting their home plate. It is about strategizing on how to grab those fast-flying balls from pitchers, while discretely signaling the home team. Some players even argue that due to the great responsibilities bestowed on a catcher, it is one of the toughest positions for a baseball player. 
So, you need the right equipment to complement your efforts. You know that comfortable, properly fitting, and well-cushioned catcher's mitt. In this quick guide, we focus on one such mitt; the Mizuno Prospect GX112 Youth Catcher's Mitt. 
We hope you love the products we recommend! We only promote products that we thoroughly investigate and believe is a real value for you.Sports Send may collect a share of sales or other compensation from the links on this page. It is at no extra cost for you.
Overall Specifications
CHECK LATEST PRICE ON AMAZON.COM
Brand: Mizuno
Series: Prospect
Model Year: 2019
Type: Baseball Youth Glove
Position: Catcher 
Hand Orientation: Left Handed Throw, Right Handed Throw
Size: 31.50 Circumference
Material/Lining: Full Grain Pigskin Leather
Technology: PowerClose™ Technology
Webbing: Open, Two-Piece
Feel: Game Ready
Color: Black
Recommended Age Range: 4 – 6 years, 7 – 9 years
Price Range: Under $100
The Mizuno Prospect Series
If you are a seasoned baseball player, you may have experimented with lots of mitts before deciding on that perfect gear for your skillset and experience. Only, we never forget the feel and look of that first glove on our first day at the pitch. This unforgettable experience is what the Mizuno Prospect Series is all about.
The Mizuno Prospect Series comprises baseball gloves with an aesthetic, functional, and easy-to-use style, to appeal to young players. In particular, the series relies on the durable and soft, full-grain pigskin leather and PowerClose™ Technology to facilitate easy catching of tough throws. That way, the series aims at making baseball fun and enjoyable game for amateur players.
The Features
Size/Fitting
The Mizuno Prospect GXC112 Youth Catchers Mitt is a full-sized youth baseball catchers' mitt for average growing hands of players in the T-ball to Minor Divisions. Hence, it has a circumference of 31.50 inches, providing a snug fit for kids aged between 4 years and 9 years. Even a 10-year-old may get at least one season out of the glove.
Further, this mitt is one of the few catchers' mitts available for both right and left-hand throwers. Indeed, it is almost impossible to fine youth catchers mitt for with a left-hand orientation. Then, this mitt gives the youth a chance to experiment with both hands. That way, they can determine their non-dominant hand for catching and the dominant one for throwing the ball.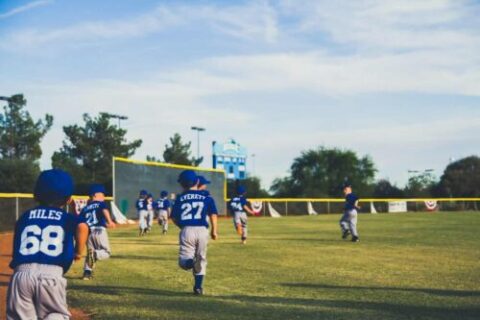 Ergonomic Construction
Mizuno Prospect GXC112 Youth Catchers' Mitt has the right ergonomic construction to help the catchers stop base runners and find balls in the pockets fast, without dropping them. It does this by including an open space at the heel area. This space enables the players to close down fast without dropping the balls.
Likewise, the mitt utilizes a professional style Bio Soft Leather that feels soft and firm, while remaining resistant to wear and tear. This leather makes it easy to open and close, helping the young player develop better hand control. Underneath the soft leather is ample padding covering the palm to the fingers. With this cushioned mitt, the kids can handle throws at high speeds of up to 60mph without injuring their growing hands.
Next, young players take part in annual league competitions that are quite competitive. For this, they need a mitt that is game-ready, to give them the confidence to catch the balls. Mizuno Prospect GXC112 Youth Catchers' Mitt retails as 85% to 90% broken in. 
This mitt uses a two-piece closed web pattern to create a snug feel when pitching.  Indeed, it has a conventional open back with a narrow wrist opening appropriate for the small players' hands. And, its pro-level lacing ensures each player achieves a comfortable and custom fit.
Original Technology
The following technologies are incorporated in the Mizuno Prospect GXC112 Youth Catchers Mitt to enhance its performance: –
Parashock© Palm Pad And Butter Soft Lining 
The pad and lining work together to absorb extreme shock from fast-flying balls that tend to cause "stings" in the young players' palms. Here, it minimizes the mitts' rebound effect due to repeated use.
Patented PowerClose Technology For Special Closing
The gloves have a Powerlock© closure that encourages the player to catch inside the pocket. Here, the V-flex notch creates "hinges" that facilitate catching and squeezing the ball the right way to close the mitt.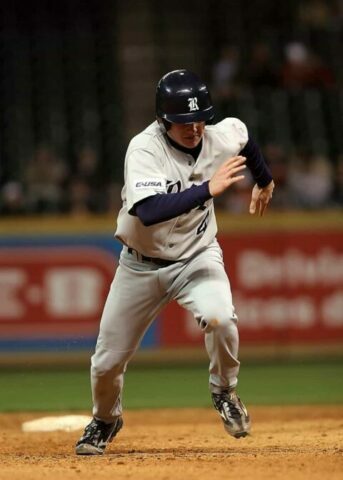 Aesthetics
The mitt uses attractive laces on premium full-grain leather with an outlined embroidered logo. It is a rich look common with pro-level gloves.
Pros
A 31.50-inch transitional sized mitt ideal for small hand openings and finger stalls

Comfortable, soft, and lightweight construction

Uses multiple technologies to help the young player catch the ball and close the glove with ease

Has the Hi-Low lacing for greater flexibility

Its power lock closure guarantees a secure fit

Retails game-ready
Cons
Retails in one color only
People Also Ask:
What MLB Players Use Mizuno Gloves?
Ever since Rihachi Mizuno founded the Mizuno brand in 1906, it continues to be the first choice for durable, high-performance gloves for best MLB fielders. And, the brand continues to sign sponsorship deals with famous sports personalities in the US and beyond. 
Here is a quick list of some of these MLB players that rock the Mizuno gear at their tournaments: 
Andrelton Simmons 

Ian Desmond

Didi Gregorius

Willson Contreras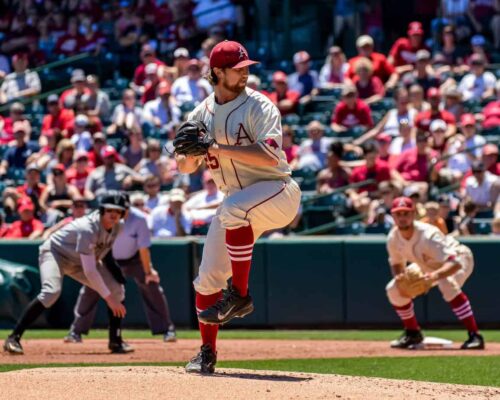 Is Mizuno A Good Brand For Baseball Gloves?
Mizuno USA, Inc. is a century-old brand for the manufacture and distribution of baseball, softball, volleyball, golf, running, and track & field equipment in the US. Likewise, it makes lots of footwear and apparel for the global sports market. The brand boasts of having its footprints in major sports tournaments, providing the right attire for pro-level players to achieve their best. It is a philosophy of true sportsmanship that drives them to always improve their next release of sporting goods.
The Mizuno brand creates baseball gloves that enhance the players' performance and comfort. Here, the brand ensures there is a game-ready baseball glove for players at all skill levels and age brackets. The tailor-made gloves incorporate multiple patented technologies to create a perfect fit and feel for the best performance. Further, the gloves are easy to use, retail at affordable prices, and are available in a wide variety of styles. 
Conclusion
Mizuno Prospect GXC112 Youth Catchers Mitt is a transitional glove ideal for the growing 7 to 9-year-old catchers. It has a robust construction, withstands extreme abuse, has that pro-black leather look, retails at a reasonable price, and comes game-ready right out of the box. It will scoop ground balls, trap balls, block pitches, and close or open with ease.