A helmet is essential for riding your mountain bike (MTB). But, it's also super important for the helmet to fit into your head correctly. Often, heads are the first body parts to get injured in case of a bike accident. That's why it is crucial to select a properly fitting helmet. Having the right size helmet shields your head and brain and also prevents internal and external damage.
Here's how you can size an MTB full-face helmet and be pleased with the result.
Measure Your Head and Select the Helmet Size That Fits
The main thing to do is to ensure you're buying a full-face helmet that fits your head. One way to do so is to compare sizing charts for different brands you would be interested in first. We have a detailed review of some of the best brands in the market today. 
Next, you get a tailor's tape measure and wrap it around your head about half an inch above your eyebrows and ear. A tailor's tape measure is recommended because it is flexible and goes around your head without leaving spaces.
And if you do not have a flexible tape measure, you can use a piece of string, wrap it around your head, pinch it, and place it against a standard tape measure. That measurement is now your head's circumference. You can now compare it against the helmets' size charts to get your perfect fit.
Try the helmet on and Tailor it to Fit Your Head.
You'll find that most full-face helmets don't have that rear retention system because the helmet comes so low. However, they often come with different sets of pads. Some helmets also come with liner pads that you can play around with. You'll find that their thickness determines how snuggly the helmet fits. So try it on, and then tailor the helmet to fit your head. Generally, standard pads should be super snug on your head.
However, most cheap pads pop out very quickly. You can get those in different widths to push onto your cheeks a little bit and ensure the helmet fits nice and tight on your head.
Some pads are also designed to pop out easily because, in case of a neck injury, you don't want to pull a helmet on someone's head if it's tight.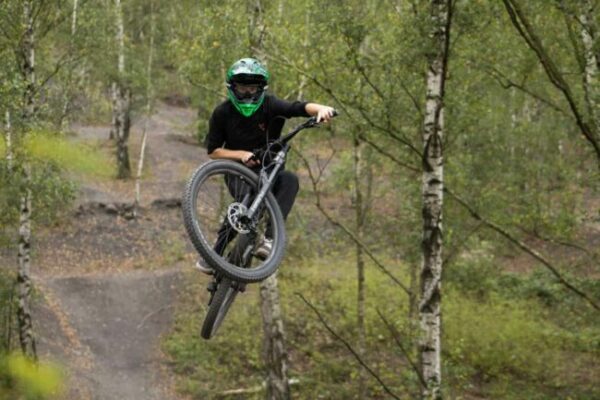 Have the Chin Strap Nice and Tight
Your full-face helmet will probably feel secure around your cheeks and the back of your head. However, it's still essential for your chin strap to be friendly and tight.
A well-fitted chin strap will help secure the helmet more to your head. You do not want it popping out in the event of an impact. You have seen helmets popping during accidents. This comes down to the chin straps not being tight enough.
Adjust the Peak Angle
Peak angle adjustment is something you can easily do to your MTB helmet. Ideally, please don't run the peak so low that you can see it.
Note: 
The peak should be somewhere in the middle. It should not poke up too high.
If you run a helmet without a peak, you'll start to look like a roadie. However, it's common to see some MTB bikers wearing cross-country helmets without a peak. Remember, you're likely to have a much bigger peak on a full-face helmet. Therefore, if you set it too low, it will restrict your view a little bit.
You don't want to set the peak too low, especially when you're going fast or looking relatively high in your field of vision. Setting the peak too high is more about fashion and looking cool.
You can go peakless, but it doesn't look cool. 
You can also go for full-face helmets with a break-away peak. These helmets are ideal for people with face plants because they can pop off easily. Peaks are vital because they can take any extra force out of impact, hopefully saving your life.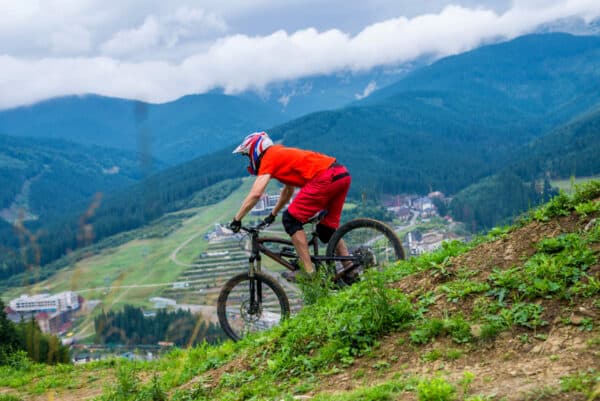 How Can I Tell If My Full-Face Helmet Is Too Tiny?
A small-sized helmet won't be able to rest flat on the top of the head. Because your head has fully rounded out, it will halt well above the ears. Any retention mechanism must be as loose as possible for the helmet to fit.
Additionally, the chin strap might not clip at ease. Or, if it clips, it will apply a lot of pressure on your chin's underside. Opt for something bigger if the helmet pinches the sides or won't fit snugly on the head.
A small helmet may also cause headaches.
How Can I Tell if My Full Face Helmet is Too Big?
A big helmet feels like a bucket strapped to the wearer's chin. Any movement will cause it to sway and tremble. Even if the chin strap is as short as possible, it will roll past the chin. The helmet's retention mechanism may be tight but will not hold the head firmly.
The most hazardous scenario is when a large helmet slips forward and blocks visibility. You have to be very careful with helmet size.
What About Eye Wear?
The googles come to mind when it comes to eyewear with full-face helmets. They give you much more protection for your face than a pair of glasses. Of course, you can wear glasses on a full face, but they may look and feel out of place. Also, they are not as safe.
Goggles fit nice and are secure around the back of your helmet. However, it's crucial to get the angle of your google strap right. This is super important as you do not want the eyewear interfering with the fitting of the helmet. 
But, there is no quicker way to look like a beginner than having the angle in the wrong spot. If you run the strap very low, you come out as a beginner. Therefore, have them relatively high, sat squarely on the back of your helmet, and you're going to look like a pro.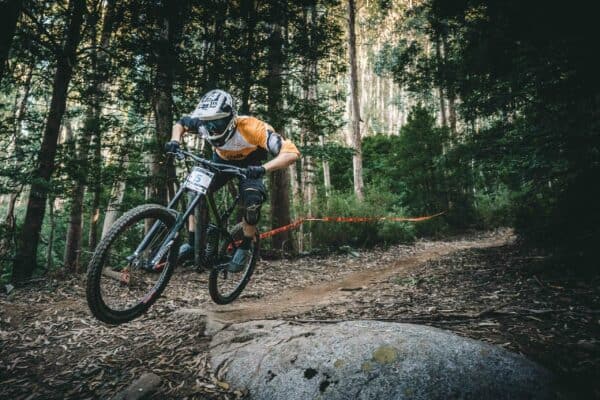 Storing Your Goggles on a Full Face Helmet
You'll probably not wear your goggles when pedaling up a hill. Why? Because it often gets super-hot as you go uphill.
So, there are a couple of ways to store them:
Wrap them around the back of your neck, like most bikers.

Mount them on your helmet by placing the strap underneath the peak and goggles on the back. They'll sit there nice and tight.
What are the Benefits of Full Face Helmets?
A full-face helmet will suit the more extreme riders, like enduros, downhill, free ride, and dirt jumpers. They offer full-head protection. However, on the contrary, full-face helmets are heavier, hotter, and less comfortable to wear for extended periods.
Main Things to Consider with a Full Face Helmet
The main things to consider with a full-face helmet include:
Buying the right size

Tailoring the internal pads to make sure it's nice and tight on your head,
It can be hard to fit your full-face helmet, especially for first-timers, correctly. When you put your goggles on, you'll want them to sit squarely around your eyes. Therefore, you'll need to move your helmet until they fit nice and tight and you haven't got anything pushing into your eyes.
It's imperative to also look after your helmet. Most come with a bag, but a nice full-face helmet bag is also great if available.
You can chuck the helmet around in the back of your car, as long as you'll not put your bike on top of it and get it scratched. You don't want a helmet to have significant impacts while not in use.
The good thing is that modern helmets come with multi-impact protection. They are designed to take more than one hit. However, if you take a big crash and feel that the helmet could have been damaged in any way, it's time to replace it.
If you speak to people who have experienced brain bleeds, they'll tell you that their helmets made a difference in their injuries. So, please don't go anywhere without one.
When choosing and adjusting a helmet, keep these points in mind. Remember, it doesn't matter how much money you spend on a helmet if it's not a proper fit. You won't ride comfortably, which is the essence of mountain bike riding.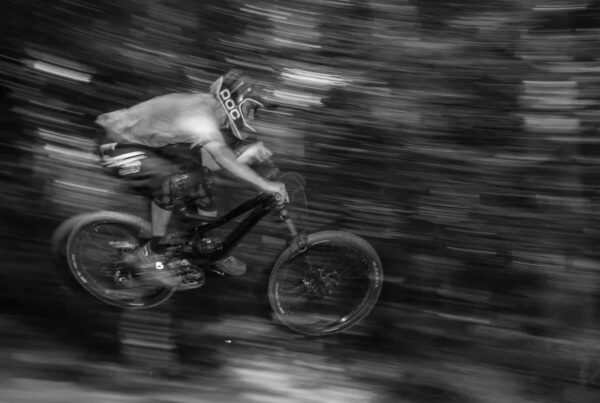 People Also Ask
Should a Full Face Mountain Bike Helmet be Snug?
Provided your helmet remains still, a little wobble is OK. The padding on a highly tight helmet will gradually break-in as you get used to it, but it should feel snug. Occasionally, you can adjust the helmet's fit slightly with a haircut (or by letting it grow).
Do Full Face Helmets Protect Teeth?
Studies reveal that full-face helmets provide superior facial protection compared to other helmet types. However, there is no difference in skull and brain protection based on helmet type. Facial damage can have esthetic, physiological, sensory, and psychological implications. Research findings strongly suggest that MTB users should always use a full-face helmet.