If you're on the lookout for the ultimate baseball hitting net to improve your swing and take your batting skills to the next level, you've come to the right place. In this exciting era, where technology meets sports in astounding ways, we're here to unveil the best baseball hitting net of the year.
Whether you're a seasoned player or just starting your journey on the diamond, this revolutionary net promises to be your trusty companion in honing your hitting prowess.
So, grab your favorite bat and get ready to explore the game-changing features of the top contenders for the title of the "Best Baseball Hitting Net"!
We hope you love the products we recommend! We only have products that we thoroughly investigate and believe is a real value to you. Sports Send may collect a share of sales or other compensation from the links on this page. It is at no extra cost to you.
Best Baseball Hitting Net Reviews
The Hit Run Steal Heavy Duty Softball and Baseball Net is the perfect training tool for players of any skill level, whether they are practicing at home or on the field. With easy set-up and tear-down, this portable net is designed to be used indoors and outdoors year-round.
The net's strong metal base frame, coated with black protectant, provides stability and ensures longevity.
Review
One of the standout features of the Hit Run Steal Heavy Duty net is the use of thicker fiberglass composite poles with steel connectors, resulting in less rebound and no breakage. This makes it ideal for soft toss, batting practice, fielding drills, or as a protective net.
The 7×7 net size is also suitable for holding all of your pitching or batting practice since it's built to withstand even the hardest hitters.
What sets the Hit Run Steal net apart from other options is its long-lasting and durable seven-ply netting. With a reinforced rope border covered with weatherproof HRS material, a double-stitched border, and reinforced pole pockets, this net can take a beating without wearing out.
But what good is a practice net if you can't take it with you? That's why the Hit Run Steal Heavy Duty net comes with a portable carrying bag with handles that make it easy to transport to and from the field.
The net's Velcro straps and quick-connect frame poles make set-up a breeze, allowing you to spend more time practicing and less time fumbling with equipment.
Pros:
Bounce back feature

Good value

Simple set-up

Highly versatile

Bonus tee included

Durable

Great customer service

Lightweight and portable

Sturdy

Ideal for home, garage, or backyard practice
Cons:
Minor string loop issues

Delicate zipper on carrying bag

The support arm may snap with heavy use

Not ideal for frequent disassembly and travel
The GoSports 7 ft x 7 ft Baseball and Softball Practice Hitting and Pitching Net offers an ultimate training aid for players of all skill levels. It is designed for batting practice, catching, fielding, pitching, and backstop use. As such, players can spend more time honing their skills and less time chasing balls.
Review
The bow-type frame included is easy to set up, taking just 90 seconds to reach the huge 7-foot x 7-foot size. This quick set-up time allows it to be easily taken to fields for training or used in your backyard, providing a convenient option for both coaches and players.
The net comes with metal stakes to anchor it to grass or dirt infield, making it incredibly sturdy and stable. You'll also find the included carrying bag useful, ad it will keep everything organized.
When it's time to head home, the net easily breaks down for transport in the provided carry bag.
One added bonus of this practice net is the inclusion of a strike zone attachment. This target facilitates pitching drills and helps players develop greater command on the mound.
The versatile nature of the GoSports net makes it suitable for a wide range of drills, enhancing players' skills in various areas.
Pros:
Top-notch customer service

Easy assembly

Suitable for all skill levels

Versatile for multiple sports

Durable

Portable carry bag included

Strike zone attachment for pitching accuracy

Quick set-up and takedown

Great training equipment for hitting and pitching
Cons:
Missing parts (resolved by customer service)

Net may rip after heavy use (replacements provided)

Requires a good tee for optimal results
The PowerNet Baseball Softball Practice Net, endorsed by pro athletes like Carli Lloyd, German Marquez, and Jared Walsh, is a popular choice among serious sports enthusiasts. This 7×7 foot practice net offers an instant portable softball and baseball training solution, making it perfect for indoor and outdoor use.
Review
What sets this net apart is its large sock net area, which can hold several buckets of balls. It means you don't have to interrupt your training session to refill.
Also, its large bow-style frame will hold the net securely in place, providing you with 49 square feet of hitting surface or protection.
The package includes the 7×7 foot net, a heavy-duty zipper carry bag with a shoulder strap for easy transportation, and ground stakes. The included ground stakes ensure added stability, while the net is designed to withstand even the hardest hits and throws.
Setting up the PowerNet Baseball Softball Practice Net is also a breeze. It takes less than two minutes and requires no tools.
The PowerNet Baseball Softball Practice Net's lightweight design and quick assembly make it an incredibly portable and versatile choice for practice sessions. When not in use, the net breaks down to fit in the carrying bag for long-term storage and easy portability in any vehicle.
Durability is another key feature of this practice net. The flexible fiberglass bow poles and steel frame provide a steady base for the knotless polyester net. The reinforced stress point areas further add to its strength.
Pros:
Great for hitting and throwing practice

Easy set-up, even for one person

Includes useful pitching attachment

Sturdy construction for regular use

Portable with carrying case

Suitable for baseball and softball

Excellent value for the price
Cons:
Minor issues with missing or damaged parts

Carrying case quality could be improved

Some durability concerns with pole grommets and flexibility
The ZENY 7'x7′ Baseball and Softball Practice Net is a versatile training tool suitable for adult and youth players of all skill levels.
With a solid, sturdy construction featuring a powder-coated steel frame and a robust, tear-resistant polyester net, this practice net provides great stability for batting and pitching. Additionally, each leg of the frame is equipped with rubber feet for added stability on various surfaces.
Review
Setting up the ZENY Practice Net is quick and easy thanks to its elastic loop straps and quick connect poles, requiring no tools for assembly or disassembly. The net also comes with four ground stakes to provide extra stability during use.
When not in use, the net can be easily folded and collapsed, making it portable and convenient to transport with the included carrying bag. This portability allows players to practice in various locations, including backyards, basements, or garages.
The ZENY Baseball and Softball Practice Net is perfect for a variety of training exercises, including hitting, fielding, pitching, and soft toss drills. Suitable for both solo and team practice sessions, players can effectively hone their skills and improve their hand-eye coordination with this versatile net.
One of the standout features of this practice net is its large 7'x7′ size, providing ample space to catch balls hit or thrown into the sock net. However, it's important to note that a baseball tee is not included with the purchase of the ZENY Baseball and Softball Practice Net.
Pros:
Affordable price

Portable and easy set-up

Easy storage and transport

Metal bow frame provides stability during practice
Cons:
Lower quality materials compared to pricier nets

Potential wear and tear with limited use

Assembly issues reported

Metal poles may cause splinters over time
The ZELUS 7x7ft Baseball and Softball Practice Net is a versatile training aid designed for those looking to improve their hitting, pitching, and fielding skills. This comprehensive package includes a portable baseball net with a tee, baseballs, and a carry bag, making it perfect for outdoor and indoor use.
Review
Constructed with thickened steel tubes that are 0.03 inches thick and 7/8 inches in diameter, the ZELUS Practice Net is built to withstand the wear and tear of rigorous practice and extreme outdoor conditions. The steel tubes feature a baking finish to prevent rust and corrosion, ensuring a longer lifespan.
That said, one of the standout features of this practice net is its adjustable and flexible batting tee. It can accommodate all areas of the strike zone, with a height range of two feet and four inches to four feet and four inches, making it suitable for users of all ages.
Additionally, the heavy-duty net features knotless polyester netting that can withstand even your hardest hits and pitches, while the double-stitched seams add extra durability.
For added convenience and portability, the ZELUS Practice Net can be set up in as little as two minutes without any tools or screws required. Both the tee and net easily collapse for compact storage and transport, allowing you to practice wherever you like.
A unique inclusion in this package is the 16oz weighted baseball, specifically designed to provide real-time feedback to help improve connection and follow-through. Coaches and other observers can quickly identify and correct potential issues with grip patterns, stance, and swing.
Pros:
Portable design

Includes a carry bag for easy transport and storage

Complete practice set

Suitable for batting, hitting, and pitching drills

Easy assembly and disassembly

Good netting for effective practice
Cons:
Some durability issues

Flimsy carrying bag

Tee quality issues

Occasional missing parts

Exclusion of weighted ball
Buyer's Guide
While we have already narrowed down your choices for baseball hitting nets, you need to know what to look for when choosing among the options. That said, here are the key features to consider to ensure you end up with the right training aid: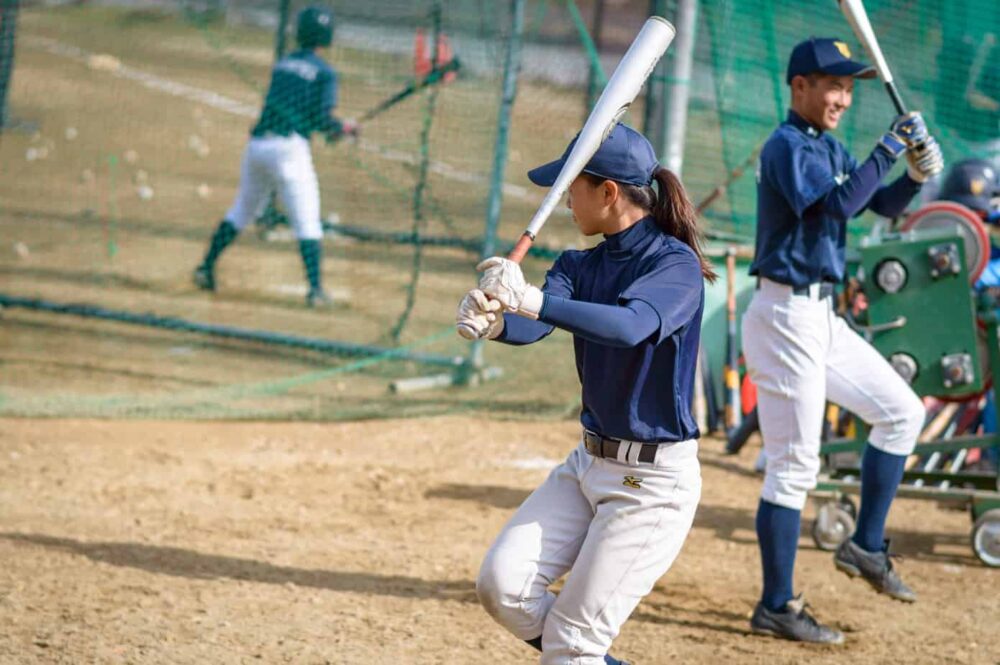 Net Size
When it comes to choosing a baseball hitting net, size matters, depending on the player's age and skill level, you'll want to select a net that provides an appropriate target area.
A larger net is generally preferred for younger or less experienced players, as it provides a bigger target and more room for error. More advanced players may opt for a smaller net to hone their accuracy.
Additionally, consider the space where you'll be using the net. A smaller size may be more suitable if you have limited space or need a net for indoor use. Always measure the space where you plan on setting up the net to ensure it fits properly.
Durability
When investing in a baseball hitting net, durability is a crucial factor. Look for a net made of high-quality materials that can withstand heavy use and resist tearing.
Features such as double-stitched seams and UV protection will prolong the life of your net. The net frame should also be sturdy and capable of handling the impact of hard hits.
Materials like steel or fiberglass are commonly used to provide stability and support for the net. As you read reviews, take note of customer feedback on the net's overall durability, paying special attention to the quality of the net itself and the frame.
Set-up and Portability
If you plan on regularly transporting or moving the hitting net, ease of set-up and portability should be high on your list of priorities.
Many nets are designed with a quick and easy set-up process in mind, featuring foldable designs and carrying bags for transport. Keep an eye out for these features when browsing your options.
Compare set-up times listed in product descriptions and take note of any user reviews that mention the difficulty in assembling or disassembling the net. You do not want to spend excessive time setting up or breaking down your net when practice time is limited.
Price
With a wide range of baseball hitting nets available, it's essential to establish a budget that works for you. While the cheapest option may be tempting, keep in mind that spending a little extra for a higher-quality product will offer better durability and performance in the long run.
However, if you need a more cost-effective option, plenty of affordable nets on the market offer solid quality and respectable performance. Be sure to assess the features mentioned above in relation to the price, ensuring that you're still getting a good value for your investment.
By considering these factors, you are now equipped to make an informed decision when selecting the best baseball hitting net for you or your team.

FAQs About Baseball Hitting Nets
1. Can a hitting net be used for both softball and baseball?
Yes, most hitting nets are designed to be used for both softball and baseball, as they function in the same way for both sports. However, it's important to double-check the product description to ensure that the net is suitable for both baseball and softball.
2. Can I use a hitting net indoors?
Absolutely! Hitting nets are perfect for both indoor and outdoor use. Many players utilize them indoors during the off-season or when weather conditions are not ideal.
Just make sure you have enough space to swing your bat safely and that the area can accommodate the net's dimensions. 
3. How do I set up my hitting net?
Setting up a hitting net is generally straightforward, with most nets featuring easy-to-assemble parts. Instructions should be included with your purchase, and some manufacturers even offer video tutorials to walk you through the process step by step.
Generally, you'll have a frame that assembles using interlocking poles, and the net will either attach with clips or slip over the frame like a sleeve.
4. Does the net come with a strike zone attachment?
Many hitting nets come with a strike zone attachment, which can help you work on your aim and improve pitching accuracy. However, this feature depends on the brand and model you choose.
Make sure to check if the net you're considering includes a strike zone attachment or has one available for separate purchase.
5. Can the nets be used for other sports?
While these nets are specifically designed for baseball and softball practice, some are versatile enough for use with other sports such as golf, lacrosse, or even soccer. It ultimately depends on the net's dimensions, durability, and design.
Be sure to check the product description to see if the net is recommended for other sports.
Which Baseball Hitting Net Should You Get?
In the realm of baseball hitting nets, one product rises above the competition. Hit Run Steal Heavy Duty Softball & Baseball Net proves to be the ultimate training tool for players of any skill level, offering a range of game-changing features.
Its thicker fiberglass composite poles with steel connectors provide excellent durability, while the seven-ply netting with reinforced borders ensures longevity. Thanks to the carrying bag and quick-connect frame poles, the net is highly portable.
With Hit Run Steal, you'll experience superior quality and attention to detail to help elevate your hitting skills to new heights.