The 6-pair knee-high compressions socks serve multiple many sporting principles such as runners, joggers, basketball players and other field sports.
In addition to being comfortable for foot-intensive sports, these compression socks are great for people who spend long hours on their feet at the office.
Moreover, these socks are also recommended for airplane travel which can be very uncomfortable if you do not have the right gear.
These socks have lots of benefits and that's mainly because of how they are built. BLUETREE uses high-quality materials to ensure that their products are not only comfortable but durable as well.
Below is a summary of the impressive features and benefits of wearing BLUETREE's knee high graduated compression socks.
We hope you love the products we recommend! We only products that we thoroughly investigate and believe is a real value for you.
Sports Send may collect a share of sales or other compensation from the links on this page. It is at no extra cost for you.
Features
Fabric: 35 % polyester
15-20mmHG Best compression
Sock height: Knee-high
6-pair package
Size Chart: Available in Small/Medium (M/5-9, W/5-10), Large/Extra-large (M/10-13, W/11-15.5)
Imported
Pros
Affordable
Lightweight
Moisture wicking fabric to keep your legs dry and fresh preventing fungus and bacteria
6 pairs with 6 color options to match your outfit
The breathable design which allows for air circulation
Comes in different sizes for both men and women
100 percent money-back guarantee/FREE return policy
Cons
Too thin and smooth
Top elastic band is too tight




>



Summary
If your legs tend to sweat a lot or for those who have leg sensitivities, these socks are just what you need.
Thanks to their fast-wicking drying fibers, these knee-high socks are great for runners, joggers, professional athletes or just your ordinary office worker.
In addition, these socks are recommended for runners, joggers, athletes, CrossFit, hiking/trekking, long distance travel, basketball, field sports and gym workout, cross training, doctors and nurses.
In other words, people who spend most of their time on their feet are recommended to wear these compressions socks in order to improve their performance and prevent leg-related symptoms.
The BLUETREE graduated compression socks can be purchased in a pack of 6. Inside, you will find 6 pairs with 6 color options.
Having so many color options means that you have a sock for each outfit in your closet. These 6 colors include white, nude, black and assorted options if you want different colors.
The socks are made from 35 % polyester, which means they are super comfortable not to mention durable. This is an excellent fabric especially since it helps with the moisture wicking properties.
These knee high socks will keep your feet dry and fresh all day preventing things like swollen feet, aching, muscle fatigue, Achilles tendonitis etc. Overall, this improves your sporting performance and increase work productivity.
These 15-20mmHG compression socks come in a number of sizes. They include Small/Medium (M/5-9, W/5-10), Large/Extra-large (M/10-13, W/11-15.5). This size chart helps you determine the best-fit socks for your legs.
There are a number of downsides associated with these socks. One such downside is that the socks feel too thin.
Also, the socks are so smooth that they cause the feet to slide inside the shoes. This causes a certain frustration which is not experienced with other socks.
Another effect of the socks being too smooth is that they tend to roll down throughout the day, which can be frustrating. The top elastic band feels too tight and can leave those unpleasant irritating marks on your skin.
People with long legs will find that the sock do not exactly reach their knees. Also, the socks are not suitable without pants.
BLUETREE have gone a step further and offered their customers a 100 % money-back guarantee. This means that should there be any reason for dissatisfaction with the product, say defects, you are allowed to return the package and receive a full refund.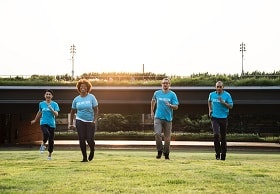 Comparisons
The BLUETREE 6-Pair Knee high graduated compression 15-20mmHG socks are quite similar to the SOOVERKI 6-Pair Upgraded graduated knee-high graduated compression 15-20mmHG socks. However, there are other aspects about each sock brand which bring out their differences.
Speaking of differences, the first major difference is in the fabric used. The SOOVERKI upgraded compression socks are made from 85 % nylon, 10 % polyester and 5 % elastane. The fabric material used on the BLUETREE compression socks is 35 % polyester.
It's worth noting that the SOOVERKI has an upgraded material density, that is, nylon material used rose from 35 % to 85 %.
Such a significant upgrade means that the socks are better than they used to be, especially in terms of moisture wicking and breathability.
These two sock brands share quite a lot of similarities. Firstly, both have a premier mid compression of 15-20mmHG.
This makes both these socks suitable for people who are engaged in a wide variety of leg-intensive sports, long-distance travelers and office workers. In general, people who are mostly on their feet will benefit from wearing these socks.
Both brands address the aspect of size pretty impressively. The size chart is as follows; Small/Medium (M/5-9, W/5-10), Large/Extra-large (M/10-13, W/11-15.5).
Lastly, both manufacturers offer 100 percent money-back guarantee on their products. Not that you'll need it, but it just goes to show that in the event that you're not pleased with the product, you can always return them for a full refund.
Overall, these two socks perform quite excellently and are a must-have for people with leg-related medical conditions or those on the feet most of the time.
However, it feels like the SOOVERKI is better since it has an upgraded sock material. Nonetheless, a must-have product.
Verdict
In conclusion, if you have any of the mentioned leg-related medical conditions or you are a professional athlete, the BLUETREE 6-pair knee-high graduated compression socks are just what you need.
They have impressive features such as moisture-wicking abilities, premier compression to keep the blood pumping and prevent muscle fatigue. The material is also lightweight, which is good since the sock covers the entire lower section of your leg.
The material also allows for sock breathability which keeps your feet dry and fungus/bacteria-free. As a result, these socks are highly recommended for both professional athletes and regular users.