For plenty of different reasons, you'll find many people dealing with foot problems.
Some of these issues stem from a medical condition, while others come from wearing shoes that do not fit perfectly.
When it comes to finding medical solutions to these problems, we turn to podiatrists.
And according to them, your shoes play a crucial role in preventing these issues.
So, what walking shoes do podiatrists recommend?
What Walking Shoes Do Podiatrists Recommend?
If you enjoy walking, you might want to invest in a good pair of walking shoes.
Not only will it make the activity more forgiving to your feet, but it will also prevent any possible injuries.
The thing is, which pair should you buy?
Here are some podiatrist-approved walking shoes that are worth checking out:
The Asics Gel Contend 5 is a fantastic pick if you like spending hours walking around the neighborhood.
It's also perfect for those who work on their feet.
What this pair of excellent shoes will do is offer improved stabilization and incredible cushioning in the AmpliFoam midsole.
As a result, your feet will feel comfortable all day, despite putting them to work for hours.
Moreover, the fabric inside is breathable, which means you won't have to worry about your feet getting soaked in sweat.
These walking shoes come with an Ortholite sock liner, too.
Similar to other Asics shoes, this sock liner will give you much-needed support, comfort, and moisture-wicking properties.
If you live an active lifestyle and spend most of your time outdoors, the Altra Paradigm 4.5 is a suitable pair for you.
Designed to provide excellent support to your feet, you will like having this on, especially on long, hectic days.
The integrated StabiliPods, along with the GuideRail system, work to reduce fatigue from walking.
Plus, with its knitted upper and cushiony midsole, you will feel very comfortable the entire day.
As you can imagine, this upper material is breathable, so it will keep your feet feeling cool and dry.
One of the things that you will love about the Dansko Honor Sneaker is its simple minimalist design.
It doesn't have any flashy highlights, but it would look well with almost any type of outfit.
Most importantly, it is the perfect choice if you are very athletic.
The memory foam footbed provides impressive comfort and cushioning to help keep you comfortable when you're on your feet for long hours.
Also, the built-in arch support offers protection to your feet and reduces the chance of injuries.
Providing better traction and preventing slips are the primary functions of its rubber outsole.
As the GTS or "Go-To Shoe" of most people, the Brooks Adrenaline GTS 20 is definitely the most popular choice for walking shoes.
It's one of Brooks' most sought-after pairs because of its BioMoGo DNA technology.
Basically, this advanced tech allows the shoes to mold to the shape of your feet and their movement patterns.
In turn, you will get better, more personalized support when walking.
More specifically, podiatrists recommend this pair for those with low or neutral arches because it offers excellent stability.
You can also trust that the extra padding for better shock control will make your life much easier.
This shoe is a bit more expensive than the others, but it is definitely worth it.
Heavy-footed women don't have to worry about anything because the Asics Women's Gel-Quickwalk 3 is made exactly for them.
This shoe features a rear gel cushioning created to reduce and absorb the shock of your every step.
You can walk with this shoe for a long time without hurting your feet.
These shoes are also heavier compared to other walking sneakers. Even so, they are very durable, and you can wear them longer in a day.
The best thing about this shoe is that it is designed for different arch types.
Orthofeet Women's Sneaker combines style and comfort, making it the perfect choice if you want to walk around town with friends.
Aside from how it looks, there are more reasons to love this pair.
For one, podiatrists recommend it because it helps people suffering from plantar fasciitis, heel pain, and other foot problems.
The Orthofeet Women's Sneaker offers air cushioning and a protective interior to keep your feet secure at all times.
Plus, the shoe itself has deep and wide toe boxes, cushioned heels, and it offers good arch support.
If you want to walk or do some errands in style, you should not miss out on this walking shoe.
7. New Balance 928v3 Women's Walking Shoe
The New Balance 928v3 Women's Walking Shoe may look like a typical walking shoe, but it packs a lot of features that even podiatrists love.
It is a low-profile sneaker with a compression-molded EVA that will support and cushion your feet as you walk.
The endurance outsole is also a great addition, as it allows you to wear the shoes for a long time.
What's more, this type of shoe can accommodate different pedal deformities because of its wide toe box.
With better arch support and remarkable stability, this shoe can offer more comfort and reduce the chances of injuries.
You can choose to remove the footbed and then replace it with a better, more customized one if you'd like.
Podiatrists love the New Balance Fresh More v2 because of its lightweight construction.
It is an excellent choice because all the materials are of the highest quality.
Despite that, New Balance still managed to make it as lightweight as possible so that you can move freely.
The shoe is very flexible, and it comes with excellent cushioning to support your feet.
Furthermore, the breathable mesh upper will keep your feet cool and dry the whole day and remove moisture.
The rubber outsole provides terrific traction on different terrains, while the removable insole offers extra cushioning and comfort.
How to Choose a Walking Shoe
It's easy to find different brands claiming that podiatrists recommend their shoes.
The problem is, how sure are you that what they are offering is the best? What walking shoes do podiatrists recommend?
To ensure you're getting the right pair, here are some simple tips for choosing a walking shoe.
1. Check the Heel
Before buying a shoe, you have to check its heel first. Hold the heel in one hand and the other pair in your other hand.
The heel must be stiff, and you should not be able to move it from side to side or squash the heel.
If it is too soft, then you'll know that the shoe will not provide you with enough protection on the heel area.
2. Lateral and Medial Stability
Hold the shoe at both ends and start twisting it.
If you manage to twist the shoe completely, it is not stable enough to hold your foot.
You should only be able to barely twist the shoe, which means that the platform is steady enough for your feet.
3. Forefoot Flexion
A good walking shoe should roll and flex naturally as your foot does.
In other words, this means that the shoe should only bend where your toes curl and not in the middle.
To check if yours does this, put your hand at both ends of the shoe and try to bend it in half.
The shoe needs to bend on the toe area, which is at two-thirds of the back.
4. Arch Support
The arch support you need will depend on the type of arch your foot has.
You can ask your podiatrist about this or ask the salesman if they have some basic knowledge about arch types.
They can help you choose the right shoe.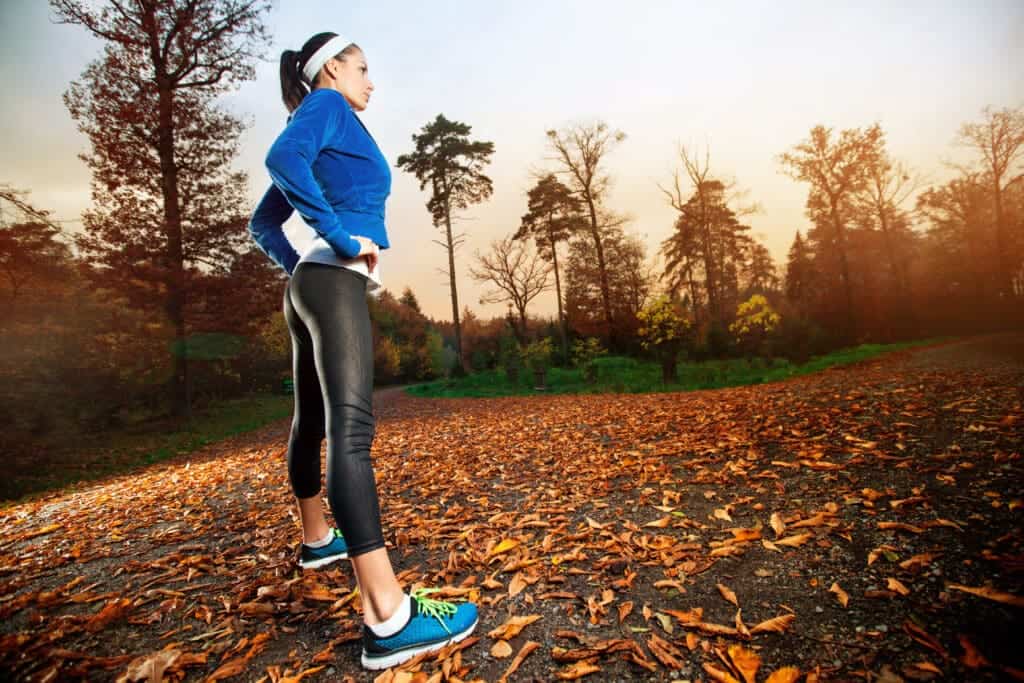 5. No Need for Break-in
The most important thing when buying a walking shoe is comfort. The moment you wear the shoe, it should be comfortable right away.
Getting used to footwear is only applicable for hiking shoes and boots, as they are incredibly stiff.
6. Toes Should be Comfortable
When you buy a walking shoe, the toes should have enough space to wiggle around.
Your toes should not be curled, and there should not be any pressure on your feet coming from the side.
If you feel like your toes are squashed, pick a different shoe.
7. Optimal Elevation
It will help if you make sure that the optimal elevation from the heel to the toe of your shoe is about 10 to 12mm.
In turn, you will get enough range to support your lower back and your foot. Anything higher or lower can affect your performance significantly.
8. Removable Insole
A removable insole is a very important feature for people with foot problems.
The insole should be removable because podiatrists usually recommend different orthotics to deal with foot problems.
Keep Your Feet Healthy
Choosing the right walking shoe is an effective way to keep your feet healthy.
Hence, podiatrists usually give you some recommendations on the best pair to buy based on your type of condition.
Make sure that you take your time and research the shoe.
If you're buying directly from the store, spend as much time as you need to wear the shoe and check if it's comfortable or not.