A full-face or an open-face helmet; which one will you pick for your next MTB race? Well, it all depends on your riding style, preferred level of safety, fit, and taste. See, mountain bikers race while in a crouched riding position. Here, they need shells that stay put as they accelerate to lightning speeds. 
Likewise, these shells should offer optimal safety should the rider collide while racing. 
In this guide, we explore the pros and cons of both helmets concerning mountain biking. That way, you can pick the right shell for optimal protection. 
But first; What are The Dangers of Mountain Biking?
First things first; understand that mountain biking is an inherently dangerous sport, exposing the riders to injuries from such risks as: –
Colliding with pedestrians, cars, fellow riders, or any moving object along the trail

Surface hazards due to irregular terrain and bike or safety gear failure

Subjective dangers like taking part in dare-devil stunts and jumps

Negligence by the rider, fellow riders, pedestrians, or drivers

Unfavorable weather conditions

Exposure to hazardous plant life, insect bites, and wild animals
With this in mind, a mountain bike rider picks MTB safety gear for optimal protection against these risks. The tackle includes MTB helmets, padded MTB shorts, dirt goggles, neck braces, gloves and wrist support, protective tops, mouth guards, knee, elbow, and shin guards.
Now, the primary role of an MTB helmet is to offer the best protection to the rider's head and neck in the event of a collision. In turn, the rider chooses either a full face or a half-face helmet depending on the expected benefits as follows: –
Open Face Helmets
Today's open face helmets feature the latest technologies for safety, comfort, and high performance. Here, expect an outer shell protecting the skull area. This shell has an energy-absorbing liner, a comfort liner, and a reliable retention system. Still, open-face helmets offer the bare minimum coverage against the expected risks that MTB riders face every day.
Full Face Helmets
Full-face MTB helmets cover the entire head. More so, they have flexible shields over your face to protect you from facial injuries due to flying objects, tree branches along the trail, dust, rain, and strong winds. The shield can open to allow more air to hit your face and circulate in the helmet. Further, a tinted shield protects your eyes from the harmful sun glare. And you get to choose the tint style and colors that express your fashion statement. Depending on the MTB brand, your full-face helmet can have ample accessories for a fun adventure as follows: –
Did you know that up to 50% of severe impacts affect the chin areas? Yet, an open-face helmet cannot protect your chin from these impacts. Then, select a full-face helmet with a solid chin bar to cushion your chin from direct hits. These chin bars are easy to attach. Although most full-face helmets feature a permanent chin bar, you can opt for a removable chin bar for versatile use.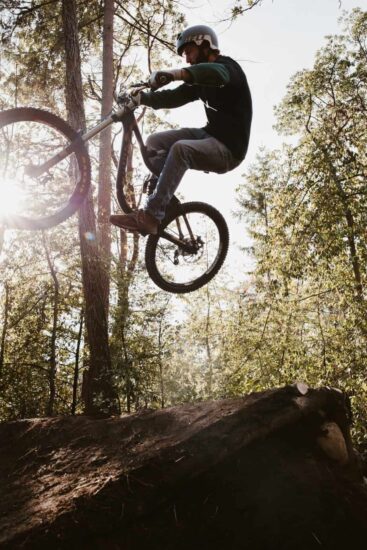 Multiple Adjustable Vents
Full face helmets feature multiple adjustable vents at the chin bar, and have multiple adjustable vents for enhanced ventilation to the head, face, and neck. These vents come in handy, especially for those riders who find full-face helmets claustrophobic.
A visor is a plastic shield around the eyes section, protecting the rider's eyes from dust, dirt, and extreme weather elements. This accessory is usual in most MTB helmets to cushion the rider while tackling wooded trails, forests, or even a muddy stretch. More so, it facilitates your transition from daytime to nighttime or bright routes to shadowy ones, by tilting up or down.
The Closure System: Wider Chin Straps
Unlike open-face helmets a full-face helmet has two major closure systems: Adjustable slips and a double D loop with a snap button. Most full-face helmets also have wider chin straps to achieve a stable and snug fit. These chin straps can have adjustable retention systems. 
Most people tend to struggle with the adjustable straps because as you sweat and drip all the moisture on your straps, they slip and need to be constantly re-adjusted. 
Other straps opt for a one-size-fits-all depending on the target age and skill level of the riders. 
On the other hand, the button strap usually stays put throughout the ride. However, the best and most comfortable is one that is close to the side not in the middle of your neck. 
Some models have a magnetic snap on such that if you're wearing a jacket, the strap snaps onto the jacket zipper and you don't have to worry about hanging straps as you bike. Others use convenient lock systems for fast adjustment while on the move.
One of the challenges in using full-face helmets, especially during the hot summer months, is excessive sweating that leads to discomfort. For this, full-face helmets feature moisture-wicking interior padding for a skull-hugging, dry, and odor-free experience. 
Moreover, the best mountain bike helmet hands down is one with a breathable fabric. With this, you will still sweat, and feel warm but you won't have to worry about that feeling of suffocation when wearing a full-face helmet.
In addition, some have several intake and outlet vents for proper air circulation. These cool you down and ensure you always have a sufficient oxygen supply throughout.
Optional Mount for Other Accessories
A full-face helmet can feature a breakaway camera mount for a fun adventure. Here, you can capture your experience or stream it live to your supporters using the latest camera mounts. The breakaway design ensures this accessory detaches from the full-face helmet during a crash. That way, you minimize injuries due to pressure from the pressing camera mount.
Googles vs. Glasses
Most full-face helmets can integrate with a wide variety of goggles and sunglasses. That way, you protect your eyes and maintain your fashion sense.
In windy or dusty terrain, for example, a pair of protection goggles would further enhance your comfort. For these, buy the wrap-around goggles type. They fit tightly yet snugly on the face.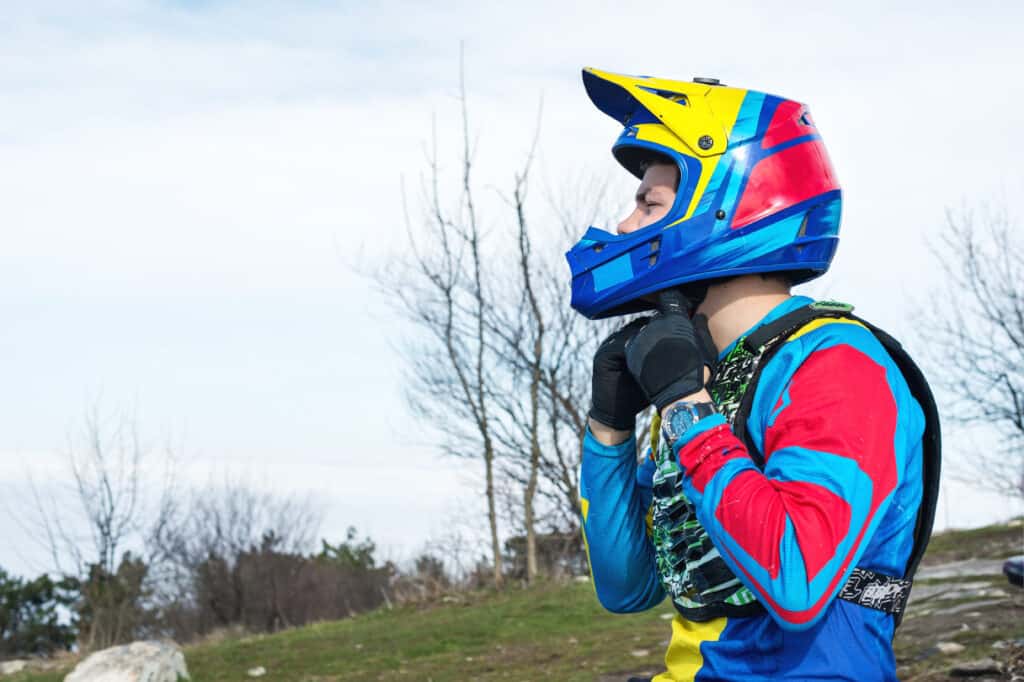 People Also Ask:
1. When To Wear a Full-Face Helmet
Do you really need a full-face helmet? 
The thought of over 500 grams weighing you down might prompt you to consider not wearing your mountain bike helmet. However, second thought of crushing and tumbling down a hilly terrain gets you back to dusting your favorite helmet. 
Does this sound like your daily struggle? 
Well, we all struggle with these thoughts too. And so today, we have decided to make it easier on all mountain bikers who love their space but understand safety too. 
As a rule of thumb, always wear a full-face helmet in situations where a crash would be fatal. 
For starters, the law requires a helmet for all riders within a bike park. In addition, a full-face helmet would come in handy when riding on terrains outside your comfort zone. For example, a ride on rocky mountain terrain. 
Some people also ask, "should we wear a full-face helmet or half face helmet?" Well, there's only a simple answer to that. It depends on how well you love your facial features especially the jawline. A quick look at a full-face helmet alongside a half-face helmet describes what would remain of your face after a bad accident.
Your call!!
2. Are Full-Face Helmets Good for Mountain Biking?
Full-face helmets are the safest headgear for mountain bikers. They: –
Have a 360-degree design for optimal coverage of the head and face
Shield your face from severe injuries during a collision
Give MTB riders a competitive edge
Are compatible with vast accessories for comfort
Retail is a variety of styles and color themes
Guarantee discrete MTB riding
Having said that, if you are a versatile biker who enjoys the traits of an open face and full-face helmet, consider getting a convertible MTB helmet instead. The convertible MTB helmets present you with all the features and accessories of a full-face helmet. Most of these extras are removable, allowing you to shift from full-face gear to an open-face style in a snap.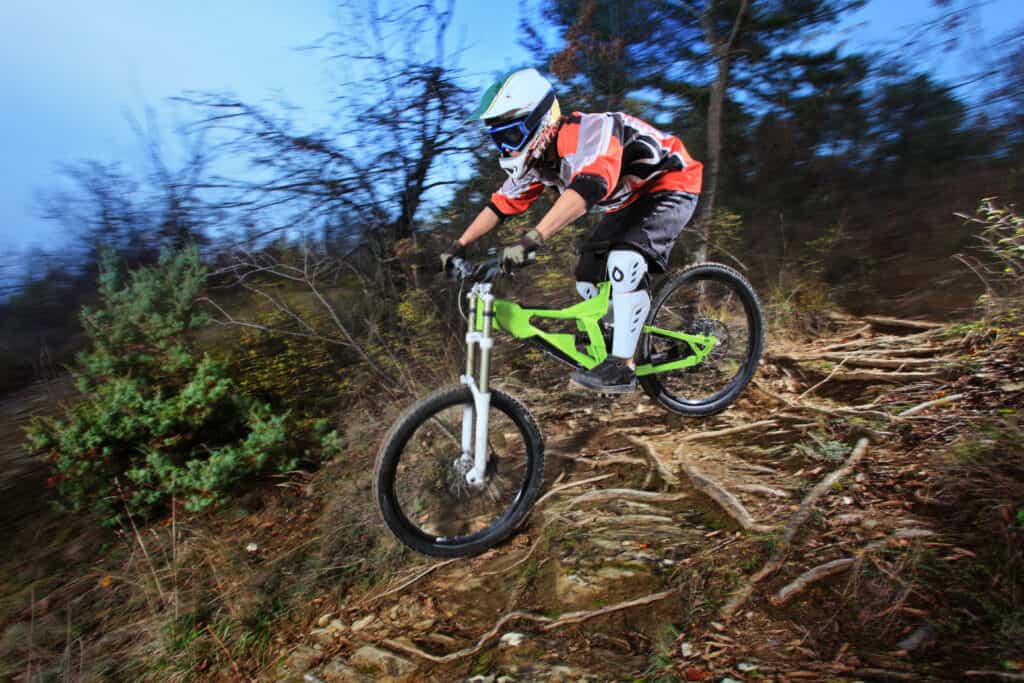 3. Are Full-Face Helmets Safer?
Yes. Full-face helmets are the best pick for any hardcore mountain biker. It guarantees you an optimal shield as you push your skills to the limits. Further, downhill racers get heightened protection when racing at top speeds. For, there is high chance that you will hit your face if you fall from such rides.
The Fit
You easily lose focus if your helmet doesn't fit perfectly. And that's a fact. However, a tight fit also means that if you crash it might be difficult to remove your helmet quickly. This might work to your advantage depending on which side of the cup you're looking at.
Looking at the cup half full, it guarantees you more security during a crash because the helmet will not flee from the crime scene. Looking at the cup half empty, the straps might choke you after an impact or add on to your injury should you be unable to remove the full-face helmet quickly.
So which side are you on?
Conclusion
Full-face helmets are great for mountain bike riders. They protect your entire face while having sufficient traits for ventilation, comfort, and snug fit. These shells use the latest safety technologies, ensuring you stay safe regardless of your extreme riding.