Little League baseball is an excellent rite of passage for many young Americans and a perfect way of fostering teamwork and skills. However, if you are new to Little League Baseball, you may need to learn how it compares to official baseball. One area where the Little League differs is the field positions and the number of teammates present.
In this article, we will explore how many individuals make a Little League Baseball team, the positions kids can join, the teams, and much more.
How Old Are Little League Baseball players?
According to Little League regulations, all players participating in the program must be no older than 16 and no younger than four years. The League determines whether a player is eligible by using their year and month of birth to calculate the age.
The Specific Players on the Little League Baseball Team
Little League Baseball is a one-size-fits-all sporting program that creates equal opportunities for all kids between 4 to 16 years. Each Little League team comprises 12 to 15 players depending on the division and local league in play.
Currently, the League Baseball program facilitates this through the different Baseball divisions that form the Little League's structure.
Among the Baseball divisions present are:
Tee Ball (age 4-7)
The Tee Ball level is the entry-level division that introduces players from ages 4 to 7 to the fundamentals of baseball. This level program is borderline softball which also provides future baseball players with a foundation and love of the game early on to enhance continued participation in Little League Baseball.
The Tee Ball teams often comprise 7 to 10 players playing an entire season with 12 practices a week plus a single game each weekend. Each Little League player needs to play at least a season of Tee Ball before being eligible for higher Little League divisions.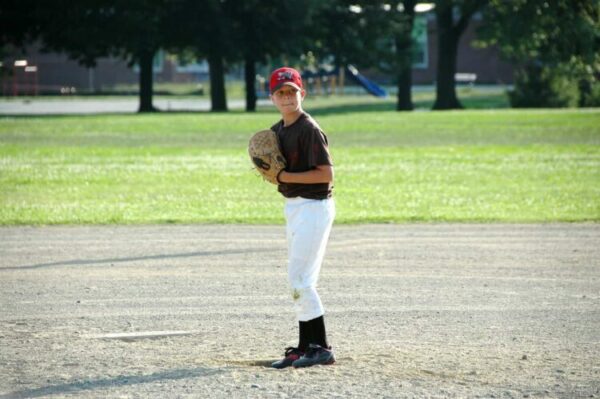 Minor League (ages 5-11)
After the Tee Ball division, players can graduate to the Minor League, a division level for young players with experience. Rosters in this division compose of teams with 12 to 20 players, although most leagues prefer the 12 to 15 players rule.
In other circles, the Minor League division is an intermediate level with multiple divisions. For example, your local option could feature a "Machine Pitch," "Player Pitch," or "Machine Pitch" category under the Minor League Level.
Major Division (ages 9-12)
The Little League Baseball Major Division is the main level for all boys or girls between the ages of 9 to 12. This age range could, however, vary with local leagues choosing to limit the Major Division to 10 to 12 years old. Rosters will include 12 to 15 players in each Major Division baseball team playing in a 60-foot diamond.
Intermediate 50/70 (age 11 to 13)
The Intermediate Baseball Division is a new-level entrant level introduced as a pilot program for 11 to 13-year-olds. Each division under this features a roster of teams with 12 to 15 players playing with a 50-foot pitching distance plus 70-foot base paths.
Junior League (age 12 to 14)
This Little League Baseball division features an entire regular season for boys and girls between the ages of 12 to 14. Players under the Junior League division play in a conventional 90-foot diamond base alongside a pitching distance running for 60 feet and 6 inches. However, local Little League divisions can use modified diamond base dimensions during regular seasons.
Senior League (age 13 to 16)
The Senior League Baseball division is the top Little League level, accommodating boys or girls aged 13 to 16. Each division in this level also uses a conventional 90-foot diamond base having a 60-foot pitching distance. Rosters include teams with 12 to 15 players eligible to play throughout the regular season.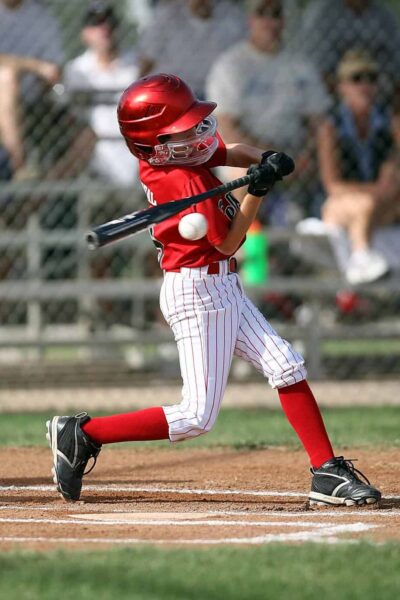 How Many Teams Are in a Little League Baseball?
Little League Baseball allows 4 to 12 teams to form a league and play a season. Additionally, on average, teams get a roster of 12 to 15 players, including the subs. The winner of each League gets to engage in a local and regional playoff from where they can qualify for the World Series.
Types of Plays in Little League Baseball
Little League Baseball encourages all players to get playtime by providing enough play options on the field. Depending on the specifics, each Little Leaguer gets to play in
Regular Season
During the regular season, all rostered players will have to participate in each game until they reach a minimum of six defensive outings. Every player on the roster at the game start also needs to bat at least once.
Tournament Play
Every tournament features teams of 13 or more eligible players who must have each player play in every game and bat at least once. The case differs for tournament teams with 12 or fewer eligible players at the game start. Such scenarios would have each team player on the roster take part in at least six consecutive defensive outings and bat once.
Does Little League Baseball Run Through the Summer?
No. Unfortunately, Little League Baseball has a schedule running from the late spring till the early summer period. However, Leagues can choose to have summer off-season fun with programs such as summer ball, fall ball, or other Special games.
How Can I Find Youth Summer Baseball Leagues Near Me?
Once you find out whether your Little Leaguer is eligible for a Youth Summer Baseball League, the next step is to find a program near you. The best bet in locating such a program is to use the Little League Finder tool. The feature is a quick search option for all special and regular Leagues in your locale or region.
The Player Positions in the Little League Team
The Little League baseball division borrows core fundamentals from professional baseball, including the positions present in the teams. These play positions work through a numbers system and include the following.
The pitcher is the lead position in each Little League baseball team. Each pitcher sets the baseball game by throwing the ball toward the catcher. The play is to have the batter miss and get three strikes before allowing the batter to make solid contact within four balls. All Little League baseball players get to become pitchers based on fair playing time and equality.
The catcher combines with the pitcher to complete the "battery" position. That means the catcher gets to set the game for the pitcher while also being responsible for throwing out runners stealing bases. Each catcher position is behind the home plate with full protective gear.
The 1st Baseman is the lead ball catcher when it is thrown from other infield players or ground balls hit. Thus, the 1st Baseman must be excellent at scooping and catching each ball hit in their direction.
Each 2nd Baseman is responsible for catching quick ground balls and handling cutoff when the ball hits certain outfield positions.
The 3rd Baseman handles all the hard-hit balls heading to the "hot corner." That means the 3rd Baseman should have a strong arm alongside being ready to dive and recover ground balls.
The Shortstop is another vital role responsible for getting rid of balls hit within a great range. Each player in this position should have the ability to throw at great range alongside being quick to make an accurate throw to their 1st base counterpart.
The Left fielder plays the role of catching balls hit in the left fielder area. That leaves the left fielder positioned right behind the 3rd Baseman within the outfield position. Each left fielder is also responsible for providing in-play line drives and pop flies while also dealing with ground balls in their vicinity.
As the most vital outfield position, the center field is a position needing speed and arm strength. This is because centerfielders are responsible for covering ground balls from the right center to the left center.
The right field position is a replica of the left fielder, with the difference being the areas both places cover. In essence, the right fielder covers the vicinity behind the 1st and 2nd Baseman within the outfield.
People Also Ask:
Can Girls Participate in Little League Baseball?
Yes, girls can and do participate in the Little League Baseball program. Initially, the League was exclusive to young and teenage boys, but a 1974 amendment would allow girls to join.
How Many Little League Baseball Teams Are in America?
There exist over 206 teams participating in 14 Minor League Baseball leagues across the United States and Canada. These teams play in five classes, ranking them from the most experienced to Rookie teams.
How Can Your Kid Join a Little League Baseball Team?
Joining a Little League Baseball team takes hard work, effort, and consideration from league officials. Most importantly, each player must go through the different divisions and build their foundation in the game for proper review for a spot.
Is Little League Baseball Free?
No, the Little League Baseball program is not free since there are expenses to incur. League teams need a charter, and each player may need insurance which the respective division determines.