Over 20 million people in the U.S. have some form of peripheral neuropathy, which causes numbness and tingling in the feet or hands.
Toes are a common part of the body to feel numb, and sometimes, the discomfort is associated with the feeling of pins and needles in your toes.
If you're starting your running journey, finding a comfortable pair of shoes is extremely important, especially if you suffer from numb toes and related problems.
However, even though you have found the perfect shoes, learning about some lacing techniques will ensure you get a comfortable fit and the support you need to get going.
Here's a guide on how to lace running shoes for numb toes.
Why Do You Experience Numb Toes When Running?
There are several reasons why some runners experience numb toes, including:
Incorrect Lacing
Here's the thing: if you're feet are hurting, you're probably tying your shoes wrong.
Sadly, most runners don't know exactly how to properly lace running shoes to prevent crumbling or squeezing their feet.
When there's too much pressure under the forefoot, the nerves in this area are compressed, affecting blood circulation.
All these can lead to numb toes.
Morton's Neuroma
Toe numbness may also be associated with a medical condition like Morton's Neuroma.
It is a painful condition that affects the ball of your foot, particularly the area between your third and fourth toes.
Aside from numbness, you may also experience a stinging and burning sensation in the ball of your foot.
Shoes Too Small
Another possible reason your toes are numb is that your shoes might be too small for your feet.
If you have wide feet and your shoes are too small, it can bring constant pressure on your feet, resulting in numbness or, sometimes, pain.
To prevent this, look for shoes one size bigger than you normally wear.
A rule of thumb is that there should be a thumb-width space between your big toe and shoe front.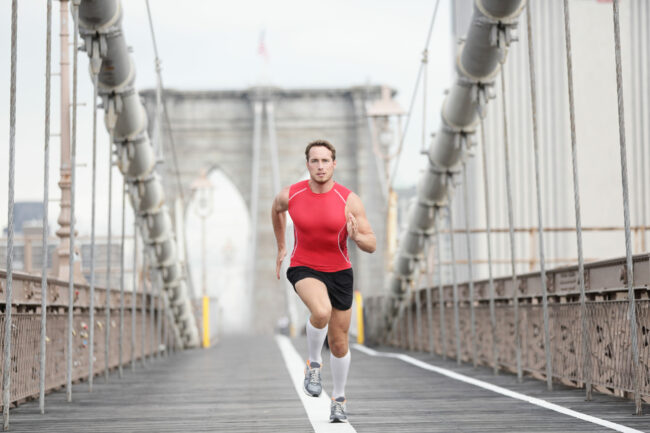 How to Lace Running Shoes for Numb Toes
Numb toes can result from different conditions, such as high arches, wide forefeet, and flat feet.
Learning about the appropriate lacing technique for each condition is the key to achieving a comfortable fit.
Here's how to lace running shoes for numb toes according to certain foot types or conditions:
High Arches
If you have high arches, opt for a ladder lace wherein the laces lie parallel to each other, from eyelet to eyelet.
This lacing technique eliminates focal pressure points and provides a comfortable fit by opening up the middle of the lace pattern.
Follow these steps to make a ladder lace pattern:
Lace your shoe with a crisscross through the first set of eyelets
Thread the shoelace through the sides
Tie up the lace through the next two eyelets or more
However, if you experience pain on top of your foot because of a high arch, arthritis, or damaged nerve, consider skipping the eyelets in the region of the foot.
Doing so reduces the pressure on that area and increases the comfort your shoes provide.
Narrow Feet
If you have narrow feet, consider tying the lace using the outer eyelets of your shoes.
This allows the sides of your shoe to hug your feet for a tighter and more comfortable fit.
Follow these steps to tie your shoe lace correctly:
Start by lacing your shoe with a crisscross pattern
Skip an eyelet and thread the laces in a crisscross
Tie up the shoe
Narrow Heel and Ankle and Wide Forefoot
Use two laces per shoe for this type of foot to achieve a combination fit.
Use the outer eyelets to create a slimmer fit around your ankle and heel, then use the inner eyelets to achieve a wider fit in your forefoot.
You may also loosely tie the laces around your forefoot and tie them tighter around your ankle.
Heel Slippage
Heel slipping or pistoning can often lead to painful blisters and toe numbness.
Start with a cross-lace technique, but once you reach the second to the last eyelet, do not cross over.
Rather, insert the lace into the last eyelet on the same side to create a small loop.
Do the same for the other side, and then run the free end under the loop of the opposite side to fasten the lace.
With this lacing technique, your ankle gets more support, but your shoe won't be too tight.
Wide Feet
If you have wide feet, do a cross lace using the inner eyelets of your shoe.
This provides more width to the top of the shoe, giving you enough space to wiggle your toes.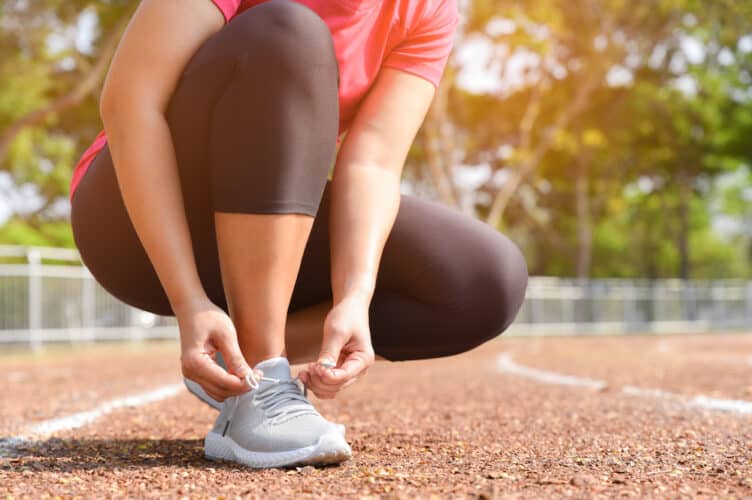 Toe Problems
If you experience toe numbness and other problems like hammer toes, claw toes, or painful toes, consider lacing your shoes so that the toe box section gets more room.
With this lacing technique, you can adjust, tighten or loosen the toe box by pulling on the right lace.
Wide Forefoot
If you have a wide forefoot, begin threading the shoelace through the sides.
Then, from the midfoot upwards, tie with a crisscross and tie up the shoe as usual.
This lacing technique gives more space in the toe box so your forefoot will have enough room.
Shoes Feel Too Tight
If your running shoes feel too tight, you can lace them up in a parallel pattern without the standard crisscross.
Then, thread by feeding the laces underneath every outer eyelet.
This lacing technique allows for an even distribution of pressure resulting in more comfort.
If Proper Lacing Doesn't Solve the Problem
Different factors affect a running shoe's fit and comfort, and lacing is just one of them.
Trying the lacing technique appropriate for your foot type condition should give you great relief from numb toes.
However, if you continue to experience numbness, pain, or other forms of discomfort, you might look into other factors, such as the size and fit of the shoe.
Fit
How should running shoes fit? When trying on a new pair of running shoes, see if you have a proper toe fit.
As mentioned earlier, you want a thumb's width of space between your toes and the end of the shoe.
This way, your toes will have enough room to move, which is important to ensure proper blood flow.
Next, see to it that you have a snug fit at the midfoot and heel. A shoe that doesn't fit correctly can cause tingling or numbness in the toes.
You may also develop blisters between or on top of your toes, the ball of your foot, and the heel.
Whether you're getting trail runners or road runners, go to a store that has a savvy footwear fitter on staff.
Make sure to detail your foot issues so the fit specialist can help you find the perfect shoe.
Here are some more tips to get the right fit for running shoes:
Wear the socks and orthotics you plan to run in when trying a shoe
Get fitted at the end of the day when your feet are at their largest. This should help you find the extra precise pair for your feet.
Aim for snugness (not tightness) in your midfoot and heel section
Size
Determining your correct shoe size, including the width and length, is key to ensuring a good fit.
After determining the length and width of your shoe size, try a running shoe that is about half a size bigger than your typical shoe size.
For proper length, allow for at least 1/2 to one-inch space between your longest toe and the shoe's end.
To get a feel of the correct width, you must be able to pinch the top or side material of your shoe.
Right Fit + Right Lacing Style
Too tight shoes put pressure on the nerves, leading to numbness in the toes.
Experiment with different lacing techniques to find the one that gives you a snug fit but doesn't put pressure on your nerves.
Nevertheless, do note that changing your lacing style can fix some issues, but if there's a problem with the fit, it can't get rid of the problem.
Therefore, always ensure that you have the proper fit and lacing style to guarantee comfort on your runs.