Finding the right pair of walking shoes among a sea of options can be a mammoth task to take on.
And this only gets worse if you have flat feet.
Some urge you to buy a shoe with more arch support, while others instruct you to do the opposite.
Unfortunately, there's no perfect pair.
The optimal shoe depends largely on your range of motion, gait cycle, and the shape of your foot, among other factors.
To help with your search, here are five pairs of the best walking shoes for men with flat feet from well-known brands.
Comparison Chart
We hope you love the products we recommend! We only have products that we thoroughly investigate and believe are of real value to you. Sports Send may collect a share of sales or other compensation from the links on this page. It is at no extra cost to you.
New Balance Men's 608 V5 Casual Comfort Cross Trainer, Black/Black, 6.5
JSLEAP Men Running Shoes Walking Athletic for Men Casual Slip Fashion Sports Outdoor Shoes Black White,US 6.5
Skechers Men's GO Walk Evolution Ultra-Impeccable Sneaker, Charcoal, 7
Brooks Mens Adrenaline GTS 19 Running Shoe - Grey/Blue/Ebony - B - 8.0
Rockport Men's Eureka Walking Shoe, Black, 6.5 Wide
New Balance Men's 608 V5 Casual Comfort Cross Trainer, Black/Black, 6.5
JSLEAP Men Running Shoes Walking Athletic for Men Casual Slip Fashion Sports Outdoor Shoes Black White,US 6.5
Skechers Men's GO Walk Evolution Ultra-Impeccable Sneaker, Charcoal, 7
Brooks Mens Adrenaline GTS 19 Running Shoe - Grey/Blue/Ebony - B - 8.0
Rockport Men's Eureka Walking Shoe, Black, 6.5 Wide
Best Walking Shoes for Men With Flat Feet: Brief Reviews
1. New Balance 608v5 Cross Trainers
For over a century, New Balance has been manufacturing a myriad of shoes for athletes.
This trusted brand provides sports enthusiasts and players with different products to help them attain excellence.
With the 608v5 Cross Trainers, no one can deny that New Balance is one of the top brands when it comes to footwear.
Review
The New Balance 608v5 Cross Trainers is an ideal pair for men looking for great traction and support.
Here are some of its best features:
ABZORB technology is a feature exclusive to New Balance shoes. So, what is it?
This technology is a cushioned heel pad that provides balanced shock-absorption properties, which is particularly beneficial for men with flat feet.
Not sure how this benefits you? Every person has their own way of landing their feet when they walk.
For this reason, shoes wear out differently for different people.
Some may have worn-down edges, while others end up with completely flattened heel pads.
It all comes down to how the foot's weight is distributed across the shoe and where we land when we walk.
With the ABZORB feature, this will no longer be a worry. In turn, you can rest assured your shoes will last longer.
You cannot call any pair of walking shoes versatile unless you can use them on different trails, right?
These New Balance shoes come with a slip-resistant outsole that does not slip or slide easily.
Thanks to this, you can be sure that you get better traction regardless of the type of terrain you are walking on.
These walking shoes come with an ergonomically designed outsole, offering better flexibility overall.
Besides increased flexibility, this gives the wearer more mobility and added comfort.
These walking shoes come in a wide range of color options, including plain black, black with white details, brown with white details, grey suede, navy blue, and more.
With so many choices, you can easily pick a pair or two to match your wardrobe.
PROS
check Lightweight
check Ergonomically designed
check Slip-resistant
Available in different colors
CONS
2. JSLEAP Men's Walking Non-Slip Sneaker
Known for making stylish, comfortable, and well-built shoes, you'll like what JSLEAP has to offer.
These Men's Walking Non-Slip Sneakers are the perfect pair for every man who enjoys going on walks and runs.
It comes in an interesting honeycomb-like design, which not only serves to be aesthetically pleasing but is also highly functional.
Review
This JSLEAP pair is ideal for guys with small feet since it's available in smaller sizes.
Best of all, it comes in a plethora of colors to choose from.
Here are some of the features of the JSLEAP Men's Walking Non-Slip Sneaker:
What's impressive about these shoes is the stylish knitted mesh upper.
Aside from making the shoe look stylish, this kind of upper material promotes breathability.
This is particularly beneficial if you like taking walks for long periods, even in hot weather.
The knitted mesh keeps you as comfortable as possible by keeping your feet cool and dry.
What truly makes this shoe stand out is the interesting honeycomb design.
This design choice is not just for its looks; it also keeps the feet more balanced while absorbing shock and maximizing ventilation.
The sole boasts a durable rubber construction that possesses high durability for a more prolonged wearing time.
Additionally, they provide increased flexibility, allowing the shoes to bend if you use them to play sports.
It has an excellent anti-skid grip along with a superb bounce-back.
On the downside, though, the holes tend to attract gravel and rocks, which can be problematic to get rid of, especially while walking.
The JSLEAP men's walking shoe is a perfect option for those who want countless color choices.
The brand offers these shoes in 15 attractive colors, from classics like black, dark blue, and gray to bolder shades like red, sky blue, and yellow.
PROS
check Breathable material
check Budget-friendly
check Does not slip
Offers increased flexibility
It comes in a wide range of colors
CONS
Sole may trap gravel and rocks
3. Skechers GOwalk Evolution Ultra
Skechers is one of the world's leading brands in the shoe industry, offering the best pairs for walking.
All of its shoes have a clean and minimal design that works with almost any kind of attire.
For instance, you'll love this pair from the brand's GOwalk series for how lightweight, responsive, and comfortable it is.
Review
The Skechers GOwalk Evolution Ultra Men's Walking Shoe has a lot to offer.
Here's what you will get from this pair:
Sizing isn't something we always discuss when it comes to walking shoes.
You will find that most brands have decent sizing options, but Skechers takes it one step forward by ensuring every single man gets the perfect fit.
The sizes range from six and go up to 16 in 0.5 increments.
What we particularly like about this is that the brand also offers X-Wide options for every size.
This is great for men who have broader feet. Thanks to this, you will not need to size up to accommodate your wide feet.
Skechers is well-known for its use of high-quality materials.
Hence, it comes as no surprise that the upper on this pair is truly fantastic, too.
It features a soft woven mesh fabric upper that guarantees a seamless and comfortable fit.
The fabric has a solid color design with knit-in texture detail.
There are also synthetic toe and heel panel overlays meant for added durability.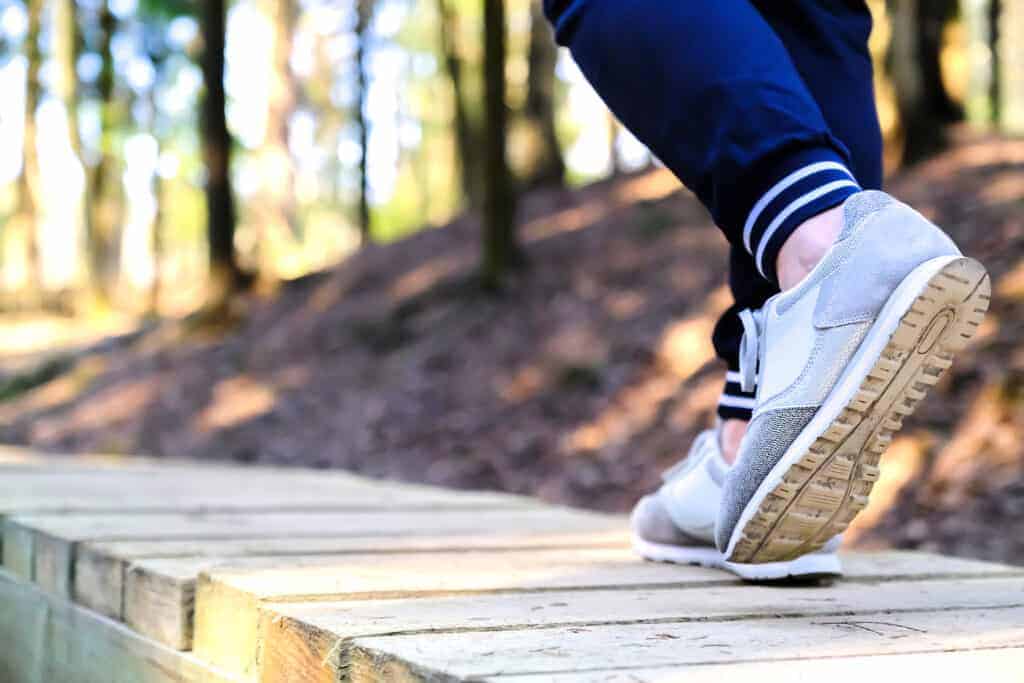 As a slip-on shoe, this pair is truly ideal for walking.
It features dual side elastic panels for added comfort and the "S" logo on the side.
To easily fit your foot, you will find a top pull-on loop on the back.
The soft padded collar offers superior comfort, and the natural expansion provides a more natural and comfortable fit.
Skechers is one of the leaders in walking technology, so you can expect the best of the best from this shoe.
For one, you'll find that it comes with lightweight and responsive Ultra Go cushioning.
The high-rebound ultra-pillars underfoot will react to every step to provide you with that supreme comfort.
What is truly amazing is the insole, which features Skechers' incredibly popular Air Cooled Goga Mat.
This insole is known for how comfortable and breathable it is, all while having moisture-wicking abilities.
If you have ever seen or used Skechers shoes before, you know very well that the brand likes muted colors with a clean design.
This is what you can expect from the Skechers GOwalk Evolution Ultra Men's Walking Shoe.
The shoe comes in 10 different colors, including charcoal, light gray, blue, black, navy blue, and more.
What's great about these muted colors is that they will easily match anything you wear.
PROS
check available in modest colors
check Comfortable synthetic sole
check Breathable insole
Breathable upper
CONS
On the pricier side
The sole design makes it a small rock magnet
4.

Brooks Men's Adrenaline GTS 19
Did you know Brooks running introduced the first ever carbon neutral running shoe? Well, now you know. This is a company whose innovation for the last 20 years just keeps wowing the masses. They have been on the front line fighting against carbon emissions and creating a better world amid the current global pollution crisis. And GTS 19 is no exception. Let's have a look at why we love this shoe. 
Review
Cushioning Material
Brooks running engineers with their own materials. Some are recycled while others are completely new with the aim of leaving a minimal carbon footprint. Their CEO recently mentioned that they aim to transition to 100% recycled polyester footwear by 2023. Now that's the company we all want to support, right? GTS 19 is made using 2 types of foam and gel cushioning technologies. That is the BioMoGo DNA (a blend of TPU (thermoplastic polyurethane) and PU (polyurethane) foam) and the DNA Loft (rubber, EVA foam, and air for the midsole cushioning).
OutSole
The outsole heel is made up of carbon rubber, a hard-wearing material, especially for heel strikers. And this makes the shoe quite long lasting irrespective of the mileage. 
Design
The GTS 19 is designed with visible guide rails that prevent your feet movement to reduce your chances of injury. These are specifically focused on injuries to the knees. And while these are stability issues, the use of guide rails also means you could wear these shoes if you're new to running. Even if you don't necessarily need guide rails, these are designed in such a way that they don't interfere with your running.
PROS
check

Breathable upper

check

Very well fitted

check

Extremely comfortable cushioning.

It has Guide rails for added stability
CONS
Slightly heavy; It weighs around 370 grams.

 
5. Rockport Men's Eureka Walking Shoe
This American shoe manufacturer based out of Newton, Massachusetts, was founded in 1971 by Saul L. Katz and his son Bruce R. Katz.
They were the first company to use advanced athletic technologies in casual shoes to achieve lightweight comfort.
The company slowly and steadily gained a lot of popularity, thanks to its amazing quality shoes.
Now, their shoes are available in more than 60 countries worldwide.
Review
You might be surprised to see this pair of shoes on this list, considering it looks nothing like any other shoes we have reviewed so far.
This pair is a perfect combination of walking shoes and everyday casual footwear.
Below are some of the features that the Rockport Men's Eureka Walking Shoe offers:
It is clear from first glance that these shoes are meant for rugged use in many environments.
While sold as walking shoes, you can also run in them on smooth trails.
The heel of this shoe is fairly large that you can expect to have an inch added to your height.
It also gives excellent heel support, great for people prone to bouts of pain from plantar fasciitis.
The shoe boasts genuine leather construction that is easy to clean and maintain.
Since leather shoes look better as they age, you can continue using this pair for a long time if you care for them properly.
While this shoe can stand up to rough use, we do not recommend using it in wet places or rain as that can cause damage to the shoe.
The rubber sole is soft but durable. It can withstand most trails and gives you a lot of flexibility.
Combined with the leather upper, both these materials make this shoe extremely sturdy and long-lasting.
Latex Footbed and Mesh Lining
Inside, there is a latex foam footbed that generously cushions the foot.
It helps reduce foot fatigue as you walk, run, or stand for long hours.
Those with flat feet will appreciate this feature the most, making it possible for them to walk for extended periods without experiencing pain.
Besides the latex footbed, this shoe also features mesh lining.
This moisture-wicking lining guarantees excellent breathability, making this pair extra comfy.
As someone who experiences it all the time, you already know that walking with flat feet can be unbearably painful.
This is why it is important that you find a pair that will give you support and protection from bumps on the road.
The EVA midsole in these shoes ensures fantastic flexibility and better impact-absorption.
As a result, you can enjoy your walks better without feeling aches and pains just a few minutes in.
The shoe runs mostly true to size and even comes in half sizes to allow for more options and a better fit.
There are also wide and extra-wide options for men with broader feet.
This will ensure you get the absolute perfect-fitting pair for walking.
Lastly, you'll see that these shoes feature a padded collar.
This design choice will further provide that snug fit and prevent blisters and irritation at the same time.
PROS
check Excellent leather material
check Good fit
check Excellent design
Highly comfortable
CONS
It takes a while to break in
Which Pair Is Best for Men With Flat Feet?
As someone with flat feet, you are already aware of how painful walking for extended periods can be.
The pain only gets worse if you don't have the right pair of walking shoes.
For your comfort, it is important that you wear the best walking shoes for men with flat feet.
Basically, these offer more support and cushioning.
While all the pairs we reviewed are great options, our personal favorite is the Skechers GO Walk Evolution Ultra Walking Shoes.
Coming from a brand known for their exceptional shoes, you can expect only the best from this pair.
The simple yet beautiful design, multiple sizing options, materials used, and the fit make this an ideal choice for any man with flat feet.