When you want to maintain consistent training on your golf swing but are limited on time and space, having an indoor golf simulator may be your only best solution. Only, this personal golf simulator at home retails at a rather substantial price. You know, it simulates the real driving range or golf course conditions and gives you an in-depth analysis of your every move. Think of your ball speed, angle of attack, spin rate, club head speed, carry distance, and overall trajectory. Hardly can you get all these benefits as a package at a real driving range or course. And, if you do, the charges are often beyond reach for a regular user. Then, how much should you spend on your choice of indoor golf simulator?
Assessing the Benefits 
The price range for an indoor golf simulator is a factor of many attributes. Top on the list is, what benefits should you expect from your choice gear? Here is a quick list: –
Pro golfers put in lots of hours into their practice at the range. It is a life of self-discipline and sacrifice, complemented by having access to the right golf training equipment at all times. Only that, they have to be at the course as per the set tee times. In contrast, an indoor golf simulator ensures you can practice past the set tee times, away from the green. You only need to decide on your milestones and then set the environmental conditions before practicing like a pro.
Convenient Socializing and Training Platform; 24/7 Access
An indoor golf simulator is accessible anytime, anywhere, with anyone you want. It creates a healthy work-life-sports balance vital for personal growth. A starting space of 1 foot long by 10 feet high by 10 feet wide is sufficient for setting up your simulator at the office, living room, garage, or in the backyard. Then, use it as a team-building activity at the office, of a bonding opportunity with family. 
Testing Out World-Class Driving Ranges, Courses, and Pro-Gear
Do you picture yourself immersed at the wind-swept Bandon Dunes or taking part in Men's US Open Championships at the Chambers Bay one day? Why not simulate this experience using your choice golf simulator? Indeed, high-end golf simulators offer access to up to 150,000 world-class golf courses in vast weather conditions. This benefit is part of an affordable annual subscription package that includes such perks as: –
Allow for multiplayer options and game modes
Play online competitions, challenges, and mini-games  
Compete  with pro golfers across the globe
Enable chipping and putting on the green
Free annual subscription to the Golf Magazine
Have a remote private mentor 
 Second, use this virtual experience to test out golf balls and clubs from leading brands. Compare the feel, compression, resilience, and overall performance of these gear before deciding on the one that will complement your swing.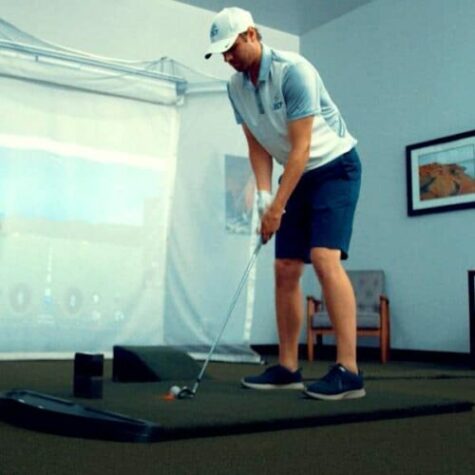 Instant Scientific Analysis of Every Move
Golf simulators rely on improvement software to track the ball and club movements. This software uses such technologies as Photometric Technology and Accelerometer-Based Internal Leveling Systems to assess the: –
Ball flight path
Offline shots
Ball distance, roll, carry, and totals
Launch angles and descent
Ball and club face speeds
Backspin and sidespin rates
Here, the simulator has infrared sensors at several strategic points to track the golf club and also the ball. It relays the raw data to the improvement software for instant feedback. These are fun graphical analyses that make the practice enjoyable, educative and fulfilling. 
Take advantage of the below benefits to break any monotony associated with practicing at the same range the entire season.
What's in the Package
An indoor golf simulator package is what you get out of the box when you make an order. This package has all you need to install a functional indoor golf simulator that taps into the above benefits. It includes: 
Likewise, you may upgrade your lower level simulator by adding compatible components as advised by the manufacturer. Check out the available golf simulators from the above brands at . Note that I get a small commission for your purchase from here.  
Launch Monitor
A standard launch monitor tracks your golf shot. Hence, it assesses the ball speed, path, vertical launch angle, spin rate, and axis tilt. Other high-end launch monitors may capture the club path, face angle upon, speed, impact, and attack angle too. The feedback helps you to adjust your swing and choice of golfing gear to improve your game.
>
Game Simulation /Improvement Software
Typical game simulation software receives the data generated by the launch monitor and uses it to accurately simulate your shot on a virtual driving range or course. For compatibility, most brands sell the simulator alongside the launch monitor as one complete package. 
Impact Projector Screen
The impact projector screen pairs with a short-throw projector to make your simulation setup as realistic and long-lasting as possible. For this, most brands include a large diagonal impact projector screen that is up to 2 to 3 times the size of the 60 inch TV. This screen uses a bright, high contrast projection, free of any noise or bounce back effect. Plus, it is of durable materials like synthetic resin, withstanding shots of up to 250 mph. Last, the screen size and shape varies to match the size of your garage or living room. Impact projector screens may retail separately, starting at $250 to above $1,000, depending on their design and quality. 
Short Throw Projector
As the name suggests, a short-throw projector projects the ball trajectory and simulation onto the screen. It is this device that brings your life-size simulator into action. Otherwise, you will struggle to tap into the full potential of the simulator. An ideal short throw projector has the following capabilities: –
A high contrast ratio
Exceptional multi-color processor
3D support features
HDMI and MHL connectivity for smartphones or tablets
Longer lamp life
Automated safety and power-saving features
Built-in speakers
USB outputs
Eco-friendly design
You may acquire your short throw projector separately to get the right throw distance, throw ratio, lumens, resolution, aspect ratio, mount type, connectivity, and budget for your room size. 
Projector Ceiling Mount
Where you set up your projector determines the image quality of your simulator. That's why most simulator packages include a projector ceiling mount for erecting the projector onto a wall. The mount has a tilt of up to 180 degrees and an all-around rotation to make custom adjustments as needed.
Hitting Mat
When practicing your swing at home, you must have a perfect base to generate the best shot. Hence, indoor golf simulators use a hitting mat that mimics a natural fairway. You know, the mats use materials that absorb impact, countering any vibrations or soreness to your wrist, elbow, or knees when hitting the ball. Likewise, they are of a lightweight and portable construction for easy setup and storage. High-end simulators use premium hitting mats with the following distinct traits: –
Soft surface materials for the most forgiving experience
Authentic reaction to mishits and fat shots
Allowing for teeing up anytime, anywhere
A variety of sizing options
Fast and easy assembly
A durable rubber frame
Accommodates right-handed and left-handed players
Extended manufacturer warranty
Golf Net or Side Netting 
Golf nets are excellent substitutes for golf simulator projectors, more so, in entry-level models. These side nettings provide basic functionalities as follows: –
Catching your mishits
Ball return feature
Protecting your household valuables from damage
Expandable posts
Heavy-duty rubber base
Weather-resistant, double-stitched material for indoor and outdoor use
A caddie ball shagger for collecting as many balls as possible
Portable size, easy to setup
Opt for golf nets that are of commercial-grade, UV-treated materials for durability. And, color-coded mesh is convenient for fast assembly and storage afterward. 
Setup Accessories
Typical setup accessories for an indoor golf simulator include an HDMI cable, a VGA cable, and a power cable. Brands like Trugolf ness special halogen light overlooking the sensors. Other brands like Skytrak and Optishot work best with minimal or no extra light.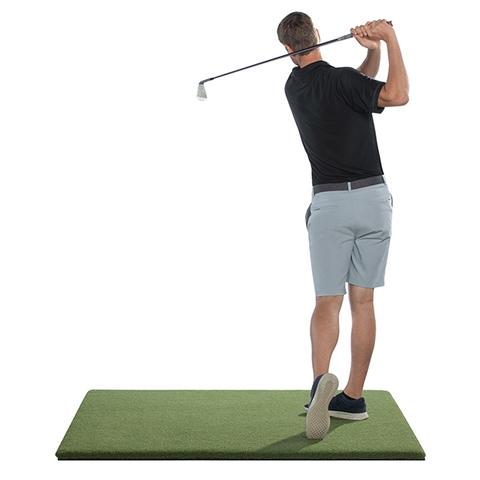 Who Makes the Best Golf Simulator? 
Skytrak, Foresight Sports, Optishot 2, and TruGolf are leading brands offering golf simulators for all levels as follows: –
The SkyTrak SwingNet Golf Simulator Studio, GCQuad Launch Monitor by Foresight Sports, and   OptiShot Golf In A Box 3 Simulator Package are entry-level indoor golf simulators ideal for beginners and recreational players. The simulators use launch monitors with a limited scope. For example, you may only get feedback on the ball movements and nothing on the club metrics. Likewise, they rely on less sophisticated software with limited compatibilities and access to fewer courses and ranges. And some substitute expensive projectors for golf nets. A typical unit in this category retails between $799 and $5,000. 
Mid-Range Level
The award-winning  SkyTrak SwingBay Golf Simulator Package is a medium level golf simulator, analyzing all your vital ball and club metrics. These include the ball speed, distance and trajectory, offline yardage, angles, and spin rates. The simulator's precision competes with high-end models, making it your affordable option when upgrading from an entry-level simulator. Expect high quality and accurate results with every shot. Most mid-level golf simulators retail between $5,000 and $10,000. Plus, they utilize commercial-grade launch monitors, screens, projectors, and accessories. 
High-End Level
High-end golf simulators retail for at least $10,000. Our best pick in this category is the TruGolf Vista 12 Golf Simulator w/ E6 Connect. It has the following traits for a pro-golfer: –
Exceptional real-time analysis of the ball, ball impact on club surface, and club path
Access to up to 100,000 world-class golf courses
Hitting zones that accommodate left-handed and right-handed players alike
Software with optional cloud service, giving unlimited storage and real-time viewing and sharing of your performance portfolio
3D driving range
Likewise, you may upgrade your lower level simulator by adding compatible components as advised by the manufacturer. Check out the available golf simulators from the above brands at  https://rainorshinegolf.com/ Note that I get a small commission for your purchase from here.
How Do You Prevent a Golf Mat From Moving?
Whereas golf mats are the precise base to achieve the best shot and swing, their lightweight and portable construction may cause them to slide when hit hard. Such movements impede your targets, contributing to poor results. To correct this, install a non-slip rug pad underneath it. This pad has a rubber backing that holds the mat in place. It will prevent any bunching or shifting.
Is Extra Netting Worth It?
When you opt for side netting instead of a golf simulator projector, you may receive a longer length that you need for your current setup.  This additional netting will come in handy later on when you upgrade your simulator to a larger size. Likewise, you want to match the extra length on your golf mat to create ample room for a safe full swing.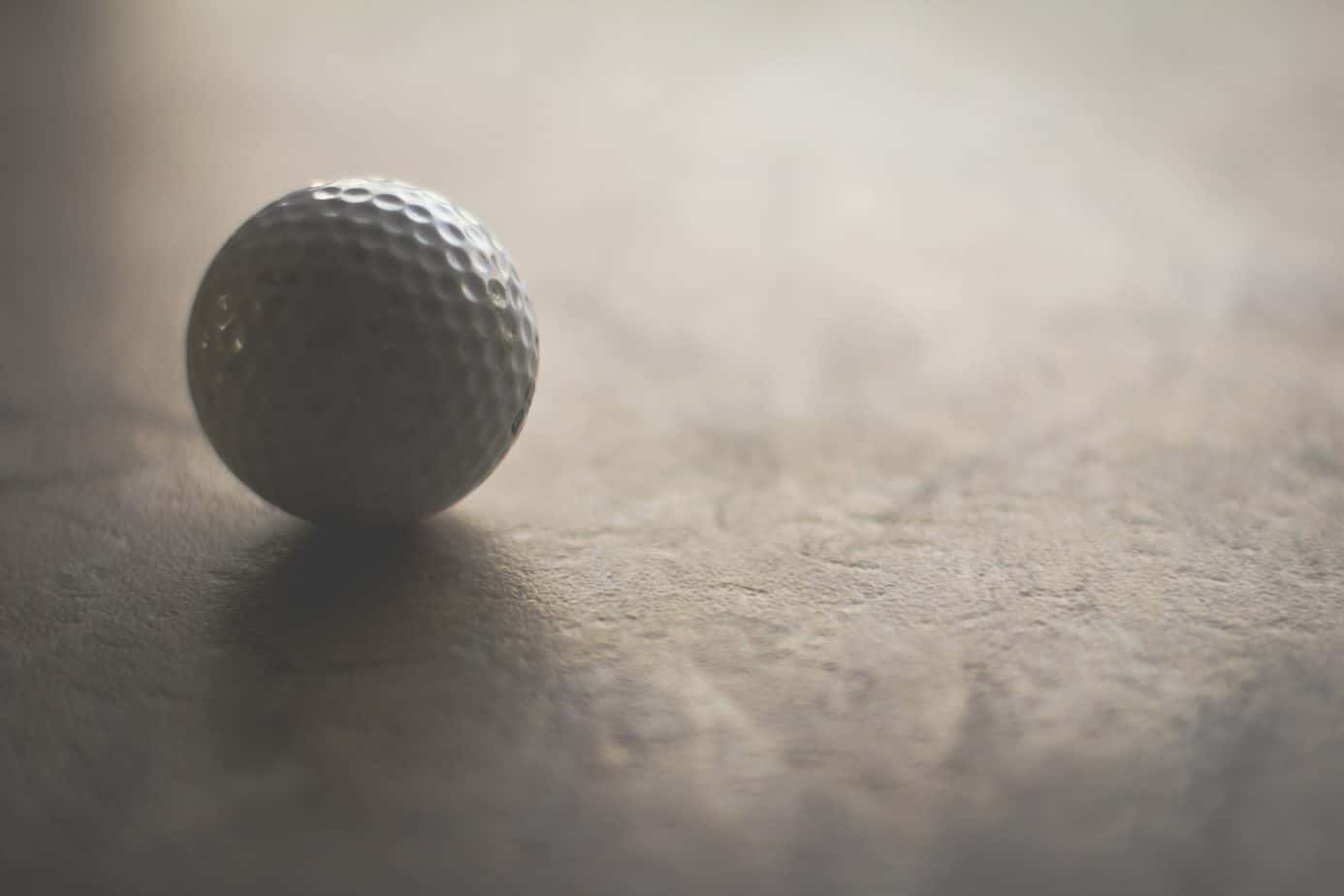 Indoor Golf Simulator FAQs
Q. Can You Putt On a Golf Simulator?
A. Yes. Start by confirming that your simulation software a grid-like feature for putting. If so, your launch monitor will read the putts and feed this information to the simulation software. The software calculates your ideal starting line and the best hitting distance. Then, it will guide you on how the putt breaks. 
Q. What Can You Wear to Your Golf Simulator Play?
A. Note that an indoor golf simulator aims to have a realistic feel of a natural real range or course. Only, the setup is in a casual environment. Then to get the best out of every session, wear comfortable outfits, not necessarily the formal golf attire. Here, any indoor running shoes, sneakers, golf shoes with spikes, or rubber-soled shoes will do. If you prefer short pants, keep their length just above the knee. Bright colored tops will uplift your mood. And, if playing the outdoors, wear baseball-style hats to shield you from direct sunlight. 
The Verdict: How Much Does An Indoor Golf Simulator Cost?
Your personal golf simulator at home may cost anything between $1,000 and $50,000. The price range depends on the package, the technology used, and its scope of measuring data points that you need. More so, it doubles up as a home theater, giving you unlimited access to golf training and entertainment. And, getting a complete package is much cheaper than buying and assembling separate components from scratch.
Still, your room set up needs may cost you some extra cash. For example, you will pay more for opting for a high-resolution projector instead of viewing your golf shots on an average home PC or TV. Likewise, hitting mats from high-end brands retail with varying length turfs at different prices. 
Next, do you want access to hundreds of world-class courses, competitions, or gameplay options? These added benefits come at an extra price. Then, decide beforehand your purpose for getting your personal golf simulator at home. Finally, opt for the brand that best meets your needs. 
Not​​​​​e
If you are on a budget yet want to have the best that indoor golf simulator brands can offer, buy some of the best simulators from https://rainorshinegolf.com/.