Is running on a treadmill good for you? This is an age-old question. The fact is that it has both advantages and disadvantages. There are some types of workouts you will do more efficiently on this machine than others.
However, on some occasions running on a treadmill can cause aimless and a never-ending gnawer wheel-feeling to some people. It depends on the individual's goal, the history of injury, and the preference. Read this article to understand more.
Beginner treadmill walking workout
If you're a beginner, using a treadmill requires the application of the same principles that runners will use to prepare for athletes. To avoid serious injuries, high blood pressure, dehydration, and dizziness, you need to increase the stamina gradually. For effective treadmill use, follow the following steps:
Consult your doctor:

It is good to consult your doctor if you have back and joint problems. The doctor will guide you whether to stick to a low impact walking or if you can as well do high impact running. We will discuss more of the health limitations shortly.

Use a pair of comfortable shoe:

The right pair of the shoe should be cushioned, have a space in the toes and should be in a position to support your arches. The shoes should feel right from the beginning (do not purchase shoes which are uncomfortable). Try wearing them every day for about two weeks before working out so that the shoe conforms to your body posture.

Stay hydrated:

For a beginner treadmill walking workout,  It is recommended you drink 0.7 liters of pure water 90 minutes before you start a treadmill workout. This takes care of the excessive sweating during the exercise, and hence you won't suffer from dehydration. Make sure you carry at least 0.7 liters of water with you which you can continue drinking during the workout.

Wear thick socks for cushioning:

To avoid blisters due to the friction between the treadmill surface and your shoes, wear thick crew socks instead of wearing ankle socks.

Warm up and relax:

Dedicate about 10 minutes before and after the treadmill exercise to walking at a pace of 3 kilometres per hour.

Be attentive to treadmill settings:

Make sure you notice a speed and incline sections where you have to decrease or increase the settings. These are the main buttons to use on the treadmill. Use the automated workouts until you become comfortable with the manual settings. At this point, you can customize the workout to suit your level.

Use the emergency clip whenever necessary:

This clip is a safety shut off. It keeps you from falling or from being injured whenever you lose balance.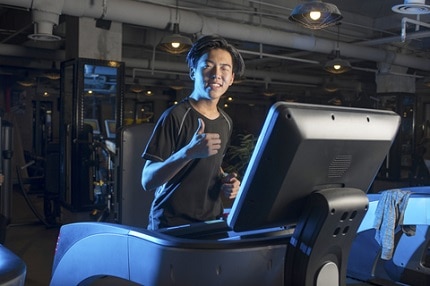 Running on the Treadmill vs Running Outdoors
Which is better: running outside or on the treadmill? The answer depends on your goals. If you are running to improve your cardiovascular health, then a treadmill should work just fine. If, on the other han