Golf is one of the few outdoor sporting activities that aren't sensitive about age. People keep on joining the prestigious game at various life stages for different reasons. Whether you want to play as a pro or a past time activity, you need the right golf equipment to enhance your performance for a better experience. Golf balls are essential accessories that can inspire a beginner to succeed, especially when you choose the ones that meet your level or progress. So which golf balls are we eyeing for beginners this year?
Disclaimer: We hope you love the products we recommend! We only recommend products that we have thoroughly checked and believe will be a real value to you. Sports Send may collect a small share of sales or other form of compensation from the links on this page at no extra cost to you.
Comparison Chart
Callaway Golf 2020 SuperHot Golf Balls (White)
Titleist AVX Golf Balls, White, (One Dozen)
Srixon Soft Feel Golf Balls, White (One Dozen)
Titleist Velocity Golf Balls, White, (One Dozen)
Bridgestone Golf e12 Soft Golf Balls, White
Our Top 5 Golf Balls for Beginners Review



Wilson Ultra 500 Distance Golf Balls
Once you become a golfer, you must acknowledge that losing balls is part of the game. The tendency may be high for beginners who aren't familiar with their golf course. It isn't worth spending your money on expensive golf balls that you may end up losing entirely even before the end of a single round of your game.
Fortunately, golf brands are involved in endless studies to design balls that meet specific groups' needs without costing an arm and leg. Although skills and talent matter in golf, selecting the best golf balls for beginners will determine your success chances.
With Wilson Ultra 500 Distance Golf Balls, you can afford to lose a few without feeling the financial pain. The balls are super cheap, and some golfers have chosen to buy them in bulk and stock them for the fear that their prices might shoot higher soon.
The performance of these golf balls is almost similar to the expensive ones in the market. Most golfers still wonder why the manufacturer hasn't adjusted the price upwards with the ball's performance virtually at the same level as the fancy golf balls.
What we like
The balls are highly affordable.
They are ideal for rough courses that often claim golf balls.
The performance is nearly the same as some expensive golf balls in the market.
Ideal golf balls for a water hazard course
The balls have been in the market for four years, and the experience has remained consistent.
A package has 15 white balls.
The soft feeling could entice you to avoid hard golf balls.
Of course, they are great for beginners.
You enjoy 1-year manufacturer's warranty.
What we don't like
Some people claim these balls can expose you to harmful chemicals.
Their backspin performance isn't as brilliant as most golfers would like.
CHECK LATEST PRICE ON AMAZON.COM



TaylorMade Noodle Long and Soft Golf Balls
If your golf activities do not lead you to global tour events, these are the right golf balls for your practice. The balls have soft urethane covers to ensure durability for the golfers who are keen not to lose their equipment in the course. However, a package with 24 balls is still perfect for beginners who often lose numerous balls in every round.
These balls marked Taylor Made's 40th Anniversary in the production of innovative golf equipment that mainly focuses on performance and golf breakthrough. It is worth noting that the former world No.1 golfer, Rory Mcllroy is also a proud consumer of TP5X, a product from this manufacturer.
These balls were seemingly designed to suit every club you carry in your bag. They are versatile which is great for both seniors and amateurs who are vulnerable to mistakes but are keen not to incur unnecessary costs. The balls are also great for distance and accuracy.
What we like
It's a product from an established and reputable golf brand
The balls are available in two different packages to meet various customers' needs.
A pack with 24 golf balls is ideal for beginners who tend to lose many balls.
Affordable cost.
A soft urethane cover to enhance durability and comfort
Excellent for the seniors and less-skilled golfers.
A patented dimple design to inspire accuracy
Improved features for increased spins around the greens.
What we don't like
They might not be what golf pros need.
CHECK LATEST PRICE ON AMAZON.COM



Callaway Golf Super soft Golf Balls
This is a perfect ball for slow swing speed golfers who need some help to cover significant distances. The aerodynamic design reduces dragging but ensures that the ball remains on the air for a long time, hence covering a broader distance.
Since the ball is a product of an ultra-low compression process, its speed is high, and the precision is excellent. The new soft trigonometric cover formulation gives the ball a soft feel and provides the user with a green area grip.
These balls are ideal for golfers who play in water hazard courses surrounded by trees. The cost is affordable, so losing a few in unforgiving terrains isn't painful. They are available in numerous colors, which give you an option to select visible golf balls.
What we like
A reasonable price tag.
A low compression construction means that you can drive the balls farther even with the slightest swing speed.
A softer cover to enhance comfort
The cover is also designed to give you control in the greens.
Ideal soft golf balls for a straight direction
An aerodynamic design lifts the ball in the air for a long flight.
The low compression technology equally enhances a quicker speed.
What we don't like
CHECK LATEST PRICE ON AMAZON.COM



Srixon AD333 Golf Balls
Does it surprise you that Srixon AD333 golf balls have been in the market for two decades, but still relevant to golfers. Despite being a product of 2000, this ball continues to rival new technology golf balls. In fact, most golfers who have used these balls find it challenging to use alternative balls.
It's a perfect golf ball for golfers with slow swing speed, but keen to see their shots a farther distance. If you also care about a nice feel, this is an excellent ball for your case. Most customers have admitted that Srixon AD333 golf balls give them slightly more spins than the balls they used previously.
Another feature that entices beginners to this golf ball is that a user has control, especially in green areas. It's a golf ball that will stop at the place where you intended it to reach.
What we like
They guarantee value for your money.
The balls accord the user control in greens.
Ideal for training.
An excellent ball for golfers with a slow swing speed
They have more spin as compared with other golf balls at the same price.
Durable construction.
It's pleasant how they come off the putter.
An excellent golf ball for the seniors and beginners
It doesn't pain even when you lose some balls in a rough course.
They have been in use for exactly two decades now.
What we don't like
They don't provide fantastic spins as some expensive golf balls would do.
CHECK LATEST PRICE ON AMAZON.COM



Titleist Velocity Golf Balls 
When you decide to play in a rough course, the experience can be awful, especially if you're a beginner with the wrong balls. Rough terrains usually claim more balls, so it makes sense using cheap golf balls, right?
It's a great thing to have balls that work the way they're advertised; it reveals that the marketer understands the manufacturer's motives. Velocity golf balls are perfect for enthusiasts who like hitting straight without any deterrent. However, it's tough to control the ball, especially when approaching the green area.  Some golf experts advise beginners to consider carrying another ball in the pocket to avoid upsets near the putter.
Most beginners prefer golf balls that are visible during the flight and on the ground. Pink balls fit that bill. Besides, their conspicuous colors make it convenient to distinguish your golf balls when playing alongside other golfers.
What we like
Affordable cost.
High visibility.
They cover longer distances, even with slow swing speed.
The construction design makes it convenient for every shot to fly high.
A brilliant iron stoppable feature.
Highly reduced low long game spins.
A popular product even before its launching year ends.
Also perfect for both beginners and seniors.
What we don't like
It can be hard to control the ball around the greens.
CHECK LATEST PRICE ON AMAZON.COM
Buyers' Guide
Like any other product, it's essential to identify aspects that will help you find the most suitable golf balls. When you follow golf experts' considerations, the chances are high that you'll select products that meet your taste.
Moreover, as a beginner, it's usually tough to navigate your ways around the golf course. Some amateur golfers who make their independent decisions without following structured considerations end up buying the wrong golf accessories.
Here are the considerations worth your attention;



The number of balls in a pack
If you're a beginner; it's worth focusing on packages that come with several balls. Remember, beginners tend to lose more balls in a single round than a pro can manage in weeks. Some packages with 26 quality golf balls appeal to beginners because they will remain with something even if they lose more. Most packages come with 15 golf balls, but some brands only feature 12 items.
It's a long journey for a beginner to become a golf pro, so you should only consider using your money when and where it matters. Beginners should use cheap balls that don't hurt when you lose them like when playing or training. It's typical for beginners to lose many balls because it takes a long time to get familiar with a golf course. Besides, amateurs take a long time to master how to direct their balls, so they tend to lose more during their training.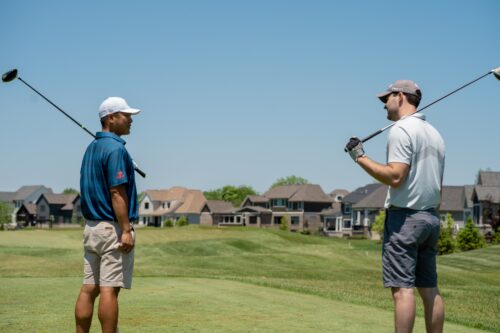 Condition of the golf course
A golf course with massive vegetative cover tends to claim many balls, so a beginner should consider using cheaper spherical accessories. When a golf course is near water points, a beginner should equally use affordable balls because retrieving the ones that fall into the water is a hectic activity.
When you play golf, you must have used either a two-piece construction or multi-piece version. Two-piece golf balls have surlyn covers to enhance durability and broader distance. Multi-pieces golf ball models have thin outer layers composed of urethane covers to inspire seasoned golfers to shape their shots when spinning.
On the other hand, two-piece golf balls are ideal for beginners because they care about the distance in their early learning stages. However, multi-piece golf balls work for pro players who want to sharpen their accuracy.
Everything in golf is beautiful; it's exciting that golf balls have dimples, which aren't similar to those that you admire in humans. Dimples in golf are some small indention appearing on the surface of the ball. The dimples usually range between 300 and 500 in most golf balls.
It's nearly impossible for the ball to stay on the air for long after taking your shots with a golf ball that has no dimples. The dimples reduce the drag around the air, thus playing a significant role in ensuring stable flights. A ball with more dimples is usually ideal in enhancing successful flights for beginners.
When you're a golfer, the ball is mostly far away from your location. If you select a golf ball with low visibility, it becomes tedious tracking your progress. Moreover, golf balls with low visibility often get lost even in an open course. The ball color will inspire your visibility whether the ball is on flight or on the ground.
It's advisable to select a ball whose color doesn't mimic the surroundings. Bright colors such as white, neon green and bright yellow are common in most golf courses. If you love multi-colored balls, the option is also available.
Golfers are advised to understand their swing speed to determine the right ball that suits their needs. Most beginners have slow swing speed hence require lowly compressed balls to cover a significant distance. Sometimes the swing speed makes it easy to determine your handicap level in golf.
If you're a beginner, this aspect shouldn't worry you, well, until you become a pro. Golf balls with urethane covers are excellent for backspin, especially when taking your aim around the green area.
Some brands have established names for themselves due to positive impacts on their users. Such brands invest in researches to develop ideas that innovate and inspire breakthroughs in golfing. Titleist, Callaway, and TaylorMade are some popular brands that manufacture quality golf balls.
Like any other product, golf manufacturers should be liable when the balls fail to meet particular standards. A warranty helps you to claim for a replacement or refund whenever the balls are faulty due to a manufacturer's fault.
This feature isn't only essential for beginners; it's a beneficial addition to every golfer. Golf balls with soft covers are excellent for maximum spins. They also grant their users' control, especially in the green area, hence create a perfect opportunity to succeed in the putter. Apart from convenient drives in the greens, golf balls with softer covers make beginners cover long distances even with a little effort.
Golf balls brands have creative designers who strive to provide products that suit various groups of golfers. The idea is to enhance the performance and accord every golfer the experience that they deserve. Golf balls that female enthusiasts use have the same features as those for amateurs. For instance, female golfers find their distance ambitions realistic when they use lowly compressed golf balls.
Beginners are known for their tendency to mishit, which often damages the balls. As a beginner, you should buy sturdy golf balls that can withstand the pressure from the clubface and last longer. If you can safeguard your balls from getting lost during the game, you should reap your good care's fruits.
All the features listed in this section enhance a golf ball's overall performance. Playing golf should appear as a punishment, but an exciting game that enables you to socialize and meet new friends. If a ball doesn't accord your desired performance, it isn't a bad idea to explore alternative products.
Frequently Asked Questions 
Should I use hard or soft golf balls?
If you're a beginner, the choice of the balls that you use at the course doesn't matter, provided that they are affordable. Soft golf balls are usually the best for golfers who want to cover a significant distance, but it's also painful when you keep on losing them in water hazard grounds. Beginners should learn to use all kinds of balls until they reach a level that they no longer lose more balls to consider upgrading their tastes.
Beginners who look for higher performance should go for soft golf balls that will enable them to cover more distances effortlessly. If you want to gain control in the greens, you should consider using soft golf balls because they increase spins in those areas.
Do softer golf balls go further?
The main factors that you should consider when buying golf balls are the levels of performance and costs. If you want to cover massive distances around your golf course, soft golf balls suit the bill. The balls are designed with incredible features that enable your drives to reach farther than your ability.
Even though softballs are usually expensive, they grant you the control around the greens. As you aim to cover vast distances with soft golf balls, you also risk losing them in unforgiving golf courses.
Do ladies golf balls go farther?
Yes, ladies' golf balls go farther than ordinary balls, mostly when used by the right golfers. Ladies' golf balls are usually soft and small, so it's easy for them to reach farther than contemporary men's golf ball can manage. The balls are designed for people with slower swing speed, so their use isn't restricted for ladies alone.  Men with slow swing speed, especially the seniors, are advised to use ladies' golf balls to enhance their performance.
However, with faster swing speed, some women miss the glorious opportunity to get the best out of the game when they use ladies' golf balls. They should consider using men's golf balls to discover their potential abilities. Like most other ladies' products, these balls are usually pink. If your swing speed is relatively slow, these are balls worth trying even if you're a man, but you should get ready to put up with their small sizes.
Are more dimples on a golf ball better?
As mentioned earlier in this article, dimples are tiny indentions decorating golf ball's surfaces. Most balls have between 300 to 500 dimples depending on the brand and sizes. Dimples are significant features, considering that they dictate the period that a golf ball takes while on a flight. Hexagonal dimples are instrumental in limiting dragging effects when the ball is on the air for an accurate direction.
It's beneficial to buy a golf ball with more dimples because your drives will reach the expected heights. The feature also enhances precision aspects for golfers who are interested in taking long accurate shots.
Dimples works on the principle of reducing the effect that air exerts on the golf ball surface. Since dimples are located on the thin lining surface, they minimize dragging effects when the ball is airborne to enhance maximum distance and increased speed. The performance is massive in the balls with more dimples than those with fewer.
Is golf ball spin good or bad?
Golf pros know that the difference between success and failure relies on their ability to spin. Like most other things, golf ball spins are beneficial, but also have their dark side. Backspins are effective for players who want their shots to land on the green and take a few bounces before rolling back a few feet.
Backspins are meaningful in the following ways;
They enable you to have control of the greens.
They enhance entry into tough pins.
They make it possible to create short birdie chances.
No golfer-like sidespins because they're the strong signs that your shots have taken the wrong direction. Sidespins are perilous because they can force you to take a short putt. It's worse when sidespin causes your shots to get lost in the thicket or water hazard areas.
If slices are the cause of your struggles in the golf course, any form of spin is your enemy. Golfers who struggle with spins always find opposite results for all their shots because they quickly veer off the course.
It's almost tricky to become a golf pro if you fail to develop skills that can help you control spins. Wind and other weather elements cannot come to your aid when you launch poor spins. Golf being a game that mainly tests your precision, it's a challenge to excel without improving your spin control skills.
Luckily, creative golf brands have designed balls that offer more opportunities for backspins, even for beginners. However, the costs are somehow higher, but you'll appreciate the experience and performance.
Do golf balls matter for beginner?
It's a question with many considerations, so the answer is yes and no. Beginners make many mistakes before they graduate and become pros, so any type of golf ball can help them in their trials. One typical mistake associated with beginners is their vulnerability to losing balls. It hurts when rough terrains claim your expensive golf balls, and it's the sole reason why beginners are encouraged to use affordable balls.
Since beginners join golf at various ages, it's essential to provide them with golf balls that suit their situations. For instance, senior beginners have a slow swing speed that cannot take long drives. Even with immense skills, they will need special balls to achieve their goals concerning the distances.
The golf balls that beginners use depend on the aspect of the game that interests them. Every aspect of golfing have specific balls that can enable learners to master the skills and ideas. In this case, the golf balls matter for the beginners.
The beginner's gender often determines the type of golf ball that's ideal. Female golfers usually use ladies' golf balls, but some women may opt to use men's ball to get the best from the game. Ladies' golf balls are usually small and soft to enhance performance in various aspects. The soft and small balls are often light hence can cover longer distances even when the swing speed is slow.
Visibility varies from one beginner to another, so they cannot have the same taste. Every golfer wants to see the on the ground and flight mode for a better experience during the game. If you choose the colors that cause you to strain, you'll end up losing more balls because you cannot establish their direction. Golf balls that mimic the background of the golf course aren't perfect for clear visibility. It's apparent that the golf ball color not only matters to beginners but also meaningful to pros.
Conclusion
Nothing should stop you from becoming a golfer at any moment you wish. What matters most is selecting the most suitable golf ball matching your level. This article has reviewed the top 5 golf balls for beginners to help you excel in the golf course as an amateurs to the extent of becoming a professional.