Quick Overview
Design
quality
price
PROS
check

Lots of the latest safety features for MTB riders

check

Uninterrupted ventilation, deep coverage

check

Uses a reliable 360-degree retention system
CONS
Retails at a premium price range
POC is a renowned MTB helmets brand in Stockholm. It sticks to its Swedish roots by focusing on the safety, design, and performance of all its products, including its Kortal Race MIPS Helmet. It is an open-face helmet retailing with the latest, improved MIPS technology for safety, search and rescue capabilities while using sleek color options to suit different occasions and tastes.
The Details
Brand: POC
Series: Kortal Race MIPS
Category: Trail/Enduro
Size: X-Small/Small (51 cm – 54 cm), Medium/Large (55 cm – 58 cm), X-Large/XX-Large (59 cm – 62 cm)
Gender: Unisex
Color: Shades of black, Orange, Green, Grey, and Hydrogen White
Vents: 17
Slip Plane: Yes (MIPS Integra)
Recco Detector: YES
Inner Material: EPS Liner
Visor: Adjustable
>
Design
POC, Kortal Race MIPS has a winning design that includes the following innovative attributes: –
Lightweight, Ventilated Construction
POC, Kortal Race MIPS, uses a unibody in-mold polycarbonate shell with an EPS liner to boost its structural integrity. It is a lightweight shell with 17 strategic vents for optimal ventilation. The EPS liner is protective and comfortable, keeping the rider sweat-free and cozy.
A Flexible Patented Breakaway Visor
Often riders suffer fatal neck injuries due to their heads getting stuck between tree branches or objects that compress their skulls. And, their permanent visors tend to add more pressure to the neck, worsening the situation. Well, POC, Kortal Race MIPS uses a flexible patented breakaway peak to solve this. Here, in the event of a crash, this visor snaps off the helmet, preventing any more pressure to your neck or head.
Unlike other MTB helmets, the POC, Kortal Race MIPS, uses a low-profile back design with deep coverage for MTB, Enduro, and downhill racing.
Adjustable 360-Degree Retention System
Once you pick one of the three sizes of the Kortal Race MIPS helmet, you can secure it using the Adjustable 360° Fit at the back for a snug fit.
POC, Kortal Race MIPS accommodates more goggle designs without hindering its ventilation system.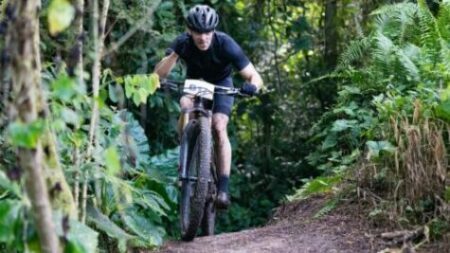 Enhanced Safety Attributes
Are you an extreme MTB rider? The POC, Kortal Race MIPS has the latest safety features you can ever get in an MTB helmet. These include: –
MIPS Integra is an improved version of the original MIPS slip plane. Not only does it guard against rotational forces during angled impact, but it also keeps your head cool. It uses a new silicone structure that addresses any airflow issues that would cause hotness in the previous version. It is a clever, simple, and reliable evolution of the original MIPS.
If you love exploring remote trails, the RECCO® Reflector on the POC, Kortal Race MIPS will make you searchable to rescuers when lost. It is a land-based passive reflector that echoes you're your location, allowing rescuers to pinpoint where you are fast. The technology is quite popular in skiing and snowboarding, and now MTB riders have a chance to use it too.
This helmet has an NFC chip stored inside. The chip has all your medical information that comes in handy should you need help. Here, the rescuer retrieves your medical history by placing their smartphone near the chip.
E-Bike Ready Certification
POC, Kortal Race MIPS has the Dutch NTA 8776 e-bike helmet standard certification, approving it as an e-bike ready helmet.
Is POC, Kortal Race MIPS Helmet Worth the Price?
Yes. Definitely! POC, Kortal Race MIPS offers competitive safety, functional, and aesthetic features you rarely find in a single MTB helmet. And, it offers a non-MIPS version of this model, allowing recreational riders on a budget access to these benefits.
Alternative:

Smith Mainline MIPS Bike Helmet

​
Like ROC, Smith Optics is an upcoming brand with innovative solutions for MTB riders. Its full-face Smith Mainline MIPS Bike Helmet is DH-certified, an ideal alternative for downhill riders who want more protection around the face.
The Details
Brand: Smith Optics
Series: The Mainline
Category: Downhill, Trail/XC, Enduro
Size: Small (51-55 cm), Medium (55-59 cm), Large (59-63 cm)
Gender: Men's
Color: AC / Rocky Mountain Enduro, Matte Black, Matte Cinder Haze, Matte Sage/Red Rock, White/Black
Vents: 21
Slip Plane: Yes (MIPS)
Visor: Adjustable
Well Ventilated Design
Like the POC, Kortal Race MIPS, Smith Mainline MIPS uses an in-mold polycarbonate shell fitted with a protective and cozy EPS liner. Plus, it relies on Aerocore technology for its optimal ventilation. Here, there are 21 strategic air vents fitted with Koroyd® panels for better protection and breathability.
MIPS Brain Protection System
Smith Mainline MIPS uses the original MIPS slip plane to guard the riders against brain damage arising from rotational forces in the event of a crash. This slip-plane works alongside the EPS liner to keep the rider safe and comfortable, especially when tackling hot climbs.
Custom Fitting System
There is a snug D-ring retention system that is durable and easy to use. It fits riders of all three helmet sizes on sale, excellent for amateur riders. Besides, all riders get a set of removable cheek pads, crown liners, and neck rolls for a custom fit.
Accessories
Smith Mainline MIPS retails with an adjustable visor that remains fog-free for unobstructed vision. This visor is compatible with Squad XL MTB and Squad MTB goggles. Second, you get a convenient drawstring sack to safely store your helmet or protect its outer finish when cleaning it in a washing machine.
Pros
Durable, lightweight construction

Skull-hugging fit

ASTM F1952 DH, E.U.: CE EN1078 and the U.S.: CPSC BICYCLE FOR AGES 5+ certified
Cons
The MIPS liner is a bit squeaky
Conclusion
There is a cheaper version of the POC, Kortal Race Helmet, without the MIPS slip plane. You may opt for this non-MIPS version if you are a recreational rider who rarely puts your limits to the test. Or if you are excellent in defensive riding and have other safety features to back you up. Otherwise, both POC and Smith Optics give you premium helmets with the best safety and functionality.