Almost all pieces of golf gear can be tested and enhanced for your game. Nonetheless, the golf ball tends to be looked down upon. Experts believe that 40 percent of all balls sold today are the cheapest choices. And, they only concentrate on tee-short performance. And so, it's easy to believe that this approach is short-range.
This article looks at two brands: The Titleist AVX and the Wilson Staff Duo Professional golf balls. We will also be discussing what each of the balls brings to the table. Hopefully, in the end, at least one will be the right golf ball for you. Let's get started.
We hope you love the products we recommend! We only products that we thoroughly investigate and believe is a real value for you.Sports Send may collect a share of sales or other compensation from the links on this page. It is at no extra cost for you.
Titleist AVX
If you are after a tour-level performance golf ball, the Titleist AVX golf is the real deal. Its softest feel, low-ball flight, and significant distance deliver everything a professional golfer would expect. Titleist says they expect the AVX golf ball to be somewhat different from the predecessors. In other words, AVX stands for "Alternative to the Pro V1 and Pro V1x.
The Technology and Construction
Like the Pro V1, the AVX golf ball also goes through the same processes, controls, and checks. The techniques and machinery used are the same as well. However, what makes the AVX golf ball different is the ingredients. Its dimples are also noticeably different besides its low compression core. It is through this core that the ball achieves its softer feel and more distance.
It also has a casing layer that not only adds more distance but also controls the spin to boot. Besides, it features a thermoset cast urethane elastic-like cover.
Typically, lower compression golf balls tend to lose speed. Nevertheless, this is not the case with the AVX. It's convenient in retaining its ball speed, thanks to its flexible cover layer. At the same time, this casing also adds to its softer feel and durability.
Further, the AVX golf ball boasts of a new aerodynamic design. According to Titleist, this design assures consistency on all your shots. It also ensures a piercing low trajectory ball flight. Another feature you'll notice is how the dimples are more pronounced, unlike in most golf balls.
The number of dimples remains the same as the Pro V1 (352). The only difference is the AVX dimples display a catenary construction. In layman's language, the dimples are broader and shallower. In addition, each dimple has more vertical walls than those of a Pro V1.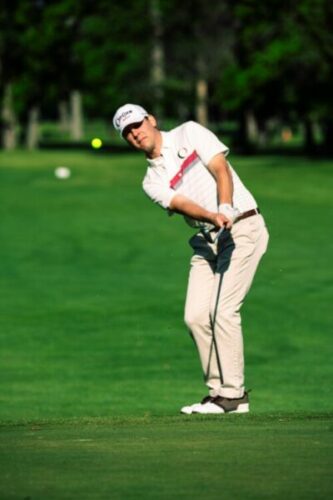 Around the greens
Here again, the AVX differs from most golf balls. Once more, it's softer and pops off the wedge effortlessly, something most golfers would like. To match its gentle feel nature, it's also super quiet. However, the AVX is less firm and spins less than the Pro V1 counterpart.
The ball's putter also bears a softer feel. In other words, it requires significantly less effort when hitting it to get to the hole. The AVX golf ball can check up on par with other tour-level golf balls out there in all honesty. Apart from being consistent, it's also very predictable around the greens.
Most experts agree that with the AVX, you will not lose any distance with your irons. After a few observations in low temperatures, I believe the AVX is longer on approach than previous ball versions by a full club or so.
When taking shots between 150 and 200 yards away, it was effortless to achieve enough spin to hold greens. As usual, the ball would stop a couple of feet from its impact mark. On a hole-by-hole basis, the AVX is nothing less perfect.
With such incredible features, the Titleist AVX golf ball is ideal for most. It is an excellent pick with less spin with the driver, a soft feel, and a lower, more penetrating flight. Try a few competition rounds with it and carry out a real acid test to determine if it works for you.
Pros
It has the softest feel among its premium golf ball counterparts
Delivers exceptional distance on both drives and entry shots
Its low spin and low launch angle ensure consistent shots
It has an outstanding spin around the greens
The ball also delivers an excellent short game control
Its stopping power on entry shots is better than most models
It has a low compression rating hence accessible to intermediate golfers
It's best for moderate swing speeds
Cons
It doesn't spin as much as some golfers may expect
Wilson Staff DUO Professional Golf Ball
In the past five years, there has been a significant trend in golf balls. And, neither Titleist, Callaway nor Bridgestone started it. Wilson Staff, on the other hand, has been highly competitive in making top-notch golf balls.
Through its original DUO, it sparked off a race in the industry to determine who could create a highly performing ball in all game facets while achieving an incredibly soft feel. Over time, the Wilson Staff Duo Professional golf ball continues to excel in performance and feel.
Wilson Staff claims that their DUO professional golf ball is intended to have less spin off the driver. As a result, it delivers more control. Besides, it is also very soft to enhance its playability around the greens.
The ball's interesting feature and selling point is its 60 Compression. It is fascinating that most average competitor balls out there have up to almost double the compression. Let's first look into details of what this golf ball has to offer.
Appearance
At a first glance, the Wilson Staff Duo has nothing special with its appearance. On one side, it has the primary Wilson logo while the other side has a "DUO" print. However, here is one helpful and fascinating part of the ball, especially for golfers who love drawing lines on their balls. Wilson put two straight lines on both sides of the DUO logo that show the ball's built-in alignment system. Now you can forget about crooked lines since the lines are already on the ball.
>
Feel and Performance
Wilson claims to have been focusing on the low compression movement for some time now. The ball has more rubber added to its core to reduce its compression. With such a significant difference in compression, you can't miss out on the difference when you hit it, right?
Wilson touts their Duo golf ball as the softest golf ball. But, it's hard to tell with the presence of serious competitors out there; the AVX, for instance. You also would want a golf ball that balances the feel and other factors, such as the ball speed.
You should know by now that a golf ball with a more rigid cover goes faster. Moreover, if you go ahead and harden the core as well, it rolls even quicker. However, Wilson was able to jump-start the ball's core by including an additive to their core mix. They also claim to have hardened the cover a bit. Consequently, they achieve a soft feel and excellent ball speed to boot.
You don't come across many two-layer golf balls with much spin on the greens. It may not have more spin like the famous Kick X or Pro V1, but it has sufficient spin for a two-layered ball. Unlike the previous DUO Urethane, the DUO Professional delivers more spin by 6% off irons.
Also, Wilson has invested much in marketing their DUO golf ball. Some of their stats show that 80% of golfers who try this golf ball switch over. We may not be sure of the numbers. However, one thing for sure is that this Wilson Staff Duo golf ball keeps up with high-end performance models.
Dimples and candy colors
Dimple patterns and depth influence the ball's trajectory. If the dimples are deep, then the ball has a lower flight and vice versa. Like the DUO Urethane, the DUO Professional also has 362 seamless dimple patterns. However, dimples of the DUO Professional are slightly deeper to match its high spin rate.
This golf ball features more color choices than the previous DUO U. Besides the standard white, you have choices in a green, yellow, and orange. In reality, nonetheless, the difference between green and yellow is somewhat hard to tell. Lack of a white matte option might be a disappointment to some golfers.
If you are a beginner in golfing and slicing your golf ball seems challenging, the Duo Professional is the real deal. The reason being, it limits the sidespin you get. Further, being the softest two-layer golf ball out there, it is an ideal choice for high-handicappers.
Pros
It has multiple color options unlike the previous DUO U
It's very soft for a two-layer golf model
The ball has plenty of spin
The price is very reasonable
It includes two straight lines for its built-in alignment
The ball has an excellent balance between feel, speed, and distance
It has excellent playability on the green
Cons
It's not ideal for most low handicap players
Comparing the Two
When looking at the two, we believe the Titleist AVX has more and more fantastic features than the Wilson Staff DUO Professional as much as it also is an excellent golf ball.
The Titleist AVX, nevertheless, is worth the hype. It incorporates a GRN 41 Urethane cover exclusive from Titleist. With a high flex casing, it delivers exceptional distance.
It also has 352 tetrahedral dimples with a catenary design. Shallow dimples enhance consistent and strong ball flights, even in windy environments. More importantly, this AVX is exceptionally soft but has low spin numbers. However, for some golfers, this factor isn't a big deal.
If you expect to enhance your ball flight or add a few yards in your irons, the AVX is the ball for you. It achieves high spin in the short game and low spin in the long game.
So, what about the Wilson Staff Duo Professional golf ball? First, it is a low (60) compression model. It replaces the Duo Urethane by combining a tour-level distance and feel, thanks to its ultra-thin Urethane cast construction. Further, this ball boasts of a 6 to 10 percent increase in the spin on iron shots. As a result, it enhances control and playability on the green.
It then features a 362 seamless dimple pattern that enhances both its trajectory and distance. As such, it's highly competitive to most high-end rival three-piece golf balls out there. Its urethane cover has proven to be scuff resistant while optimizing green control as an added advantage.
Remarkably, even at a low price, it's able to deliver near-tour level performance. It's also somewhat more extensive and firmer than the Duo Urethane. Through this, it achieves a slightly increased compression. And therefore, it tends to spin more than the Duo U predecessor.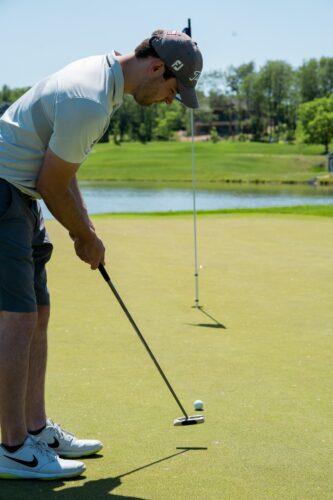 Conclusion
Without a doubt, the Titleist AVX golf ball takes the crown. With an emphasis on the soft feel, excellent distance, and low trajectory, it checks most of the boxes. Its other features, such as the Urethane cover and dimple design should equally be appealing to most golfers.
At a reasonable price, the Wilson Duo delivers substantial value and unique feel. For a mid to high handicapper, this golf ball should do. Its excellent performance with long irons is also worth mentioning.
Both balls have something to offer. Nevertheless, some features and design logistics in both balls may differ. With the above detailed review, you should be able to settle on the one that meets your golfing preferences.
FAQs
Q. Is the Titleist AVX golf ball a substitute for the PRO V1?
Not really. Even though it is considered an alternative to the PRO V1, it has some features that set it apart. The AVX is not only softer but also penetrates more than the PRO V1. Moreover, it has much less spin on the greens than the PRO V1.
Q. Is the Titleist AVX golf ball longer than other gamer balls?
Yes. Most golfers believe the TP5x is the longest golf ball. However, looking at the AVX's properties, it should be much longer than the TP5x and other rest urethane balls.
Q. What is the compression of the Wilson duo golf ball?
The Wilson Duo Professional golf ball is a low compression model with a 60 rated compression.