Are you shopping for your favorite baseball gloves anytime soon? Opt for a marketplace with varieties in terms of brands, price range, designs, flexible modes of payments, and exceptional after-sales services. Indeed, with the growth of online shopping, your choice of baseball gloves is just a few clicks away. So, in this guide, we summarize seven leading stores that stock all your favorite baseball gloves online or at an outlet near you. Let's get to it!
Amazon
Amazon needs a minimal introduction. This giant online marketplace has the best prices, deals, and a huge selection of baseball gloves for your style and function. 
Moreover, you can get your ideal baseball gloves in the Amazon Fan Shop section. 
This category focuses on all types of sports and outdoor products. And they stock gloves from under $25 to $200 and above. More so, you can use the intuitive search query to narrow your results by the brand name, condition (new and used), or a specific seller on Amazon. If you are on the Amazon PRIME membership, you enjoy a convenient next-day free delivery. 
Key Features
Adopts a simplistic and convenient approach to online shopping

Enjoy world-class customer service with every purchase

Fast and affordable shipping rates

Has helpful package tracking tools for returns or exchanges

Trusted customer reviews
Hit Run Steal
Since its inception in 2016, the Hit Run Steal American sporting goods company remains committed to making and selling premium baseball and softball equipment, training aids, and accessories. Its model collections include baseballs, softballs, baseball and softball gear, nets and rebounders, and baseball and softball gloves. 
In addition, HRS has experts and coaches on standby 24/7 to assist players with pitching mechanics and hitting drills. That way, players get the best out of their equipment and train like professionals, as per the "Play Hard, Train Harder" HRS brand philosophy. 
Like other established sporting goods brands, HRS sells its merchandise online. Visit the Hit Run Steal official website on Amazon and shop for softballs, baseballs, gloves, nets, and apparel. You can also get select golf, soccer, football, tennis, and volleyball equipment. 
All merchandise has a 30-day return policy. HRS ships the goods nationwide within 1 to 3 business days. However, it might take 7 to 10 weeks to receive a custom HRS baseball or softball glove order. 
HRS partners with Amazon to sell their merchandise locally and internationally. Amazon's interactive Hit Run Steal web page has detailed sections for all merchandise. Use the search box on the top right corner to find specific sports equipment. Or, scroll through various tabs to view the product lines. 
You can compare HRS prices, discounts, and promotions against competitor brands as an Amazon shopper. You can also peruse the reviews from past buyers and make informed purchases. 
Key Features
Wide selection of custom handmade products tested and rated by professionals

Free training resources for upcoming players on the HRS official website

Easy to navigate Amazon HRS web page with detailed subsections

Free shipping for Amazon Premium members

Reasonable shipping charges for international orders

Fast shipping to all Amazon customers

Convenient 30 days return policy

Great 24/7 customer support
DICK's Sporting Goods
For almost a century now, Dick's Sporting Goods has remained a reliable sporting goods retailer, stocking authentic, high-quality, and vast sports equipment, apparel, footwear, and accessories. It prides itself on in-store services and a reliable e-commerce platform. In addition, you can shop online by filtering your search for baseball gloves based on age, position, brand, size, throwing hand, series, color, and price. The search query has intuitive features and graphics. 
Key Features
It has a convenient network of over 300 stores in the US
Access to baseball gloves from top brands at competitive prices
Knowledgeable in-store service
Offers attractive discounts and promo codes
Diverse online features, including price matching for quick and accurate searches
It has curbside pickups and free returns and exchanges
JustBallGloves.com
JustBallGloves.com is a dedicated online shopping platform for baseball gloves and bats. It features gloves and bats from leading brands like Rawlings, Mizuno, Nokona, and Easton. In addition, it runs a glove assurance program that allows shoppers to try out their choice gloves for 100 days for free. Hence, if the glove is not your ideal size or fit, JustBallGloves.com sends out a free shipping label to your address, enabling you to get a full refund for your purchase.
Key Features
View the latest baseball gloves from leading brands in the US
Live chat with a baseball glove expert
Access to glove coach, buying guides, and customer reviews
Get deals of the week, used gloves, closeout gloves, and price matching for extra savings
Free same-day shipping within the US
Has veteran's discounts, modifications, and cancellation policies
MLBshop.com is a reputable online sporting goods store specializing in officially licensed baseball apparel and gear for MLB fans. In turn, it stocks a vast selection of products featured by teams in the American Leagues and the National Leagues. Indeed, as per their philosophy, the online store aims to achieve a fanatic experience for all their customers. Hence, it offers world-class customer service, fast shipping, and seamless return policies.
Key Features
A reliable source for all official Major League Baseball merchandise
Facilitates shopping of products per team
Has military and first responder discounts
100-days return policy
Baseball Monkey
Baseball Monkey is a subsidiary of Monkey Sports, Inc., specializing in affordable baseball, softball, lacrosse, and hockey gear. Here, customers use the brand's easy-to-navigate website to choose the baseball glove as per type, size, style, or league. More so, a detailed guide for each product helps customers make informed decisions towards their final purchases.
Key Features
Stocks a variety of baseball equipment for novice and professional players
Has a 90-day return policy or up to 1 year for exchanges
Offers the best price guarantees, including free shipping for purchases above $75
Allows price matching for extra savings
Runs loyalty programs, order tracking, gift cards, and contact information
Eastbay
Eastbay is an established sports apparel and equipment store in the US, specializing in direct mail catalogs. Based in Wausau, Wisconsin, it stocks pro-grade gear and ships orders both locally and internationally. Domestic shipping takes between 5 to 6 business days, while international orders take up to 20 days.  If there are any delays, Eastbay guarantees to reimburse additional shipping costs.
You can also search for your ideal baseball glove using Eastbay's official online search portal. Here, under the baseball equipment category, narrow your search results based on gender, age range, equipment style, brand, sport, color, and price. Each product listing has a detailed description, review, and a Q&A section.
Key Features
A reputable sporting goods company with a wide selection of products
Have affordable prices, sometimes even lower than the brand's stated prices
Runs regular discounts and promo codes
User features include student discounts, price matching, cryptocurrency payments, coupon stacking, order tracking, free returns, and exchanges.
Provides contact information
LIDS Retail Stores
Key Features
An official retailer of licensed sports apparel in the United States and Canada
It has convenient strategic stores at popular malls, airports, and streets
Runs regular discounts and promo codes
Allows free returns and exchanges
Lids Locker Room allows custom embroidered orders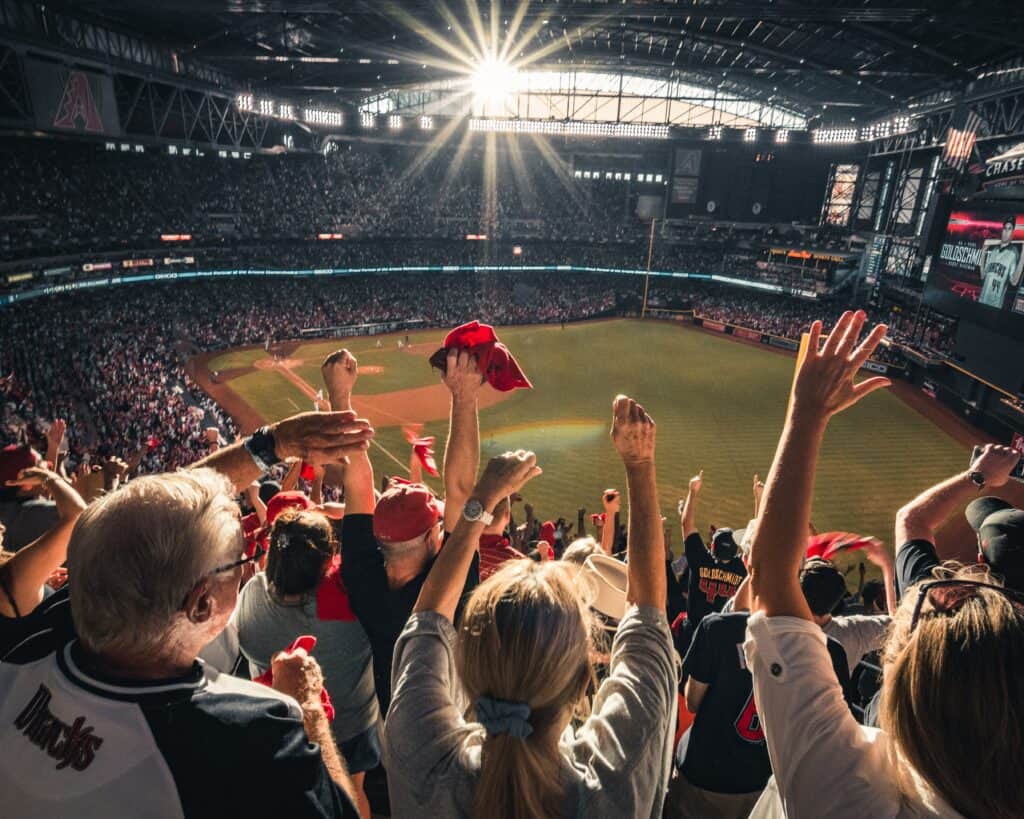 People Also Ask:
Where Is Wilson Baseball Gloves Made
Wilson baseball gloves come from the Wilson Sporting Goods Company plant in Chicago, Illinois. The brand has been a market leader in making innovative gloves and mitts since the early 20th century. Its collections use player-inspired graphics and patterns to cater to all player positions and ages. By making handcrafted gear that mimics an extension of the player's hands, Wilson aims to assist players in pushing their skills to the next level. Wilson is the official sponsor of the 2021-2022 NBA season. 
Where Is Rawlings Baseball Gloves Made
Rawlings baseball gloves are custom and pro-model gloves from the Rawlings manufacturing plant in Washington, Missouri. The company made its first mitt in 1887 and continues rolling out diverse models for the Major League and recreational players alike. Its famous Heart of the Hide leather gloves is popular with pro-level players, including Bryce Harper, the 2011 to 2013 NL Rookie of the Year winner.
Where Is Mizuno Baseball Gloves Made
Mizuno USA is the manufacturer of Mizuno baseball gloves. The brand makes gloves for local and international markets in Norcross, GA. Its philosophy of promoting true sportsmanship drives the brand to undertake various product development strategies to enhance players' performance. The Mizuno baseball gloves are known for their durability, stylish and premium looks, short break-in periods, and safety features that suit all player ages and positions.
Conclusion
Our shortlist of the seven best places to buy your baseball gloves caters to baseball gloves from all the leading brands, whether new or used. If you are an inexperienced shopper, some of these marketplaces have in-depth buyer guides that give you a product-by-product comparison for the best buying decision. And each store runs regular discounts that target the budget-conscious buyer. Hence, they cater to all your needs, but ultimately, Amazon wins.