Can the best feel golf ball deliver on distance? Yes. Only with the Wilson Staff Duo Professional golf ball. For the first time, a male pro-level golfer has a choice of the best feel golf ball for his PGA Tour. How do they achieve this effect?
First, the three-piece cast urethane shell reaches the farthest on the green. It uses the latest low compression technology to achieve this. Secondly, no other golf ball in its category matches its performance. Furthermore, its prowess has thumbs up after bagging the 2019 Golf Digest Hot List GOLD Award.
Then, what are the unique features that make this possible? Moreover, is it the right fit for your style? Let's explore below: –
We hope you love the products we recommend! We only products that we thoroughly investigate and believe is a real value for you. Sports Send may collect a share of sales or other compensation from the links on this page. It is at no extra cost for you.
The Wilson Brand
Wilson is the pro golfers' brand of choice because; the century-old brand has evolved into high-quality must-haves. True, pro golfers opted for these golf balls to outshine in their significant games. They include Sam Snead, Patty Berg, Payne Stewart, and Ben Crenshaw.
Wilson's Philosophy
All pro golfers should achieve their best regardless of whether they prefer a soft or hard golf ball. This view sparked Wilson to make the Wilson Staff Duo Pro golf balls with low compression cores. This way, the shells maintain a smooth feel for professional players. Furthermore, the continuous improvement in the design bore the highest spin possible.
The Wilson Staff series appeals to recreational golfers of varying abilities. Moreover, the Wilson Staff Duo Pro is a custom model for the professional player. The conscious effort presents a recreational golf ball worth a notable tourney. More and more pro golfers seek golf balls with a soft feel. The shell has the best spin control, soft feel, and the most prominent trajectory, fit for an expert player.
The Features 
Specifications
Here is a sense of the Wilson Staff Duo Pro golf ball's specs: –
| Feature | Specs |
| --- | --- |
| Dimensions | 6 x 7 x 2 inches |
| Weight | 1.35 Pounds |
| Cover | Ultra-thin Cast Urethane Cover |
| Size | One Size |
| Construction | 3-piece |
| Dimple Count | 362 |
| Ideal For | Any adult male or female player. Seniors. |
| Compression Score | 60 |
| Color | Classic White/Matte Finish Yellow/Matte Finish Orange and Matte Finish Green |
| Packaging | 12-Ball Pack |
Construction and Spin
​
Most pro golfers use either two-piece or a three-piece golf ball. In the same way, the Wilson Staff Duo Pro golf ball is of three layers as follows: –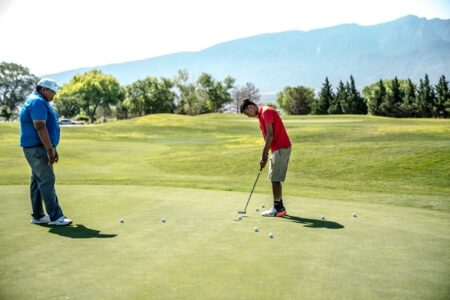 A Large Soft Core
It is a scientifically-proven fact. The larger the inner core of the golf ball, the more prominent the distance achieved. Also, this design minimizes the speed, giving better control to the player. Hence, the Duo Pro shell's soft inner core gives it a smooth feel. 
A Mid-Hardness Ionomer Layer
The semi-hard interior mantle boosts both the feel and velocity of the golf ball. Furthermore, the layer gives better control when handling wedge shots and short irons.  In turn, the golfer achieves a high trajectory, hence a long-drawn carry. 
An Ultra-Thin Cast Urethane Cover and Spin
Only three brands make golf balls using the long-lasting cast urethane rubber. Out of these, the Wilson Staff Duo Pro golf ball is the world's softest cast urethane golf ball. 
The outer cover is up to 40 percent thinner than other urethane shells. For sure, it merges with the mid-hard interior section. Then, it gives players the best spin-separations inclination. In turn, they realize a high spin rate. Now, couple this achievement with complete control. It's definite. The golfer attains the most stopping power.
Compression
A golf ball's compression count is anywhere from 40 to 100. This count is what determines the swing speed. In turn, golf ball with the lowest compression score achieves the most sweeping squash. 
The Wilson Staff Duo Pro golf balls have a 60 compression score. This score is the most moderate compression count than any other 3-piece shell. Hence, the golf ball has the ultimate smooth feel, with the best distance for such a construction.
Dimples Count
There is a 362 dimples count on the Wilson Staff Duo Pro golf balls. This high count gives it's a great trajectory for better distance. 
>
The Spin 
Each Wilson Duo Pro golf ball is a high spin shell. This way, they achieve a decent backspin from iron shots. Besides, the minimal sidespin makes them manageable even in strong winds. 
Feel
The Wilson Staff Duo Professional golf ball has a soft feel. This design is possible from its unique 3-piece construction. But, the softness does not cost the golfer any distance off the tee. Also, its mid-hard ionomer mantle ensures the shell has low compression. Thus it moves at a high backspin, and swing speed. 
Color 
Four color variations exist for the Wilson Staff Duo Pro golf balls. These are the classic white, matte finish yellow, orange, and green. These bright color schemes are easy to see in the rough, or over a putt. Hence, they are a must-have for senior golfers.
Summary of Features
The Wilson Duo Pro golf balls have a recreational design suitable for a pro golfer. Its softness responds to the current growing demand by pro golfers for softer golf balls. 
Comparison to TaylorMade TP5 Golf Balls, White (One Dozen) 
The TaylorMade TP5 golf ball is a premium shell that features a 5-piece construction. Its first three layers comprise of the tri-fast core. Again, this triple-core functions like the Wilson Staff Duo Pro shell. But unlike Wilson, it attains a progressive compression in its tri-fast core. Hence, it gains an exceptional spin and swing speed, while presenting a soft feel to the pro golfer. Thus, both golf balls have a durable outer soft cast urethane cover for softness.
Unlike the Wilson golf ball, TaylorMade TP5 retails with a one year warranty. This warranty is a welcome feature for the expensive golf ball. Plus, it has a better spin separation and control than any 3-piece golf ball. 
Verdict
For a 3-piece construction, the Wilson Staff Duo Pro golf ball is the best performing shell with a smooth feel. However, achieving the covetous distance or best feeling is not enough. Golfers who consider this golf ball as the best pick should go for fitting before purchasing it. This way, they will confirm its launch, spin, and ability to shoot lower scores.
What We Like
 It's a unique concept of providing a tour or recreation play to pro golfers. Yes, the golf ball delivers on the spin, feel, and playability. Hence, it is ideal for an expert player.
What We Don't Like 
The shell has no warranty.
Conclusion
Are you are an expert golfer who wants to break from the monotony of hard golf balls? Then, consider adding the Wilson Staff Duo Pro golf ball in your collection. This golf ball will not compromise on performance. Moreover, it is swift on the green and suitable for use in your senior years.